Fish Are Jumpin'
A coastal community struggles to preserve the North Carolina "mullet blow"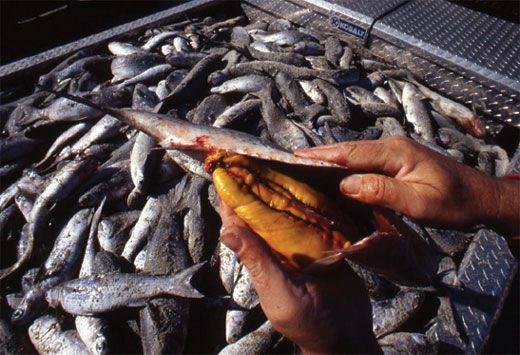 It's just before dawn on a chilly morning in early November, and a fishing crew from Bogue Banks, North Carolina, is out at Atlantic Beach, staring at the ocean. The dozen men—dressed in jeans, baseball caps and waders—sit in pick-up trucks, peering through binoculars, or they huddle in pairs in the cold, drinking coffee, smoking and focusing intently. What they're looking for is any ripple, shadow or abrupt change in the color of the sea. "C'mon," one fisherman mutters, "don't hide no more."
A cellphone call comes from a sentry several miles away. The men scramble into their trucks and race to the spot. "That's a big one," someone yells, as fish start shooting out of the water like popcorn from a kettle.
All week the crew has been expecting a "mullet blow," a run of tens of thousands of striped mullet. It occurs a few times each fall along the Atlantic coast when a cold front accompanies a brisk northeast wind, chilling the waters and triggering a huge mullet migration southward.
The fishermen are carrying out a tradition that is one of the few remaining haul-seine operations in the country. One man cranks a 1940s tractor to life and uses it to back an old dory laden with 400 yards of heavy-duty net into the sea. The men attach one end of the net to the tractor, the other end to another vintage tractor down the beach. The boat pilot heads about a hundred yards into the surf, then makes a semicircle back toward shore as fishermen wade in, lifting and fanning out the net, making sure it corrals the school of fish. When all is secure, the two tractors slowly haul the catch to shore. The whole process takes no more than 20 minutes.
As a thousand pounds of netted fish flop on the beach, a fisherman grouses. "A bull pull," he says, a major disappointment. The 73-year-old crew boss, Henry Frost, who says he has been fishing since he could walk, recalls his "best catch ever"—240,000 pounds of mullet in two hauls. That was right after World War II. But, he says, "I still get just as excited when I see 'em come in."
While many Americans know the mullet primarily as a dubious haircut, the 12- to 18-inch fish was once the lifeblood of Bogue Banks and other fishing villages along the North Carolina coast. "Striped mullet have been an important historical component of the economics of this area," says Preston Pate, director of the North Carolina Division of Marine Fisheries. Or, as Frost puts it, "Fish raised us."
Mullet, an oily, strong-flavored fish, is a regional specialty along the lines of Kentucky burgoo or Louisiana gator tail. It isn't likely to grace a gourmet menu, but it's a favorite home-cooked meal in Southern coastal communities. "I'd give up trout any day for mullet," says Bogue Banks native Doug Guthrie. "It's got to be cooked right: pan-fried with salt, pepper and butter. Cooking it any other way is like washing your feet with your socks on."
The Mullet Festival in nearby Swansboro has served up countless fried mullet every fall for a half century. "Most people use it as bait," says Pete Pallas, who manages the festival's food booths, "but when it's real fresh, it's just as good eating as any other fish." On this day, the fishermen debate which is tastier, mullet roe fried intact in its membrane or chopped and scrambled with eggs.
Bogue Banks (pop. 7,200), a 26-mile sliver of island on the southern tip of the Outer Banks, is a tightknit community where families have fished for generations. But in the past two decades, new vacation homes, including sprawling McMansions and high-rise condos, have drawfed the modest bungalows and trailers of the island's old fishing towns. The population more than triples in summer, and the development has created a conflict between mullet fishermen and newer residents. "The guy with the million-dollar mansion doesn't want to see your old tractor in front of it," Guthrie says.
And the tension doesn't end there. The state currently allows the two remaining Bogue Banks fishing crews to set four "stop" nets a few days before the anticipated blow to prevent mullet from swimming south during the season, typically early October to mid-November. But sport anglers have complained that trout and bluefish get cauhgt in the nets. In response, mullet fishermen switched to nets with larger holes, only to be told by a National Oceanic and Atmospheric Administration team that the larger mesmay endanger bottlenose dolphins. A new study on the overall impact of stop nets may result in reverting to smaller mesh. "We're damned if we do and damned if we don't," says Guthrie.
Putting that quandary aside for today, one of the last fishing days of the year, the mullet fishermen continue to stalk their prey up and down the beach until nightfall, intermittently fishing and trading stories about flat tractor tires and stalled motors. By the end of the day, they will have netted 10,300 pounds of mullet. At the end of the 2005 season, the total catch amounted to just 72,000 pounds, which, split among the two dozen fishermen, came to about $1,200 each.
That's a far cry from the good old days when one pull could beach 50,000 pounds of mullet. "The mullet population is not in decline nor overfished," says Pate, but seasonal haul-seine fishing now competes with year-round methods. Still, a small band of fishermen keeps coming back for the blow every fall. "I don't want to disappoint my granddaddy," says Matthew Frost, Henry's 28-year-old grandson, a constrction worker. "It brings us all together." He gets up at 4 a.m. to drive an hour and a half from the mainland to fish with his family.
As for Henry Frost, himself, he remains undaunted. "I don't make no money anymore," he says, "but I'll do this as long as I live, for the fellowship, the laughing and carrying on."
Carolyn Kleiner Butler is a freelance writer in Washington, D.C.