An Unexpected Victim of Costa Rica's Drug Trade: Fish
The archipelago was once synonymous with tourism, sustainability and biodiversity. Now collapsing fisheries have led to turmoil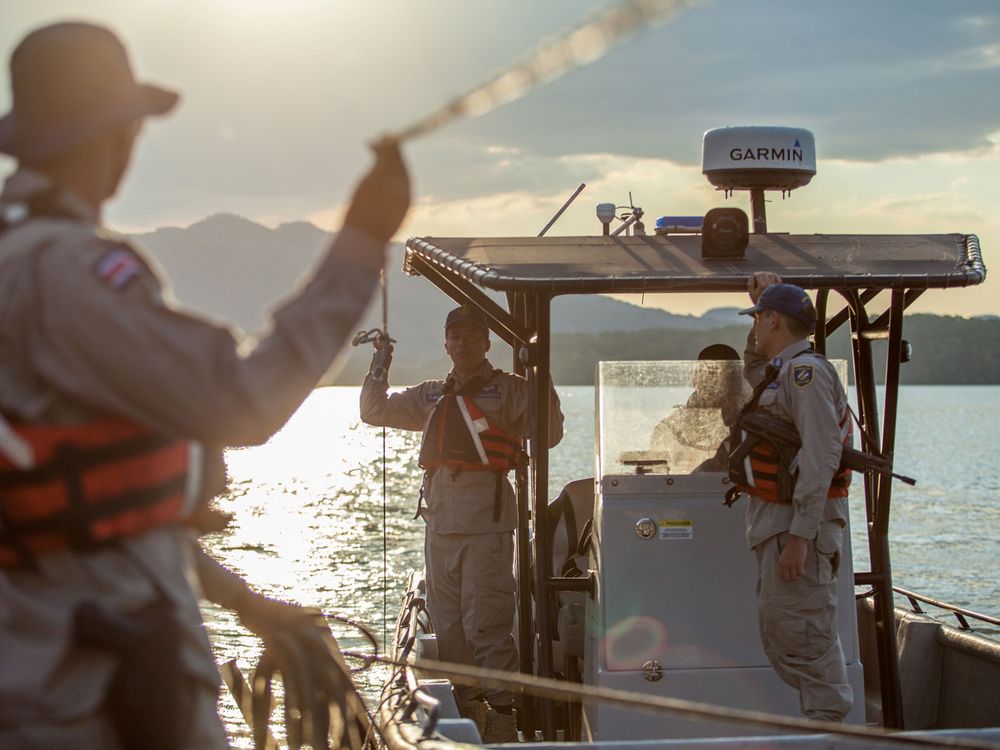 This article is from Hakai Magazine, an online publication about science and society in coastal ecosystems. Read more stories like this at hakaimagazine.com.
Lieutenant Olivier Ramirez didn't waste time.
On an August morning in 2015, he scrambled a small coast guard team on Costa Rica's Pacific coast. Local fishermen had spotted poachers hauling nets full of shimmering fish from the Gulf of Nicoya. Ramirez hoped to catch the offenders and press charges. But that morning, little went according to plan: Ramirez and his men intercepted the poachers close to their home base and within minutes, the officers were in serious trouble. Dozens of poachers were swarming to the scene, wielding rocks, machetes, quarter-stick explosives, and Molotov cocktails.
Ramirez knew he had to act quickly. He split his four coast guard vessels into two teams. One team handcuffed and loaded the poachers onto their boats; the other formed a protective barrier, circling in sharp turns at nearly 30 knots an hour, almost capsizing. The steep wakes kept the poachers at bay for 20 tense minutes. Finally, coast guard reinforcements arrived, dispersing the attackers. Today, Ramirez thinks the only reason that the coast guard ships escaped torching was that several of the poachers were handcuffed aboard. Their accomplices wanted to keep them alive.
The 2015 standoff took place near Venado Island, just 55 kilometers or so from where actor Mel Gibson reportedly has a US $30-million estate, and 40 kilometers north of where American football superstar Tom Brady and his family vacation. To the casual eye, this stretch of beaches and forests looks like paradise. But as tourists surf and sunbathe, men in the coast guard pull on military-grade body armor and don bulletproof helmets for dangerous showdowns that have become a near-daily occurrence. Ramirez, a tan and wiry man who's spent his life guarding Costa Rica's Pacific coast, can hardly believe the things he's seen. "I never expected this from fishermen," he says.
Costa Rica has long been viewed as a peaceful, prosperous success story in Central America. After a civil war in 1948, a military junta took temporary control and wrote a new constitution. It abolished the army, gave women the vote, made conservation of the country's natural resources a law of the land, and handed the country back to democratically elected legislators. So as other countries in Central America struggled through civil wars, insurgencies, and brutal dictatorships in the latter half of the 20th century, Costa Rica became a beacon of hope—a stable democracy and a tourist mecca that promoted biodiversity, conservation, and renewable energy.
But as Costa Rica dodged regional conflict, many people think it failed to steer clear of a major global catastrophe: overfishing. The Gulf of Nicoya, along the country's Pacific coast, once teemed with marine life, but critics say government mismanagement allowed foreign fleets to deplete the fish stocks. Foreign purse seiners—boats able to circle and capture entire schools of fish with nets up to two kilometers long—have imperiled the country's marine life. Today, local fishermen say they are unable to compete with Taiwanese and other foreign vessels, so they compete with one another closer to shore.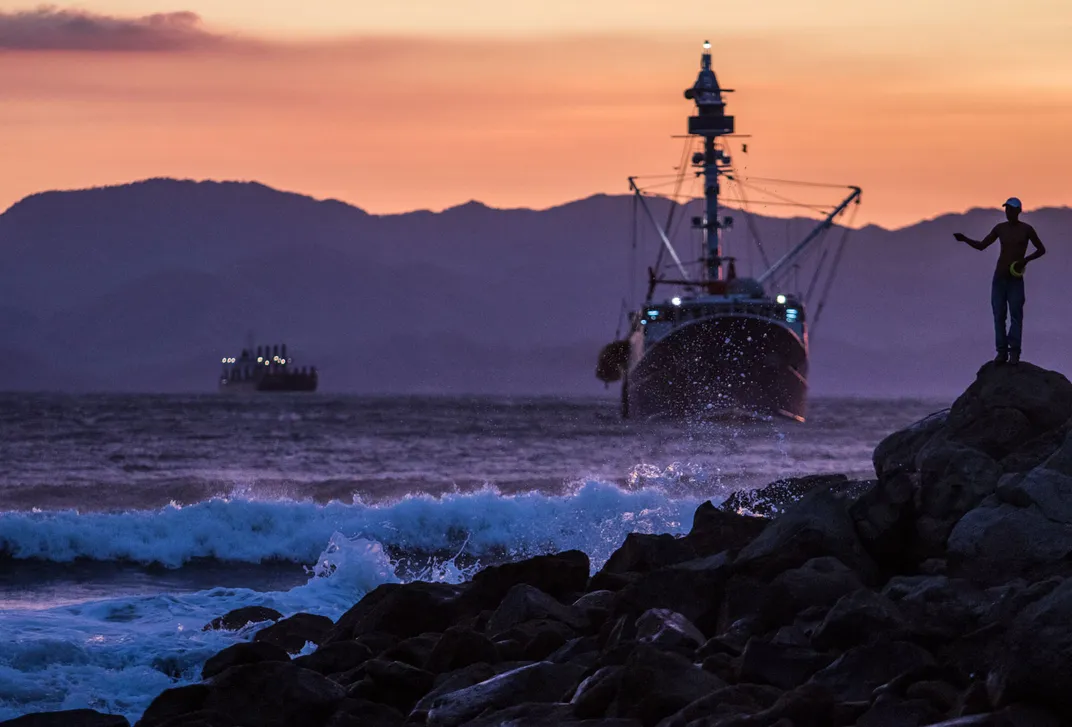 Adding to the troubles is the country's growing inequality. While an intense focus on tourist developments has spurred economic growth, it's done nothing to decrease poverty and it's exacerbated the divide between rich and poor along the coast. And as too many local fishermen now chase after too few fish, many along the coast are drawn into a criminal enterprise that is flourishing—cocaine trafficking. Over the past three years, the amount of cocaine trafficked through the country has nearly tripled.
As fisheries along this idyllic looking coast unravel, so does social order.
.....
Jose Angel Palacios is a professor of fisheries resource management at the National University of Costa Rica. He has been studying and assessing the country's Pacific coast fisheries for over 40 years. As Palacios explains, nearly 95 percent of Costa Rica's fishermen are based along the Pacific coast. The Gulf of Nicoya, which is shielded from open ocean waves, is an important breeding ground for several species. But according to Palacios, it has been overfished since 1977, and his projections show that the fishery could collapse as soon as 2020. The queen corvina, one of the most valuable food species in the region, could vanish entirely by 2030. "It's a time bomb," Palacios says.
To relieve some of the pressure on the stocks, the government closes the fishery for a minimum of three months once a year in the Gulf of Nicoya. But Palacios dismisses the move as inefficient, mismanaged, and based more on politics than science. Originally, he says, the closure was designed to protect valuable shrimp stocks: the government prohibited fishing for shrimp during their reproductive season, and subsidized the fishermen who stayed home, softening the blow to their incomes. But the government eventually extended the closure to include many other species in the gulf—from corvina, snapper, and horse mackerel to barracuda. Today, the annual closure is often delayed, claims Palacios, because the government doesn't have enough money to pay the fishermen's subsidies. As a result, boats fish through at least part of the reproductive season, until the government can find the funds necessary for the subsidies.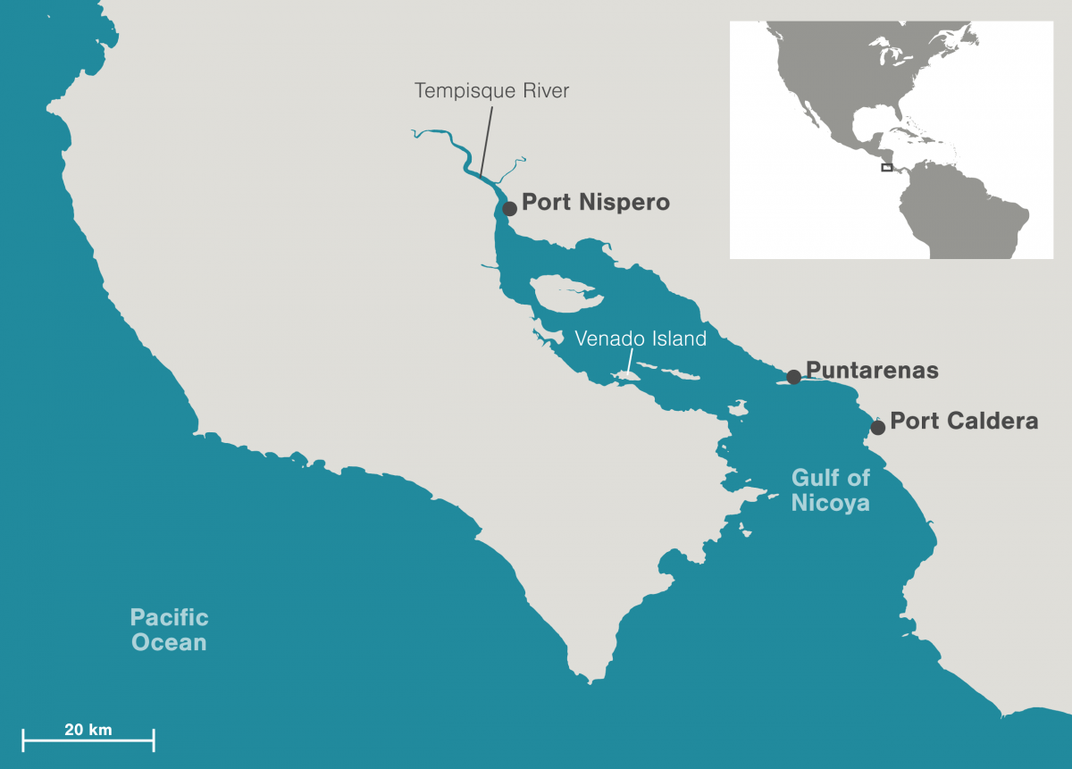 To make matters worse, local poachers regularly thumb their noses at the government regulations and undermine conservation efforts. They catch thousands of kilograms of fish with dynamite and illegal nets with mesh that's smaller than permitted, thereby trapping by-catch.
Colonel Miguel Madrigal, the coast guard officer in charge of the gulf, says he doesn't receive any extra officers for patrols during the annual closure. He oversees more than a dozen officers and crewmen at the coast guard station in Port Caldera, the biggest commercial port in the country, but says he lacks resources to keep the poachers at bay for even three months of the year. A lean man in his 50s who keeps his mustache neatly trimmed and his graying hair perfectly gelled, Madrigal doesn't mince his words.
The coast guard, he says, is charged with three things: protecting Costa Rica's natural resources, rescuing civilians at sea, and fighting drug trafficking. But the service is stretched thin. In 2015, a catamaran sunk off the Pacific coast, and Madrigal had to scramble all his crews to rescue survivors, leaving no one to patrol for illegal fishing. Sometimes he is so short of officers that he puts coast guard engineers and mechanics on patrol after their shift ends at the station. He admits that the quarry often gets away. It takes his men around 45 minutes to reach the gulf from the station. By the time they arrive, the poachers have often been tipped off by allies via cellphone and are long gone.
And even when a patrol finally catches a few poachers, it's a losing battle, he says. The laws are weak and judges are lenient: an arrest is more of a nuisance than a deterrent. The poachers Ramirez and his men caught in 2015 only received a fine.
"We're just order," Madrigal says. "Not the law.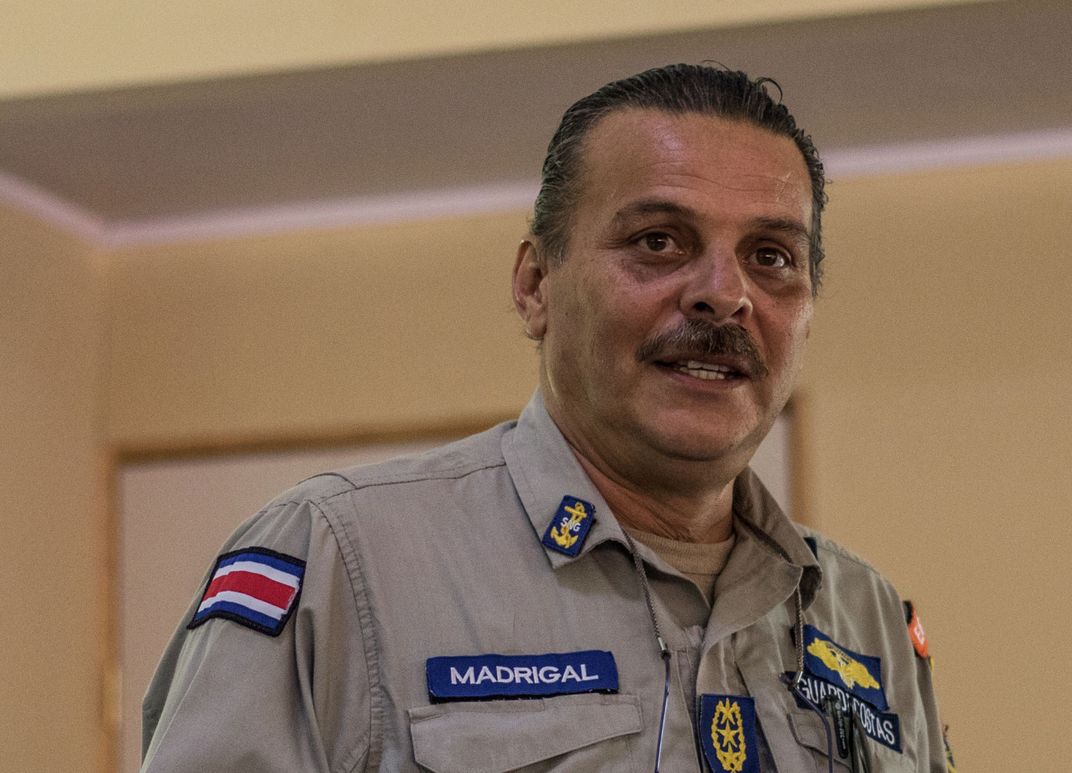 In the provincial capital of Puntarenas, federal prosecutor Moises Salazar is responsible for taking illegal fishing cases to court. His office is filled with case files, piled up on the desk, floor, and couch. His is one of several offices that line the second floor of a justice department building. Citizens wait in rows of chairs to file claims below while a wall of desks and secretaries filter access to the prosecutors upstairs.
Salazar, a burly man with a strong handshake, glasses, and a sure command of the peculiarities of Costa Rica's laws, explains that poachers are just one part of his caseload. He handles about 70 illegal fishing cases a year. Salazar says judges are often backed up with extensive caseloads, so they push illegal fishing cases through quickly to make time for other criminal matters. Rarely do convicted poachers receive jail time.
"I just follow the law," Salazar says, offering no opinion on whether that law is strong enough.
Since 2005, a government agency known as the Costa Rican Institute of Fisheries and Aquaculture (INCOPESCA) has tried to modernize the country's fishing industry and draw up new laws. But the organization has come under heavy criticism. Local fishermen say it encouraged them to invest in an expensive type of fishing line with multiple hooks, only to ban the gear later when it was shown to decimate certain stocks. Other critics say INCOPESCA favors the technologically advanced foreign fleets, noting that the agency is partly funded by licenses it sells to foreign vessels. However, less than half of INCOPESCA's budget comes from licenses, including those for domestic and small-scale boats.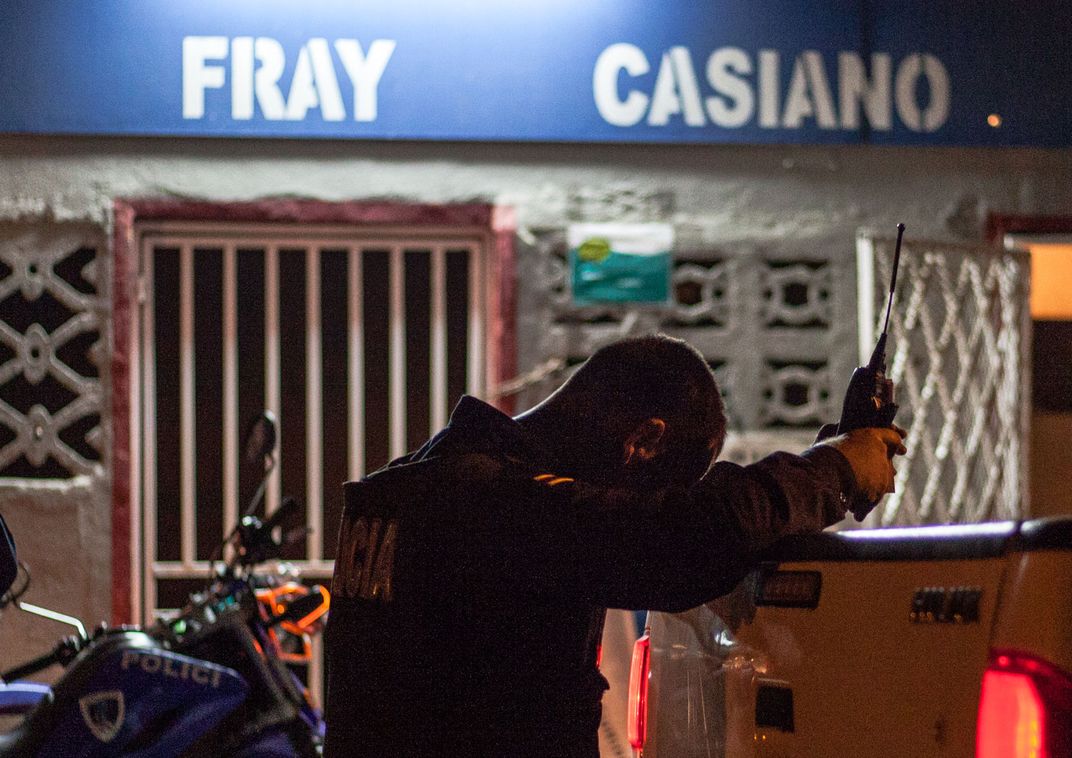 Antonio Porras, a former general director of INCOPESCA, acknowledges that the agency has made mistakes, but he thinks things have improved. He says the coast guard should be tougher. "It's like a cop watching your house get robbed and not doing anything about it," he complains.
But for Madrigal, the lives of his officers take priority. He won't send them into a situation like the one Ramirez and the other coast guard officers faced when they were outnumbered. Instead he's relying increasingly on help from local fishermen.
Some coastal communities have banded together to patrol and protect their local fisheries. They have had some success, but they're afraid to deal with armed drug traffickers on their own—with good reason. Costa Rica's murder rate has now crossed the threshold set by the World Health Organization for an epidemic: 10 per 100,000 people. In 2015, officials linked nearly 70 percent of the country's homicides to the drug trade, and Costa Rica's Ministry of Public Safety estimates that 85 percent of the cocaine being shipped through the country travels along the Pacific coast.
...
At three in the morning on June 4, 2016, Erick Cognuck, a 44-year-old seafood distributor on Costa Rica's Pacific coast, woke up to loud banging and crashing at his home in Puntarenas. Five armed men had just smashed the main gate of his house and were starting in on the front door. Cognuck knew that drug traffickers had recently placed a contract on his life. He grabbed a gun, a small .22 caliber pistol, and raced for the door. As wood splintered and gave way, he opened fire. All his shots missed.
The killers gunned down Cognuck and wounded his girlfriend. Then they jumped into a stolen black Honda Civic and fled the scene, driving straight into a river less than a kilometer away. Investigators later searched the water and located the vehicle. The killers had fled by boat.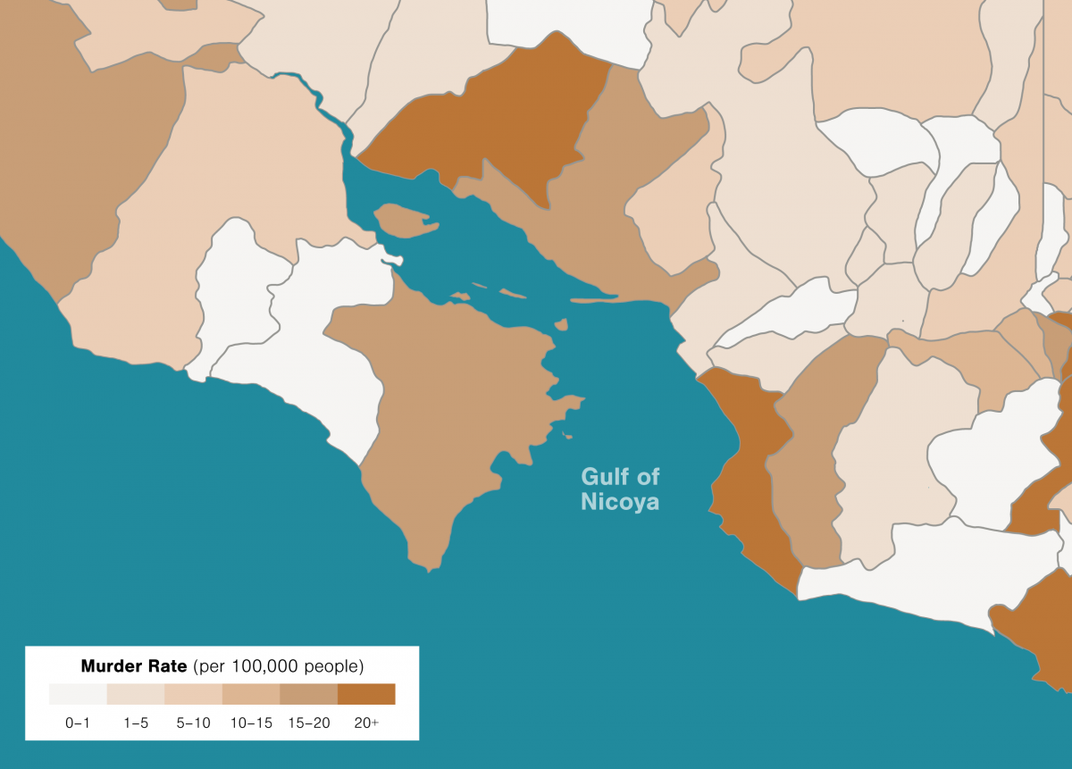 The case bore strong similarities to another homicide. A month earlier, Rafael Ángel Castillo, a mechanic who repaired fishing boat engines, was startled from his sleep at three in the morning by a loud commotion at his front gate. A nearby security camera recorded five assailants smashing it with a sledgehammer. The men then tied up his family, ransacked his house, and murdered Castillo.
The two killings took place within a kilometer and a half of each other, in a poor, violent neighborhood known for its illegal bars and drug dealers. Lieutenant Michael Fernandez, the police superintendent of Puntarenas, says both homicides were part of a series of contract killings. Traffickers often dump drugs when they're being chased by authorities, and in this case, says Fernandez, fishermen found more than a tonne of cocaine floating in the water. The fishermen contacted men in three other boats, including Cognuck and Castillo, to help bring the large cocaine shipment back to land. Then they made a fatal error: they sold it. Not long after, they began receiving death threats, and some of the conspirators fled. But police say at least seven men were murdered in connection with the missing drugs.
The coastal city of Puntarenas has a small port where high-end cruise ships call in periodically with decks full of curious passengers. But the cruise-ship port is a small outlier in a city where dilapidated fishing boats crowd private docks. Years of overfishing have left the city in a vulnerable economic position and drug cartels are now exploiting the situation.
"There's been an increase [in drug trafficking] in Puntarenas and it's come hand in hand with poverty and unemployment," says Jose Rodolfo Mora, the former federal prosecutor for organized crime in the city. Mora had to relocate in November 2016, after spending six years in Puntarenas. Federal prosecutors in charge of drug trafficking and organized crime cases are routinely transferred due to threats from criminal organizations. Mora says Puntarenas has become an important transit point for drugs. The city lies along the route smugglers take from Buenaventura, Colombia, to Mexico, and often their vessels need refueling by the time they reach Costa Rica.
At one time, local fishermen sold their government-subsidized gasoline to traffickers waiting out at sea, so the criminals could continue on to Mexico by water. But as neighboring countries began patrolling their waters more aggressively, and as drug use increased in Costa Rica, the traffickers began unloading their cocaine in remote coves along Costa Rica's Pacific coast. They sold part of this cargo locally, and recruited fishermen and others to take the rest north by land or air.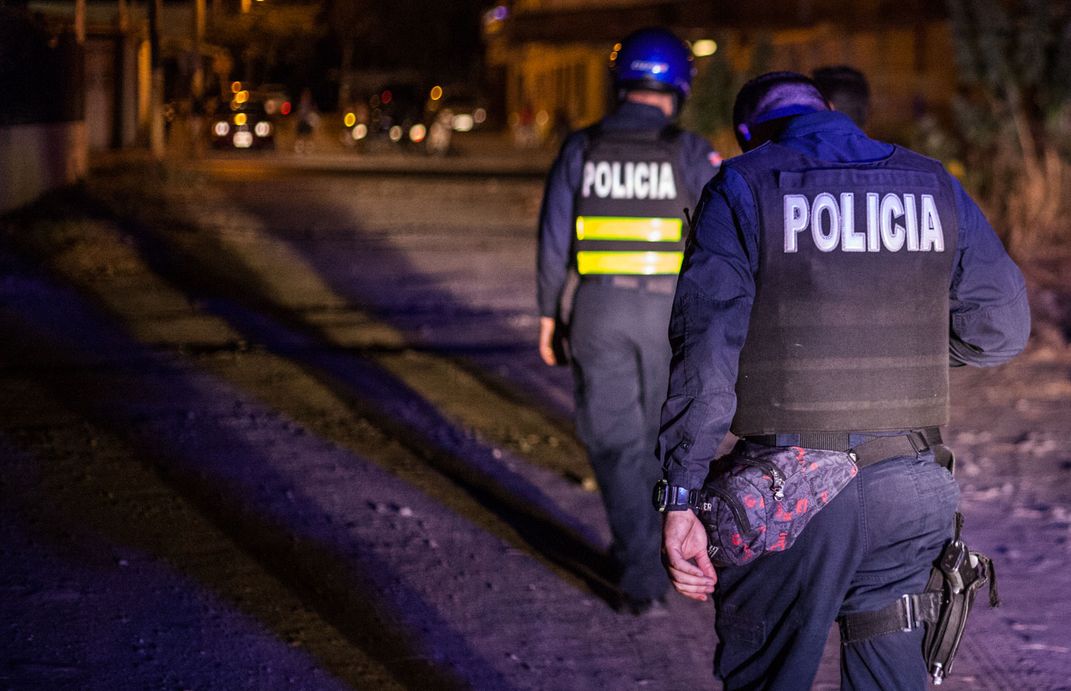 "If people are living in poverty and don't have work … what they do is fish," says Mora. "And [if] they can't fish and then they're offered US $100,000, $200,000 or $300,000 to transport a shipment of cocaine hydrochloride [powdered cocaine suitable for snorting or dissolving in water for injection], you can bet that anyone's going to do that."
Madrigal visits local schools, warning about the perils of the drug trade. But he says some children now talk back, saying they want to be narcos like their uncles and own brand new pickup trucks and boats.
...
At the northernmost point of the Gulf of Nicoya sits the mouth of the Tempisque River. The Tempisque, which provides 75 percent of the water for the country's agricultural needs, is mostly lined by cattle farms. It is heavily polluted.
The government has reforested 30 kilometers of the river's eastern bank near the delta, and declared this a national reserve. But Mora says the forest provides cover for traffickers looking for places to store their shipments. At a local security forum with police, prosecutors, and coast guard officers, residents from communities around the gulf told officials about suspected traffickers operating in the gulf and the Tempisque River.
...
Rafael Angel Umaña is a fisherman and community leader in nearby Port Nispero. He says that before the local youth discovered drugs and cellphones, sports dominated the area. Even small towns had volleyball and soccer teams. Umaña himself was recruited to Port Nispero as a soccer goalie and although his career ended abruptly after he broke his collarbone, he is still trying to defend the town.
In recent years, he has successfully lobbied INCOPESCA to make the waters around Port Nispero a responsible fishing zone, where only nondestructive methods like handline fishing can be used. He also obtained funding to buy two illuminated buoys that signal to fishermen where the responsible fishing zone begins, though he says he really needs a third one to do the job. The extra light would cost $2,000, however, and the town can't afford it, so Umaña is searching for other funding.
In the meantime, he is redoubling his efforts to defend Port Nispero from poachers. A group of local fishermen now pitch in every few weeks to buy gas for the 60-horsepower, eight-meter Reina Sofia, so they can patrol the responsible fishing zone at night. Every evening, a different pair of fishermen heads out on the boat, searching the water with a powerful beam of light hooked up to a car battery.
...
No one knows better than Umaña how tough things are getting for local fishermen. On the first day of fishing season in September 2016, the community activist rose at 4:00 a.m. He made coffee, packed his lunch, and  loaded his four-meter open boat, the Saqueo II, with a rusting 15-horsepower Yamaha engine.
As the sun began peeking over the eastern hills, he headed to one of his usual fishing spots, where he has often caught corvina. But luck wasn't with him. Most of his catch consisted of a skinny fish known locally as pedorra, or farter, for the noise it makes when it's squeezed out of the net. The fish is too bony to eat, so Umaña just tossed it back in the water.
As the day wore on, he repeatedly dragged his heavy, 200-meter-long net through the water. By the time he got home, he was bone-tired. He checked his phone and opened a group chat with other fishermen in the region. It contained a picture of poachers from Venado Island and their illegal haul of corvina.
Umaña tallied the proceeds from his day's work: about $40 worth of fish. After paying for ice and gas, he was left with $20 for a day of work that netted 13.5 kilograms of fish.
In the picture in front of him, the poachers stood with their haul: 1,000 kilograms of corvina.
Related Stories from Hakai Magazine: