Can Wind Power Be Wildlife Friendly
New research aims to stop turbines from killing bats and birds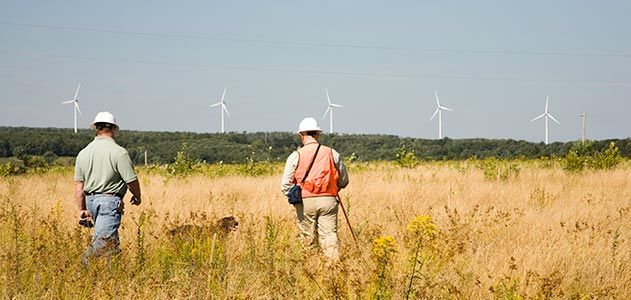 The wind turbines had just been put up on Backbone Mountain when Keith Lott arrived in the summer of 2003. The field technician had been hired by a wind energy consulting company to survey bird fatalities at the new Mountaineer Wind Energy Center in West Virginia. Every other week, Lott walked concentric circles around some of the facility's 44 turbines, sweeping a 200-foot radius in search of victims that had collided with the swooping blades above.
Bird surveys became standard procedure after thousands of raptors, including federally protected golden eagles, were found to be crashing into the nearly 5,000 turbines on the Altamont Pass Wind Farm, built in California during the 1970s. Lott was hired in response to concerns that wind farms on Appalachian ridges, which act as corridors for migrating songbirds and hawks, might invite similar misfortune.
To Lott's surprise, the dead bodies surrounding the turbines weren't birds, but bats. Lott and other surveyors found 475 bats, many broken-winged and bloodied, at the West Virginia facility that year. He and his team estimate that 2,092 bats were killed. Scientists knew that turbines posed a threat to birds, but nobody had predicted they'd be such a problem for bats.
Research at the Mountaineer Wind Energy Center helped raise awareness about bat fatalities at turbines. Five years later, it has been recognized as an international problem, with bat deaths documented in Australia, Britain and Canada. Along with deaths of endangered birds, the carnage has added another speed bump to wind power's ability to win over environmentalists. But there is good news. Research spurred by the bat fatalities has conservationists and wind industry representatives hopeful that an effective solution will be in place within the next five to ten years.
Whether or not this time frame is good enough is still unknown. The most common species found dead around North American wind farms—the hoary bat, eastern red bat and silver-haired bat—are killed by turbines as the bats migrate between Canada and Central America. None of these species are listed as endangered, but no one knows the potential impact from thousands of deaths each year. According to Robert Barclay, a University of Calgary biologist who studies bat fatalities, the impact could be serious: females from these species give birth to only one set of twins a year, a much slower reproductive rate than birds, which may have half a dozen young a year.
Though bird deaths prompted wind energy companies to start monitoring turbines' impact on wildlife, it turns out that Altamont Pass was an exception. Bird fatalities are approximately 2 per turbine per year, according to the National Wind Coordinating Committee, compared to the 21 to 70 bats killed per turbine per year along their Eastern migration routes.
Why do so many bats fall victim to wind turbines? With good eyesight and the ability to echolocate, or detect their surroundings through sound, it seems that they ought notice the potential danger. Some insight came last year from Erin Baerwald, a graduate student working with Barclay in Canada. She noticed that half of the bats scattered around turbines do not have any visible injuries. After conducting autopsies, she found that they all showed evidence of "barotrauma." That is, their lungs had burst due to a sudden drop in air pressure.
Baerwald suggests that bats are attracted to the turbines. "In order to be killed [by barotrauma], the bats have to be pretty close to the blades," she says. "The zone is a meter or two around." Why the migrating bats would be drawn towards the turbines is still a mystery. Scientists hypothesize that bats may see turbines as tall trees or roosting sites.
According to Edward Arnett, a scientist with Bat Conservation International, wind turbines are going to be built no matter how little we understand about bat biology. "We have an industry moving forward with or without the science," he says. This puts researchers like Arnett under a tight deadline to work with the wind industry for a solution. Approximately 55 new wind turbine facilities were built in 2008, reports the American Wind Energy Association, 40 more than in 2007. "It's not necessarily how science should be conducted but it's how we have to approach what we are faced with," Arnett says. And he is making progress.
Arnett, a program coordinator for the Bats and Wind Energy Cooperative (BWEC), a partnership between conservationists, government agencies and the wind industry, is experimenting with a bat deterring device. The latest model in development contains 16 speakers that emit ultrasound, which should jam bat echolocation and coerce a bat to change its flight course. They are now working to test the device and evaluate reduction in bat kills.
Arnett's second solution is to increase the minimum wind speed necessary for wind turbine blades to start turning. Research shows that bats are more likely to be hit on calm nights in late summer and fall. Because this could cause a drop in a wind facility's energy production, Arnett had trouble getting a company to sign on to study this solution. It was the world's leading provider of wind power, Iberdrola Renewables, that finally agreed to collaborate, giving Arnett access to all 23 turbines on its Casselman Wind Power Project in Pennsylvania. According to Andy Linehan, the company's wind permitting director, the benefits of finding a solution to the bat fatality problem outweighed the costs of producing slightly less energy. "We market ourselves as a green industry," he says. "If we're going to continue to take that seriously, we've got to continue to show it."
The experiment was a success. By curtailing production during low wind conditions, and increasing the wind speed threshold required to jump-start the turbines, bat fatalities dropped between 56 and 92 percent. The costs to the company were small: a less than one percent overall power loss for the year. Arnett now wants to test this strategy at several more sites.
"This is a worldwide issue," says Barclay, who is also a science advisor for BWEC. "Most of the research is being done in North America, but wind turbines are going up at an incredible rate in other parts of the world, and so the research we do here can have a potentially bigger impact."