But do they have Bronto-burgers?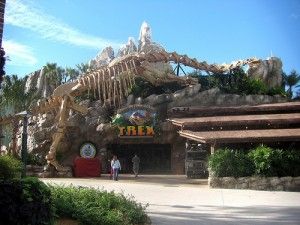 What would you say if someone invited you to dine with dinosaurs? At the new chain restaurant T-REX, patrons have the opportunity to do just that without having to worry about being on the menu.
Launched by the same company that owns the Rainforest Café chain, the dino-themed restaurant features paleo-inspired décor and animatronic dinosaurs. So far there are only two locations, one in Kansas and one in Florida, but I'm sure we'll soon be seeing them pop up across the country. If you can't visit one in person, DIS Unplugged has some snapshots of what the Florida establishment looks like.
It might not be the most romantic setting to take a date to, but if you're in the mood to try a "Supersaurus Sampler" while sitting next to a roaring Tyrannosaurus, it might be worth checking out.