This Wheel Turns Your Bicycle Into An Electric Hybrid
The Copenhagen Wheel can be snapped onto just about any bicycle to boost your pedaling power by up to 10 times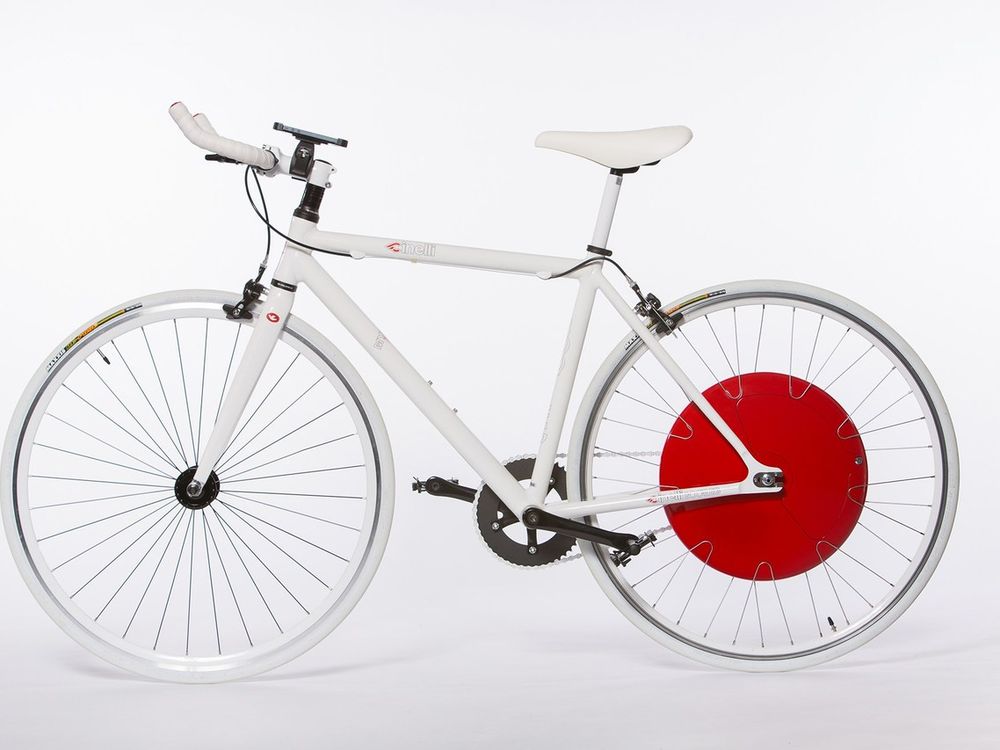 There's a reason why big city mayors like New York's Michael Bloomberg have pushed hard for the widespread adoption of bike sharing programs. Getting people to collectively start pedaling, instead of driving, can ease traffic congestion, reduce the strain on the public health system and clear up air quality in one fell swoop.
But try telling that to the sweaty business executive in the three-piece suit who's straining to pedal uphill to make it to an important board meeting on time.
Now, the Boston-based startup Superpedestrian has an innovative alternative for those who still want to enjoy all the benefits of bicycling, but with a lot less grunting. Their pedal assist device, called the Copenhagen Wheel, can be easily slipped onto almost any bicycle as a lightweight modified rear wheel that provides a motorized boost for moments when riders need it most, like, for instance, going uphill. Sandwiched between what looks like two metallic red hubcaps is an intricate system comprised of a 350 watt electric motor and a 48 volt lithium-ion battery that combine to generate an energy output that amounts to more than four times what an average person can muster by just pedaling.
Though the company is keeping mum on how the patent-pending technology works, we do know that the system utilizes what's called regenerative braking to continuously recharge the onboard battery. Such systems, typically integrated into electric cars and hybrids, convert the kinetic energy involved in stopping a moving vehicle's forward momentum, as brakes are applied, into stored power. The resulting output gives the modified bicycle a range of 30 miles and a potential top speed of 20 mph.
In some ways, the Copenhagen Wheel does for electric bicycles what Apple did for mobile computing with the smartphone and tablets, in shrinking down all the necessary components into a compact 12-pound module. The minimalist design eliminates the need for certain parts, such as an external throttle, and even includes enhancements like a sensor system designed to automatically track the rider's pedaling patterns, the shape of the terrain and other environmental conditions to determine when extra power is needed. The device also features built-in Wi-Fi so riders can access the data via a smartphone app, which displays fitness-related metrics such as distances traveled and calories burned.
The idea for the wheel was conceived back in 2009 when Assaf Biderman, an inventor and associate director of the SENSEable City Laboratory at MIT, was tasked by the mayor of Copenhagen to figure out a way to motivate more locals to adopt bicycles as a viable mode of transportation. During his research, he found that many deemed bikes as impractical due to a variety of reasons, ranging from the strenuousness of traveling long distances to not wanting to show up at work covered in sweat.
Pedal-assisted electric bikes, or e-bikes, have gained popularity over the last decade, rising steadily to account for 12 percent of all bicycle sales worldwide. Millions have been sold in Asian countries, such as China, where bicycles often serve as a main mode of transport. But the technology's reach stalls out when it comes to ardent bike enthusiasts, many of whom consider the vehicles to be too clunky. For them, pedal-assisted riding barely resembles the true bicycling experience, and all its joys.
"So we said, let's think of something that is really elegant that keeps the natural pure experience of riding. Just pedal," Biderman told Public Radio International.
The Copenhagen Wheel is on sale now for $700, with the earliest shipments scheduled for the the beginning of 2014. And it's only then that we'll learn whether the technology lives up to its claims in the rockier parts of the real-world.