This Car Can Be Assembled In Less Than An Hour
The team behind the OSVehicle project has developed an open-source vehicle that's easy to build and fully customizable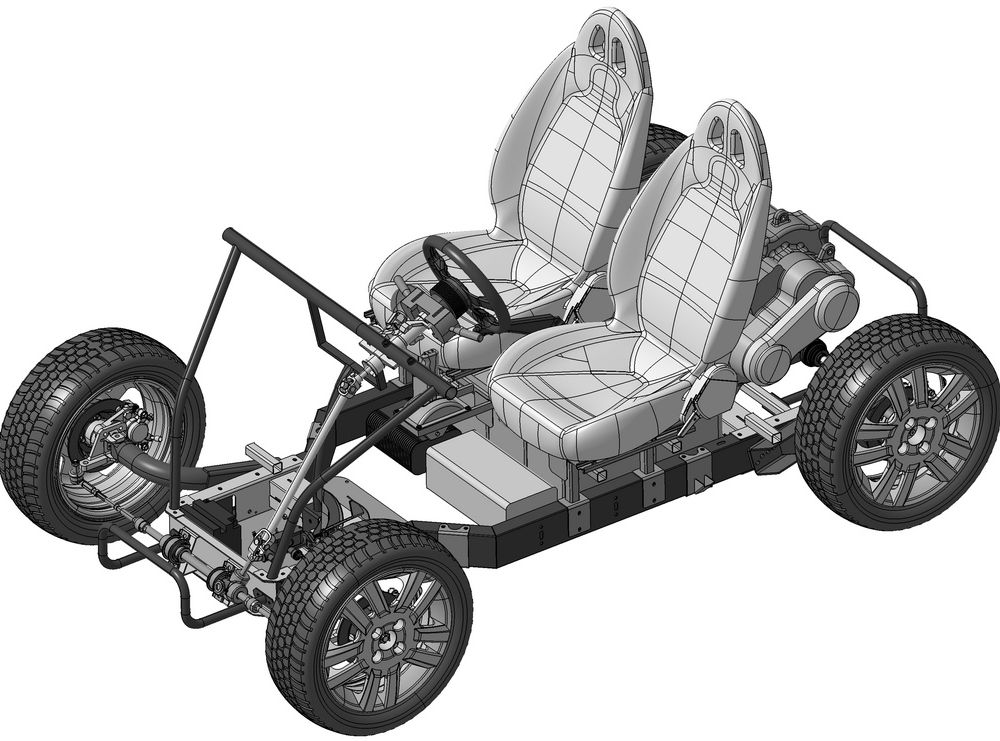 A few years back, there was some speculation that IKEA was about to do for cars what they had famously done for furniture. The Swedish retailer seemed to be hinting at such in an internet commercial showing the contours of a mysterious vehicle that was kept tightly under wraps beneath a protective cover emblazoned with the company's logo and the name, "Leko." Understandably, the online community let out a collective groan when it was later revealed that the campaign was nothing more than a stunt to drum up interest for a car-sharing program the company was launching.
However, now, thanks to a collaboration between a Chinese entrepreneur and an Italian car designer, the notion of a flat-pack car-in-a-box has finally been realized. Though technically classified as a quadricycle in Europe, the "Urban Tabby" ($5,350 to $8,000) is the first street legal automobile that just about anyone can piece together themselves—in less than an hour. 
OSVehicle co-founders Francisco Liu and Ampelio Macchi spent the better part of last year coming up with a design that would allow complete novices to build—right out of a cardboard box—an operational vehicle using nothing more than packaged components and a basic set of instructions that can be downloaded at the project's website. (I should, however, mention that boutique car manufacturer Local Motors also offers step-by-step guidelines for its own DIY car, though their Rally Fighter concept is on a whole other level of sophistication and requires a much more involved process.) Distributing cars this way, the company contends, will eventually allow manufacturers to sell competitive models at a much lower price point compared to the conventional fully-assembled versions offered at dealerships.
"By delivering to our clients just the components and not the full vehicle, we save a lot in transportation costs," Liu told Bloomberg News in a translated interview. "Everybody, in every country, can assemble his own car in his own garage for less than 6,000 euros."
The car is pretty bare bones. Buyers can choose between a base chassis for either a two-seater or four-seater. From there, the chassis can be upgraded with extras such as wheels, seats, a battery pack, a 5 horsepower electric powertrain motor, and…that's about it. Without basic options like power windows, a trunk, air conditioning or even a windshield, I imagine it's unlikely major automakers like Honda and General Motors will be losing any sleep over a ride that looks more suited for a leisurely jaunt around the golf course than anything equipped to handle the rigors of a typical highway commute.
An advantage is that Tabbys are highly customizable. As an open source project, owners have the flexibility to build a variety of cars by mixing and matching a wide range of components. Both the Urban Tabby and its predecessor the Tabby, for instance, are versatile enough to accommodate different engines and layouts that include two- and three-wheel configurations. With some creativity and a bit of 3D design software know-how, users can transform their vehicle into something that resembles a golf cart or even a truck. The secret behind OSVehicle's low-cost, simple and easily interchangeable system is its modular design, meaning each pre-assembled part meets standardized specifications that allow it to be swapped in and out in a manner that's convenient. 
The Urban Tabby comes with seatbelts. Additional safety features like anti-lock brakes and airbags will soon be offered as add-ons, and the team plans to perform crash tests to ensure it passes muster in more regions of the world. That said, OSVehicle emphasized to MSN that the entire line of Tabbys, which may someday include petrol and hybrid versions, is aimed at emerging nations where the manufacturing requirements aren't nearly as stringent.
Though the company is focusing primarily on tailoring its designs for distributors, anyone who's interested in assembling their own can pre-order an electric Tabby before it is slated to ship in the spring.