At ski areas each morning, skiers and snowboarders eager for first tracks head out early to find pristine runs covered in smooth, glittering snow. The conditions may appear effortless, but the trails are actually the result of hours of hard work and planning behind the scenes.
Ski resorts around the world use special equipment to create their own snow in addition to nature's bounty. Snowmaking helps ski resorts open earlier in the fall by building up a base before much natural snow has had a chance to accumulate. It also lets them fill in patchy or high-traffic areas throughout the season. In the United States, 17 percent of skiable terrain benefits from machine-made snow, according to the National Ski Areas Association (NSAA), an industry group that represents more than 300 ski areas in the U.S. However, there's a lot of regional variability—snowmaking tends to be more common at ski resorts in the East than those in the West.
But Sunshine Village Ski Resort in Alberta, Canada, also known as Banff Sunshine, takes a different approach: snow farming. For decades, the resort has pioneered this technique, which involves setting up miles of fencing across its highest terrain to capture large amounts of wind-blown, natural snow. As the wind pummels the towering Canadian Rockies above the tree line at approximately 7,500 feet above sea level, the fences stop the snow from blowing away and, instead, create massive snow reservoirs. Once enough has accumulated, resort staffers spread the white stuff over the slopes for skiers and snowboarders to enjoy.
Banff Sunshine isn't the only ski resort to use this technique. Arapahoe Basin and Monarch Mountain in Colorado, Baldy Mountain Resort in British Columbia and even Banff Sunshine's neighboring Lake Louise Ski Resort also use fences to capture natural snow. Similarly, transportation departments in mountainous regions also use fencing to help keep highways and roads clear.
But because of its snowy conditions and large amounts of terrain above the tree line, Banff Sunshine likely has one of the largest snow-farming operations on the planet. The practice also plays a big role in the ski area's commitment to the environment, as it doesn't require the use of any additional water or electricity as snowmaking does.
"It's Mother Nature's snowmaking that we're capturing," said Ian Curran, Banff Sunshine's mountain operations manager. "We're using the resources that are naturally available and optimizing the conditions that are made by the weather."
Farming on the Continental Divide
In the 1930s, inventors began tinkering with ways to give the weather a boost. Ski clubs, ski resorts and even movie studios tried shaving, crushing, grinding and chipping blocks of ice to create a snow-like material, according to the New England Ski Museum. Commercial snowmaking equipment for ski areas became widely available starting in the 1950s, when the Connecticut-based Tey Manufacturing Company developed a system that used compressed air to spray water through a series of nozzles.
"The need for snowmaking became clear when skiing became a commercial enterprise during the big recreational boom after World War II," says Seth Masia, president of the International Skiing History Association. "Particularly at low-elevation ski areas in the East, they just didn't get enough natural snow to do business at the levels that were necessary when skiing became so popular in the postwar years."
Since then, snowmaking gear has evolved and improved, says Masia. In the late 1960s, inventors developed a so-called airless snowmaking system that uses fans, instead of compressed air, to blow water droplets into the air. In the 1970s and '80s, snowmaking equipment went high-tech and became computerized, which meant that a computer could help calculate the right balance of compressed air and water depending on the temperature and elevation, Masia explains.
Today, snowmaking equipment is widespread and has become a big part of many resorts' operations—especially those in the Northeast, Midwest and Southeast regions of the U.S. NSAA estimates that 88 percent of its ski resort members in the U.S. make their own snow. Ski areas use both airless and compressed air systems to make snow, depending on the terrain and their investments in infrastructure. A handful of companies around the world specialize in snowmaking gear today, including HKD Snowmakers, SMI Snowmakers, TechnoAlpin, Snomax International and DemacLenko.
"Compressor systems are still in use, but for making snow in more remote spots where the air compressor system doesn't reach, the fan-driven snow guns are very popular and in very wide use," says Masia.
Though snowmaking does require water and electricity, the majority of that water melts back into the watershed each spring, and resorts are increasingly turning to renewable power sources. In some states, the amount of water used for snowmaking represents only a small fraction of overall water use: In Colorado, for example, the 1.5 billion gallons of water ski areas use for snowmaking makes up less than one-tenth of a percent of all diverted water in the state, the Associated Press reported last year. Agriculture, by comparison, accounts for 85 percent.
Over the decades, ski areas have invested millions of dollars in bolstering their snowmaking infrastructure and capabilities—and, more recently, in making the process more efficient and environmentally friendly amid human-caused climate change. Vail Resorts, the Colorado-based company that owns and operates 40 ski areas in the United States, Canada and Australia, for instance, has upgraded hundreds of its snowmaking guns to models that use less energy to make more snow more quickly. The efficient snow guns also shut off automatically if temperatures get too warm, and they regulate water output. Jiminy Peak Mountain Resort in Massachusetts installed a wind turbine that produces a third of the resort's annual electricity. Arapahoe Basin powers all its snowmaking operations and some chairlifts with solar power from eastern Colorado. And Aspen Skiing Company is converting waste methane from a coal plant into electricity.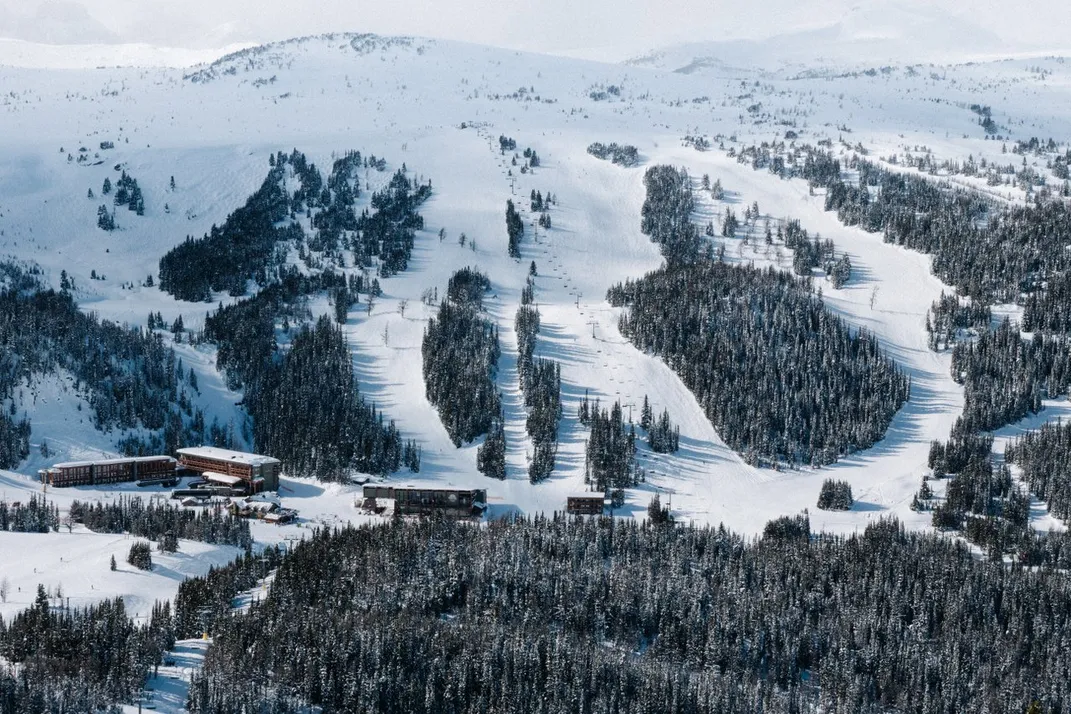 All the while, Banff Sunshine has just four portable snowmaking machines and only uses them to make snow in very specific areas, including in its lower ski-out and beginner areas, early in the season.
Unlike most other resorts, Banff Sunshine has decided to focus on snow farming over pursuing energy-efficient snowmaking. Staff there say it's a natural choice for the resort.
Though the origins of snow farming at Banff Sunshine are as hazy as the summit on a cloudy day, resort officials say the practice dates back to the mid- to late 1970s. The method really took off in the 1980s, and the ski area has stuck with snow farming—and even expanded it—over the years because it's proved to be a sustainable, cost-effective way of opening high-elevation sections of its 3,368 total acres of skiable terrain as early as possible. The resort now deploys roughly 15 miles of snow fencing each winter, much of it near its highest-elevation terrain, which sits at 8,954 feet above sea level.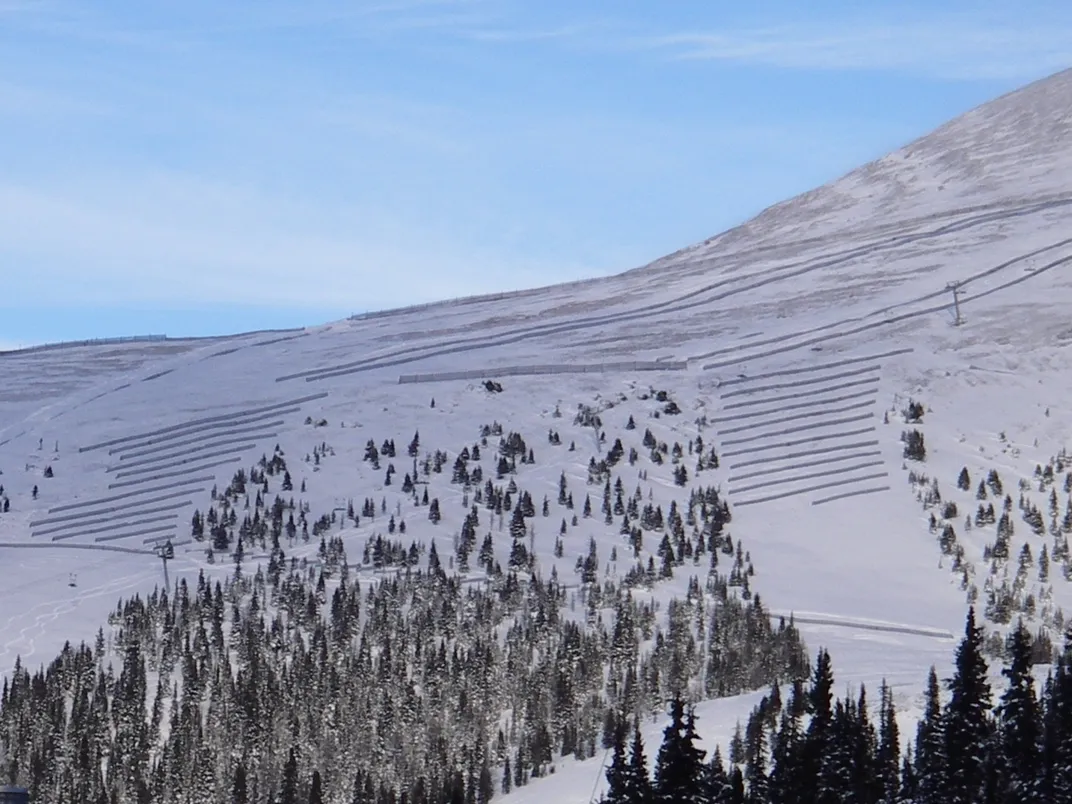 The alternative—making snow—would require using large amounts of water and electricity; the equipment and infrastructure would also be expensive to install and maintain. Located within the bounds of Banff National Park and Mount Assiniboine Provincial Park, which are UNESCO World Heritage Sites, the ski area has limited overall access to water. But beyond that, there's just not much water flowing in the high alpine—and much of Banff Sunshine's terrain is above the tree line—which means that, to make snow high on its slopes, the resort would have to pump water up the mountain from a creek in the valley below, which would be an expensive and logistically intensive process.
"It would've been astronomical to get the water up to where we need it," says Adam Towers, Banff Sunshine's senior supervisor of slopes.
Rather than go to all that trouble, the ski area's leaders decided to capitalize on their setting high in the Rockies and Mother Nature's bounty instead. And it is a bounty: Because Banff Sunshine is situated along the Continental Divide, its slopes receive an average snowfall of more than 30 feet each winter.
"As weather systems roll in from the southwest and off the Pacific Ocean, the Rockies are the highest peaks they typically cross," says Curran. "That elevates the air mass, which causes it to cool and causes a lot of really localized flurries in our area. Our resort is very unique for the amount of high-alpine terrain we have, and that high elevation brings us really fantastic snow."
Making the most of natural snowfall
The snow-farming process begins in the summer. While the earth is warm and soft, Banff Sunshine's 18-person trail crew pounds steel fence posts into the ground above the tree line at 10- to 15-foot intervals in straight lines that are perpendicular to the direction of prevailing winds. Once the ground freezes, typically by late October, they tie on black plastic fencing material punched with rows of oval holes.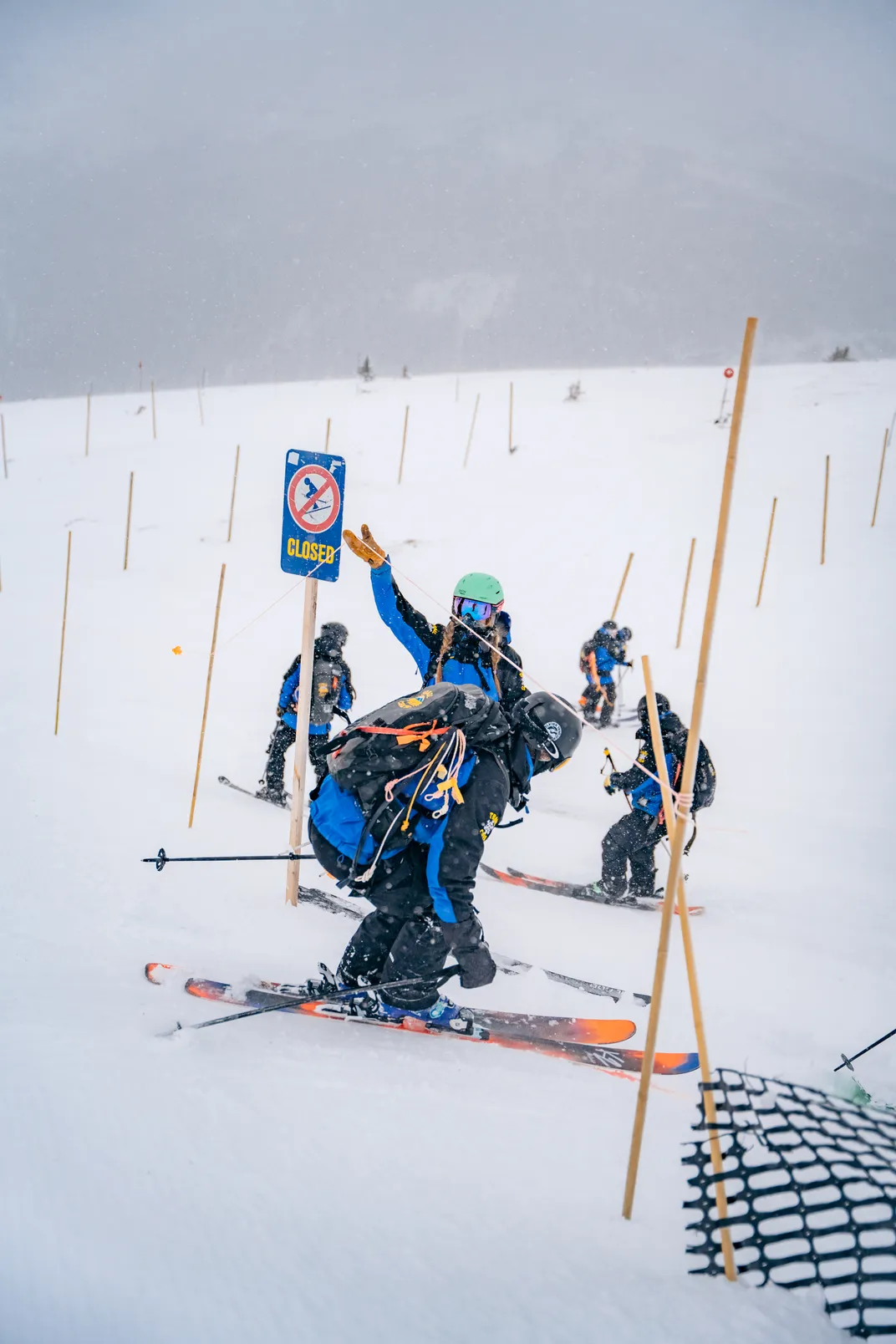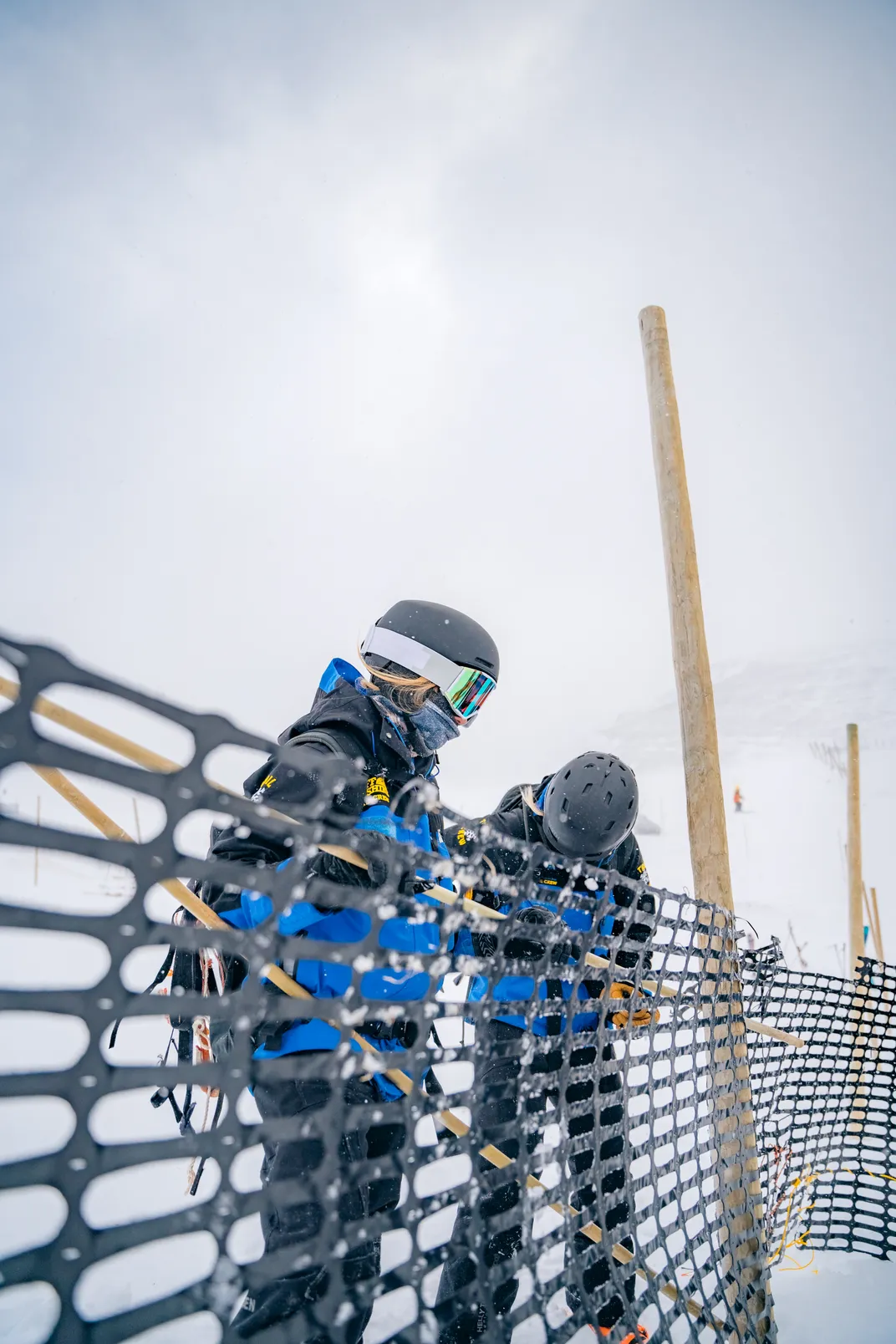 The fencing mimics the trees that grow at lower elevations of the resort. When the wind blows, both trees and fences create turbulence that causes snow to pile up behind them.
"As single-direction wind hits the fence, it recirculates and fills that low-pressure area behind the fence and deposits the snow in a drift, which can become what we call a whale," says Curran.
As the name suggests, whales are huge, oblong-shaped mounds of snow. After a big storm, trail crew members use their skis and body weight or large vehicles called snowcats to pack the whales down and make room for more snow to pile up behind the fences during the next storm.
Once the snow grows so tall that it nearly buries the fencing, staffers replace the steel rods with bamboo sticks and reset the fences to be above the snow level so they can continue to capture powder. The trail crew then uses snowcats to drive across drifts measuring anywhere from 2 to 6 feet tall and 5 to 25 feet wide, and they spread the collected snow across the terrain to form smooth, skiable runs.
"Once there's enough snow, we remove the fences entirely, and what you're left with is a wide swath of open skiing that connects what would otherwise be variable snow based on the terrain features," says Curran. "Once we get into midwinter and look up, the mountain is skiable from one boundary to the other."
Looking ahead
Though ski areas are accustomed to natural climate variability already—some years they get heaps of snow, while others they get much less—their leaders worry that human-caused climate change could make winter weather even more unpredictable. They're also increasingly concerned about drought, decreased snowpack, mild winters, unseasonable conditions, rising global temperatures and early spring melts. And for good reason: A 2017 study published in the journal Global Environmental Change suggests that climate change could cut in half the winter seasons of many U.S. ski resorts by 2050. By 2090, the study predicts, their winters may be up to 80 percent shorter. The study accounted for natural precipitation and the conditions required to make snow.
If temperatures continue to rise, there may come a day when it's simply too warm to make snow. That's a big reason why ski areas are also advocating for policy changes, in addition to making on-the-ground sustainability improvements.
"If we don't have cold temperatures, you can't make snow," says Adrienne Isaac, spokeswoman for NSAA. "There's a tipping point where snowmaking doesn't help, but it's currently a really important operational and resilience tool. Despite the challenges posed by a changing climate, ski areas over the last ten years have been able to provide relatively consistent seasons in terms of length, even though their winters might be shortening."
That said, any tool or process that can help hedge against uncertainty—whether more efficient snowmaking, snow-farming or grooming techniques—is likely to become even more critical to ski resorts and the economies they help keep afloat in the future.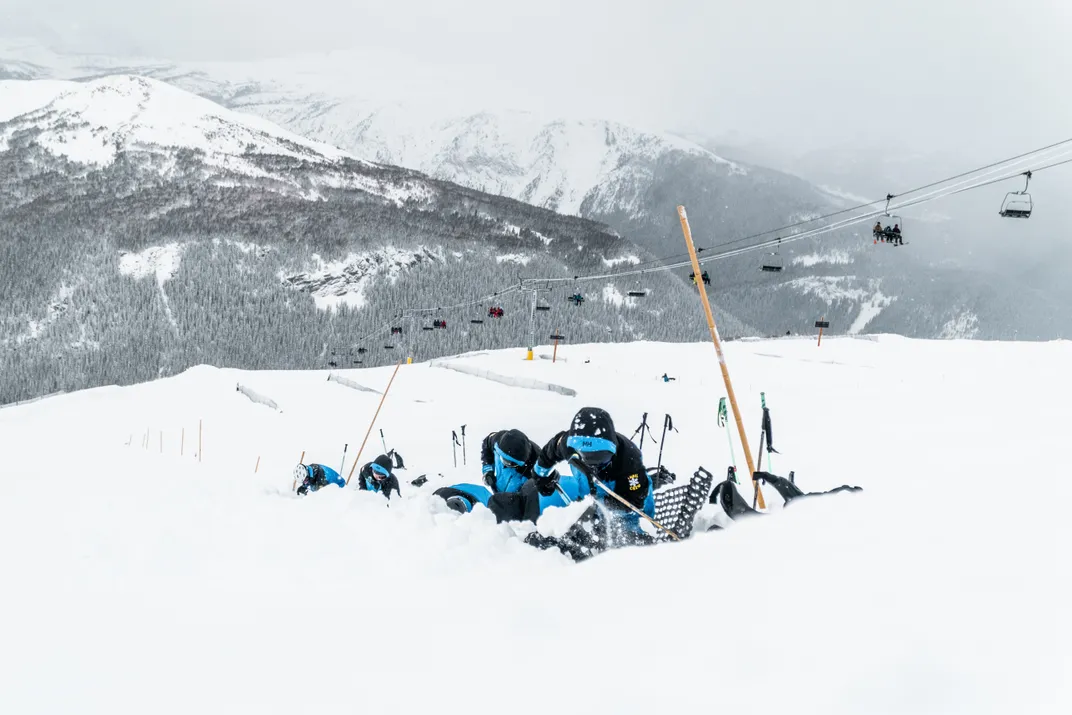 Resorts around the world are also experimenting with new techniques to counteract limited snowfall and rising temperatures, as well as to extend their seasons. As James Jung reported for Bloomberg in 2018, European ski resorts like Switzerland's Davos, Austria's Kitzbühel and France's Courchevel are preserving snow during the summer months by covering it with tarps, foil or sawdust, a tactic they also call "snow farming."
For decades, ski areas, utility companies and water conservation districts have also supported cloud seeding, a weather modification technique that uses generators to send silver iodide particles into the air to help boost snowfall. The particles float up into storm clouds, where they gather water vapor and eventually fall as snowflakes. Cloud seeding, like snow farming, helps enhance natural processes by getting more snow out of existing storms.
Snow farming wouldn't work just anywhere, so it's unlikely that other ski resorts will follow Banff Sunshine's lead. The resort happens to have just the right conditions—high-alpine terrain that's exposed to the wind and impractical for snowmaking, plus lots of natural snow—to make snow farming its method of choice. And, amid a shifting climate, it's likely to stay that way.
"We may have more variability in a particular year or in a period of years than we did previously, so it's important to have contingencies planned for that," says Curran. "What that means for snow farming is we're considering increasing the amount [we do], extending some of those lines and adding additional lines. If there is any decrease in the reliability of snowfall at a particular time, we want to be able to capture all of it when it does come."