Switching to This Flat LED Light Bulb Could Be an Easy Resolution to Keep in the New Year
With its radical new design, the Philips SlimStyle may be the cheapest LED yet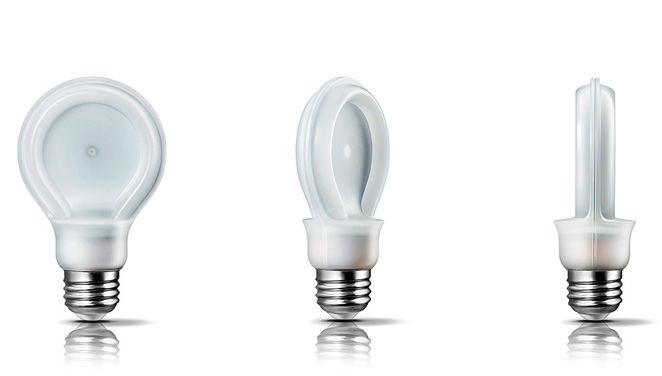 At the beginning of 2014, the incandescent glow that has lit American homes for over a century will be dimmed, as the U.S. government halts the production of conventional 60- and 40-watt light bulbs. The mandate, signed into law in 2007, is part of an effort to bring about wide-scale improvements in energy efficiency, a move that has since riled tea party activists and prominent politicians.
Libertarians and conservatives consider the ban to be a particularly flagrant attempt by the feds to limit consumer choice, especially since it pushes buyers toward nascent energy-sipping technologies that can cost upwards of $30. Meanwhile, some people argue that these alternatives, such as Light-Emitting Diodes (LED) and Compact Fluorescent Lighting (CFL), produce a harsh brightness and inconsistent color. Less than 1 percent of the 5.6 billion bulbs used by residential consumers in the U.S. are LED, according to a CNBC report.
"The soul doesn't connect to LED, it's a visceral reaction," lighting designer Bentley Meeker told Yahoo! Shine. "Until the mid-1850s, the only light that humans were exposed to was daylight and firelight—incandescent bulbs have a color that is similar to firelight."
But like it or not, the law has forced the industry to ramp up its efforts to put out innovative products that adhere to new efficiency standards and also remain inexpensive relative to those trusty old incandescents. It was only when the Cree warm white LED bulb was introduced in March of this year that consumers and critics felt they may soon have acceptable options. Here, at least, was a replacement that was omni-directional, dimmed smoothly, worked quietly and cost around $12 for the 6-watt (40W) version. Royal Philips Electronics CEO Frans van Houten says that the tipping point for consumers is "well below $10."
Hailed as the first LED bulb to actually feel like a conventional bulb, the Cree warm white was praised widely by reviewers for its coverage and ability to cast a "warm and pleasant" glow. In response, Cree's main competitor, Philips, is now set to release a high-performance, 60-watt model with a rumored price that's even lower (under $10), an achievement made possible by—get this—simply flattening the bulb.
The SlimStyle's radical design allows for continuous operation without the need for aluminum heat sinks, one of the major cost drivers of LED bulbs. These components are built into LED lights to draw heat away from the diode, or light source, which is prone to overheating, a consequence that shortens the bulbs' life span. A heat sink, however, generally amounts to 16 percent of the cost of manufacturing a single bulb. Instead, positioning an array of LEDs along the raised rim of a flat bulb, according to a Philips representative, "helps conduct heat away from the LEDs, eliminating the need for the heavy aluminum heat sinks associated with LED bulbs."
A glance at the specs, as reported by Gigaom, shows that the SlimStyle should last 25 times longer than a 60-watt incandescent and enable homeowners to reduce energy consumption by 85 percent. It's also engineered to meet or exceed Energy Star standards, which would allow the product to qualify for rebates and subsidies.
Consumer Technology publication CNET recently posted a review of the 60-watt SlimStyle that compared its features and performance to the 60-watt Cree warm white and found that while the flat bulb performed well in some areas, the funky horseshoe configuration does hinder its use in other ways. In a side by side test, the Philips bulb was described as having a "warm, soft white tone" that's "slightly more natural and less yellowy in tone than the Cree." But as far as the bulb's omni-directional coverage, a casual observer will notice some slightly dim areas as opposed to the Cree's uniform brightness.
The Philips SlimStyle flat bulb will be available on January 2, 2014.