As Storms Get Bigger, Oyster Reefs Can Help Protect Shorelines
Municipalities and military bases are using the bivalve to defend against flooding and damage from climate change-driven storms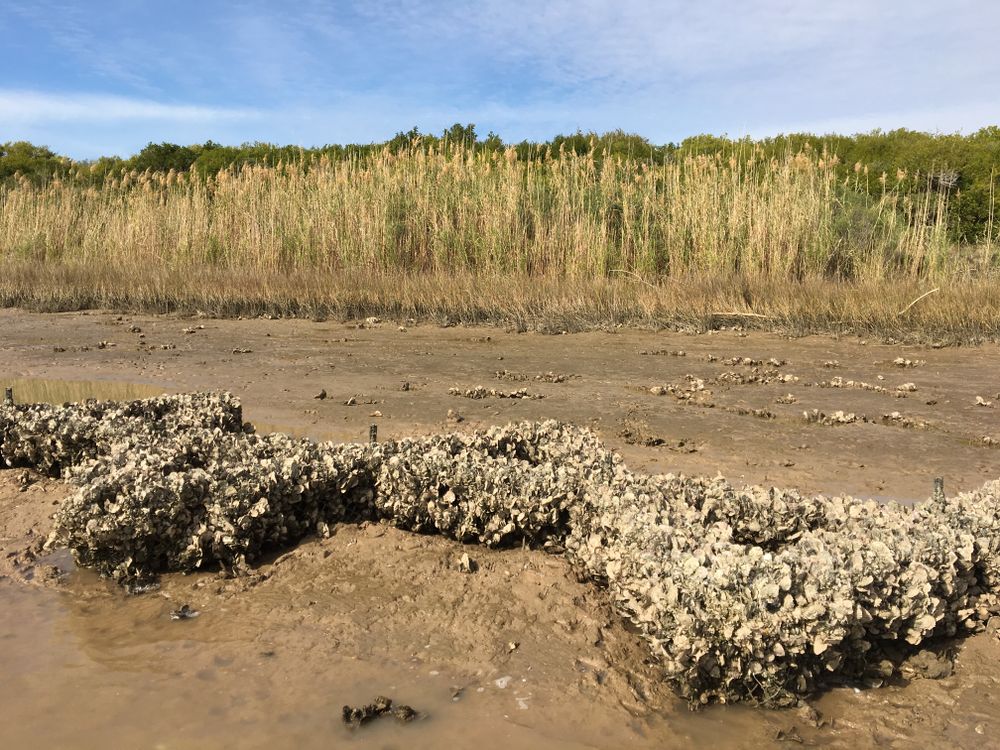 Two hundred years ago, the streets of lower Manhattan were lined with "oyster cellars," rough-and-ready establishments hawking all-your-can-eat oysters for six cents. In those days, the floor of New York Harbor was covered in oyster reefs, making the bivalve a cheap and plentiful snack for the underclass of the rapidly growing city.
Flash forward to the early 21st century, and pollution and overharvesting have all but killed off New York oysters. Then, in 2012, Hurricane Sandy hits. The storm surge floods lower Manhattan, submerging the streets once home to the oyster cellars, causing $65 billion in damage.
But if the waters surrounding Manhattan had still been thick with oysters, the damage might not have been so severe. And if we bring them back, experts say, we might better protect our coastlines from future storms, which are likely to be worse because of climate change. These experts are calling for a rebuilding of oyster reefs in coastal areas around the country. And people – private property owners, businesses, the military – are listening.
"Oyster reefs protect shorelines from wave erosion naturally," says Antonio Rodriguez, a professor at the Institute of Marine Sciences at the University of North Carolina at Chapel Hill. "Before their enormous decline in abundance – we have lost about 80 percent of oyster reef habitat over the last 100 years – they were much more common along estuarine shorelines."
During a storm, underwater oyster reefs or beds – dense colonies of oysters both living and dead – act as a natural breakwater, absorbing wave energy before it hits the shore. These reefs can be created artificially by dumping a hard substrate, often old oyster shells or bits of rock or crushed concrete, on the seafloor and "seeding" them with oyster larvae. The larvae attach to the shells or rocks and begin to grow.
Artificial oyster reefs are already commonly used to reduce water pollution via the oysters' natural filtering abilities. They're also often used to increase marine life, as many species, including commercially important fish, are dependent on oyster reefs at some point in their life cycle.
"Typical coastal infrastructure like a bulk head protects the abutting shoreline it's meant to protect, but it provides no additional ecological benefit," says Bryan DeAngelis, a program coordinator at The Nature Conservancy, which is involved in a number of oyster reef restoration projects. "While oyster reefs, or hybrid approaches [such as rebar structures seeded with oysters], can serve those same protection purposes but also provide huge ecological benefits like improving water quality through oyster filtration, reducing excess nitrogen, or providing critical habitat that supports the production of new fish and crabs.  Furthermore, natural or hybrid solutions may come with decreased implementation or maintenance costs – making them a potential win-win over time."
A spate of recent projects is banking on that. Naval Weapons Station Earle, a Navy base on New Jersey's Sandy Hook Bay, supplies warships with ammunition from its nearly 3-mile-long pier. It suffered $50 million in damage during Hurricane Sandy. The station recently worked with an environmental group to plant a nearly mile-long oyster reef offshore from its pier.
"Out here in Sandy Hook Bay, over the course of 100 years or so, most of the [reefs] in the waterways have either died out or been stripped away because of fishing," says Bill Addison, public affairs officer at Naval Weapons Station Earle. "So we don't have those natural protections in the water. Installing this structure really did provide an opportunity for us to have a hardened structure to absorb some of that wave energy."
Eglin Air Force Base in Florida has a similar reef, as does Naval Station Norfolk in Virginia and Patriots Point Naval & Maritime Museum in Charleston Harbor.  
Local municipalities are investigating reef protection as well. In Louisiana, authorities are attempting to protect their flood-prone coastline, with plans to spend more than $72 million building 18 miles of reef. A number of communities in other parts of the country are attempting similar projects on scales both large and small.
In December, New Jersey Representative Frank Pallone Jr. introduced the Living Shorelines Act, which would make coastal communities eligible for $100 million in federal grants to go towards shoreline protection measures including oyster reefs.
Oyster reef restoration projects have faced political opposition in the past. In New Jersey's Raritan Bay, the environmental group NY/NJ Baykeeper was forced to pull a nearly 10-year-old reef over concerns that poachers might sell the oysters, which are not fit for human consumption because of water pollution, thereby introducing disease into the food chain. They then approached the Naval Weapons Station Earle to see if they could build a reef in their patrolled waters, which is how Earle's reef came to be.
"We need governmental support to streamline the permitting process," Rodriguez says. "It is easier to get permission to install a bulkhead or riprap than an intertidal oyster reef and that needs to change.  Also, more public education and outreach is needed about the benefits of using oyster reefs to protect the shoreline from erosion."
But environmentalists remain undeterred, with several high-profile projects in the works. In New York, the Billion Oyster Project aims to reintroduce a hundred acres of reef and a billion oysters to New York Harbor by 2035, hoping to reduce storm damage, clean up water, and provide habitats for marine life. They work with restaurants to source oyster shells for use as a substrate, and invite local schoolkids to act as citizen scientists by monitoring the oysters.
Research from the University of Massachusetts Amherst suggests that bringing these reefs back could indeed help reduce the costs of the next big storm. By using computer models and sediment samples from around New York Harbor, researchers were able to determine that wave energy in the area is now as much as 200 percent higher than it was before Europeans began harvesting the harbor's oysters in the 1600s.