A Smart Recycling Bin Could Sort Your Waste for You
It's sometimes difficult to know where to put different types of plastic, but computer vision could remove any confusion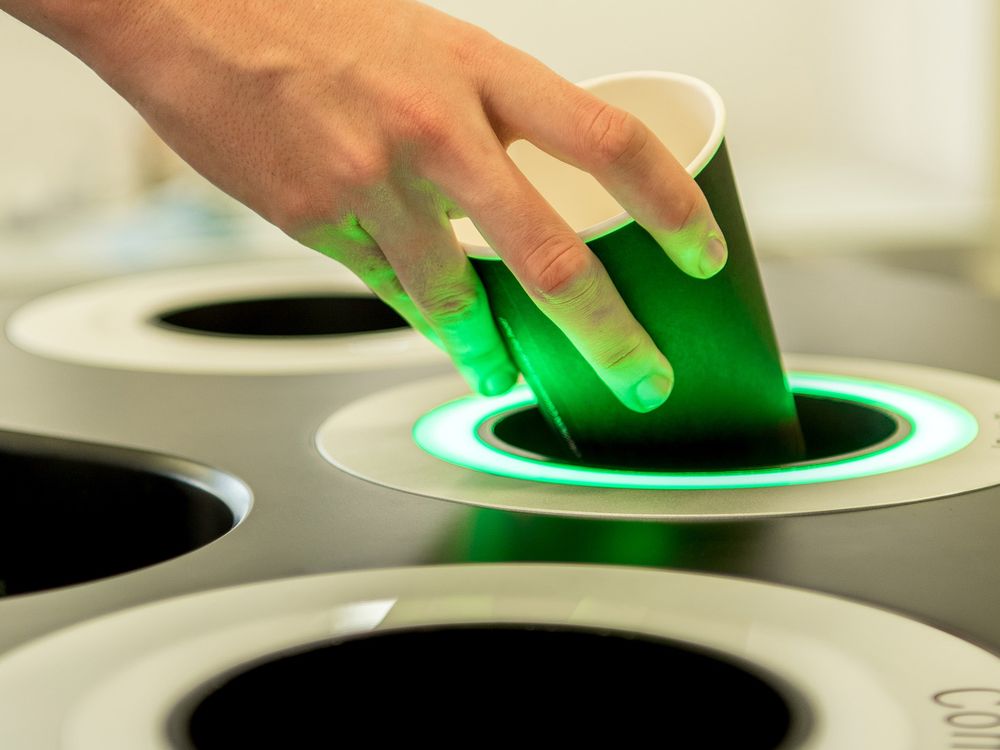 Do you ever find yourself hovering over a recycling bin, not sure whether the container in your hand can go in or not? What is the difference between high-density polyethylene (HDPE) and low-density polyethylene (LDPE) anyway? Why do plastics all have the little arrow triangle sign on the bottom, even when they can't all be recycled?
A new "smart" recycling bin aims to help relieve any confusion. The bin uses computer vision—an algorithm that can "learn" to recognize images much the way the human brain does—to identify the material held in front of its cameras, and then tells the consumer exactly where to place the container.
"People are confused about where to recycle things, and consumers are confused about the actual material the packaging is made of," says Sajith Wimalaratne, the food and beverage commercial manager at Cambridge Consultants, the British consulting and product development company that created the bin. "There are hundreds of materials out there that look the same, but can't be recycled in the same ways."
Wimalaratne and his team envision the smart bins as working like this: a consumer goes to a Starbucks and orders a latte in a paper cup (or a juice in a plastic bottle, or a milk in a carton, etc.). Once he's finished, he goes up and taps his phone against the bin, registering his identity with the bin app via Bluetooth. He then holds his cup over the bin's cameras, which take two photos. The computer vision identifies the material and lights up the correct area of the bin. The user then gets a reward via the app. That reward would depend on the bin's owner or sponsor. In a Starbucks, for example, it could be points towards a free coffee. But it could be anything: charity donations, free merchandise and so on. If the user didn't want to use the app or register his identity, he could simply use the computer vision to help them know where to toss his cup.  
Wimalaratne hopes the bins will help increase rates of recycling, which he describes as "appalling." In the U.S., the recycling rate is less than 35 percent of all waste (the UK is marginally better, at about 40-45 percent).
Whether or not people recycle has a lot to do with cultural norms, says Chaz Miller, director of policy and advocacy at the National Waste and Recycling Association, a trade association representing private waste and recycling companies.  
"Homeowners—residents of single family housing—have adopted the cultural norm of putting their recyclables on the curb on collection day," Miller says. "However, they are not always doing this right. So while we have created this cultural norm of participating, we still need to do work on recycling right."
In public spaces and multifamily housing, the cultural norms to recycle are not as strong, Miller says. Where there's more anonymity, there's less pressure to participate.
Wimalaratne and his team hope their smart bin will help create a cultural norm around recycling in public spaces, especially when paired with the app. Users, especially millennials, may enjoy the validation they get from recycling and earning rewards. And the team also thinks the bin will appeal to corporations, who are under increasing pressure to be seen as sustainable.
"Brands are wanting to go in this direction to create positive PR for themselves as responsibility for the end of the product life cycle," Wimalaratne says.
In addition to being in chain cafes like Starbucks, the Cambridge Consultants team envisions bins in public spaces like parks, airports and malls, sponsored by various corporations—Coke or McDonald's, say, or the mall or airport itself.
It's a win-win for companies, they say, who could use the bins to gather valuable data about customer habits, whether its individual consumer data gathered through the app, or simply data about how much or what kind of waste is recycled. 
Right now the team is taking their bin prototype on the road to trade shows, hoping restaurants or other companies will become interested. Once a company decides to order a bin, it could be manufactured relatively quickly and cheaply, Wimalaratne says.
"It uses off-the-shelf low-cost technologies," he says. "The most expensive thing is the PC the whole thing runs on."
Miller thinks technology does have a role in improving recycling, though it's not as important as the human education element. "Some recent breakthroughs in robotic sorting technologies are particularly promising," he says. "But the most important challenge remains ensuring you and I are doing it right."