Made by College Seniors, These Seven Products Give Us a Glimpse Into the Future
Engineering students at universities across the country took these projects from sketch to reality in one year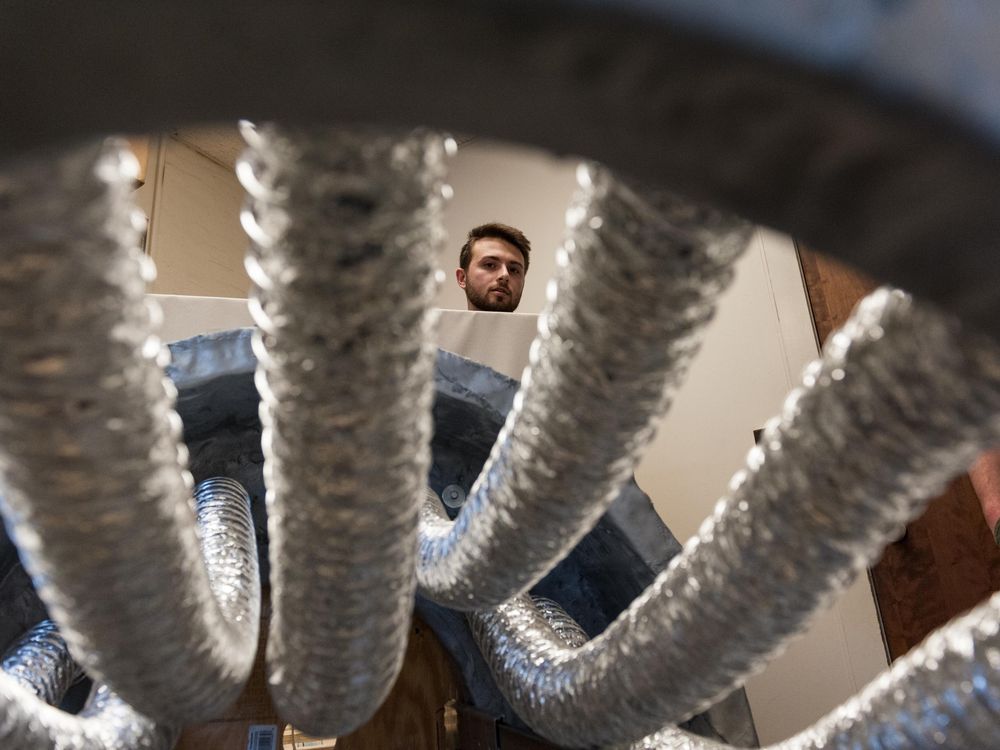 Across the country, engineering students are graduating, and some are clutching their diplomas with extra relief—those who spent their senior year of college working on demanding capstone projects.
At many universities, the year-end engineering open houses are a free-for-all of prototypes and project boards. A year of thinking and tinkering by teams of computer, mechanical, biomedical and electrical engineers results in novel products—from rough models to sleek, fully functional prototypes.
Remember, these are Rolls Royce ideas on ramen noodle budgets—students become familiar faces in hardware stores from all the trips buying plywood, PVC and sheet metal.
Showcases aren't just at universities, either. In Huntsville, Alabama, telecommunications company Adtran has been hosting a dozen or so university teams for the past five years. Adtran's director of engineering, Kent Darzi, says that the program gives seniors a practical opportunity to pitch what they know in a business setting, but also clues in industry about the tech coming down the pike.
"It allows us to get a pulse on what the students are learning," Darzi says. "But we want students to walk out having built up their confidence, and know that they're ready for industry."
Drone-based projects popped up at virtually every university showcase this year. One day, farmers may use drones to seek out diseased crops, or kids could practice laser tag skills, Star Wars-style, on target drones. Virtual conferencing could move from laggy Skype calls to an immersive Oculus Rift meeting. Firefighters' masks may display not only how much oxygen is left in their tanks, but also the temperature of the room.
Of the thousands of projects presented across the country at universities and private businesses, here are a few that look particularly promising for changing people's lives.
IncuBaby - Rice University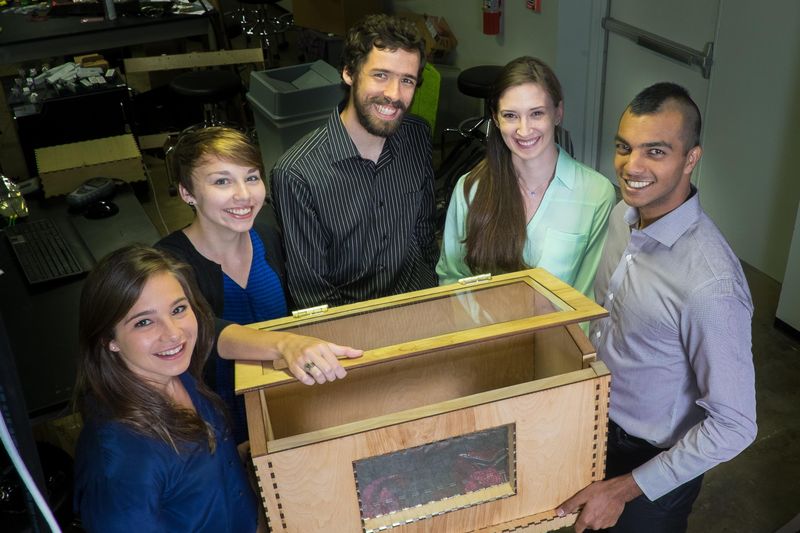 Student Team: Carissa Livingston, Amanda Boone, Bailey Flynn, Caleb Owsley and Zaid Haque
Faculty Advisor: Dr. Maria Oden
After learning that hypothermia is a leading cause of death of newborns in the developing world, a group of students at Rice University's Oshman Engineering Design Kitchen (OEDK) came up with an IKEA-inspired solution. IncuBaby's double-walled design, with an insulating layer of Styrofoam sandwiched between two thin pieces of birch plywood, is key to its low cost: the parts can be laser-cut and flat-packed. A typical modern incubator costs $35,000; IncuBaby costs about $250. A fan circulates air warmed by heating pads in the base and rear wall, and the temperature is controlled by a custom feedback circuit that sounds an alarm when something is amiss.
"A one-degree Celsius change in temperature can increase infant mortality by 80 percent," says project advisor Maria Oden. "We challenged students to create a device that is cost effective, easy to use and easy to repair." IncuBaby was named the best interdisciplinary project at Rice's 2015 showcase. It will be field tested this summer in Malawi.
Go Ramp - Michigan State University
Student Team: Sean Hughes, Stephanie Jones, Krista Oldham, Davis Trapp and Zachary Tuller
Faculty Advisors: Dr. Tamara Reid Bush and Dr. Hang Nguyen
Marketing and engineering students first went door-to-door to discover products their community wanted, then together designed and built a prototype. The Go Ramp is a wheelchair that carries its own ramp for traversing small obstacles. Harnessed to the rear of the chair, the ramp can be lifted up and over the user's head, then positioned against a curb or stair to be mounted. After going over the ramp, the ramp can then be hooked back into its start position on the back of the chair. The team hopes a future design will have a self-reloading ramp, as well as be built with lighter composite materials.
Thermally Responsive Biogel - Saint Louis University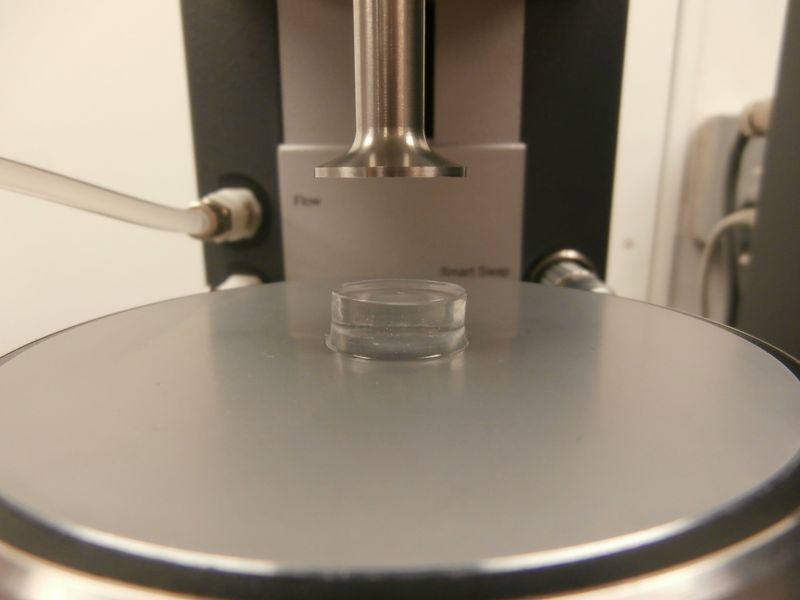 Student: Niko Temefeew
Faculty Advisor: Dr. Scott Sell
After watching his physician father recover from not one but two painful spinal fusion surgeries, biomedical engineering student Niko Temefeew started working with his professor, Dr. Scott Sell, on developing a more humane option than screwing two vertebrae together. They created a collagen-like polymer gel that is liquid at room temperature but solidifies at body temperature. Their hope is that one day damaged spinal disks can be repaired through a simple injection of his biogel rather than an invasive surgery. Though tests continue to observe how cells will grow and survive within the gel matrix, Temefeew says cells suspended in the gel hold up well against damaging shear forces associated with injections, a major obstacle for repopulating collagen-like material with the body's own cells. Temefeew will continue work on the project for his master's thesis and hopes to have a working product in a year.
Pressure Reactive Stepping Stones - University of Central Florida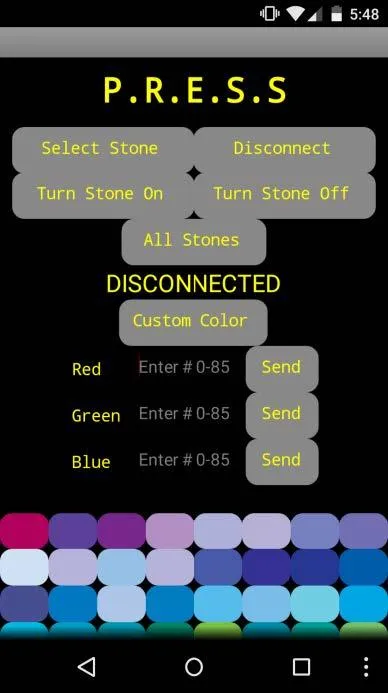 Student Team: Amanda Ross, Mariah Kenny, Benjamin Gafoor and Phillip Dunlop
Faculty Advisor: Dr. Samuel Richie
Remember the scene from "Big" where Tom Hanks dances on Paul Bunyan's piano? Pressure Reactive Stepping Stones (PRESS) is like that, but for your yard. Outfitted with an LED array and a solar charger, this interactive garden paver lights up when you step on it, in 16 million possible color combinations and a variety of customizable patterns you can program via mobile app. Team member Benjamin Gafoor says the idea came to him at a very dark garden party: "I thought, how neat would it be to have a stone that would light up when you step on it so you could see your way to the driveway?" The 12-inch wide hexagonal panels can also deliver an alert to your phone when someone is approaching the house—whether it's a welcome delivery or an unwanted prowler.
ChemSense - University of Texas, Austin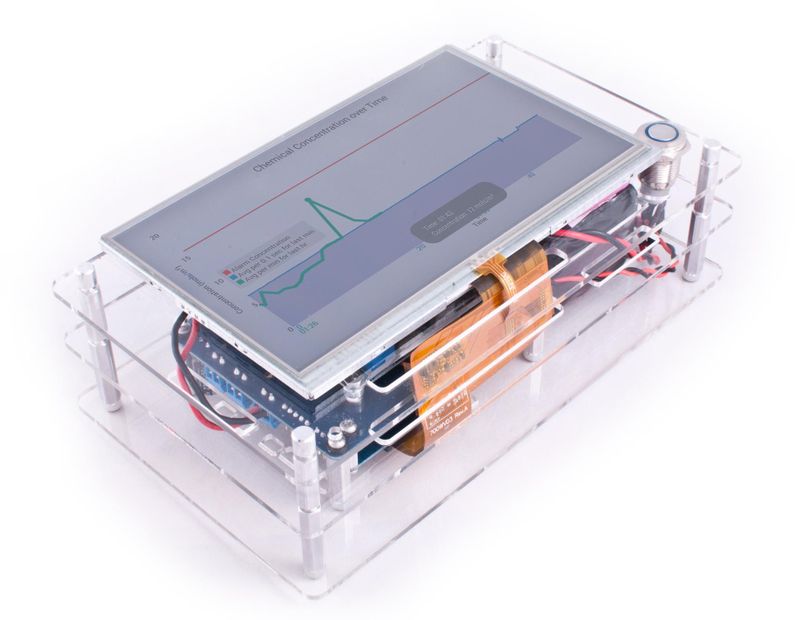 Student Team: Travis Brannen, John Elson, Steven Prickett, Kaarthik Rajendran, Aaron Treptow and Parker Wray
Advisor: Dr. Ray T. Chen
Weighing in at only two pounds, ChemSense brings sophisticated laser spectrometry out of the lab and into the field, where soldiers might use it to detect weaponized airborne chemicals and oil rig workers to track rising levels of harmful gases in their wells. This handheld spectrometer looks like a bulked-up Kindle, and it was developed to seek out airborne chemicals and pollutants in the mid-infrared spectrum, the wavelength region where those gases are best detected. The laser's light is guided through a nano-thin semiconductor membrane, which concentrates the laser's photons and makes it incredibly small and energy efficient, yet still able to detect gas concentrations as low as 10 parts per billion. The lasers, sensors and detectors are packed into an area of less than one square inch, and onboard Bluetooth can send data directly to mobile phones or laptops.
Ecological Cookstove - Ohio State University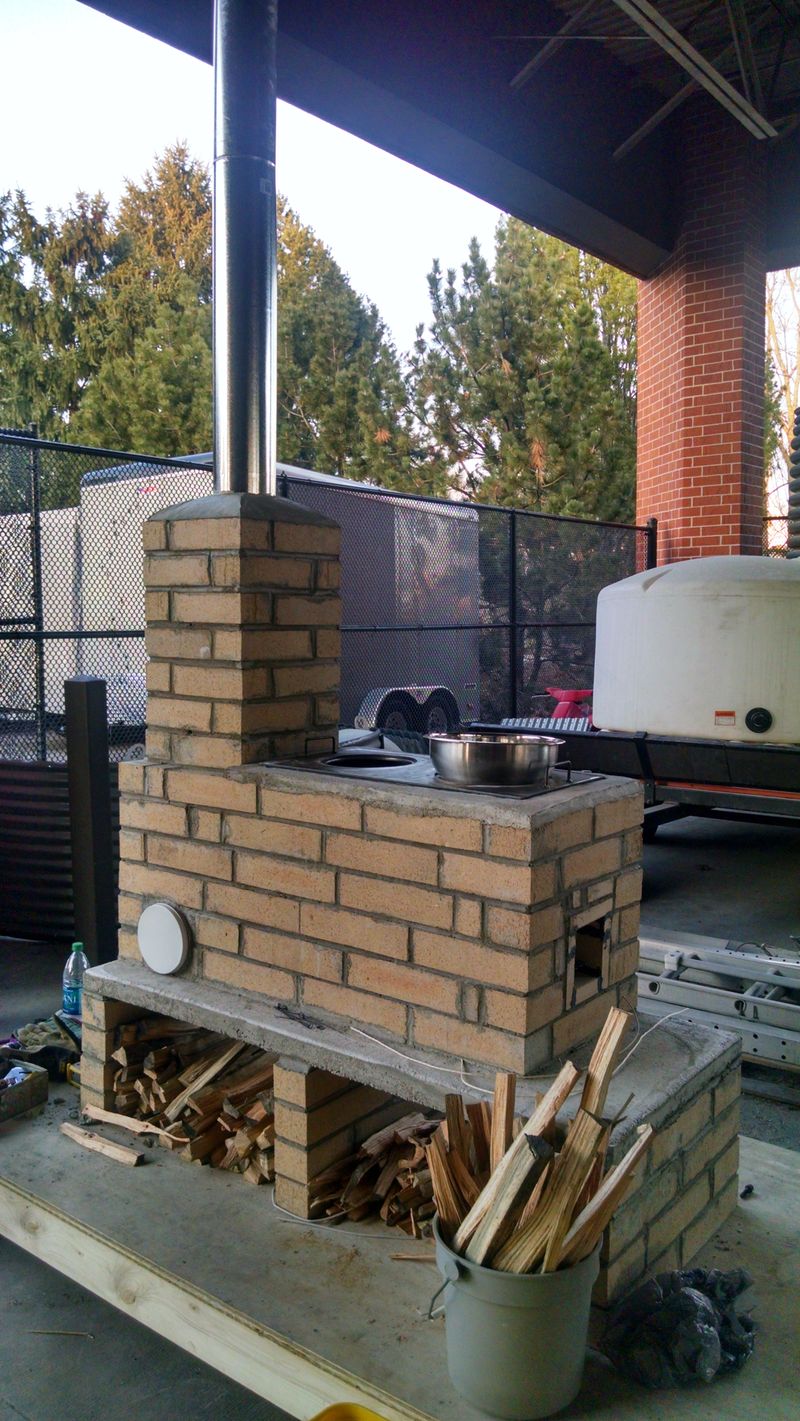 Student Team: Chelsea Dailey, Steven Hagger, Alexis Dillhoff and Lindsey Fester
Faculty Advisor: Dr. Gonul Kaletunc
Hot dogs and marshmallows are fun to cook, right? Open fire in the open air. In some parts of rural Nicaragua, most cooking is done on an open fire—in the house. Soot covers the walls, and women and children suffer disproportionately from respiratory disorders. So after spending last summer working in Nicaragua with the nonprofit El Porvenir, Chelsea Dailey decided to use her senior capstone course to help reduce the human and ecological impacts of the traditional cooking method.
Dailey and her team redesigned a stove El Porvenir had already started testing. Instead of expensive imported cement, the revamped stove is made from adobe bricks that can be produced, on site, from local clay. The combustion chamber requires 43 percent less fuel than an open fire, achieved through a double-hulled design that fills the walls with wood ash for insulation. An insulated chimney vents smoke outside. "We wanted to use the resources on hand to benefit the humans living in that environment," says Dailey, who leaves this week for Nicaragua with teammate Alexis Dillhoff to build and test two of the stoves.
Inflatable Airlock - University of Vermont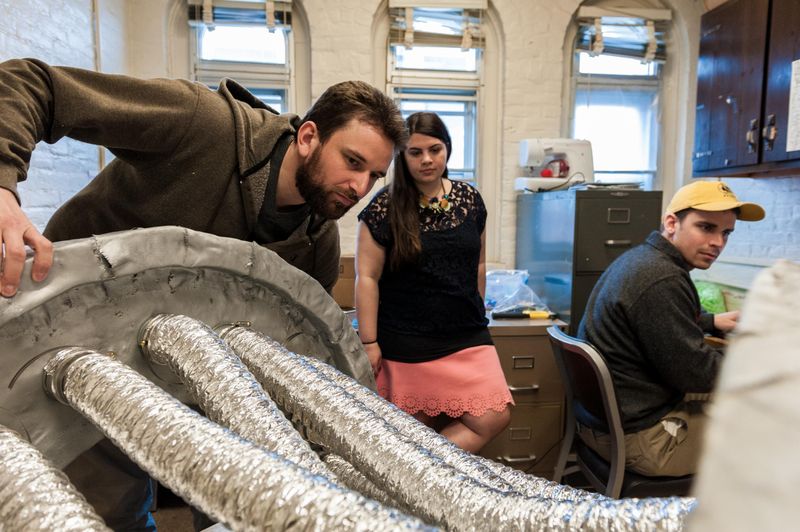 Student Team: Maggie Donovan, John Draper, Juan Pablo Lattanzio Guerreiro and Joseph Maser
Faculty Advisor: Dr. Darren Hitt
Selected by NASA as part of its X-Hab Challenge, University of Vermont's student team came up with a design to reduce the weight and improve the versatility of a critical space entry: the airlock. This conduit is necessary to enter and exit space stations, vehicles and in the future, lunar or Martian bases. The team's design transforms the current rigid metal structures into a compact package, deployed by inflating "air beams" that push the airlock out into a semi-rigid structure—think extraterrestrial bouncy castle.
"In space, volume and weight are important design constraints, so this needed to be lightweight," says project adviser Darren Hitt. NASA advisers consulted on the design and development of the project from its inception. A future iteration, Hitt says, may be made with a self-healing skin that can withstand punctures by micrometeroids.