How John Krasinski Created 'A Quiet Place'
The actor turned director creates a genre-busting horror movie with a terrifying twist—silence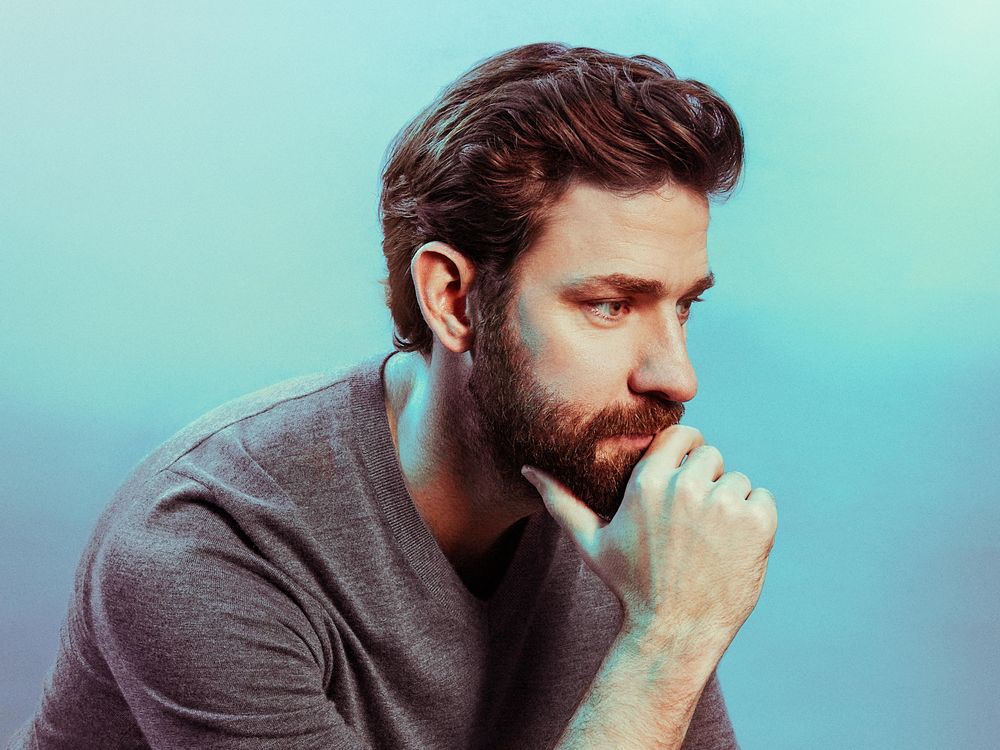 Last March John Krasinski and his wife, Emily Blunt, were driving to the world premiere of their first collaboration—A Quiet Place—at the South by Southwest film festival in Austin, Texas. Nearly 20 years into his career, Krasinski had directed other features (Brief Interviews With Hideous Men, The Hollars) and held his own acting opposite formidable co-stars. But he'd never been so nervous. So Blunt suggested that he focus on a single expectation for the screening.
Sitting in the car, he thought: "If people clapped, that would be really cool."
Krasinski, now 39, seems modest by nature and nurture: He was raised in a Boston suburb by loving parents—his father a doctor and his mother a nurse—who reinforced family values and a how-can-I-help attitude in him and his two brothers, both older. He still wonders whether he deserved what he calls his "lottery ticket" breakout role as paper salesman Jim Halpert on the American version of The Office, which he landed after studying playwriting and English literature at Brown University and working his way through small movie roles.

Still, he had good reason to be anxious at the screening: With A Quiet Place, he made a horror movie for grown-ups, exploding the genre by eschewing gore, deploying silence as an instrument of suspense and focusing on familial love.
The script, by Bryan Woods and Scott Beck, came over Krasinski's transom shortly after Blunt gave birth to their younger daughter, Violet. (Their firstborn, Hazel, was 2 at the time.) Like so many new parents, Krasinski was terrified that he might not be able to protect his children, and he saw the potential for a horror story anchored in this primal fear. He revised the script to amplify the plight of a family trying to survive in a world where alien creatures with heightened hearing attack at the slightest sound. (Tag line: "If they hear you, they hunt you.")
Krasinski would also play the father. He and Blunt, who married in 2010, had been cautious about collaborating professionally. But when Blunt, a Golden Globe-winning actress, read the script, she said, "I had this overwhelming feeling of, 'I don't want anybody else to play this part.'"
For the first time, "I wanted to put my whole self into a movie," Krasinski told me. He studied horror films, noting "every single music cue, tension beat or jump scare...that worked on me." He noticed the ways There Will Be Blood and No Country for Old Men went quiet in certain scenes. "There was a power to that...a confidence that I wanted to put in our movie." Confidence, indeed: His script for A Quiet Place, a film that runs 90 minutes, has only about 90 lines of dialogue. In the pervading silences, the family communicates almost entirely in sign language and by facial expression. Sound effects are sparse, the few bursts of dialogue precise.
Krasinski went all-in on the production details. He scoured Zillow to find the perfect farmhouse in upstate New York. He dressed the house with private photographs of himself, Blunt and their real-life children. Recalling a junior high lesson about medieval villagers lighting fires down a coastline to warn against incoming threats, he directed his crew to string lights across the property to simulate that primitive alert system. He even stood in for the aliens on set—before they were added digitally in postproduction—to help Blunt and Noah Jupe and Millicent Simmonds, who play his children, react authentically to them. The result is a highly personal, out-of-the-box horror film steeped in intimate human relationships.
When A Quiet Place premiered before some 1,200 strangers in Austin, Krasinski recalls what happened with no little irony: "People stood up and made the craziest noise," he says. "I'll never forget it because I looked at my wife and she was yelling, 'Oh, my God.'" But: "I couldn't hear her because the [cheering] was so loud. I burst into tears and gave her a hug."
The film has received nearly universal critical acclaim. But what has moved its director the most, he says, is the response from moviegoers­—who raved about it online as they drove the box-office gross to more than $300 million, a staggering number for a film that cost only $17 million to make. "These fans have been so unbelievably kind and invested," he says.
Since The Office ended, in 2013, Krasinski has worked in overdrive. He executive-produced Manchester by the Sea (2016), which earned two Oscars, and the Emmy-nominated competition series "Lip Sync Battle," which he co-created. He currently stars in and executive-produces Amazon's political thriller Tom Clancy's Jack Ryan. (Blunt has the title role in Mary Poppins Returns, to be released later this month.)
Working so feverishly, he says, makes him feel like "I somewhat half-deserve" his Hollywood career. Now, between filming the second season of Jack Ryan and spending time with his family in Brooklyn, he's writing the sequel to A Quiet Place. Though he declines to provide details, Krasinski promises that the follow-up will be "respectful of the response" the original received. Making it, he said, isn't a business decision. "It's a life decision."