How Food Truck Parks Are Making America More Like Southeast Asia
Pushing for nutritious options, as public officials in Singapore are doing, could boost the health of cities and their residents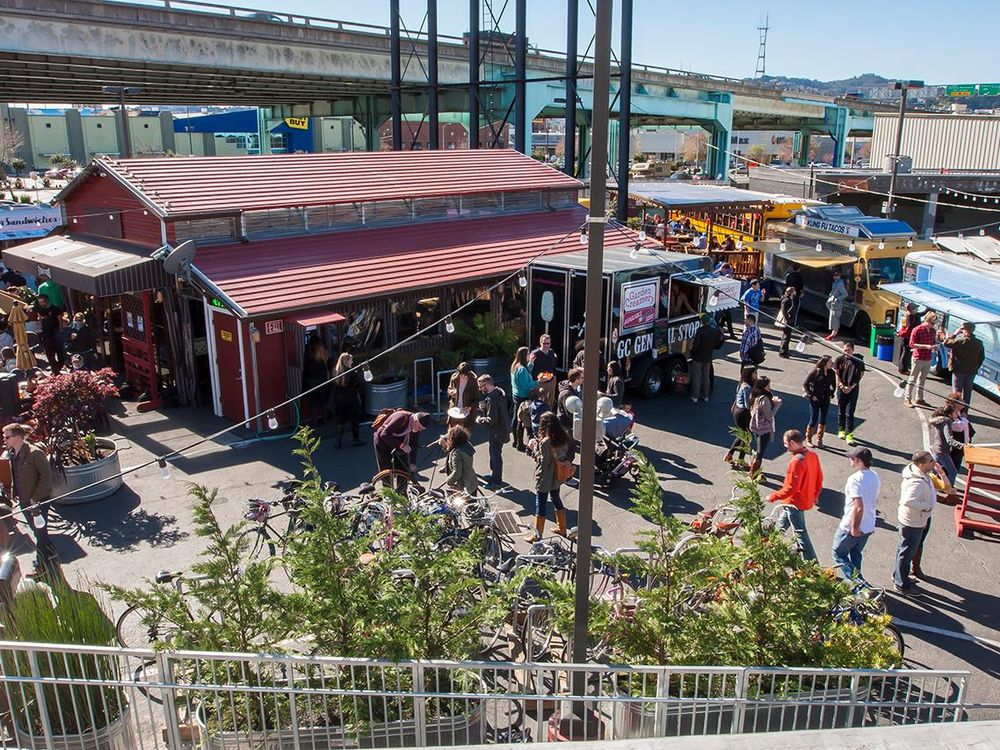 In America's more progressive cities—your Portlands, your Austins—food trucks are as ubiquitous as fixed-gear bikes and bushy beards. It's easy to write them off as a fad that could come and go like bacon donuts. But across America, food trucks are showing their lasting potential: by parking permanently. 
Often known as food truck "parks" or "courts," permanent food truck centers, often with seating, restrooms and live music, have been cropping up from coast to coast, and not just in hip foodie enclaves either. Oklahoma City's Bleu Garten park opened last fall. One will open later this year in Tulsa, as well as in Plano, Texas and Asbury Park, New Jersey.
Advocates of food truck parks say they can revitalize neighborhoods, bringing business to little-visited areas and offering dining options where there once were few. Since trucks have much lower start-up costs than brick and mortar restaurants, they're a way for new chefs to establish themselves in the community. And these food truck parks stand to make a major impact on the way Americans eat.
In parts of Southeast Asia, permanent outdoor food courts serving cheap local fare have been part of the dining scene for decades. In Singapore, the average citizen eats out eight times a week (almost twice as much as the average American), usually at a hawker center, as the food courts are called. A mother might stop by a hawker center to pick up dinner for the family on the way home from work. A single office worker might sit down for a quick solo dinner. A group of friends might spend hours eating and drinking together, an inexpensive night's entertainment.
Greasy char kway teow (rice noodles stir-fried with pork, eggs and soy sauce) and sugar-dipped roti prata (a flaky fried crepe) are favorites in Singapore and Malaysia. But alongside these high calorie dishes are nutritious options—cups of sliced guava, watermelon, dragonfruit and papaya, as well as freshly blended juices made from carrot, celery, soursop and avocado. Plates of stir-fried vegetables accompany most meals. Lighter dishes like noodle soups and poached chicken are popular as well.
More than just places to eat, these hawker centers are a huge part of the social fabric. A hawker center is an impromptu gathering space, a place to run into friends or neighbors, a spot for the elderly to sip milky tea and gossip while remaining part of public life. Some hawker centers host flea markets or concerts. Others are adjacent to food markets and playgrounds. And, everyone eats there, regardless of social class and background.
"Hawker centres are a great social leveller in Singapore, a place where people of different races, religions and cultures can mingle, and rich and poor equally queue up for their favourite dishes," wrote Simon Tay, former chairman of Singapore's National Environment Agency. The influential sociologist Ray Oldenburg coined the term "third place" to describe places outside of home and work where people can congregate and socialize with old friends and new. An ideal third place is welcoming to people of different social classes, is free or inexpensive, and serves both regulars and non-regulars, so you never know who you might meet.
As food truck courts become embedded in American urban life, they may begin to play a similar role.
Sarah Hannon opened The Midway Food Park in Austin, Texas in the summer of 2013. The two-acre park has since become a community gathering spot, a place for coworkers to grab a quick lunch, Little League teams to celebrate after a game and friends to kick back with a six-pack.
"It is the perfect meeting spot for families with kids," Hannon says. "Everyone can eat whatever they like, and the kids are fenced in with a playground and plenty of space to run wild. They hang for hours, especially on Live Music nights. The park is BYOB so people make an entire evening out of the visit."
There's been a lot of talk in recent years encouraging Americans to cook at home more regularly. Americans eat out 60 percent more often than they did at mid-century, and gain more than 10 percent of their daily calories from fast food. This is part of the reason some two-thirds of us are overweight or obese.
But food truck parks could be part of the solution. Unlike fast food joints, most food truck parks have healthy options that are genuinely appealing. You can chow on vegan acai bowls and green smoothies at Bowl'd Acai at SOMA in San Francisco, huge mixed salads at Smokin' Greens at Bleu Garten in Oklahoma City, or Thai-spiced Brussels sprouts at Happy Belly at the Atlanta Food Truck Park.
Thanks to low overhead, food trucks are often able to offer more affordable meals than many sit-down restaurants. In San Francisco, grilled cheese sandwiches at Burro Cheese Kitchen at SOMA in San Francisco start at $5, while the average price of a Big Mac is $4.79. Salads at Smokin' Greens are $8, while Wendy's salad offerings are $6.29.
Though Singapore's obesity rate is far lower than the U.S.'s, it's still been a cause for concern in recent years. As part of the solution, public health officials have been working with hawkers to create offerings using whole grains and less oil. The "Healthier Hawker Programme" has proven a hit. Vendors who offered these healthier options saw their business improve by 25 percent.
Perhaps there is a lesson here for us. Rather than looking at home cooking as the only option for nutritious, affordable eating, food truck parks could become part of the national conversation about healthy people and healthy cities.