How Do Kids Learn Where There Are No Teachers? It May Take a Village…Computer
A non-profit called Projects for All has a plan for educating children without schools: Turn them loose on outdoor computer kiosks in their community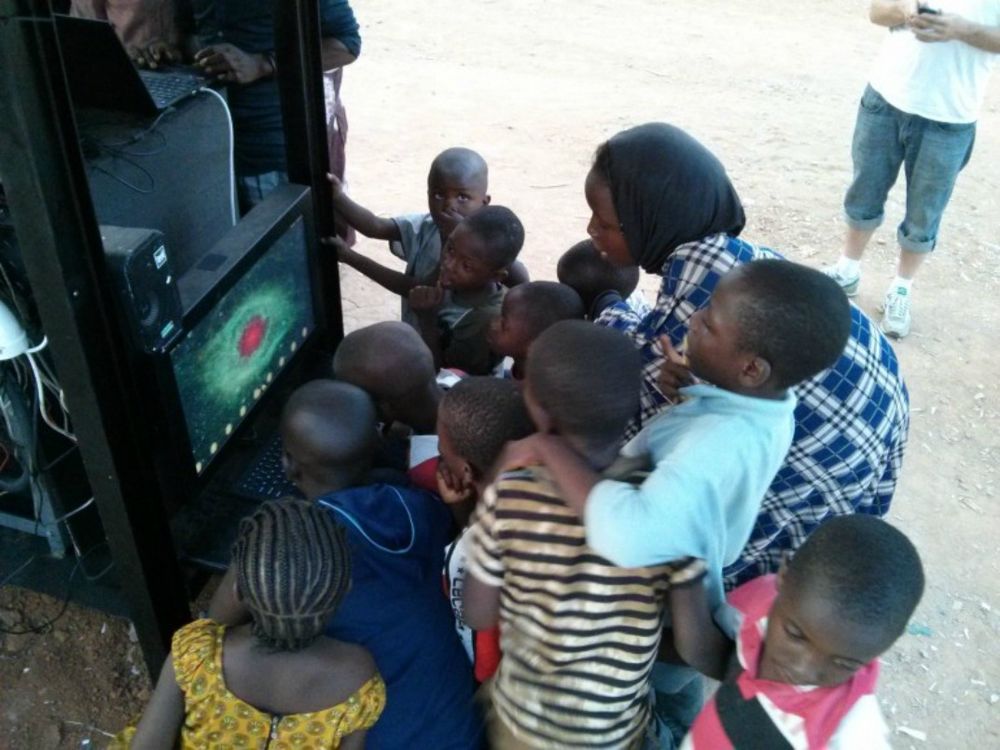 Does a child really need a human teacher in order to learn?
Most experts will tell you yes, definitely, that teachers make learning easier and give it direction and context. They push and encourage. But what about when there are no teachers around? Can technology do the job?
Katrin Macmillan certainly thinks so. She's the founder of Projects for All, a non-profit focused on pushing the boundaries of computer learning. Specifically, it's helping to set up computer kiosks, called Hello Hubs, in remote or grim locations where teachers can't or don't want to go, such as isolated rural villages or refugeee camps. Then it's up to the kids.
"When we give them the tools to learn," said Macmillan in a recent Forbes interview, "children take their education to greater heights than we could ever have imagined."
Macmillan's optimism is based on the response to the first Hello Hub that was set up last October in an isolated village in Nigeria called Suleja. She says that as many as 500 children a week use the computers, whether it's to play educational games or to connect with the rest of the world. Although most of the kids had never seen a computer before, they figured it out. So did the adults in the village—although maybe not as quickly—and now the Hello Hub, which belongs to the village, is shared by everyone.
Neither rain nor dust...
A Hello Hub is a solar-powered kiosk with computers loaded with educational games and software and built-in video and still cameras. The durable structure, made in part from recycled bottles, has two benches, each of which seats four people, and a charging station and Wi-Fi access people can use for their own phones. Hello Hub is meant to be a group experience. That said, each member of the community also has his or her own log-in that loads a personalized desktop, with saved files.
Since it needs sunlight to power up, the Hello Hub is meant to be outside, open to the elements. It has special screens and keyboards designed to withstand wind, rain, dust and many tapping fingers. And yet it still requires dedicated maintenance. For this reason, community buy-in is so critical. Once a village agrees to accept a kiosk, it's up to the locals to help build it (all the software is open source), learn how it works and then take care of it. (Projects for All tech experts are available on Skype.) The community polices its use, right down to setting parental controls.
Macmillan says that she's been told many times that the equipment will be vandalized or stolen and that people will use it to watch pornography. So far, none of that has happened. It no doubt helps that the Hub is set up in a very public place, so any inappropriate behavior is everyone's business. Beyond that, though, the whole concept is built around trust; ideally, everyone in the community should feel they have a stake in keeping the computers running—and kid-friendly. It is something residents all share, not unlike a well.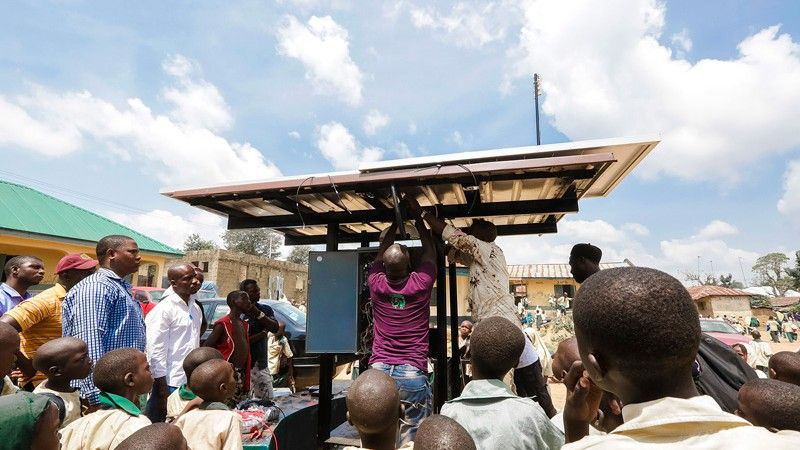 Teaching tools
Macmillan's belief in the ability to teach without teachers is inspired by the research of Sugata Mitra, the scientist and educator who's become an evangelist for what he calls Minimally Invasive Education. 
Mitra is best known for what became known as his "Hole-in-the-Wall" experiments where, first in a New Delhi slum, then later in a small town and a rural village in India, he set up a computer in a place where kids would have access to it. He found that in each location, the children were able to not only teach themselves how to use the computer, but also to eventually understand concepts like DNA replication.
"Many of Sugata Mitra's success stories start with a simple question for the students, which they have to figure out using the computer and the Internet," says Projects for All's website. "The consequential learning that takes place on the way to the answer is often more significant than the answer itself."
The results of Mitra's experiments, along with what Macmillan had learned during her years in rural Africa about how much education is venerated there, convinced her that Hello Hubs could work.
"They will do anything for an education because they know it's their chance for a better life," she told the Forbes interviewer. "Their capabilities, both technologically and educationally, far outstrip our expectations of them."
And that is not limited to children. Access to the Internet provides adults in the communities with access to a world of ideas and answers to problems—from medical to economic to social—that otherwise would be out of reach in an isolated corner of Nigeria.
The plan is to mimic the project in a handful of other Nigerian villages next spring, then help set up Hello Hubs in communities in the Democratic Republic of the Congo, Kenya, Ethiopia, India and perhaps Tanzania, Rwanda, Ghana, Peru, the Dominican Republic and Haiti. She also thinks the idea has great potential for bringing education to places where it has little purchase—the sprawling refugee camps around the world.
How great an impact Projects for All is able to have will depend on how much money it can raise through donations. Macmillan concedes that "child-led digital education" can be a tough sell, although it did receive a public shout out from actor Hugh Jackman last week.
Still, Macmillan is thinking big. In sub-Saharan Africa alone, she says there are 32 million children who don't go to school.
"That," she said, "needs to be fixed."