Growing Hops in Abandoned Lots? Pittsburgh Will Drink to That
The city's craft breweries may soon be able to make truly local beer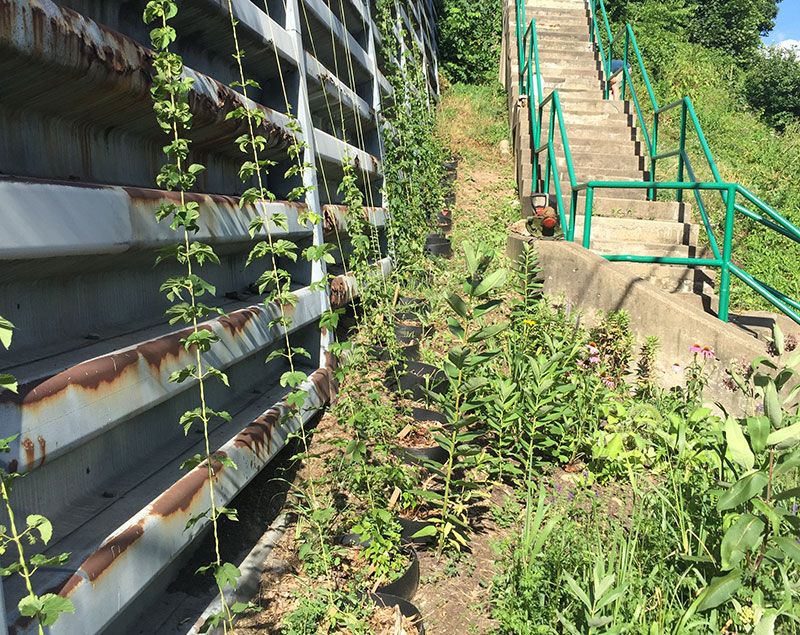 Next to the bus stop on Stanton Avenue in Pittsburgh's Stanton Heights community, a massive retaining wall looms, gray and grim, speckled with rust. Originally built to hold the soil in tight against the slope of the land, the wall now holds something else: green, leafy hop cones, scaling their way up a trellis system made of twine.
The humble hop—that vigorous perennial, which steadily climbs upward, thriving on water and a string—is the main character of a story, one that will hopefully be told in other areas of this city's landscape, through Hops on Lots Pittsburgh (HOLP), a project started after Pete Bell attended a community garden class by Grow Pittsburgh. In Bell's mind, a few ideas started—forgive us—brewing.
First, he wanted a garden to benefit an entire community, not just those who visited or worked it. And, he and his friend Joe Chmielewski were looking for something fulfilling to do outside of work. "We also drink our fair share of beer," Bell says.
When a coworker was talking about brewing at home and how expensive hops are, Bell jokingly asked about growing his own.
Then, he realized, why not?
After all, many of the growing number of craft breweries in Pittsburgh source their hops from non-local suppliers, like those in Oregon and Washington. Plus, hops seemed relatively easier: You can avoid the pest problems you face with other urban crops, since hops are so bitter. They also grow vertically, so they need little space on the ground. "I came up with an idea to grow brewing crops … to be used locally in a beer to be able to create a truly local beer," Bell says.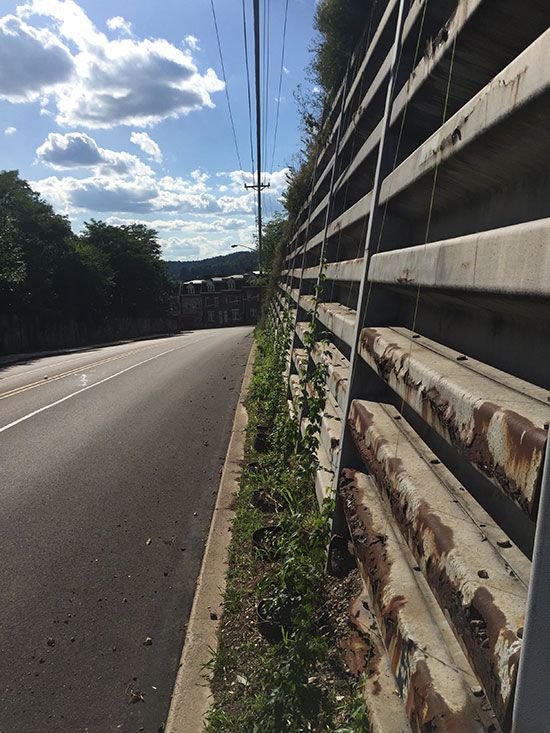 Now, how about a setting? Like many cities across the Rust Belt, Pittsburgh has thousands of vacant properties (roughly 27,000) dotting the landscape like a burdensome rash. With its Adopt-A-Lot program, Pittsburgh residents find unused lots and lease them for free—which is a route Bell and Chmielewski initially pursued (and are still pursuing). They have yet to get an official city lot, but through the process, the duo was connected to Shelly Danko-Day, the city's open space specialist, who introduced them to the Stanton Heights Community Association (SHCA). Fresh off of receiving a $1,000 Love Your Block grant from the city of Pittsburgh, the SHCA was hoping to spiff up Stanton Avenue's retaining wall. "They planned to use the grant to clean up the area around the retaining wall and create a green entrance to their neighborhood," Bell says. "We were asked and agreed to place hops along the wall." Location: secured.
Along with Danko-Day, there are a multitude of outstretched hands working to make this project a success, including Marc Verez of Keystone Hop Farm in Slippery Rock, Pennsylvania, who donated all the supplies HOLP needed and a team of volunteers. But they have also had a few bumps in the road.
"There is nothing like watering plants two feet from a fairly busy road," says Bell, referring to the hops sprouting up along Stanton Avenue. Since the site lacks a water source, Bell and Chmielewski—along with community leader Mike Sturges, who has been working to help HOLP succeed in the Stanton Heights neighborhood—have to haul it in on their own. They must also battle the beautiful and persistent morning glory, trying to edge its way up a trellis meant for hops. A family of rats that lives behind the retaining wall dropped in when the trellis was being installed as well.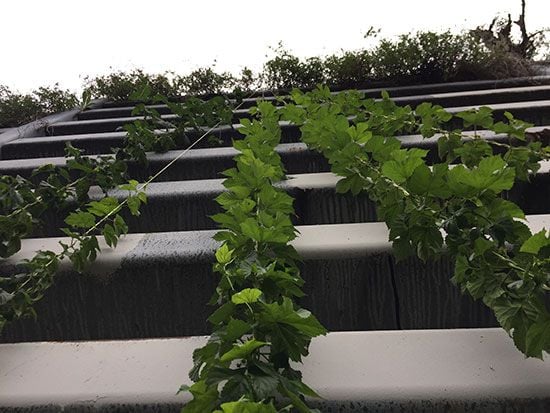 HOLP hopes to expand to new locations, but even though there are thousands of vacant lots in Pittsburgh, they can't just pluck one at random. The amount of trees and sun, for example, must be considered, along with the interests and demands of the neighborhood. "One community we have been working with to find a location requires that for every tree we would take down, we would have to replace it at a location within the community," says Bell. "That can add an extra cost to your overall budget if you have to take down 10 trees and replace them."
Also, since the lots are urban areas, many of which used to contain basements slick with lead paint, Bell and Chmielewski must gather soil samples to test for contaminants. Hops are also sky-bound plants, so city zoning regulations must be considered when building a trellis system.
With all this in mind, Bell got in touch with Hanna Mosca, garden program director for the YMCA in Pittsburgh, when looking to secure a second location. He had spotted an empty, 10-foot flag pole standing in the garden of the Hazelwood YMCA. Where you and I might see an eyesore, Bell and Mosca saw an opportunity for a low trellis system. They erected another pole 40 feet away from the flag pole and connected their upper portions with wire. For the hops to have somewhere to climb, they anchored twine into the earth and looped it over the wire.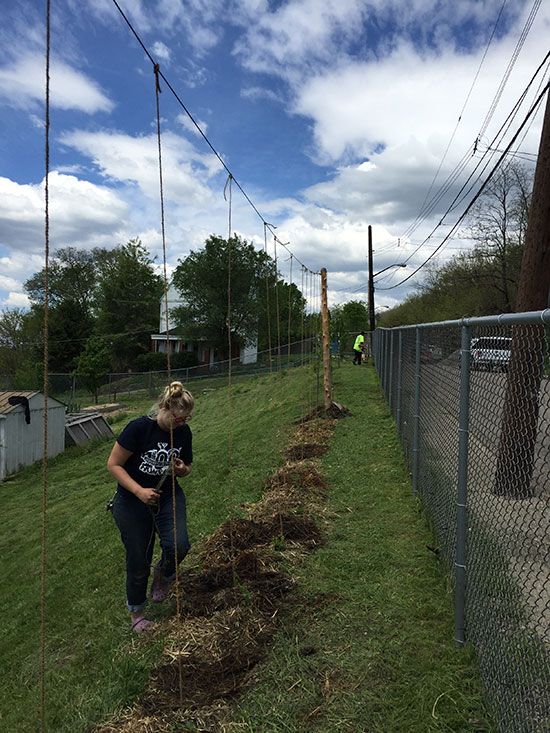 "Typically in large commercial hop farms, the trellis system is around 20 feet high. We are going with half the height for several reasons," says Bell. "A 20-foot-high trellis system is not very aesthetically pleasing to your neighbors. And we also need to be able to harvest these hops. It is much easier to harvest when the plant is 10 feet high rather than 20. That way we really do not need any special equipment."
The hops growing at both locations are destined for area breweries. Just blocks away from the Stanton Avenue retaining wall is Roundabout Brewery. They will brew a beer using the hops from the wall, with some of the proceeds going to benefit the Stanton Heights community. The hops planted at the Hazelwood YMCA are headed for beers made by Full Pint Brewery and Spoonwood Brewery. The beer will be on draft locally and the proceeds will benefit the YMCA.
Steve Ilnicki, head brewer and part owner of Spoonwood Brewery said partnering with HOLP was an obvious choice. "I think it's the beginning of something that will become more prevalent in coming years, especially with the increased demand for brewing ingredients due to the continued growth of craft beer," he says. "We get to be involved with a new enterprise, give back to a local community, and do what we love to do anyway—make beer."
HOLP is still actively searching for a proper lot to lease from the city using the Adopt-A-Lot program. Bell and Chmielewski have been going through the process of acquiring a lot since last fall, and four times they got close but were turned away for reasons out of their hands, such as proximity to a flood prone creek and an abandoned rail line. "It's a learning process," Bell says.
They continue to water and weed where the hops are growing, though, anticipating a harvest sometime in late September with the beers coming out in October. "Imagine if each neighborhood had its own beer brewed for the purpose of supporting that particular community," says Bell. "That's what we are trying to do: Bring the communities, neighborhoods, and the breweries together."
If you are interested in volunteering or need more information, visit HOLP. You can also follow them on Instagram at @hopsonlotspgh and Twitter at @hopsonlotpgh.
More stories from Modern Farmer:
This story originally appeared on Modern Farmer.