Forget Bulky Smart Watches, Slip On a Smart Ring
A team of developers is taking orders for a ring that displays incoming text and email messages and helps locate lost phones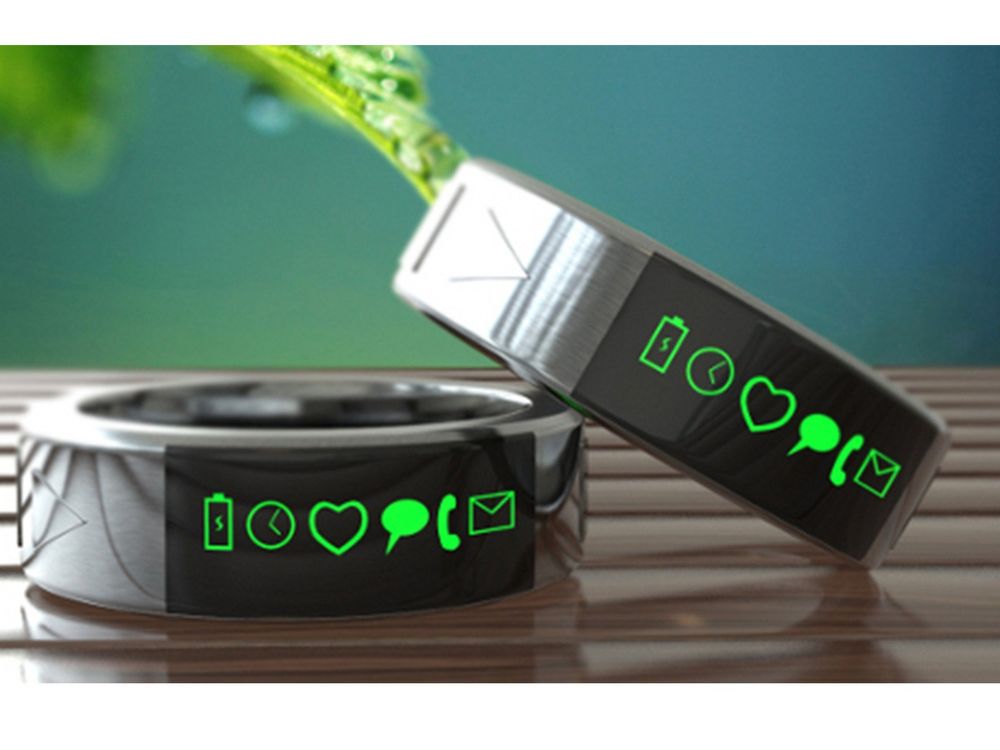 Last year, a young Canadian inventor, after being shunned by investors, launched a fundraising campaign for his idea on the crowd-sourcing website Kickstarter. What happened next was unprecedented.
Backers of the Pebble, a watch designed to display real-time messages sent to a smartphone, pledged upwards of $10 million within a month, making it the most highly crowd-funded project ever. With more than 275,000 units sold, the surprising phenomenon proved that mainstream consumers were more than ready to strap on a smart watch. The Dick Tracys of the world, it seemed, would soon have plenty of quality options.
Rumors of an Apple iWatch had already been swirling for some time and by July 2013, just about all of major electronic manufacturers, including Google, Microsoft and Toshiba, had similar projects in the works, according to the business publication Quartz. Samsung, eager to leapfrog its competitors in introducing a category-defining product (previous efforts by Microsoft and Sony were utter flops), rushed out with the Galaxy Gear, on the Android operating system. Prominent reviewers of the device panned it for being expensive and clunky to wear while only allowing very limited app functionality. Tech blog Gizmodo called it a "pain in the wrist" for offering little practicality beyond being an "easier-to-assess relay point between you and your phone." The buying public didn't exactly fall in love with the user experience either, as more than 30 percent of purchases made at Best Buy were ultimately brought back.
Only the Pebble, in its modest ambitions, can claim, arguably, to have appeased the masses. A report in the technology publication The Verge credits the project's success to its low-cost simplicity; it does a good job of displaying messages and integrating a few bonus enhancements like water resistance and pre-loaded exercise apps to augment the use of your smartphone without overreaching, and thus, disappointing its users. But if that's the case, can't the same minimal functionality be implemented into a more compact form of wearable technology that's actually comfortable, like say, a ring?
An upstart team of engineers out of Chennai, India, recently completed a successful Indiegogo campaign for what they claim will be the world's first smart ring. Measuring 13 millimeters wide and 4 millimeters thick, the developers say the waterproof "Smarty Ring" will come with a monochrome LED screen that, when paired with a smartphone via low power bluetooth, can display notifications such as incoming calls, text and email messages. It can even be synced to send real-time updates from the user's Facebook, Twitter, Hangouts and Skype accounts.
The project page boasts several additional features, such as the ability to use the ring as a remote control panel for many smartphone functions, like activating the camera, controlling music playback and switching to a different Smarty Ring user profile. The Smarty Ring was designed to be an anti-theft device as well, allowing wearers to track their connected devices. The ring sounds an alert if the person is more than 30 meters away from his or her phone. Compatible with Android phones and iPhones, the finished product will have a built-in app to set up many of these tasks, as well as the ability to adjust the screen brightness, clock and volume.
Now, judging from the lack of concrete specifics, there's every reason to be skeptical in regards to whether the concept will actually ever make it onto anyone's finger. A promotional video shows only mocks of the ring, superimposed over a series of stock photos. And while the developers admit that the images are merely conceptual depictions and that they've only recently "finalized the feasible prototype model to achieve the functions," what's been revealed is far too vague to assure buyers that these makers can actually deliver as advertised. The most dubious of these promises? A rechargeable 22 milliampere-hour battery that lasts all day, yet shouldn't weigh more than a few grams.
"I'm not sure how you promise things like 24-hour battery life without having built a physical version of the gadget...but there you go," wrote Mike Wehner, editor of the The Unofficial Apple Weblog.
The only official statement to the media on the project, it appears, comes from Smarty Ring's head of marketing, Karthik Kumar, who only describes the project, to ABC News, as a technology that's "high-tech as well as high-fashion wearable jewelry for [people] who love to wear rings and won't wear a watch."
But for those who are interested enough to take a risk, the developers are taking pre-orders for the Smarty Ring on its website. Shipments are scheduled to go out April 2014.