For Your Next Party, Rent a Kitchen the Size of Your Apartment
With living space shrinking, urbanites are paying for kitchen space to host special occasions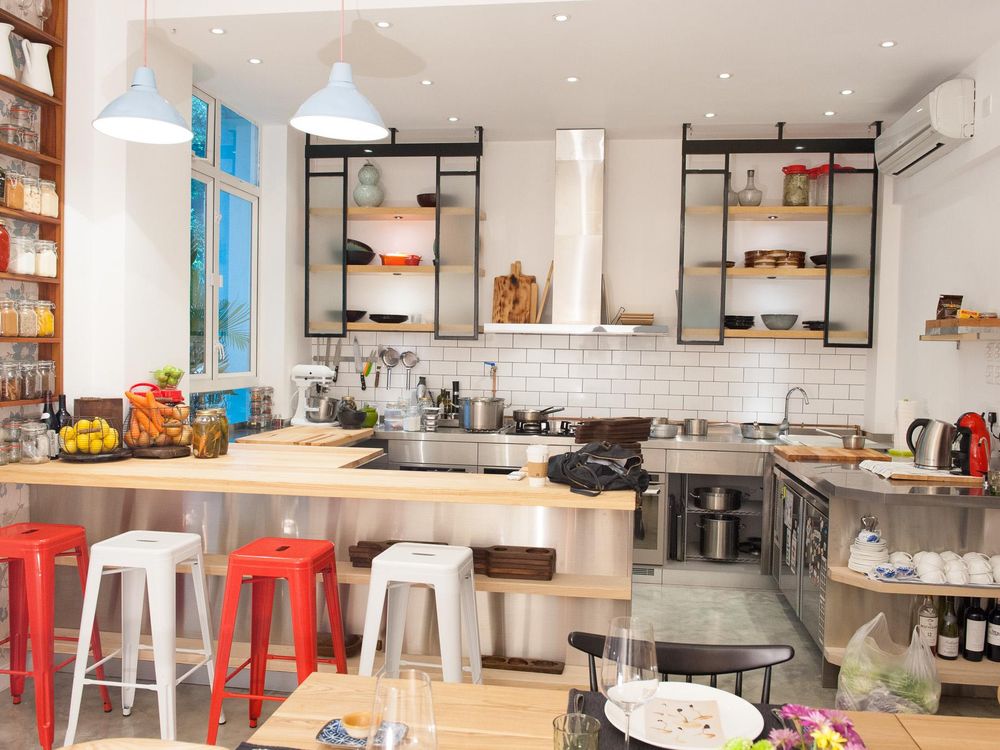 The kitchen is like something out of Architectural Digest, all Japanese stainless steel, butcher-block counters and poured concrete floors. There are two ovens, double gas ranges and a built-in steamer, along with a professional grade stand mixer and a magnetic knife rack lined with gleaming blades. Minimalist open shelves hold tasteful white tableware; an industrial-chic bookcase is stocked with cookbooks.
No, this isn't the dream loft of some captain of industry. This is Umami Concepts, a "kitchen studio" in Hong Kong. It's aimed at home cooks looking to do the kind of cooking and entertaining that's simply not possible in the city's notoriously tiny apartments. They can rent the kitchen for an evening, cook up a storm and dine at its massive wooden table with up to 20 of their friends.
As small-space living becomes more common and home cooking grows ever more popular, rental kitchen spaces like Umami are popping up in major cities across the globe. They're part of the larger phenomenon of the "sharing economy," which involves renting or borrowing products or services on an as-needed basis. Why own a car when you can just rent a Zipcar when you really need one? Why shell out for a larger kitchen when you only have dinner guests once a month? Some of these venues even take care of the cleanup.
Umami proprietor Nolan Ledarney, 34, got the idea for Umami while living in a 600-square-foot apartment in Tokyo. The kitchen was miniscule, but that didn't keep the Canadian-born chef from doing his best—he once cooked an entire turkey in a two-slice toaster, carving the bird into 60 slices.
"There's something universal about being in a kitchen with your friends and family," Ledarney says.
But in much of the world, fitting more than one person into the kitchen is like stuffing a clown car. In Hong Kong, the average apartment is less than 500 square feet, with an oven-less galley kitchen. In New York, an average one-bedroom apartment is around 750 square feet, and kitchen counter space seems rarer than views of Central Park.
New Yorker Grace Park had her moment of inspiration when she wanted to throw a dinner party for her fiancé's birthday. Like most urbanites, she didn't have space for 30 people in her own apartment.
"We looked at renting spaces and it was really tough," Park says. "Places that had space, you had to bring in all your linens…it was a huge production for a dinner party."
Last February, the architect-turned-event-planner opened The Kitchen Table, a combination kitchen, dining room and living space. Renters can cook in the kitchen, stocked with Le Creuset, All-Clad and Wüsthof, or simply hang out and watch TV in the living area.
"We have Oscar parties where people just come in and watch the Oscars and order pizza," Park says.
Similar venues have appeared in the past few years in most major American cities. San Francisco has Cookhouse, a fully stocked kitchen in a groovy, light-drenched space, rentable by the hour for dinner parties and dates. In Portland, you can reserve Dash, a 550-square-foot commercial kitchen, for your annual Christmas cookie-baking blitz or just to pump out a week's worth of family meals. Torontonians looking to can their own jam or pickles can head to Manning Canning Kitchen, equipped with massive steam kettles as big as most people's entire bathrooms. Prices range vastly—a small rental kitchen can start at as little as $10 an hour, while a large multi-use space like The Kitchen Table will set you back at least $85 a head for an evening. Some are so popular they must be booked well ahead of time. Umami is usually booked up two weeks in advance, Ledarney says.
Rental kitchens are just part of a larger trend for shared or pay-per-use amenities that aim to make up for lack of space in urban dwellings. Most cities now have co-working spaces for freelancers unwilling to work from their couches and community gardens for those looking to exercise their green thumbs. And it's becoming increasingly popular for developers to build "micro apartments" (commonly defined as units smaller than 400 square feet), where tenants have tiny, pared-down units, but also access to communal spaces. Though many cities have regulations governing minimum apartment size, these are sometimes waved to accommodate the trend.
In Washington, D.C., a new residence called The Wharf will include a rooftop dog park, a community garden with individual plots, club rooms and a library. These amenities will allow residents to socialize and work outside their small homes—about one-quarter of the apartments in the building will be only 350 square feet. New York's first dedicated micro apartment building, set to begin leasing 260- to 360-square-foot studios this summer, will feature common studies, gardens and bike storage. Seattle, which has more tiny apartments than any city in the country, is home to a number of buildings with dorm-style common kitchens.
In some especially overheated rental markets, individual apartments are even shedding bathrooms. Last year, five Harlem studios with two-and-a-half shared bathrooms hit the market, priced between $1,250 and $1,600.
Shared bathing facilities are common in many countries—visiting a sento, or neighborhood public bathhouse, is still common in Japan, for example. But somehow I can't see hallway toilets gaining steam in the U.S.