Five Wild Ideas That Just Got Funded: From a Digital Typewriter to Treadmill-Powered Gaming
A Los Angeles group is also creating greeting cards with personalized audio messages from top celebrities
Could there be a DIY solution to combat spyware? These two computer scientists sure think so.
Jim Cheetham and Paul Campell are information security and hardware design specialists from New Zealand who've created the OneRNG, a USB-equipped tool that scrambles a computer operating system's random number generator once it's inserted.
By doing this, the product helps to create a secret key for the computer, one that's secure and private when users access websites, shielding them from prying eyes, and offering independent protection that allegedly trumps vulnerable hardware or software supplied by a third party. The duo recently raised over 48,000 New Zealand dollars (approximately $35,000 U.S.) on Kickstarter, well surpassing their goal of 10,000 dollars (nearly $7,250 U.S.).
Here are five other outside-the-box ideas that were funded this week:
Hemingwrite Digital Typewriter (Goal: $250,000 Raised: $342,471 on Kickstarter)
The Hemingwrite does things in the new-old fashioned way by enabling its users to focus on one thing, and one thing only—writing. The device features a keyboard with elevated keys that deliver the satisfying crunch of a typewriter's, a straightforward display screen that shows entered text, and a battery with four to six weeks of life. Modelled at least in part after word processors from the 1980s and 90s, the Hemingwrite has the ability to save documents in the cloud through platforms like Google Docs and Evernote, connect to WiFi and print using a web application, such as Postbox. Documents can also be saved on the device itself if no internet connection is available, and users can tab through up to three different documents at a time with a physical knob.
I can hear the groans. There is its hipster name. And then, is another device really needed to do something so simple? But, reviews from publications including The Verge and Engadget, which named it a semifinalist in its 2014 Insert Coin competition, have been relatively positive, touting its user-friendly interface. Downsides include an inability to copy and paste or navigate quickly between versions of the same document.
Mechanical engineer Adam Leeb and software developer Patrick Paul developed the product to counter temptations posed by social media, email and the like to procrastinate. Extremely portable, the Hemingwrite comes with a handle and resilient aluminum housing. Take it to the local coffee shop—where the barista will be the only distraction.
TreadGaming (Goal: $2,716 Raised: $4,094 on Kickstarter)
Some studies have linked playing video games, and the "sit time" involved, with obesity, especially in children. TreadGaming aims to prevent this unwelcome side effect by adding a physical exercise component to the normally stationary experience.
Gamers and reluctant exercisers take note. Crafted by a Swedish software developer, the TreadGaming tool connects with any game controller via USB. Users hook up their consoles to the TreadGaming device and then place the tool on the moving surface of a treadmill to "calibrate" it. Once this is done, their real-life movements begin controlling the progress of their onscreen avatar, similar to Wii, but potentially offering a more aerobic workout. The device is compatible with all types of video games, but the inventor claims the most immersive and entertaining experiences come with first-person scenarios where the viewer can truly feel the movement propelling his or her character forward. 
giveStars Greeting Cards (Goal: $50,000 Raised: $66,750 on Indiegogo)
Interested in impressing that special someone on Valentine's Day? Well, one of the most swoon-worthy ways to do it might not actually involve a card from you, but rather, a celebrity crush. Say Chris Evans or Fergie? GiveStars makes cards that include a vocal greeting from the sender's celebrity of choice, customized with the name of the recipient and the special occasion highlighted. "Send someone you love someone they love," prompts the campaign's star-filled pitch video. Appropriately, the Los Angeles-based team includes entrepreneurs and actors who have seasoned show business backgrounds.
More than 20 celebrities, including Jason Momoa of Game of Thrones, Olivia Munn of The Newsroom and Aaron Paul of Breaking Bad, have already signed on to provide their distinctive vocal chops. All profits from the cards go directly to a celebrity's charity of choice. The first batch of cards is slated to go out in February and March.
iCamPro Domestic Robot that Tracks Intruders (Goal: $1,000 Raised: $365,538 on Kickstarter)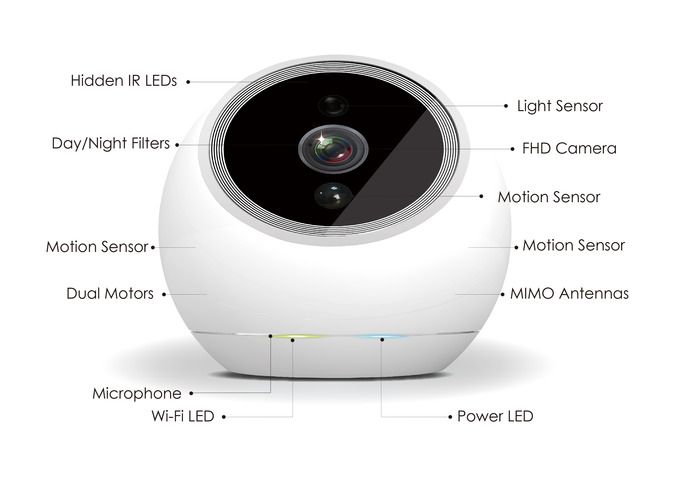 The iCamPRO FHD, a home security camera and robot, uses multiple motion sensors, the latest tracking algorithms, 360-degree viewing capabilities and two-way audio to spot and follow any intruders. "Our algorithms teach the camera to always keep the object in the middle of the viewing area," the maker explains on Kickstarter. The device—winner of the 2015 CES Best of Innovation from more than 20,000 submissions—is built by Amaryllo, a company out of Amsterdam focused on smart home security. Users can stream video directly from the iCamPro with an accompanying smartphone app.
Desolenator (Goal: $150,000 Raised: $159,688 on Indiegogo)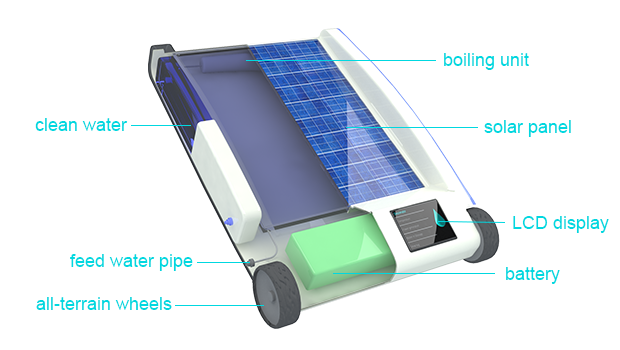 The Desolenator makes a gloriously simple proposition: "turn sunshine into water." Looking a lot like a solar panel on wheels, the apparatus harnesses the power of the sun in order to fuel a water desalination system that filters out contaminants.
As stated on the campaign page, the UN estimates that by 2030, half the world's population will live in water stressed areas. The Desolenator—launched from an incubator at Imperial College in London—was designed to combat this issue with a basic, but effective system: the solar energy gathered from the panel goes on to power a boiler and pump embedded in the device that can purify up to 15 liters of clean water a day, including salt water.