Expecting? Cradle Your 3D Printed Fetus In The Meantime
A startup offers to create a life-like replica of your gestating child from ultrasound images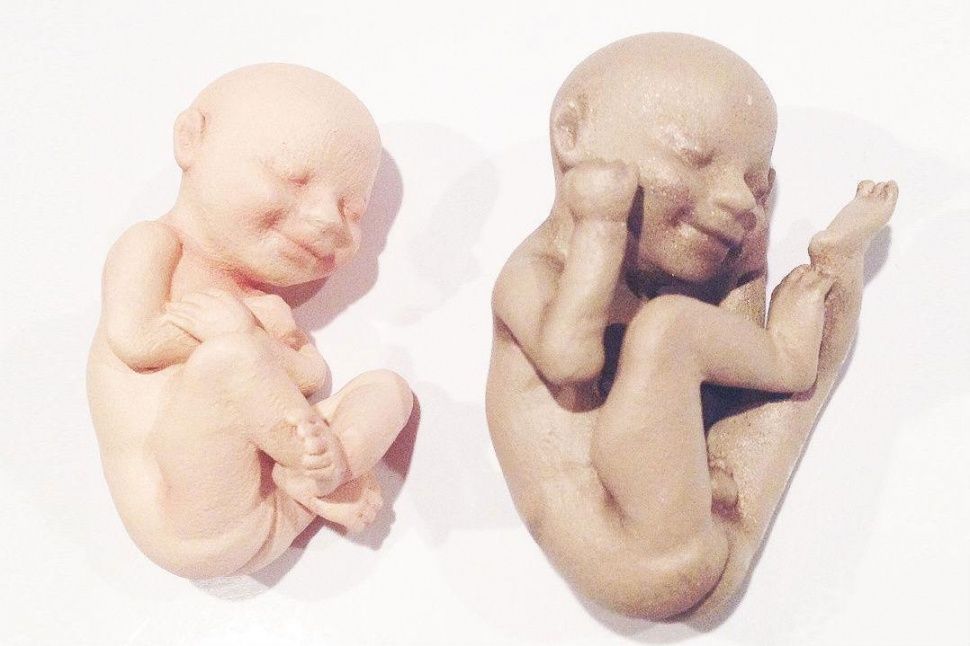 Many parents consider cradling their newborn for the first time to be one of their most cherished memories. 
But entrepreneurs Gerard and Katie Bessette are offering an intriguing new scenario to expectant couples: "Imagine," they say, "holding your baby before he or she is born."
The husband-and-wife team's newly launched company, 3D Babies, is making the feat possible by printing three dimensional replicas of gestating fetuses. For $800, parents-to-be can order custom figurines of their 24-week baby, measuring a realistic eight inches from "crown to rump," as the medical speak goes. Those who want to appreciate their unborn in this way, but don't need the lifelike size, can opt for a 4-inch sculpture for $400 or a 2-inch version for $200. 
After parents submit one to five 3D and 4D ultrasound scans of their baby, the company creates a computerized digital representation that accurately reflects the fetus' facial features. Customers are then given a series of other options in the ordering process. They can choose the model's skin tone—light, medium or dark—and position—either tucked or in a fetal position with arms and legs raised, the latter revealing the sex of the baby.
If anything, the process speaks to the 4D ultrasound's remarkable ability to peek into the womb and produce detailed portraits. The technology, used by many obstetricians, is similar to a 3D ultrasound in that it uses data sets of 2D sound wave-generated images to build a more textured composite picture. The difference in 4D is that information is captured in real-time to create a kind of moving picture effect. Scans can be rotated to show the child's appearance from nearly every angle, making it easy to identify the shape of a nose or other distinguishable features. I mean, take a look at these comparisons, between ultrasound images and newborn photographs.
What's that? Still a bit too bizarre for you? Well, who's to say when we're living in an age when 3D printing technology allows people to express narcissism in some rather disturbing ways. For instance, a startup called Shapify prints 3D miniature doll replicas for anyone willing to pay $59. Cubify, a popular 3D printing service, even lets customers reimagine themselves as superhero and action figures. Heck, there's even a company in Tokyo that takes scans of your face and prints a mold, for making chocolate sculptures. And I'd be remiss if I didn't point out that a Japanese engineering firm has already started printing knock-off fetuses encased in clear plastic, though the collectibles—the size of paper weights—are double the cost of the models from 3D Babies.
In any case, it's unlikely that toting around fetus figurines will become any sort of real trend. The company's attempt to generate crowdfunding on IndieGoGo raised only $1,225 over the course of two months. The final tally was a small fraction of their stated goal of $15,000.
If you ask me, for the price they're charging, money may be better spent enhancing the life of the actual newborn when the day comes.