Bespoke Produce? A New Farming Venture Tweaks Veggies To Suit Consumers' Needs
Bowery, a new indoor farming company, offers "customized" greens and herbs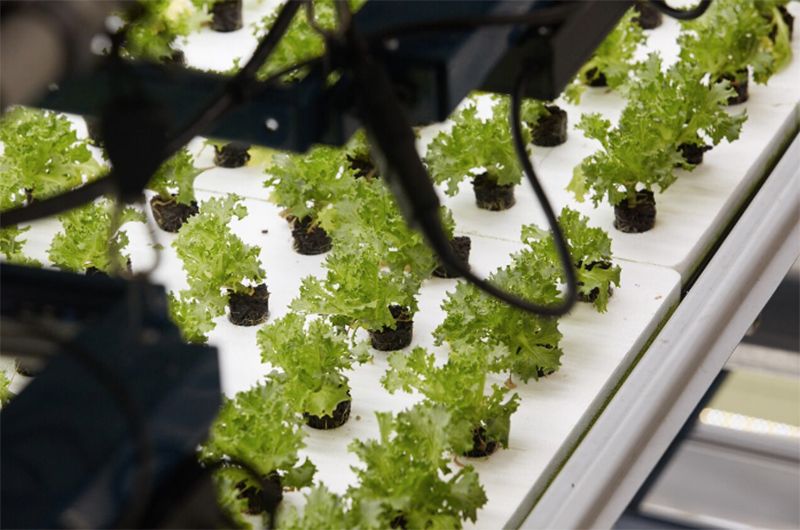 You can get bespoke suits, shoes, and furnishings. Now, Bowery, a new indoor hydroponic farming venture based in New Jersey, is offering the same for greens and herbs. Think of it as 'bespoke' produce.
Bowery, which officially launched at the end of February, is housed in a repurposed Kearny, N.J. warehouse. They grow vertically using hydroponic methods and LED lighting. The company bills itself as a "seed to store" venture, and currently grows more than 80 different greens and herbs like baby kale, basil, and arugula. Their products are sold at select Whole Foods Markets in the Tristate area, and at Foragers market grocery stores in New York City. What sets Bowery Farms apart from the myriad other indoor farms that are popping up these days is their ability to adjust specific flavors in their produce.
Irving Fain, Bowery's cofounder and CEO, likens it to wine terroir. Just as the environmental conditions in which grapes are grown—things like an early frost or a hot summer—affects a wine's taste, the same can happen with their greens. And since Bowery has total control over their growing environment—unlike the farmer who is growing outdoors, in the elements—they can reproduce the conditions that will affect the plants in the specific way they're looking for.
According to Fain, various factors, such as light intensity and quantity, or the types of nutrients a plant receives, impact a crop's flavor profile. Bowery uses proprietary technology—an operating system they call the "BoweryOS"—to automate growing and tweak these different factors in order to optimize for certain characteristics like texture or spice.
The BoweryOS uses an array of sensors, including cameras, to monitor the plants and their climate, amassing millions of data points on the variables that affect the growth, taste, and other attributes of a plant. The operating system can then direct the farm's hardware to make the changes.
"The taste of produce is a response to the environment they're grown in." Fain told Modern Farmer. "And so being able to do that means we can move different environmental variables, different nutritional parameters, even the spectrum of the light itself, which all have different effects and impacts on the taste and flavor of the plant and even on growth itself."
Among the company's clients are celebrity chef Tom Colicchio, who features Bowery's produce in his New York City restaurants Craft and Fowler & Wells. The restaurateur was so taken by the company's vision that he also became an investor and advisor.
Fain says the company isn't just about creating delicious produce, it's about developing a scalable model that will be able to efficiently and sustainably provide fresh food to a growing global urban population in the coming decades. He points to a quickly growing population—an estimated 9.6 billion by 2050, with about 70 to 80 percent of those people living in cities.
Fain believes he and his cofounders David Golden, who has a background in finance, and systems engineer Brian Falther, have come up with a longterm model to help deal with these issues since they use 95 percent less water than traditional farms and can produce crops 365 days a year without the use of any pesticides. Additionally, their model can be easily replicated in any city in the world, according to Fain.
"There's a need for what we're building at Bowery in cities across the country and across the world. We're already at work on our next farm that's going to be in the Tristate area and we certainly have plans to expand nationally and internationally as well," says Fain.
More stories from Modern Farmer:
This article originally appeared on Modern Farmer.