Behold! The World's First One-Handed Zipper
After a lot of trial and error, inventor Scott Peters has made a no-fuss magnetic zipper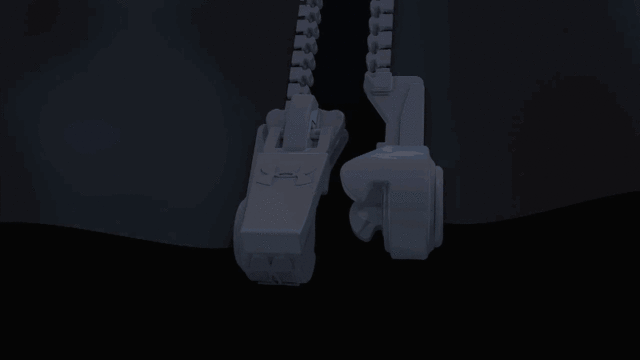 They say that necessity is the mother of invention. But for one inventor, all it took actually was a simple request from Mom that led him to create the world's first one-handed zipper.
The "2.0″ take on a century-old design, dubbed the Magzip, features a unique magnetic-locking mechanism that enables the two most vital components to clasp automatically, eliminating the tedious task of having to use both hands to manually fit them together. The revolutionary device will make its debut in the fall of 2014 as part of a new line of jackets manufactured and sold by sportswear company Under Armour.
Up until six years ago, engineer and lifelong tinkerer Scott Peters hadn't given zippers much thought. While they are at times admittedly frustrating, they work (apart from the occasional jam). But for his Uncle Dave, who was recently diagnosed with myotonic dystrophy, a condition where the body's muscles slowly deteriorate and waste away, the seemingly basic task of zipping a coat had become extremely challenging—to the point that Peters' mom, an occupational therapist, asked if he had any ideas that would help.
"When I started looking into this problem, I realized that zippers are really difficult to use," Peters says. "They're a pain for older people, kids, basically everyone."
His first stab at improving the fastener consisted of little more than re-assembled zipper parts with magnets glued to them. At the base of the zipper, the slider and the opposite row of teeth came together and…that was about it. But it was a start. Next, he would piece together zippers from jackets with machine-cut plastic or metal parts and glued magnets to those. The alignment was better with subsequent versions, though still not quite right. The two sides of the zipper still didn't separate easily, which was yet another problem for another day. It went on like this for months.
While the mechanics behind a zipper system are simple, it's a kind technology that needs to work seamlessly or not at all. Zipping and unzipping requires that two halves of protruding teeth be aligned perfectly, meaning the user must start with a slider that's securely synced with the bottom pin. Though a magnetic force can get the two parts to snap together all day, keeping them firmly in place proved to be more bedeviling than Peters would have ever expected.
With the help of a friend who is a designer, Peters figured out how to re-shape the grooves so that the latching mechanism functions as an instant "catch and hook" system, locking the slider in the proper position. After about 25 prototypes, Peters and his team finally perfected a zipper that houses magnets of just the right strength and has a self-latching and unlatching feature that also allows enough leverage for the user to pull it up with one hand.
"It took me a long time, and it was definitely a lot of trial and error," Peters says. "But it was from me taking apart zippers and assembling each prototype by hand that I determined that the problem all along had to do mostly with bad design."
With a satisfactory demo product to shop around, Peters began pitching his concept to clothing and apparel companies. Before long, outdoor apparel manufacturer and retailer Under Armour got in touch in hopes of refining his idea and bringing his, when you really think about it, long overdue innovation to the market. Interested buyers will soon be able to find jackets and other outerwear featuring the Magzip zipper at Under Armour outlets and other sporting goods stores such as Foot Locker, Modell's and Sports Authority.
As for Dave's uncle? Peters says he appreciates it very much. And so, too, does his mom.
"The zipper is one of those things that's been around forever, and it does work, so it doesn't require people to step back to rethink how to improve it from the ground up," Peters says. "I'm glad she had me do it."