An Augmented Reality Children's Book, Bacon Jerky and Other Wild Ideas That Just Got Funded
Never worry about halitosis again with the Breathometer Mint bad breath tracker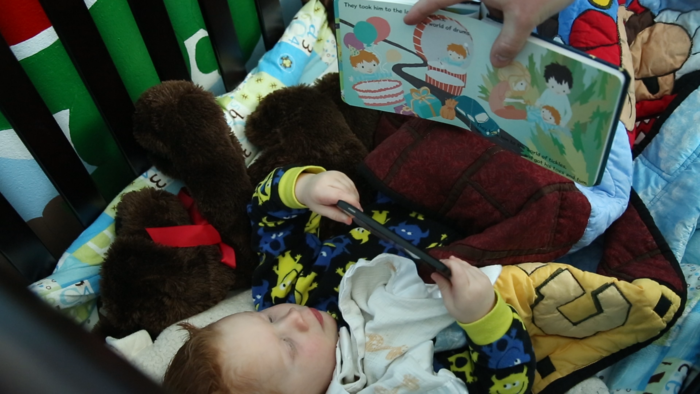 Josef Langer, a professor at the University of Applied Sciences in Hagenburg, Austria, is bringing the historic sport of juggling, first observed in ancient Egypt, into the 21st century. His new "smart" kit, for which he raised nearly $11,900 on Indiegogo, consists of three juggling balls that connect via Bluetooth to a smartphone app.
Forgetting for a moment the product's questionable name, Juggglow might make mastering the skill more attainable, even for the clumsy. Each ball is equipped with bright, color-changing LED lights that are motion sensing and responsive to smartphone controls. The app is able to track a user's catches and the height of throws, as well as offer advice and challenge the juggler to reach different goals across these metrics.
Here are five other quirky ideas funded this week:
Goodnight Lad: Augmented Reality Children's Book (Goal: $5,000 Raised: $35,500 on Kickstarter)
The viral video of a toddler attempting to swipe the pages of a physical magazine like she does an iPad seemed like a concerning harbinger for the death of traditional reading forms. But, an app developer from Utah has crafted a children's book that fuses the experiences of using mobile technology with old-school bedtime book reading.
Goodnight Lad has two components—a whimsically illustrated and written physical picture book that kids and adults can read like any other and a mobile app. While the app is open, readers can point their phones at any of the 32 pages in the book and an interactive animation shows up onscreen to add new dimension to the story.
Breathometer Mint for Breath Quality and Hydration (Goal: $25,000 Raised: $81,410 on Indiegogo)
The Breathometer Mint is designed to assuage any lingering insecurities about bad breath. Users breathe into one end of the green disc, and the device analyzes the number of volatile sulfur compounds (anaerobic bacteria that reduce breath quality) and the moisture level of the mucus membrane (an indicator of hydration). From the puff, it comes up with breath quality and hydration scores, which are reported via a smartphone app. If you're not faring so well that day, the app says, no bones about it, "You need a mint." The device's Silicon Valley creator, Charles Michael Yim, had previous success crowdfunding a smartphone breathalyzer that scanned for traces of alcohol.
Walkzee: A Platform to Find and Walk Local Shelter Dogs (Goal: $20,000 Raised: $28,999 on Kickstarter)
While honeymooning in Hawaii, Cristina and Charlie Saunders, of San Jose, California, took a wrong turn and ended up in the parking lot of the Kauai Humane Society. The two ended up going in, and the chance visit led to them participating in a program at the shelter that encouraged visitors to take a dog on a "field trip." The couple took Big Z, a Labrador mix, on a hike.
Inspired, the Saunders developed a website that connects dog lovers and the millions of pups at shelters that need walking. Through Walkzee, shelters can post adorable pictures of dogs who need walks and people, at home or on trips for business or pleasure, can easily sign up for a time to help out. The goal is to connect more people with the canines and ultimately increase likelihood of adoption.
SEER: The First Augmented Reality Helmet To Make You Feel Like Iron Man (Goal: $100,000 Raised: $160,643 on Kickstarter)
Caputer Labs, of San Francisco, wants to trump other virtual reality devices with its SEER—a bulky visor meant to resemble Iron Man's mask. Similar to Google Cardboard, the mask works in conjunction with the user's smartphone, which is inserted into a slot at the top of the helmet. A group of mirrors in the front-facing part of the mask reflects the display of the smartphone and projects it to the user with a 100-degree horizontal field of view, currently the largest available. The user can seamlessly experience an image onscreen, because the mask updates the content that is shown by tracking the wearer's head movement. The $100 product aims to be an affordable, open hardware version of virtual reality that takes advantage of the tech provided by a smartphone. Unlike Oculus Rift, however, the device only shows 2-D imagery.
Bacon Jerky (Goal: $5,000 Raised: $6,191 on Kickstarter)
Pork Barrel BBQ, a company that debuted its All-American Spice Rub on Shark Tank in 2009, is back, this time pitching bacon jerky. Why, oh why, hasn't anyone thought of this before? The dried version of the beloved breakfast food comes in three crave-worthy flavors—spicy srirachi, old-fashioned maple and a savory-sweet honey pepper—that give bacon-lovers a chance to indulge any time of day.