A Tree Grows 40 Different Types of Fruit
What started as an art project has become a mission to reintroduce Americans to native fruits that have faded from popularity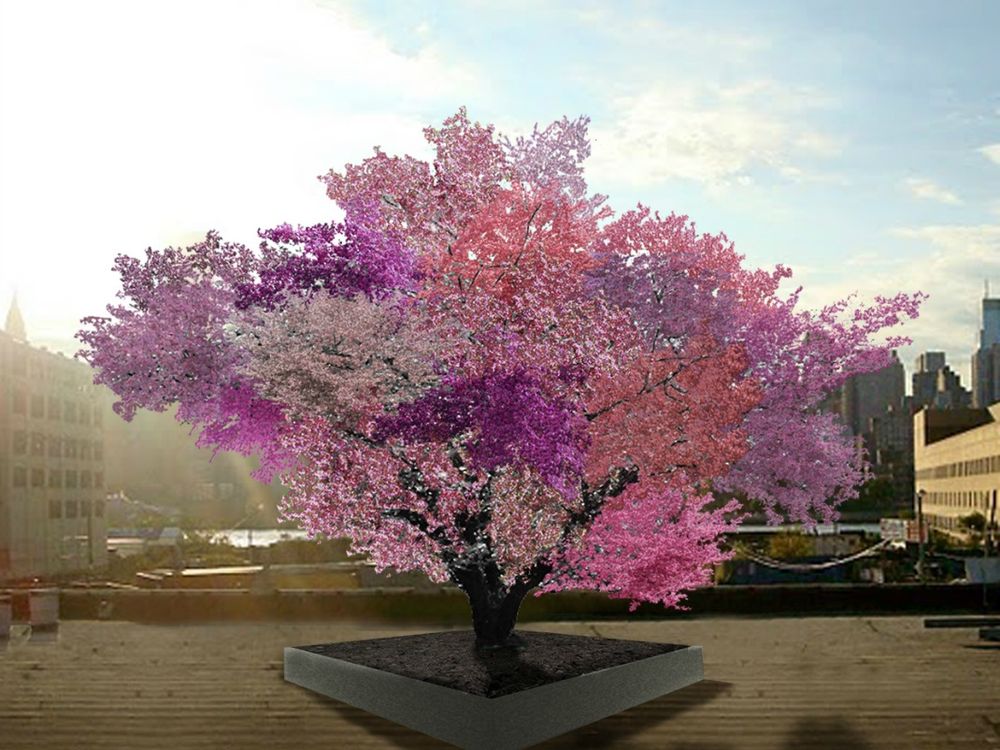 A tree that Sam Van Aken grows might look like any other—until it blooms. First, its branches blossom in different shades of pink, white and crimson, and then, quite magically, the tree displays a mix of fruit.
Van Aken's Tree of 40 Fruit, an invention that's just what it sounds like, is capable of producing 40 different varieties of fruit—plums, peaches, apricots, nectarines, cherries and others. The 42-year-old sculptor and art professor at Syracuse University created his first multi-fruit tree back in 2008, by grafting together branches from different trees. He intended to produce a piece of natural art that would transform itself. He thought of the tree as a sculpture, because he could, based on what he grafted where, determine how it morphed.
Today, there are 18 of these wondrous trees across the country, with three more being planted this spring in Illinois, Michigan and California. Seven are located in New York—including the very first Tree of 40 Fruit that's still on the Syracuse campus—and six more are in a small grove in Portland, Maine. Other individual trees, reportedly costing up to $30,000, have been purchased for private homes and museums, such as the 21C Museum/Hotel in Bentonville, Arkansas. That one, says Van Aken, may be the "most beloved" of his trees. "From the day it was planted," he says, "it seemed to have some draw for people." 
The kindest cut
While it takes precision, the grafting required to create these multi-fruit trees is not that complicated a process. Van Aken, who grew up on a farm in Pennsylvania, takes a slice of a fruit tree that includes buds and inserts it into a matching incision in a host tree, one that's been growing for at least three years. He then wraps electrical tape around the spot to hold the pieces together. When all goes well, the "veins," he says, of the different trees flow into each other so that they share a vascular system.
Other times, Van Aken uses a type of grafting involving just the buds. He removes healthy buds from a tree in February and stores them in a freezer until August. Then, he trims buds off a host tree's branches and replaces them with the ones that have been in cold storage. He wraps the new buds in plastic, creating a greenhouse effect, and the following spring cuts off any of the remaining old buds near the graft. The idea, says Van Aken, is to trick the host tree into believing the new pieces are part of itself. He explained how the Tree of 40 Fruit came to be at a TED talk in Manhattan last year.
For three years after one of his trees is sited, the artist visits it twice a year, once in the spring to prune the branches and again in the summer to add more grafts. Van Aken estimates that it takes at least nine years for a Tree of 40 Fruit to reach its peak—that is five years for the grafts to develop and another four for the different fruit to appear.
Going native
Van Aken uses only trees that produce stone fruits, or those that have pits, because these species tend to be compatible with each other. He was able to gain access to almost 250 different varieties, but to the general public, most of these types of peaches, plums and apricots are unfamiliar, because they aren't the preferred size or color and don't have a shelf-life long enough to allow them to be sold in stores. But that means people are missing out on a wide variety of taste sensations. Some of the fruits, Van Aken says, are so sweet, "they'll hurt your teeth," and others are sour.   
The art project, in this sense, gradually became a means of conservation. Van Aken is doing his part to  keep these fruit species from disappearing.
In fact, his work with lesser known types of fruit attracted the attention of DARPA, the research arm of the Department of Defense. This past fall he met with people from the agency's Biological Technologies Office to share what he has learned about preserving heirloom and native varieties of fruit. 
While he continues to create Trees of 40 Fruit, Van Aken's agricultural focus is broadening. His latest project, based on the German concept of streuobstweise, or community orchards, is a step toward not only educating communities about the fruits native to their region, but also in engaging a younger generation in the fading tradition of growing food. Van Aken, art historian and entrepreneur Chris Thompson and some local businesses and community groups hope to start their first streuobstweise in Freeport, Maine. Some multi-fruit trees will be planted in the orchard, but most of the trees will provide only one type of fruit—the goal being to bring back local varieties that most people have never tasted. 
"The Trees of 40 Fruit were a way for me to collapse an entire orchard into one tree to preserve varieties and diversity," says Van Aken. "But if the Tree of 40 Fruit is collapse, the streuobstweise is explosion, returning these varieties to individual trees."