This Battery Could Charge Your Smartphone In 30 Seconds
An Israeli startup has developed a bio-organic material that uses tiny nanodot crystals to quickly store energy.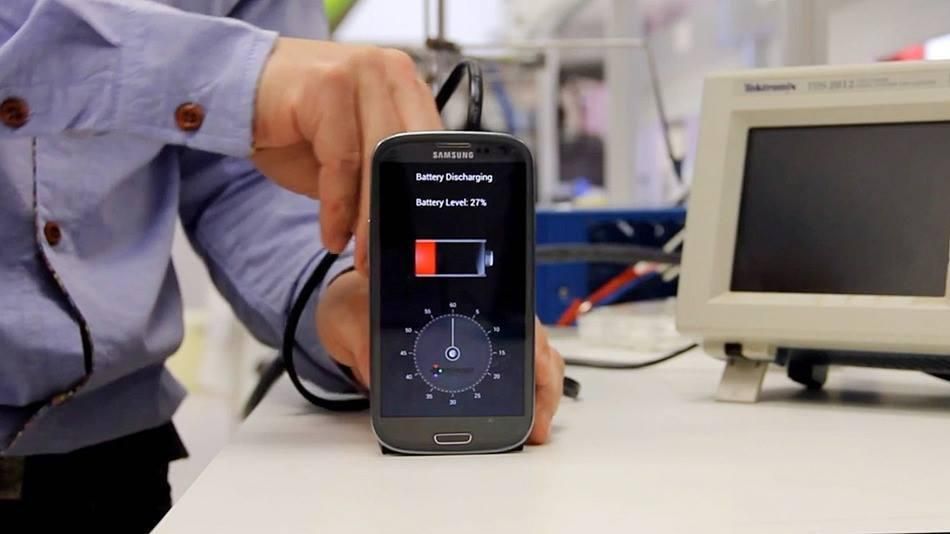 Active smartphone users, at some point or another, inevitably find themselves tethered to an electrical outlet as their devices recharge.
Those precious minutes can feel like hours. But if an Israeli startup makes good on its latest breakthrough, consumers will be able to charge and go in a matter of seconds. 
The technology, developed by nanotechnology firm StoreDot, was recently demonstrated at Microsoft's Think Next symposium in Tel Aviv. The new gadget relies on a brick-sized battery pack, which the company claims moves electrical currents more quickly than standard lithium batteries. When the battery pack is connected to an external power source, as it is in this video, a Samsung Galaxy S4, for instance, can go from nearly drained to fully juiced in 30 seconds flat.  
It's no secret that the relatively incremental advances in lithium ion battery technology over the past few decades have done little to keep pace with a new generation of "smart" power-hungry mobile devices that now include wearables such as smartwatches and Google Glass. Thus far, the most promising efforts to extend battery life have involved experimental enhancements that passively harvest energy from the surrounding environment, such as wireless charging, touchscreens with built-in solar cells and piezoelectric systems designed to absorb kinetic energy.
But the company's latest invention isn't a battery in the conventional sense. You can think of nanodot batteries as standard high-density energy storage cells combined with electrodes that function much like a supercapitator. 
Embedded along the electrode tip as well as within the electrolyte inside are "nanodots," 2-nanometer long crystals about the length of a strand of DNA made of what Myersdorf describes as inexpensive organic materials capable of holding a charge. 
The crystals, derived from amino acids, possess properties that allow them to self-assemble into quantum dots. Nanodots also naturally emit a reddish, greenish, or blueish glow in the presence of red light, making them an ideal source material for OLED displays, lower-cost alternatives to LED screens, he says.
When the battery pack begins to recharge, it stores the initial surge of electrical current at the tip instead of directly into the lithium, a method that allows for 10 times the capacity of traditional electrodes. 
While the nanodot battery doesn't reduce the frequency at which gadgets need to be recharged, it makes the process a lot less time consuming and much less of a hassle. Few researchers have gone this route, partly because of the inherent limitations of battery technology, which carefully restricts the rate at which cells charge and discharge for safety reasons, among others.  
Though the product is a prototype at the moment, CEO and founder Doron Myersdorf says the "nanodot" power system will be consumer-ready by 2016.
"We are confident we will make it to market," he says. "We have already shown that the concept works."
Despite Myserdorf's breakthrough, adapting the technology for the commercial markets requires researchers to solve a number of issues, Time Magazine columnist Jared Newman writes, among them, that the nanobattery will charge much faster but won't last as long on that charge:
In the current demo, StoreDot's battery is physically larger than the one inside Samsung's Galaxy S4, but its capacity is smaller. So while it can charge much faster, it won't last as long on a charge. StoreDot says its working on the capacity issue and hopes to reach its goal of matching conventional batteries within a year. The charger is much larger as well–though StoreDot says it's working on reducing the size–and it'll be roughly twice as expensive as a normal charger. Finally, the phone itself needs to be modified to accommodate a high current during charging ...
Shrinking the battery while also improving capacity is a challenge that Myersdorf considers, for the most part, fairly "manageable," since it will mainly involve tweaking the battery's internal chemistry, he says. Once researchers work out the optimal formula, he claims, nanodot batteries will also allow for thousands, rather than hundreds,  of charge cycles without adding bulk, though it's not clear exactly how long the battery will last nor how much it will cost consumers.
With a working (albeit rough) prototype, $6 million in funding and the backing of a large unnamed smartphone manufacturer, StoreDot does at least appear to be further along than several other research projects seeking to re-invent storage systems that are becoming increasingly overtaxed.
"We are working with several large players,"  Myersdorf says.