Up in Arms Over a Co-Ed Plebe Summer
The first women to attend the Naval Academy became seniors in 1979. Photographer Lucian Perkins was there as the old order changed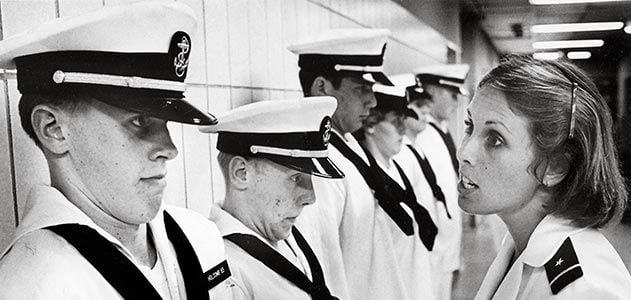 Don Holcomb was new to the United States Naval Academy, still in the grueling orientation period known as "plebe summer." Sandee Irwin was a midshipman first class—a senior. One day in July 1979, while Holcomb was still getting used to the academy's intense memorization drills, Irwin ordered him to recite the lunch menu.
"Tater tots, ham, luncheon meats," he spouted, according to a contemporary report in the Washington Post. "Swiss cheese, sliced tomatoes, lettuce, mayonnaise, submarine rolls, macaroon cookies, iced tea with lemon wedges, milk...uh...ma'am."
"Did I hear salami, Mr. Holcomb?" she demanded.
She had not. She should have. Holcomb and his fellow plebes had pulled in their chins like nervous turtles, a punishing position known as "bracing up." Now he prepared for a verbal gale.
"I don't remember the words she used, but I remember the tone," recalls Lucian Perkins, then a Post intern on hand to photograph the rites of plebe summer. He snapped his shutter.
The academy had been the exclusive domain of men until 1976, when it admitted 81 women, about 6 percent of the freshman class; in 1979, the senior class included women for the first time in the academy's 134-year history. Images of a woman commanding men were rare enough to make the Post's front page.
In the moment, though, Holcomb didn't quite grasp the significance. "We knew this was the first class with women, kind of a historic thing," he says, "but when you're getting screamed at, it doesn't matter if it's a he or a she."
A day or two later, Irwin opened her dorm room door and reached down to pick up her daily copy of the Post—where, sure enough, the photograph appeared on Page 1. "Oh, [expletive]," she recalls thinking. "This isn't going to be a good day."
A few minutes later, one of her male classmates stormed into the room. "He slams the paper down," Irwin remembers, "looks at me and says: 'We are not impressed.' But you know what? My parents were proud. And as long as I was making my parents proud, I didn't care what anyone else thought."
Irwin had gone to the academy not to make a point, but to get a low-cost education—and a career. She says she had been a "California girl," a perky cheerleader from the Bay Area city of Livermore, but she was also determined to become the first member of her family to graduate from college. While nearly one-third of her female classmates would drop out (as would one-quarter of the men), she would make it to the end.
Over the next several weeks, Irwin received hundreds of letters from people who had seen the photograph, which had been widely distributed through the Associated Press. Some were congratulatory and supportive, even grateful. Others contained death threats. (Navy investigators held on to those.)
"I never feared for my life," she says. "But some of them quoted the Bible to say that women should not be in positions of power, and I'm a Christian, so I would have liked to debate them on that. Of course, none of them were signed."
Holcomb, too, squirmed in the spotlight. He had been trying hard to blend in with the other plebes—few people on campus knew that his father, M. Staser Holcomb, was a vice admiral. Irwin certainly didn't.
"I didn't want to get any special attention or favors, so I didn't tell her," Holcomb says. He took some ribbing from upperclassmen, mostly for his bad brace position (his chin wasn't in far enough), but for him the episode blew over pretty quickly.
Irwin, too, thought it had blown over when she started working for the chief information officer at the Pentagon the next year. But one day her boss found an excuse to send her on an errand to Vice Adm. Holcomb's office.
"You could see everyone around start to snicker because they knew who I was. I'm thinking, 'Oh, God, I'm dead,'" she says. "But he walks out from behind his desk, shakes my hand and laughs. He said, 'If my son forgot something, he deserved to be yelled at.'"
As a public affairs officer, Irwin spent eight years on active duty in the Navy and three in the reserves; she rejoined the reserves in 1999, and after September 11, 2001, was mobilized for almost two more years. Now a captain, she plans to retire next summer.
She was single until last year, when she married Steve Young ("At 50, I became Young!" she cracks), a biochemist she met in her current job as a spokeswoman for the biotech firm Amgen.
Holcomb spent 22 years as a Naval officer, mostly on nuclear submarines (where, coincidentally, women are still barred from serving). He retired as a commander in 2005, and now, at 48, works for a private defense contractor in Virginia, where he lives with his wife, Jayme, a lawyer. His three children are grown.
As for Perkins, he was hired by the Post a few months after he shot the encounter and worked for the paper for 27 years; he has won several major awards, including two shared Pulitzer Prizes and a World Press Photo of the Year award. Now 56, he freelances out of his home in Washington, D.C., where his photograph of Irwin and Holcomb hangs in a hallway.
Amanda Bensen is an assistant editor at the magazine.