The Game that Put the NFL's Reputation on the Line
In 1930, many football fans believed the college game was better than the professional one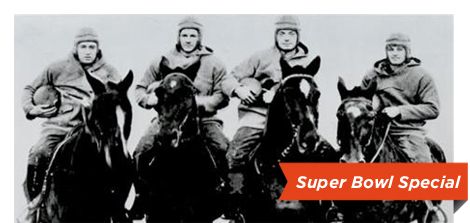 One year into the Great Depression, millions of Americans were turning to football to take their minds off unemployment, bread lines, debt and deflation. Despite the hardships of 1930, there was something to cheer about in New York. The Giants had won an NFL Championship in 1927, and two years later, owner Tim Mara bought another NFL team, the Detroit Wolverines, mostly so he could acquire standout quarterback and Michigan native Benny Friedman. In the autumn of 1930, the Friedman-led Giants jumped out to a 10-1 record and appeared to be on their way toward another championship.
Still, sportswriters and sports fans were not entirely convinced that the best football in the country was being played in the National Football League. Not with Notre Dame beating every college team it played in sold-out stadiums across the country. The Fighting Irish's famous and feared 1924 backfield, immortalized as the "Four Horsemen" by sportswriter Grantland Rice, was six years gone, but the 1930 team was coming off an undefeated championship season in 1929 under legendary coach Knute Rockne. By November of 1930, they still hadn't been beat.
That fall, Northwestern University had announced that if Notre Dame would play next season's scheduled game at Chicago's Soldier Field (which could accommodate 125,000 fans), Northwestern would donate, in advance, $100,000 from the proceeds to Illinois Governor Louis Lincoln Emmerson's unemployment fund. Such efforts were springing up throughout the nation; in New York City, Mayor Jimmy Walker had formed his own fund to help the unemployed. Walker hoped the Giants would be interested in playing an exhibition game for the benefit of his fund, so he met with Mara and some sportswriters to kick around ideas for a matchup that would capture the public's imagination.
"Why not Notre Dame?" one writer asked.
Many fans had been asking the same thing. Could the Fighting Irish beat one of professional football's strongest teams? The NFL wasn't sure it wanted to know. The league, after 10 years of play, was still struggling to establish credibility, and the Giants had been around for only five years. Notre Dame, on the other hand, had been a proven dynasty under Rockne. Fans across the country had little doubt that the best college teams, and certainly Notre Dame, were playing a brand of football that was superior to the pro game. A Giants-Irish matchup would certainly raise enough money to make Mayor Walker happy, but a Giants loss could also destroy the NFL.
Walker and the Giants named sportswriter Dan Daniel chairman of a committee to organize the game, and Daniel approached Rockne with the idea. Rockne loved it, but scheduling would be a problem. The game would have to take place on the weekend of December 13, but Notre Dame was playing in Los Angeles against the University of Southern California on December 6. The trip back east would be too long for his team to be ready to take on the Giants. But Rockne came up with another idea: What if he could bring back the Four Horsemen and other former Fighting Irish greats instead?
The game's promoters were thrilled. The Horsemen—quarterback Harry Stuhldreher, fullback Elmer Layden and halfbacks Jim Crowley and Don Miller—were much bigger names than any of the current Notre Dame stars. Never mind that all four of them had moved on to coaching; they were all still in their 20s, and Rockne assured everyone they were always in top shape. "And what's more," he said, "I'll coach 'em, too."
Rockne, however, didn't want to get too far ahead of himself. Notre Dame still had to play Army as well as USC, and the Fighting Irish were beginning to show signs of vulnerability. On November 18, "Galloping Joe" Savoldi, Notre Dame's hulking Italian star fullback, was forced to withdraw from the university after officials discovered he had violated school rules by getting married, to a local teenager. (Savoldi exposed his own secret by filing for a divorce. He signed with the Chicago Bears a few days later.) Notre Dame still beat Army's undefeated team, 7-6, in a heavy rain before 100,000 fans at Soldier Field the next week, leaving them just one win away from another undefeated season and back-to-back championships. But USC was a tough team.
Back in New York, Dan Daniel secured the Polo Grounds in Harlem for the contest between the Notre Dame All-Stars and the Giants, and with 55,000 fans sure to fill the seats, Walker could expect to raise more than $100,000 for his fund. But if Notre Dame was showing signs of vulnerability, the Giants were collapsing: their coach, Leroy Andrews, "just got himself all worked up thinking about this great meeting with Rockne," Benny Friedman said later, and "lost control of himself completely."
After the Giants dropped two consecutive games by the score of 7-6, Friedman and another player, Steve Owen, went to Mara with their concerns. Andrews was quickly out, and Friedman and Owen took control of the team for the last two games of the season. Winning them both, the Giants set the stage for the big showdown in Harlem.
Knute Rockne brought his team to Los Angeles to face USC amid more bad news: his other backfield star, Larry "Moon" Mullins, was injured and could not play. It had been just two years since Rockne inspired his team to beat Army with his "win one for the Gipper" speech—telling his players that his 1920 star, George Gipp, had said as he was dying of pneumonia, "I've got to go, Rock.  It's all right. I'm not afraid. Some time, Rock, when the team is up against it, when things are wrong and the breaks are beating the boys, ask them to go in there with all they've got and win just one for the Gipper." It seemed he would need something equally potent against the Trojans, who were 8-1.
In the days before the game, Rockne said, "I'm afraid we're going to take a beating from Southern California.… If we can hold the Trojans to a two-touchdown difference, we'll go home feeling pretty good." Some reporters suspected it was a psychological ploy, but he denied it: "While my boys may rally to give the Trojans a fairly good game, I see no chance of victory." The team, he said, had been beaten up over its last three games, and the trip west was too much. Oddsmakers made USC the favorite, and even Grantland Rice, who called the 1930 Notre Dame squad "the greatest football team I ever saw," didn't think the Irish would win.
More than 88,000 fans filed into the L.A. Coliseum on December 6, and a slaughter soon followed—but it was Notre Dame that dominated the game, beating USC, 27-0, and repeating as national champions.
After a parade in South Bend, Rockne gathered his all-stars for four days of workouts in Indiana before they hopped a train to New York. "At first I thought these fellows might not be able to put up a good game after several years' layoff," Rockne told reporters, "but when I got to South Bend on Wednesday I found them a little older but was pleasantly surprised to see the way they handled the ball. This is not going to be merely a spectacle but a real game."
Rockne planned to start his Four Horsemen-led 1924 team; in reserve, he had the speedy Bucky O'Connor and All-American quarterback Frank Carideo from the undefeated 1930 Fighting Irish team. When he got his team onto the Polo Grounds field, he realized that the Giants' defensive line averaged 230 pounds—dwarfing his offensive line. Rockne told his players, "Fellows, these Giants are heavy but slow. Go out there, score two or three touchdowns on passes in the first quarter, and then defend and don't get hurt."
Nothing went as Rockne had hoped: the Giants jumped out to a 15-0 lead. Walking back to the locker room at the half, the Notre Dame coach ran into Giants president Harry March. "I came here to help a charity," Rockne told him. "You are making us look bad. Slow up, will you? I don't want to go home and be laughed at. Lay off next half."
The Giants did, playing their reserves for the rest of the game. But it didn't matter. Notre Dame never advanced the ball into Giants territory and managed only one first down the entire game. The final score, 22-0, barely conveyed the Giants' domination."That was the greatest football machine I ever saw," Rockne told his players after the game. "I am glad none of you got hurt."
Thus the NFL avoided a catastrophic loss of reputation. A few days later, Tim Mara handed Mayor Walker a check for $115,000 for his relief fund. Rockne did not get much of a chance to live down the loss. Three months later, while he was on his way to Hollywood to assist in the making of the film The Spirit of Notre Dame, the airplane he was flying in broke apart in the skies over Kansas, killing all eight people aboard.
Sources
Books: Barry Gottehrer, The Giants of New York: The History of Professional Football's Most Fabulous Dynasty, G. P. Putnam's Sons, 1963. Carlo DeVito, Wellington: The Maras, the Giants, and the City of New York, Triumph Books, 2006.
Articles: "Four Horsemen' Play Again in Charity Game," Washington Post, November 10, 1930. "Notre Dame and N.U. All Set For Charity Game," Chicago Tribune, November 15, 1930. "'Galloping Joe' Savoldi Withdraws From College," Hartford Courant, November 18, 1930. "Rockne Thinks 1930 Team Best in Rambler History," Hartford Courant, November 23, 1930. "Notre Dame Beats Army, 7-6, In Rain, as 100,000 Look On," New York Times, November 30, 1930.  "'So. California Will Win But It Is Going To Be Great Contest,' Says Rockne," Hartford Courant, December 6, 1930. "'You Played Greatest Game of Year,' Rockne Tells Team,"Chicago Tribune, December 7, 1930. "Rockne Trots 'Four Horsemen' Into New York," Boston Globe, December 13, 1930. "Rockne Stars Play Pros Today," Washington Post, December 14, 1930. "Giants Defeat Notre Dame All Stars, 22-0 in Charity Game Before 50,000," New York Times, December 15, 1930. "Rockne's Final Game: Always the Master Salesman, Notre Dame Coach Let USC Believe It Was Better; Then Came a 27-0 Irish Victory," by Early Gustkey, Los Angeles Times, December 6, 1990. "The Time Notre Dame Played the New York Giants (for the Unemployed!) by Ethan Trex, Mentalfloss.com, September 23, 2011, http://www.mentalfloss.com/blogs/archives/101307