Telling the Forgotten Stories of the Everyday Americans of the Revolutionary War
Near where the Battle of Yorktown was waged, a new museum fuses innovative technology with storytelling techniques to connect with visitors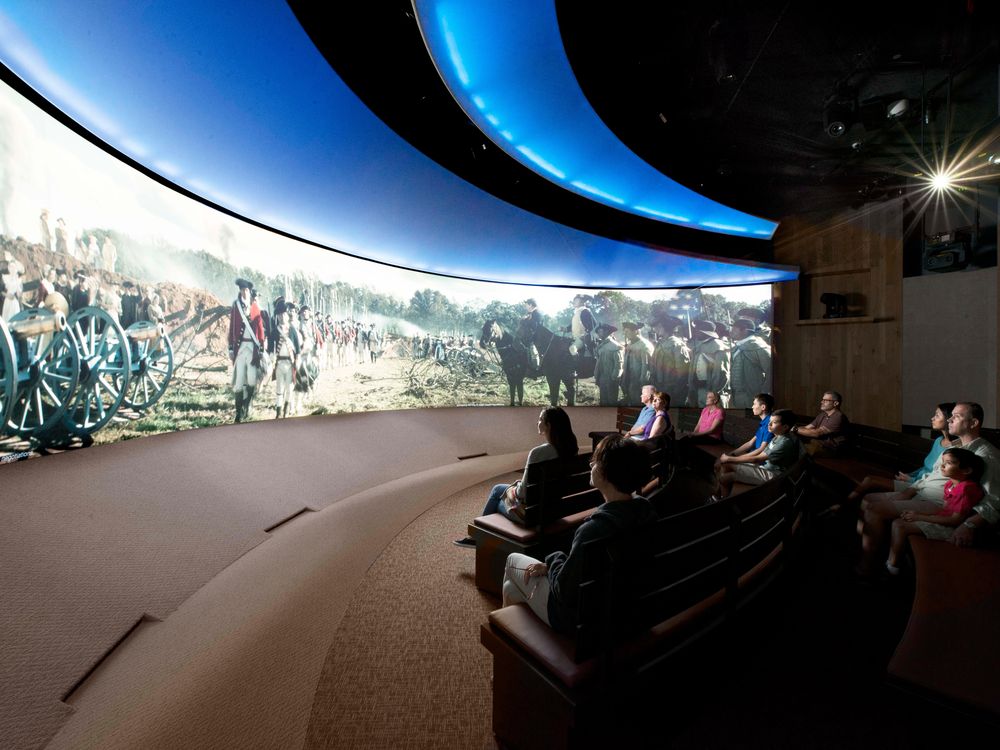 In a darkened theater, a traveling 19th-century entertainer uses a crankie, a moving paper panorama with back-lit shadow puppets, to introduce five 18th-century characters—a Catawba Indian, an Irish immigrant woman whose family fought on opposite sides in the revolution, a Continental Army soldier, a witness to the 1770 Boston massacre and a free black man who fought in the key Revolutionary War battle.
This is Liberty Fever, the movie visitors see when they enter the new American Revolution Museum at Yorktown. When screen testers commented that its portrayal of the Revolutionary War was "politically correct," Peter Armstrong, the museum's senior director of operations and education, told them that was absolutely the intention.
"There was a conscious decision to ask, 'How do we ensure those people watching this movie feel connected with these individuals?'," Armstrong says. He wanted the people in the film to mirror the people in the audience—and for their diverse stories to share center stage.
Those ordinary people, not beloved artifacts, form the heart of the museum where small stories loom large, coursing through the galleries like so many streams flowing into the same revolutionary river.  
When visitors tap on an 80-inch-tall interactive screen, "Personal Stories of the Revolution," in one gallery, they see the tales of 20 characters like Peter Harris, the Catawba Indian they first met in Liberty Fever. An actor portraying Harris tells how he fought and was wounded in 1779 during the American victory at the Battle of Stono Ferry in South Carolina. There's the story of David Fanning, a Loyalist who fought for the British in North Carolina and then switched sides at the urging of his sister, Esther De Berdt Reed, a Philadelphia woman who raised $300,000 to provide shirts and other supplies to the Continental Army. There's even Trip, the Wheaten Terrier who belonged to Isabella Ferguson, the Irish immigrant to South Carolina who appears in Liberty Fever. The revolution split her family, like it did so many.  
"I'm a rebel. Glory is in the name," Ferguson told her brother-in-law, who fought for the British in a story documented in an 1848 book, Revolutionary Women in the War for American Independence. "My brother's a rebel, and the dog, Trip, is a rebel, too."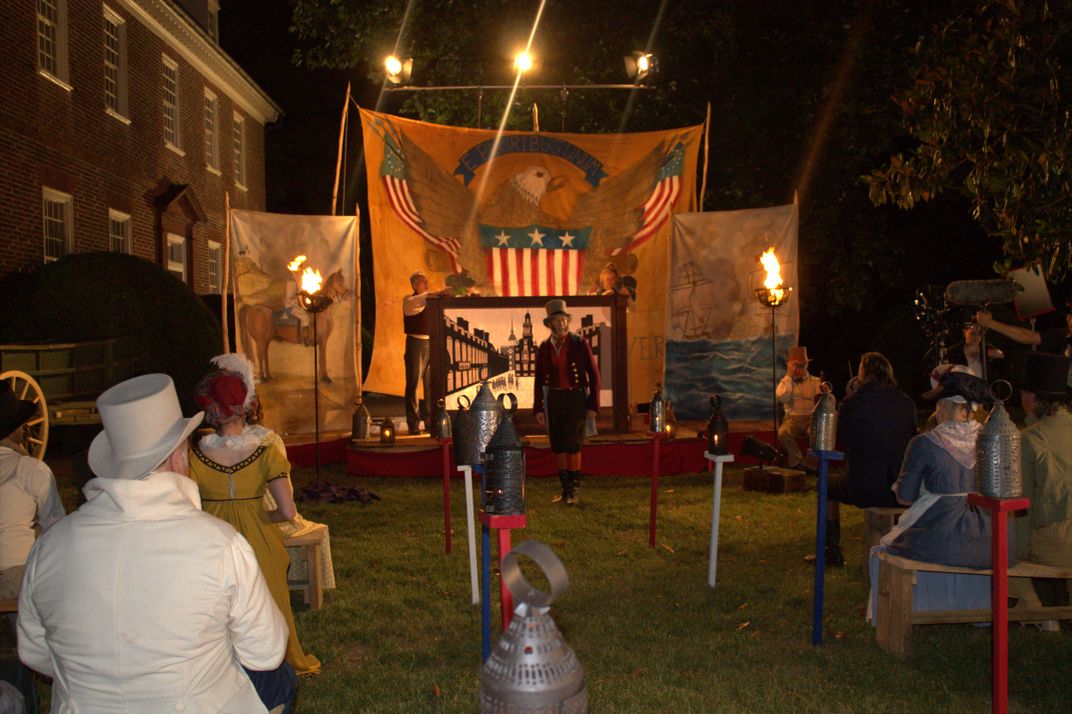 Heather Hower, the museum's media project manager who helped create the exhibit, watches a family listening to Ferguson's story and smiles. "That's exactly what we intended," she says. "We want visitors to make a personal connection."
"We're telling the stories of ordinary people in an extraordinary time," says Armstrong.  "Here at Yorktown is where the subjects of a king become citizens of a nation."
Stories like 16-year-old Jon Harrington, whose mother woke him so he could grab his fife and witness the first shots at Lexington and Concord. Or Sarah Osborn Benjamin, who traveled with the Continental Army and delivered food to the troops during the siege at Yorktown. Or James Lafayette, the slave who was freed to fight and became a spy key to victory at Yorktown. 
The $50 million museum, not far from where Lord Lieutenant General Charles Cornwallis surrendered to George Washington on October 19, 1781, opens on March 23 with 13 days of festivities, one for each colony. The museum replaces the 40-year-old Yorktown Victory Center, which opened in 1976 as part of bicentennial celebrations, and features an expanded outdoor living history area. It's not alone. The American Revolution Museum is mere miles from Colonial Williamsburg, Jamestown and a gaggle of battlefields and other revolutionary attractions in the region.  Its debut comes just weeks before another long-anticipated museum opens in Philadelphia, the Museum of the American Revolution, which boasts a 3,000-piece collection of revolutionary artifacts including George Washington's headquarters tent from Valley Forge.
To help lure visitors to Yorktown, museum officials turned to Armstrong, who arrived three years ago after a decade at the United Kingdom's National Museum of Arms and Armour. The arms museum, he notes, was "taxonomic" and able to only display about 10 percent of an extensive collection of artifacts, which isn't all that uncommon among museums. At the American Revolution Museum, artifacts, such as one of the earliest portraits of an African slave and a rare July 1776 broadside of the Declaration of Independence, were collected to tell stories that enhanced the experiences. He trained in the theater and uses storytelling to bring history to life. Museums today, he says, need to find a way to connect emotionally in a world where facts are at fingertips. 
"What is it that made these individuals decide they could join together and take on the most powerful nation in the world? What is this concept of liberty and freedom?" Armstrong asks. "Why did the guy sitting on his farm in Pennsylvania decide to take up arms and potentially lose his life? It seems to me to be a very emotional response and if you want to understand that emotional response, you need to understand that guy in Pennsylvania. It all sounds very highbrow, but to be honest, it's just common sense. People want to know about people."
The museum's curators and researchers began with a long list of individuals that evolved over years, Hower says. The goal? Make people fall in love with the true stories of individuals.
Legends and myths that could not be documented, like the story of Molly Pitcher, were discarded. For quotes in films and exhibits, the team relied on diaries and pension applications. The stories of Peter Harris and Sarah Osborn Benjamin were fleshed out by pension depositions they filed with the Veterans Administration. A portrait of Reed was tracked to descendants in New York using ancestry registries and photographed for the exhibit.
Storytelling abounds throughout the museum, from artifacts to interactive screens and short films. Visitors can use a mobile app to explore the galleries through the perspectives of patriots, Loyalists, children, women and figures like the Marquis de Lafayette, Alexander Hamilton and George Washington.
Social media is part of the experience, too. Visitors learning about the American Revolution through the eyes of children, for instance, can take a photo in the gallery featuring the story of James Forten, an African-American who at 14 joined a privateer fighting the British. With the app, they can superimpose his clothing onto the photo, then share their revolutionary selfie. 
"We're trying to make connections in different ways," Hower says. "It's about relevance. Why are these people important to me today?"
Those connections continue at an expansive living history area. It features a replica Army encampment laid out according to the principles of Major General Friedrich von Steuben, the Prussian credited with shaping the Continental Army into fighting form. Adjacent to the camp is a farm with a residence, bake house and slave quarters based on the property of Edward Moss, who lived nearby in colonial times.
Outside, visitors can help with an artillery firing. They may muster for drills. They might weed the garden. And if their timing is right, they get a chance to sample the tarts or pies made with ingredients and period tools from recipes by Amelia Simmons or Hannah Glasse, who wrote contemporary colonial cookbooks.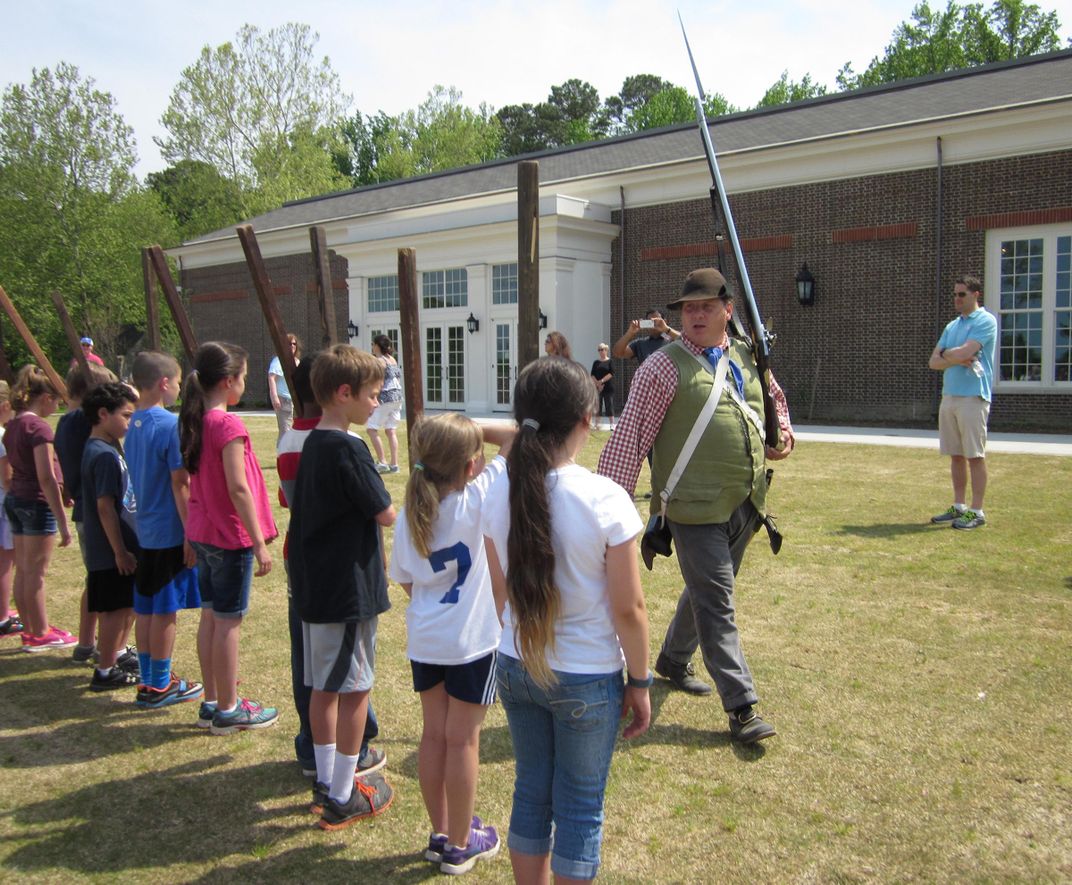 The experience ends with a bang. Visitors finish up with a 180-degree, 71-foot-wide, 4D "Siege of Yorktown." Inside the small theater, benches shake, winds blow, smoke clouds your vision and the smell of coffee and gunpowder fill the air. For Armstrong, it's more than a theatrical experience—it's another path into the past through the lives of ordinary people.
"Let's face facts, 80 to 90 percent of the people who come to a museum are just there for a good day out," he says. "You want to be with somebody who is just like you. The more we can make it so you can associate with the individual, the better you understand the story."