The Royal Archives Reveals the Hidden Genius Behind George III's "Madness"
Historians are salivating at the opportunity to gain new insights into the massively misunderstood monarch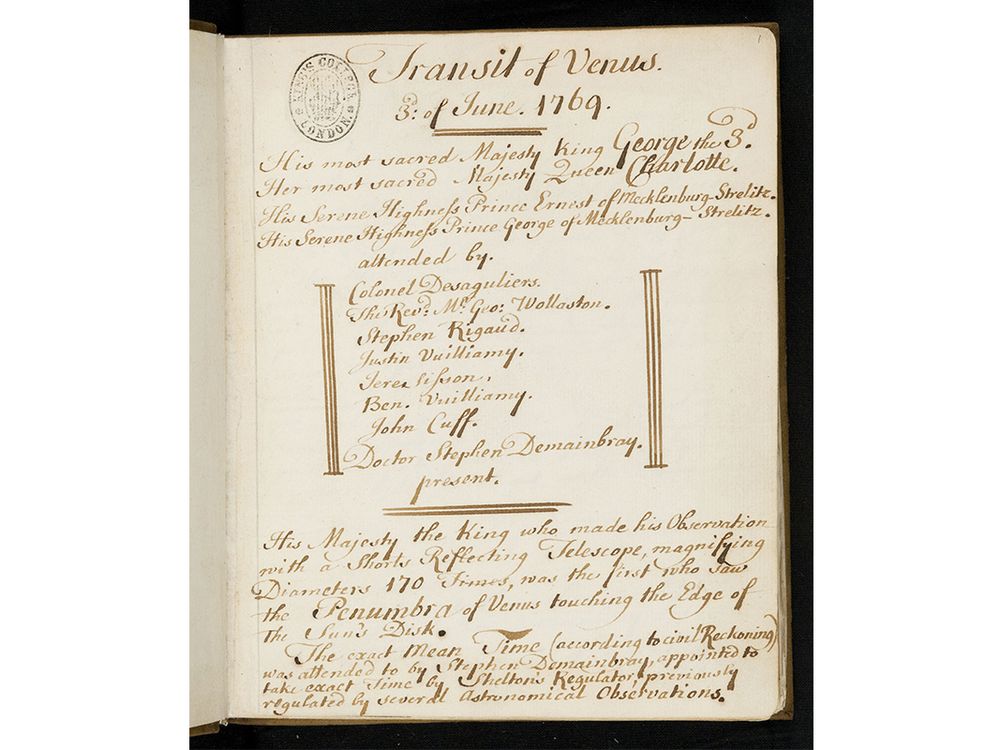 Windsor Castle is a hybrid of medieval treasure and modern marvel. Moving past guards and a fierce-looking cannon, I ascend 104 steps to reach the iconic Round Tower, where the Royal Archives are housed. There, a small army of researchers is orchestrating a revolution in archival access—one focused on George III, the monarch whose supposed tyranny sparked a revolution in the American colonies, shaping the course of world history.
Reading the royals' mail in person at their castle calls for a bit of time travel. A few steps from William the Conqueror's 11th-century footprint, technicians painstakingly stitch together digital images of manuscripts. Across the way, in the Royal Library, bibliographers bustle along the same walking gallery where Elizabeth I strode daily. Down in the bookbindery, a new fleet of apprentices learns to bind books, apply royal seals with gold finishing, and conserve volumes. Nearby, Windsor archivists ponder the metadata needed to make George's life word-searchable and wrestle with imposing order on such a massive archive.
Blame the bustle on a horde of historians curious about George. They are now welcome in Windsor thanks to the Georgian Papers Programme, launched by Elizabeth II in April 2015 to open 350,000 private manuscripts to the public. In a milestone installment, roughly 33,000 documents of George III, Charlotte, and their royal household are now available to read online for free. By 2020, the entire archive will be online.
The newly accessible trove reveals a methodical monarch, the royal system he ran, and the dilemmas he met in doing so. For scholars, the archive offers a clearer window onto life at court from 1714 to 1837—and if scholars enter the archives with one snapshot of the king, they often leave with another.
 "There is an extraordinary range of material, much of it unexplored, and always the chance of the serendipitous discovery," says Arthur Burns, professor of British history at King's College London, where he serves as the Programme's academic director. "It's a cliché, but it is also the case that all human life is there, from the kitchens to the closet, from war to farm management."
Opening that vast window on the past hasn't been easy. "The Georgian Papers is a fascinating puzzle, because the papers are not yet catalogued," says Oliver Walton, the curator of the Historical Papers Project. "The big challenge for us is to make the papers discoverable for users while retaining the integrity of the historic arrangement, however complex that may have been." To organize and transcribe the Georgian Papers, Windsor archivists have joined with the Royal Collection Trust and King's College London. The collaboration has gone global. The Omohundro Institute of Early American History and Culture and the College of William & Mary serve as the primary U.S. partners for the project, and have sponsored research fellows to study the archive. (You can apply here.) Mount Vernon, the Sons of the American Revolution, and the Library of Congress have also announced their participation.
Conservators in Windsor's high-tech laboratory have made many documents, despite a century or so of storage in a damp city cellar, research-ready. Some manuscripts are now mounted, windowpane style, with the intent of being bound. Ledgers, pamphlets, letterbooks and a few very personal tokens (like a lock of one child's hair coiled up and sent by Charlotte to the royal governess) have weathered the centuries for scholars' use.
"You feel an immediate connection to both the place and the materials," says historian Andrew Beaumont. "When a letter comes out of the box marked Windsor, I certainly experienced that thrill of knowing that the letter had come from here, and eventually found its way back again."
The archive painstakingly preserves a George who is more than a despot or a madman. "I got to know George III as a tyrant, as an awkward youth, and as a locus of patriotic celebration," recalls historian Rachel Banke. What she found in the Georgian Papers led her to recast him as a careful political thinker and thwarted reformer, too. "He had high intentions to reform the political system and bring a virtue and success unknown to the nation since the Elizabethan era. His failures came not out of malice but resulted from mistakes, circumstances beyond his control, and the harsh consequences of a complex political system."
George was America's final king, and Australia's first. He was the chief executive of a global empire who flooded ministers with instructions, hour to hour. And at least once, when politics drained his patience, King George III considered abdication. Duty reined him in.
Deep in his family papers, lie the instructions that George's mother read aloud to him as a boy: reduce national debt, lower the interest rate ("for God's Sake, do it"), avoid foreign war, and, above all, "never give up Your Honour nor that of the Nation." So George stayed put at Britain's helm, dating his memoranda down to the minute, and trusting spies like "Aristarchus" for covert intelligence on assassination plots.
He never traveled far from London, but George's empire of ideas was vast. Around him, people fought wars, tried out parliamentary reforms, abolished the slave trade, and dove into industrialization. George interpreted the changing world in multiple tenses. Keenly, he eyed cultural shifts through the prisms of past history, present duty, and the nation's future. He weighed out his words. From his Richmond observatory in June 1769, for example, George recorded the Transit of Venus, careful to note that it would not be enjoyed again until the far-off years of 1874 and 2004.
Familiar concerns, royal and domestic, frequently broke into the king's stargazing. Along with German-born wife Queen Charlotte, George mulled over their daughters' lessons and kept height charts of 15 children. Like any parent, he agonized over his son's hard-partying ways. While crises like the American Revolution blossomed into all-out war, George tallied how many blankets British soldiers would need, and copied out long French naval lists. In quieter moments, "Farmer George" holed up in Windsor Castle and neatly drafted wide-ranging historical essays.
Troubled by mental illness (possibly hypomania) from the late 1780s until his death in 1820, George withdrew from political life by 1811. Contemporary caricaturists and modern scholars alike chose to depict him as a mad tyrant who lost the American colonies. Hailed in history books as Britain's longest-reigning king, George III was often looked at but rarely seen.
Until now.
A first round of researchers has started to reframe George's royal portrait—and review traditional takes on his personality and politics. On the page, Beaumont says, George rarely asked questions. He trusted advisers "until his trust was shown to have been misplaced, whereupon he showed a clear, ruthless edge."
Yet the king was also kind, explains historian Cynthia A. Kierner, who has studied the culture of disaster relief. When a great fire ripped through Montreal in 1765, George sent £500 in aid to foster goodwill. His mother Augusta, the Princess of Wales, contributed to philanthropic causes, too. "Access to the collections in the Royal Archives led me to think about their humanitarian works in the larger context of the history of British philanthropy," Kierner says.
George and Charlotte emerge anew as monarchs engaged with the issues of the day: revolution, slavery, religion, and reform. "The volume and detail of his papers emphasizes his role as chief executive of a global empire, heavily involved in many of the big decisions on policy and strategy," says naval historian Andrew Lambert. "He was not a ceremonial figurehead."
According to Andrew J. O'Shaughnessy, currently serving as the first Sons of the American Revolution visiting professor at King's College, George's use of political power merits extra scrutiny. After the Boston Tea Party of December 1773, O'Shaughnessy explains, George "became the most hawkish" of politicians. "He articulated better than most the reason for remaining in the war," O'Shaughnessy says, "which he increasing argued was to maintain the importance of Britain as a power in Europe. He threatened to abdicate rather than accept the loss of America. He even wrote out his abdication."
That March 1783 manuscript has proven rich for other scholars, too. "Where, for example, did George get the idea that he might want to abdicate in the first place? There were no relevant precedents in recent British history, and even in the European context few that matched the specific circumstance," Burns says. "Thinking about this sends us back to other parts of the archive which chart the education through which he came to this understanding of what it was to be king, and the nature of the role."
Unveiling the monarch and the man, the Georgian Papers are open for you to explore. Teams of transcribers are digging into the manuscripts, says historian Karin Wulf, director of the Omohundro Institute of Early American History and Culture, and more are welcome. You can try your hand at the same historian's craft here.
There's always the chance to uncover the unexpected, and make a new people's history of the Georgian era. Historian Suzanne Schwarz, busy researching George III's role in the development of the African colony of Sierra Leone, came across a moving petition in her reading room pile. The letter was from Sarah McCoy, a pregnant mother who sought the king's pardon. She hoped to "prevent her being transported," a punishment she faced for a first offense of theft of "3 Childs caps valu[e]d 3d" and a handkerchief.
Did George extend his mercy? What was Sarah McCoy's fate? The answer may lie inside Windsor—but now, it is no longer under lock and key.