Rome Reborn
Archaeologists unveil a 3-D model of the great city circa A.D. 400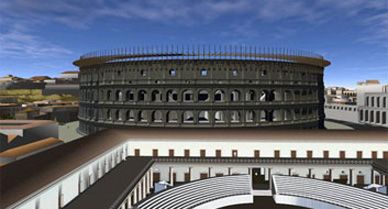 It's a common fantasy—what if you could travel back in time and walk the streets of a bygone city, see the light play over long-vanished rooftops? For some people it's more specific. Bernard Frischer, head of the Institute for Advanced Technology in the Humanities at the University of Virginia, has been imagining ancient Rome since he started studying Latin in eighth grade. "It was the first multicultural empire and city," says Frischer. "We always say the Romans were the Americans of antiquity; it was a society based on merit, where anybody could rise to the top."
In early June, Frischer made the time-travel fantasies of countless armchair classicists come true. At a ceremony on Rome's Capitoline Hill, the city's mayor and a team of American researchers unveiled "Rome Reborn": a full-size, real-time digital model of Rome, circa A.D. 320. The entire city is modeled in three dimensions, and users can "fly" through, and over, the ancient city's winding streets, broad plazas, forums—even its most famous monuments. "It's a true 3-D big screen stereo projection," says Frischer, who organized the project. "It's a real-time model for immersive theaters."
Imperial Rome was the largest city the world had ever seen. At its peak in the fourth century A.D., it was home to more than a million people. Not until the rise of Victorian London in the 1800s did a city surpass its population.
Because of its size and importance, Rome may be one of the most-studied cities in history. The urban center of the classical world was 16 square miles, protected by 11 miles of walls. Its buildings have captivated architects for centuries, and classicists, historians, archaeologists and others have spent entire careers trying to understand how the city functioned.
For academics and researchers, the Rome Reborn model will be a way to test theories about how the city worked and looked back then. Trajan's Column, for example, a 125-foot high monument to the military victories of Emperor Trajan, dominated the center of Trajan's Forum, a square near the center of the city north of the Roman Forum. At a conference in Berlin this spring, Frischer "walked" a rapt audience through virtual walls to show how the column would have been visible from most of the surrounding squares as well.
As the buildings on the screen slide by, a sense of place emerges. The column's height and location was no accident, but a statement of power. "That relationship is more complex than you can represent or explain in a book, but it's very easy to experience in the model," says Dean Abernathy, an architecture professor at the University of Virginia. "This gives you the whole context. The city was a three-dimensional place."
Other researchers are tackling different questions: How would crowds of people have filtered in and out of the Coliseum to watch gladiator games? Would the door of a building open onto a majestic view—or a blind alley?
As new research is developed and tested, it can be added to the model. Conceived as a sort of 21st-century academic journal, the idea is that researchers in fields as diverse as architecture, computer programming, literature, engineering and archaeology can collaborate to add layers of information to the model. Frischer compares it to the "wiki" concept behind the online encyclopedia Wikipedia. "We thought we would create this resource of Rome at its peak and then open it up as a peer-reviewed scholarly journal," he explains. "We'll be able to keep adding to our knowledge in new ways."
To create a digital version of Rome, the University of Virginia team cheated a little. It turns out a three-dimensional model of Rome already exists. The "Plastico di Roma Antica," completed in the 1970s, is a 1:250 scale model of the city carefully crafted from plaster. At that scale, the mighty Coliseum is just eight inches tall—but the model still covers 3,000 square feet.
Working with engineers from Milan Polytechnic, the Rome Reborn team used lasers designed to measure jet aircraft to scan the entire model. The scans were converted into digital form, and programmers worked to turn the scans into Rome. "It's a meta-model, a model of a model," says Gabriele Guidi, an engineering professor at Milan Polytechnic who led the scanning work.
The undertaking was enormous—more than 100 people from Italy, the United States, Germany and Britain worked on the project. But the model isn't just for academics. "Rome Reborn" has been licensed commercially and promises to give some of the 20 million tourists who visit Rome each year a rich taste of what the city once looked like. In a converted playhouse a few steps from the Coliseum, a unique application for this unique computer project is taking shape. Using the Rome Reborn model as a foundation, Joel Myers of Rewind Rome is hoping to build an immersive, theme park-like orientation center. "Most people have very little real idea of what it looked like and felt like," says Myers. "The idea is to immerse audience in the past."
First, though, Myers is going to have to throw around some digital mud. As an academic tool, Frischer's Rome is closer to an architectural drawing than a cinematic experience. "It's not lived in at all—there's no graffiti, no mud on the walls, no hustle and bustle," Myers says. "There's no story to it." Between now and the Rewind Rome opening on April 21, 2008—according to legend, Rome's 2760th birthday—Myers and his team will populate the model with tens of thousands of characters and add layers of texture and digital grit.
Frischer hopes the model will give people a better sense of the city's spirit—and, perhaps, help people learn from its fate. "A republic is not a foregone conclusion. If we forget how special the republican form of government is, we could lose it," says Frischer. "Rome is a textbook case of a republic that failed." Indeed, the spectacular vision captured in the digital "Rome Reborn" model is a snapshot of a society on the brink: In A.D. 400, Rome had more than a million inhabitants. Just two hundred years later, it had 10,000.
Smithsonian.