An Intern Saved a Museum by Finding This Revolutionary War Treasure in the Attic
The obvious lesson: never throw anything away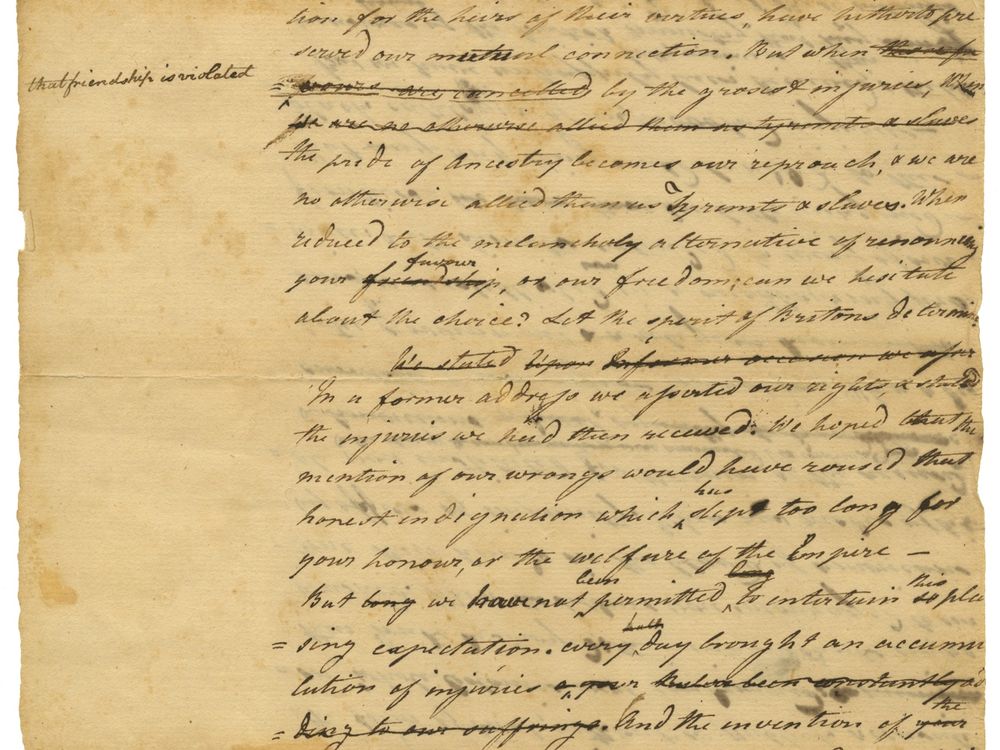 Once in a very long while, a rare book or manuscript discovery is so remarkable that it makes national headlines.  In 1988, for instance, an anonymous Massachusetts collector recovered an 1827 first edition of Edgar Allan Poe's Tamerlane from a roadside barn. Many will also recall the 1989 story of the man who found an original broadside copy of the Declaration of Independence hidden inside a picture frame that he bought at a Pennsylvania flea market for $4 (and later sold at Sotheby's for $2.4 million). Or the discovery of the manuscript of Lincoln's last address found in a secret compartment of an antique table in 1984 (and later purchased by Malcolm Forbes for $231,000). Yet another "believe it or not" tale is that of the Nashville man who paid $2.50 at a thrift store in 2006 for what he thought was a worthless facsimile of the Declaration of Independence that turned out to be a rare, unrecorded copy of an 1820 print. He sold it for nearly $500,000.
The news of an important 18th-century manuscript found in a New York City house museum's attic in the summer of 2013 was another such story: a discovery in an unlikely place, a document of monumental historic value, and a small museum in strained circumstances that was about to gain lots of positive media attention—and a bundle of cash. It even had a celebrity auctioneer at the helm.
A heat wave tortured the city that July. Emilie Gruchow, then an archives intern at the Morris-Jumel Mansion in the Washington Heights section of Manhattan, had recently begun working in the historic house's third-floor attic. When she recalled the day, she was clear that there wasn't any air-conditioning up there, and the room temperature was averaging about 95 degrees. Her project was to re-catalog the 17th- and 18th-century manuscripts stored in the flat file cabinets. She knew that many of them were historically noteworthy and many required immediate preservation treatment (archival storage in a hot, humid attic is definitely not recommended).
One folder contained the accounts of Nicholas Roche, an 18th-century doctor who treated slaves in New York and New Jersey. It was fascinating material, and she remembered, "I was reading these papers (admittedly straying from my work a little), which were interleaved with fragments of another document. When I was done reading through the Roche papers, I returned to the fragments. They were not in order, so I started reading fragments one by one until I got to the fourth or fifth leaf, which had the opening passage on one side."
The words, she realized, were oddly familiar. Her academic background in early American history had not betrayed her (take that, ye who discourage a liberal arts education). She continued, "I had read the final printed version of the 1775 'To the Inhabitants of Great Britain' in a college class many years earlier and recognized the line 'by these and by every other appellation.'"
That line, from an urgent plea sent to the people of Great Britain by the Second Continental Congress one year before American independence was declared, was now in front of her in manuscript form.
What Gruchow had found misfiled among the doctor's papers was a draft of a document entitled "The Twelve United Colonies, by their Delegates in Congress, to the Inhabitants of Great Britain."
It was an appeal not to King George, but to the British people, for reconciliation, and a last-ditch effort to avoid war by touting "the glorious achievements of our common ancestors." The Second Continental Congress had approved the strident text on July 8, 1775, a few weeks after the Battle of Bunker Hill, and commissioned a printing in broadsheet form to circulate (of which several copies exist in institutional collections.) It didn't do much good; by then George III had already decreed that the colonies were in rebellion. For historians, however, the "olive branch" reveals the strong, conflicted feelings of the colonists in the spring and summer of 1775. In draft form, showing numerous edits and strikethroughs, that concept is amplified. As the auction catalogue states, "…This document is an important missing piece from the culminating moments in which colonists began to think of themselves not as British subjects but as American citizens."
Until Gruchow's discovery, no manuscript was known to exist and even its authorship was undetermined. The Continental Congress had originally appointed delegates Robert R. Livingston, Richard Henry Lee, and Edmund Pendleton to the task, but the printed version was unsigned. According to scholars, it's evident from this recent discovery that Livingston was the primary author (the manuscript is in his hand, with notes and edits by Lee). Livingston, incidentally, was one of the five men assigned one year later to write the Declaration of Independence, along with Thomas Jefferson, John Adams, Benjamin Franklin, and Roger Sherman.
Before even these details were fleshed out, Gruchow brought the document, given the moniker "the Livingston manuscript," to the attention of the museum's curator, Jasmine Helm, and its director, Carol S. Ward. The paper looked right to them—it was handmade from fiber pulp—and they called upon experts for second opinions and handwriting analysis. It was concluded that this was indeed a genuine, significant, Revolutionary-era manuscript. As such, they knew it was extremely valuable.
Over the next six months, the museum's board had a weighty decision to make. The Morris-Jumel Mansion is not a wealthy institution. Its claim to fame is that it is Manhattan's oldest private residence. The Palladian-style home was built in 1765 by British Colonel Roger Morris and his American wife, Mary Philipse, as their summer house. But George Washington did sleep there—he used it as his headquarters during the fall of 1776 and returned in 1790 for a cabinet dinner with Jefferson, Adams, and Alexander Hamilton. The Morrises (who were loyalists) removed to England, and in 1810 Stephen Jumel, a French merchant, and his wife, Eliza, purchased the house. Later widowed, Eliza married former vice president Aaron Burr in the house's front parlor (and then divorced him just before his death—she seems like quite a character). The house remained hers until her death in 1865. Jumel's heirs subdivided the real estate (about 115 acres) in the 1880s, but a family kept up the house. It didn't become a museum until 1904, when New York City purchased it, and it is now a National Historic Landmark and on the National Register of Historic Places.
It's no secret that historical house museums—landmarks or not—struggle both for funding and for visitors. The Morris-Jumel is no different, and the expense to maintain it can be onerous. According the New York Times, the museum's annual budget is about $250,000, and in fiscal year 2013, it ran a deficit of $30,000. In the words of Gruchow, "The museum itself has gone through periods of greater and lesser popularity, and greater and lesser historical interest."
After Michael D. Hattem, a Ph.D. candidate in early American history at Yale University, examined and authenticated the manuscript, experts estimated that it might be worth between $100,000 and $400,000. Manuscript Americana, particularly that related to the Revolutionary War or the Civil War, is highly prized by collectors. If the Morris-Jumel's board of trustees was willing to sell, it would be the kind of windfall that would ensure the mansion's future, at least for the next decade or two. They voted to sell.
As the museum's director told the Times prior to the sale, the house was badly in need of a $350,000 exterior restoration, and, she added, "We want to have a nest egg." There were also discussions about "how the document is best served," and it was agreed between the director and the board that such a historically important document "needs to be in a place where the country can see it." Not only that, it requires the kind of archival storage and security that only major institutions can provide.
It wasn't all about the money, according to Gruchow. The museum was already in the beginning stages of a reinvention. She recalled, "It just happened that, when the document was discovered, a period of heightened interest in the museum's preservation coincided with renewed understanding of its historical importance and a renewed popularity. The process of renovation and reimagination was underway, in a fundamental sense. Really, the fact that I was even allowed into the archives to catalog them was a significant change."
The Morris-Jumel board enlisted auctioneer Leigh Keno, one-half of the dynamic "Antiques Roadshow" furniture-appraising duo (the other half being his twin brother, Leslie) and president of Keno Auctions in New York City. Keno was quoted at the time saying that his first glimpse of the Livingston manuscript "was one of the most exciting moments of my career." He added, "It is extremely rare in the field of historical American colonial documents for new discoveries of this importance to turn up. When reading the draft, with its many changes in place, one gets a sense of what was going through the minds of our Founding Fathers. It really is a national treasure."
On January 26, 2014, Keno Auctions put that treasure under the hammer. It was a single-object sale, as is often the case with rare books and manuscripts of singular importance. "After heated competition between several phone bidders in a packed saleroom," the Keno press release reads, "the gavel dropped at $912,500 (including buyer's premium)." Nearly $1 million for a 12-page document that had been, for at least 100 years, entirely disregarded and relegated to a drawer in a steamy attic.
Carol Ward, the museum's director, said at the time, "I am still in a state of shock. It was so beyond our expectations. This auction quadruples the size of our endowment and ensures that the mansion can serve the public for generations to come."
The winning bidder was Brian Hendelson, a New Jersey private collector, who was quoted after the auction as saying, "The only thing I can compare this to would be to own the original draft of the Declaration of Independence." Hendelson, to his credit, allowed the New-York Historical Society to put the document on public exhibit for three months in 2014 and has left it there, on loan, for the purposes of study and display for two years.
It remains a mystery how long the Livingston manuscript had been stored in the mansion. Gruchow, now a full-time archivist at the Morris-Jumel, believes the document arrived sometime between 1903 and 1913, possibly unknown even to its donor.
Truly astonishing discoveries such as Gruchow's don't happen every day or even every decade, but they do happen, and she rejects the idea that all of the major historical finds—whether in archives or in flea markets—have already been made. In fact, Gruchow said, about two weeks after she found the manuscript, an archivist in Plainfield, New Jersey, uncovered a John Quincy Adams letter with abolitionist themes in the temperature-controlled basement of the city's main library. Like the Livingston manuscript, its existence was unknown, and Gruchow suspects that "there are many other libraries, archives, and museums, as well as family collections, housing historically invaluable manuscripts that—because they didn't change the course of history—we still wouldn't even think to look for." It is, after all, sometimes the "seemingly insignificant pieces of paper" that relay the true story of our past.
Excerpted from Rare Books Uncovered: True Stories of Fantastic Finds in Unlikely Places by Rebecca Rego Barry; published by Voyageur Press / Quarto Publishing Group USA. 
Editor's Note, December 2, 2015: An earlier sentence placing Livingston and Burr at the mansion in the early 1800s was deleted from this story, as it is unclear whether or not Livingston visited the mansion during that time.