Cross Purposes
Mexican immigrants are defying expectations in this country-and changing the landscape back home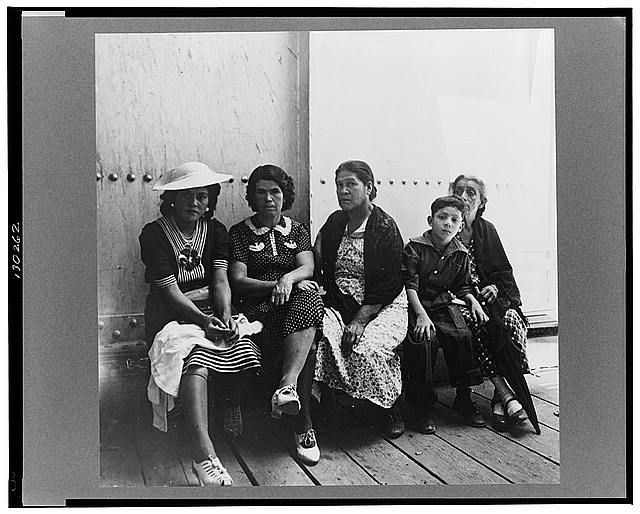 On a windy Sunday morning, I get off a subway train in Queens, New York, to join throngs of Mexican families headed into the mowed, shady groves of Flushing Meadows Park. Many are wrapped in Mexico's red, white and green national flag; others wear shawls imprinted with the image of the Virgin Mary. They have come, by the hundreds of thousands, to celebrate Cinco de Mayo (the fifth of May), the Mexican national holiday marking the day an invading French Army was defeated in 1862.
Inside the park, a steel globe of the earth and waterstained concrete pavilions, left over from the 1964 world's fair, suggest the ruins of a bygone civilization. On a stage just beyond these structures, costumed dancers and drummers evoke another lost civilization—the Aztec Empire. Following their performance, more contemporary acts predominate: mariachi musicians, cowboy balladeers, tropical torch singers, rock bands and comedians.
Between acts, radio talk-show hosts pay homage to the various states constituting the Republic of Mexico. The cheers of the crowd reach earsplitting decibels at the mention of Puebla, the small, 13,187-square-mile state (roughly the size of Maryland) due east of Mexico City. Little wonder, considering that Poblanos, as natives of Puebla are called, account for at least 80 percent of the estimated 600,000 Mexicans living in the New York City metropolitan region. And this is, in a sense, their day; the 1862 defeat of the French invaders took place in Puebla.
Nowadays, of course, it's the Mexicans who are often portrayed as invaders, illegal immigrants pouring across the 1,951-mile-long border with the United States. In fact, the presence of undocumented Mexicans, who account for perhaps 60 percent of the 12 million or so foreigners living illegally in this country and for 15 percent of the 2.1 million Latinos in New York City, remains the most contentious issue between the United States and its southern neighbor. For decades, undocumented Mexicans have taken the jobs that nobody else seemed to want, while fending off charges they were not only depriving Americans of gainful employment but were also lowering the wage for some blue-collar jobs.
The surprising reality, however, is that Mexico's immigrants—a population exemplified by the half-million or so Poblanos living in the New York area, with another 500,000 concentrated mainly in Los Angeles, Houston and Chicago—fuel a complex economic dynamic, both here and at home. In taking on menial work in this country, Mexicans have not only raised their standard of living and that of their families, they've also created a flow of capital back to villages across Mexico, especially towns throughout Puebla. That transfer of wealth—around $17 billion last year, double what it was only four years ago—has transformed life across the border, where new housing, medical clinics and schools are under construction. "Many government officials both in the United States and Mexico would argue that these remittances have accomplished what foreign aid and local public investment failed to do," says Oscar Chacón, director of Enlaces América, a Chicago-based advocacy group for Latin American immigrants. As this transformation has taken place, many of the assumptions—or even stereotypes—held in this country regarding Mexican immigrants are being challenged.
"Getting into the u.s. was so much simpler and safer when I first came here," says Jaime Lucero, 48, one of the organizers of the Cinco de Mayo festivities. Lucero, from the small Puebla community of Piaxtla, was 17 when, in 1975, he waded across the Rio Grande into Texas and hopped a bus to New York City to join an older brother washing dishes in a Queens restaurant. He became legal under President Reagan's 1986 amnesty program, which granted residency to illegals who had resided in the U.S. before 1982 and imposed sanctions on employers who hired undocumented workers. He became a citizen in 1988. Today, he is the millionaire owner of both a women's apparel company in New Jersey and a factory in Puebla. "I came in through the backdoor," he says. "But I never intended to be a burden to this country."
Neither do Ricardo, 20, and Adela, 19 (as illegals, neither offers a surname), a couple I meet at a taco stand during the Cinco de Mayo festivities. They each work, they tell me, some 70 hours a week for less than the current $5.15 minimum hourly wage. Ricardo bundles and sells flowers at a delicatessen, while Adela washes, dries and folds clothes at a laundry. Both come from Chinatlán, the village nearest to Piaxtla. In the summer of 2003, they smuggled themselves across the border in a truck container, walked for several days through the 120-degree-heat of Arizona's Sonoran Desert, then took a series of cars and vans to New York City.
Last year, 154 Mexicans died from thirst and heat prostration between Tucson and Yuma not far from the place Ricardo and Adela entered the United States. But they both scoff when I ask if they feared for their lives. "I'm likelier to get run over by a car in Puebla," says Ricardo. The next time Adela crosses the border, she says, "it won't be so hot": she's planning a trip to Chinatlán for Christmas and a return to New York City a month later. Nor is she dissuaded by a more aggressive police presence at the border, the result of post-9/11 fears of terrorists sneaking into the United States. During the six months that ended April 1, 2004, the U.S. Border Patrol intercepted 660,390 people illegally crossing from Mexico—up 30 percent over the same period a year before.
In January 2004, President Bush proposed granting three year visas to illegal foreigners who can show they hold U.S. jobs that Americans have turned down. The plan, now stalled in Congress, falls short of the permanent residence permits for immigrants that Mexican president Vicente Fox has been urging since 2001. President Bush's proposal bears a resemblance to the Bracero (migrant farmworker) Program of 1942 to 1964, which allowed Mexicans to be given temporary contracts for agricultural work. Intended to address a World War II-era shortage of farm labor, the Bracero Program led to an unintended consequence: an upsurge in illegal border crossings. Millions of Mexicans—precise figures have never been calculated—entered the country illegally. "People who were unable to get bracero jobs just headed elsewhere in the United States," says Robert Courtney Smith, a sociology professor at the City University of New York (CUNY) and author of a forthcoming book on Puebla immigrants in New York. The first Poblanos to arrive in New York during the 1940s, he says, ended up in the city for this reason.
Once settled, the new arrivals often arranged menial jobs, and a place to sleep, for friends and relatives, most of them also illegal, who joined them from their hometowns in Puebla. Over the past six decades, the number of illegal Poblanos in New York has soared. But according to Francisco Rivera-Batíz, a ColumbiaUniversity professor of economics and education, until the early 1990s, some 85 percent of all undocumented Mexicans in New York City returned home within five years. That figure, he says, has declined sharply in recent years to about 50 percent because of Mexico's sluggish economy—and, ironically, because stricter border surveillance makes going back and forth between the two countries more difficult. As a result, the border controls that were designed to keep people out of the United States are also keeping illegals in.
Yet many Poblanos in the United States illegally are willing to risk apprehension; for those here legally, of course, visiting Mexico and reentering the United States poses few problems. "People from my hometown are constantly going back and forth," says Jesús Pérez Méndez, who was born in Tulcingo de Valle, Puebla, and is now an academic adviser at CUNY. Poblanos finance their round trips by acting as couriers, or paqueteros, for clothes, electronic goods and other gifts sent by immigrants to relatives in Puebla. Between visits to their villages, Poblanos keep in touch through discount phone cards, email or Web sites. It was after listening to a live Internet radio broadcast on tulcingo.com that I decided to fly to Mexico to assess the effects of this symbiotic relationship for myself.
The sierra mixteca, a mountain chain, stretches across the southern portion of the state of Puebla. For much of the year, the region is hot and arid, with yellow grass blanketing farm plots and giant organ cactus spiking the hillsides. But I arrive in June, during the rainy season. In the morning mist, the mountains appear almost tropically lush, their buttes and crags cloaked in green. Dry riverbeds have roared back to life. Purple-blossomed jacaranda and red-flowered colorín trees adorn the roadsides, while bananas and mangos ripen in backyard orchards. Fat goats and cattle waddle onto the highway, forcing drivers to brake and lean on their horns. Turkey vultures circle overhead, looking for roadkill—dogs, armadillos and especially iguanas.
But the Sierra Mixteca has also undergone dramatic transformations that have nothing to do with rain. In Piaxtla, most of the 1,600 inhabitants are either children or older adults. "Maybe three out of four of my constituents live in New York," says Manuel Aquino Carrera, the town's mayor. The cash they send home each month can be seen in new brick houses with satellite television dishes on their roofs. "As a child, I could count on my fingers the houses that were made of brick and concrete," says Aquino, 40. "Everything else was palm-thatched adobe." Many of the new houses sit empty, occupied only during summer months or at Christmas.
Efforts to create jobs that might keep younger adults in the Sierra Mixteca have largely foundered. In 2001, Jaime Lucero, the New Jersey-based clothing magnate and Piaxtla's most illustrious son, opened a factory in the Puebla town of El Seco; the facility employs more than 2,500 workers. He planned to open five more plants, but says he hasn't been able to do so. "So many young people have emigrated," he says, "that there isn't enough labor to set up another plant."
Emigration has also hit Puebla's long tradition of artisanry—ceramics, woodwork and weaving. Folk art pieces are increasingly mass-produced, and master craftsmen despair of passing on their skills. "Most young people aren't willing to work the long, lonely hours, and for something that with few exceptions is badly paid," says César Torres Ramírez, 52, one of Puebla's leading ceramists. Although his exquisitely glazed plates and vases—embellished with feathery blue patterns and animal motifs—win national awards, to make a living Torres must work from dawn to sunset six days a week in a small home studio.
"These master artisans are an endangered species," says Marta Turok Wallace, a Mexico City anthropologist who runs Amacup, a cooperative that connects Mexican artisans with collectors, interior designers and retailers. Turok and her colleagues try to locate and encourage younger artists, such as Rafael Lopez Jiménez, 20, a mask-maker in Acatlán de Osorio, a 45-minute drive east of Piaxtla.
Lopez is self-taught in a profession that tends to be handed down from one generation to the next through long apprenticeships. His grandfather, Efrén Jiménez Ariza, sculpted wooden jaguar masks but failed to interest his own children in the craft. Lopez was only 6 when his grandfather died, but as a teenager, he was drawn to his work. "Fortunately, some of his masks and most of his tools survived," says Lopez, who, like his grandfather, uses the soft, durable wood of the colorín tree.
As elsewhere in Mexico, the craft of mask-making survived thanks to Spanish missionaries who adapted it to Roman Catholic iconography. Jaguar masks "are associated with ancient Indian rituals asking the gods for rain around the time of the planting of corn," says anthropologist Turok. And Puebla is one of the earliest sites of corn cultivation. In 1960, the late American archaeologist Richard S. MacNeish, excavating in Puebla's arid Tehuacán Valley, uncovered ancient corncobs 4,000 years old.
Farming in the TehuacánValley began to take off only around 1800 b.c., when yields reached 100 pounds of corn per acre, says University of Michigan anthropologist Kent Flannery, who was a graduate student on the MacNeish expedition. The development of a complex irrigation system—based on the channeling of water from subterranean mineral springs—was essential to bringing about this advance. University of Texas anthropologist James Neeley, who is also a MacNeish expedition alumnus, has demonstrated that the ancients used gravity to channel the water from the springs, which lie at the northern end of the TehuacánValley, down small, winding troughs to the lower end of the valley.
But if the ancient Poblanos were able to master corn cultivation and make it the foundation of their lives, their modern-day descendants must struggle against price controls that the government began to impose in the early 1980s to keep tortillas cheap. In addition, since the advent of the North American Free Trade Agreement (NAFTA) in 1994, Poblano farmers have been unable to compete with imports of new corn hybrids, produced by high-tech, low-cost U.S. farms. All along the highway connecting Piaxtla with Tulcingo 30 miles to the south, cornfields lie fallow, even at the height of the growing season. The gradual demise of small-scale farming here has also fueled emigration to the United States.
Herminio García says he saw the collapse coming more than 30 years ago. He left his family's failing farm in Piaxtla and crossed the U.S. border in 1971. After a succession of factory jobs, García did "what I knew best"—he went into the tortilla business. Today he holds dual U.S.-Mexican citizenship, and his Tortilleria La Poblanita factory in Yonkers, a gritty northern suburb of New York City, employs 27 Poblanos, half a dozen of them from Piaxtla. Mounds of corn dough are fed into a machine that turns them into flat patties; they move by conveyor belts into an oven and then a cooler. At the end of each workday, 648,000 tortillas are shipped to supermarkets, delis and restaurants across the Northeast.
García, 62, lives with his family in a New Jersey suburb. But as retirement nears, his thoughts turn more and more to Piaxtla and the house he built there on his ancestral property, which he visits a half-dozen times a year. "I'm still a farm boy," he says. "I know how to plow with an ox, fix fences and weave palm leaves into a hat." What he recalls most fondly is herding goats. As a child, he would take the animals to graze in the hills hours before dawn, carrying a kerosene lamp to read his school lessons aloud: "Neighbors would hear me and say, 'There goes Herminio—he's as crazy as his goats.' "
The town of tulcingo de valle is a 40-minute drive south of Piaxtla. Its 8,000 residents have thus far resisted New York City's temptations only slightly more successfully than those in Piaxtla, though the money returned to Tulcingo's coffers by its emigrants has helped restore the town church, damaged in an earthquake in 1999, and caused the Hong Kong and Shanghai Banking Corporation, a global financial giant, to open a branch here. Remittances have been invested in restaurants and cybercafés that have replaced pulquerías, old-time saloons with swinging doors.
Signs of newfound affluence are everywhere. There are dozens of taxis—though the town can be traversed on foot in less than 20 minutes—and repair shops of all types, for cars, bicycles, television sets and stereos, have sprouted like cactuses. Video games are so popular that parents complain their kids have given up sports and grown too sedentary. Main streets have been asphalted.
The night of my arrival, David Bravo Sierra, 53, owner of MacD, a spacious pizza and hamburger restaurant on the main street, hosts a dinner attended by a dozen friends. In the 1950s, Bravo's father picked asparagus in California. The son migrated to New York City in 1972, shared a one-room apartment with several other Tulcingo immigrants, and worked alongside them as a dishwasher in a Manhattan restaurant. ("You got three meals a day free and you could spend whatever you made on housing and remittances [to send home]," he says.) He earned a few extra dollars playing lead guitar for a Latin band—"The first band from Puebla in New York," he claims. Bravo returned to Tulcingo in 1990. Now, his oldest daughter, who holds dual citizenship, lives in New York City and travels legally to Tulcingo, paying her way as a paquetera.
Of the dozen dinner guests I met that night at MacD, about half have lived in the United States. Radio journalist Elsa Farcier, in her early 20s, has never been north of the border. I had heard her, on an Internet radio broadcast in New York City, interviewing 60-something Fernando Flores about 1950s courting rituals at a no-longer-celebrated festival known as a kermes. Farcier told me she was trying to reacquaint Tulcingo residents in New York City with their traditional roots. "Young people here never saw a kermes, so it was new to them as well," she says.
On my last day in the Sierra Mixteca, I drive back to Piaxtla to meet with a man who reputedly arranges to smuggle people across the border. Often called "coyotes," most smugglers prefer the term pollero—someone who guards chickens. My instructions are to wait for him at the edge of the weekly street market next to a folk healer's stand.
The healer, Cobita Macedo, hawks herbal cures, some of them handed over the centuries. For kidney disease, she offers a gnarled clump of dried flower that, she explains, must be boiled in water. "You drink a cup of the broth twice a day, and you will pass any kidney stone within weeks," she promises. Other herbal concoctions, she says, treat gastrointestinal, pulmonary and heart ailments. But in recent years, she adds, the most sought-after remedies have been for hypertension and diabetes—illnesses associated with the more stressful lifestyles (and eating habits) of expatriate Poblanos.
When the reputed pollero, a slim man in his 40s, at last shows up, he suggests we have breakfast in the market, where local farmers have set up scores of stands selling all manner of fruits, vegetables and freshly prepared foods. We share a plate of barbacoa—kid goat that has been barbecued in an underground pit and served with chile sauce, cilantro and roasted scallions, wrapped in freshly made tortillas.
In the Mexican and U.S. media, coyotes are routinely and adamantly denounced for trafficking in human lives. But my breakfast companion claims that "most people think my profession is a necessary and honorable one. They entrust me with their sons and daughters and friends." (He also says that while his vocation is widely known, he has never been bothered by the police.) His job, as he describes it, is to escort the departees to the border and there turn them over to someone who will smuggle them into the United States and arrange for transportation to their ultimate destination—usually New York City. His fees range from a rock-bottom 1,800 pesos ($160) for Poblanos who want only to get across the border, to 10,000 pesos ($900) for door-to-door shepherding, including airfare, from Piaxtla to New York City.
As I sit with him, I recall my dinner at MacD, at which Jaime Peñafort, 26, talked of having paid the cheapest rate to be smuggled across the border, led on foot across the Arizona desert, and then driven in stages to Houston, where he worked as a dishwasher for more than a year. "Each leg of the trip requires paying somebody hundreds more pesos," said Peñafort, who now runs a tortilla business in Tulcingo. "You feel like you're getting sold over and over again."
Piaxtla's mayor, Manuel Aquino, says he has not once contemplated making that hazardous crossing. He decided a long time ago, he tells me, never to try to enter the United States illegally. His father, a farmer, insisted that all seven of his children take up professions and remain in Mexico, which every one of them did, unlike most of the mayor's friends and neighbors. But once elected mayor, Aquino says, he felt a duty to go to New York City to meet with constituents. Two years ago he applied for a tourist visa, giving his reasons to American consulate officials. "And," says Aquino with a slow smile, "they turned me down."