Crashing Alexander Hamilton's Birthday Weekend
Each year, admirers of the oft-neglected Founding Father gather for a multi-day birthday celebration ranging across Manhattan.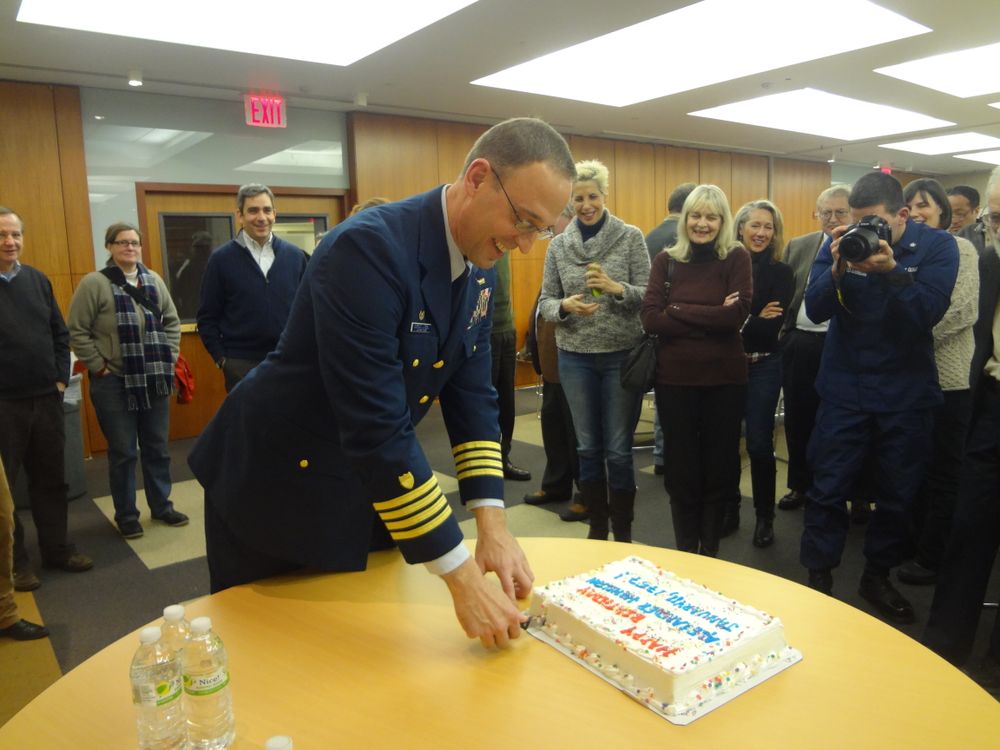 It's a birthday card the recipient will never see, given the year he's celebrating: His 258th. But were he to glimpse the missive — signed with ink, quills and looping cursive handwriting — he might blush from the posthumous attention.
"Today is Alexander Hamilton's birthday, right?" asks an excited guest on the morning of Saturday, January 10. She's just entered Hamilton Grange National Memorial, a preserved historical house in Harlem where Hamilton lived for two years with his wife, Elizabeth Schuyler, and seven children. The woman is off by one day — Hamilton was born on January 11 — but it hardly matters: It's the Founding Father's birthday weekend, and the festivities stretch across three days.
Even though Hamilton's visage is printed on the $10 bill, the canny, wunderkind statesmen is often overshadowed by the likes of Jefferson, Washington and Adams. Never elected president, Hamilton's highest rank in the executive branch was as Secretary of the Treasury under George Washington. Hamilton played paramount roles at the Constitutional Convention and crafting the Federalist Papers, but — other than his currency placement — may be best known for having been killed by then-Vice President Aaron Burr in a duel in 1804. Except this past weekend and with this small but passionate band of Hamilton devotees, who gather annually to fete the late thinker, honor his legacy, and trek around New York City to his various haunts, houses and stomping grounds.
"[We want] to make it easier, quicker for people to get to the essence of Alexander Hamilton's greatness," says Rand Scholet, the founder of the Alexander Hamilton Awareness Society (AHA), an organization that trumpets Hamilton's achievements and for three years has organized the annual birthday crawl. It's in New York City that Hamilton attended school (Kings College, today's Columbia University), practiced law, and built his home.
The weekend's traditions are equal parts solemn and quirky: A cake cutting at the Museum of American Finance on Wall Street, where a permanent exhibition spotlights Hamilton's economic acumen; a long-distance call dialed from the museum to Nevis, the Caribbean Island where Hamilton was born; and a blessing at Trinity Church in lower Manhattan, where Hamilton is buried. Each time the group sings "Happy Birthday," an unwritten rule is in effect: no agreement beforehand on how to address Hamilton. As a result, the final verse is always more cacophony than song. Revelers call him "Alexander," "Major General Hamilton," and — if they're feeling particularly playful — "Hammy."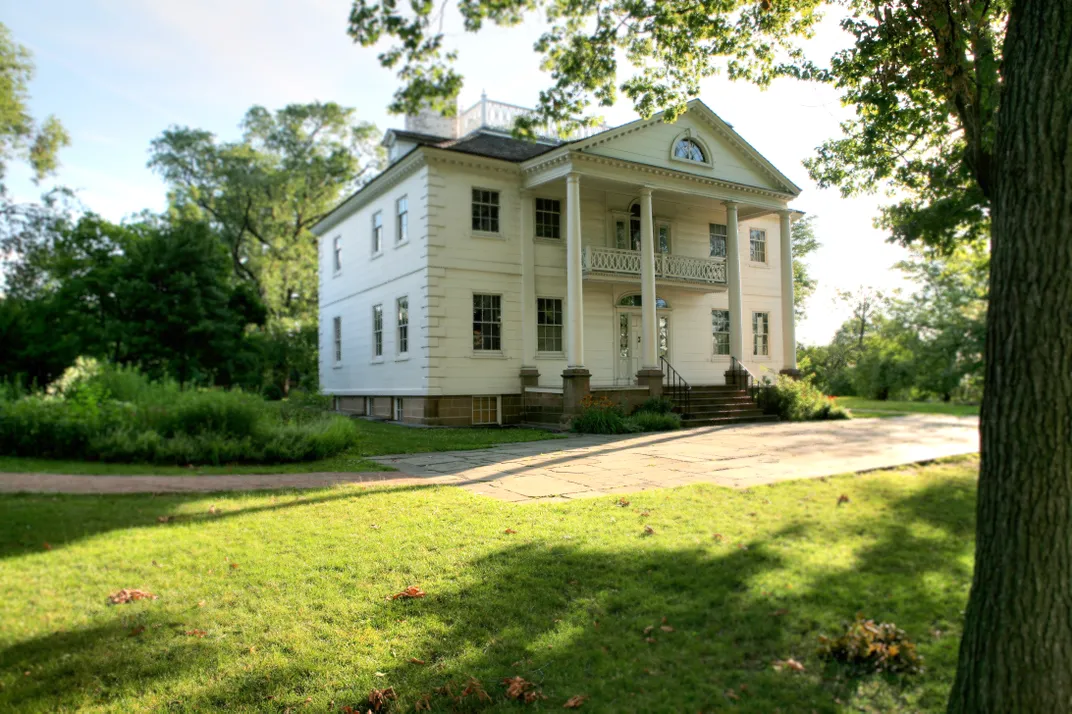 On Saturday morning, Scholet dons a colorful Continental Congress-themed tie and AHA-emblazoned sport coat, shepherding around fellow fans and eager to rattle off Hamilton's unheralded accomplishments: creating a blueprint for the nation's economy; establishing the Coast Guard; and serving as Washington's loyal aide-de-camp throughout the Revolutionary War.
"Alexander Hamilton was George Washington's indispensable partner in war and peace for over 22 years," Scholet says excitedly in a creaky, third-story room of Hamilton Grange.
Downstairs, a team of historians reads Hamilton's love letters aloud. A particularly steamy passage causes one attendee to smirk and waggle his eyebrows suggestively.
Hamilton Grange serves as the weekend's hub, a gathering place for admirers to swap anecdotes, recount favorite stories, and debate apocrypha. (No, Martha Washington probably didn't have a pet cat named Hamilton.) Alice and Ed Magdziak — Hamilton enthusiasts from New Jersey — share an analogy.
"Hamilton is the George Harrison of the Founding Fathers," Ed says, alluding to the talented Beatle who never quite got the same acclaim as bandmates John Lennon and Paul McCartney. Like Harrison, Hamilton might not be as well-known as his colleagues — but he has all their zeal and passion, if not more, Ed adds.
Nearby are Ian and Hartley Connett, a father-and-adult-son duo from Dobbs Ferry, New York. This is Ian's third Hamilton birthday weekend. This year, the younger Connett, managed to sell Hamilton to his father and friends, and the cadre crawls the city to celebrate.
"For me, Hamilton represents the epitome of what it means to be an American," Hartley says, referencing Hamilton's success despite a modest upbringing and lowly pedigree.
The Connett party's itinerary parallels AHA's for a time, and then veers off. They'll have drinks at Fraunces Tavern, that iconic Manhattan watering hole that dates back to the 18th century. They'll also venture to the Weehawken, New Jersey, site where political rival Burr killed Hamilton in a duel in 1804.
---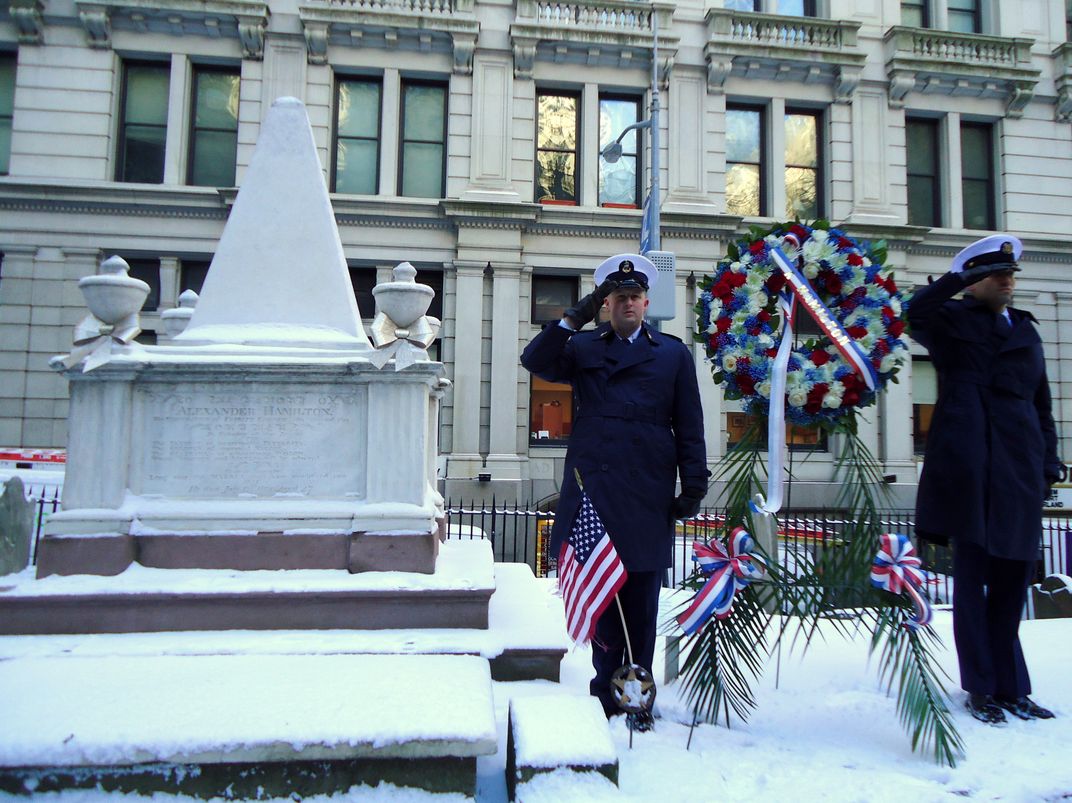 Burr makes some Hamilton fans bristle — "No comment," says one of Connett's friends brusquely when asked his thoughts — but AHA is eager to make peace. "Aaron Burr is not a villain," Scholet says. "He actually has a very similar background to Hamilton," he continues, noting both men lost their parents early in life. The National Parks Service, which maintains Hamilton Grange, seems eager to sow peace, too. One of the docents at the site is Elizabeth Reese, a fifth great grandniece of Burr. Her volunteering at the site is penance, she jokes, for a deadly duel two centuries ago.
When the Connetts depart for New Jersey, a different passel of Hamilton disciples migrates about 20 blocks north to the Morris-Jumel Mansion in Washington Heights, a Washington headquarters during the war that's now a historic landmark and museum. Here, Hamilton devotees pack into a cozy parlor to hear lawyer Pooja Nair speak about Hamilton's career in law — and that strange time he teamed up with Burr to defend a client.
"This is a legal dream team," Nair says breathlessly. The case — dubbed the Manhattan Well Murder — was a consummate media frenzy, Nair notes, and placed Hamilton's legal prowess in the national spotlight. Nair's audience is rapt, and varied: Hamilton fans are young and old, male and female, and — perhaps — even Federalists and anti-Federalists.
The weekend's events conclude at Trinity Church early Sunday afternoon, where a group of two dozen gathers at Hamilton's grave. His tomb, a faded marble obelisk, is adorned with gifts: Wreaths, flags, bows, and — in a clever nod to the first-ever Secretary of the Treasury — various American currency. It's here that two clergy members lead a blessing, bringing the birthday weekend to a close.
"Do we have any Hamilton descendants here?" asks the rector.
"In spirit," quips one woman, earnestly. Those around her nod in agreement.