Andrew Sullivan on What Sets the AIDS Quilt Apart From All Other Memorials
The Daily Dish recalls his first experience seeing the quilt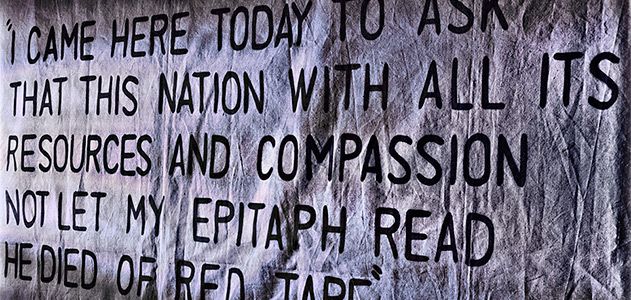 I first saw the AIDS Memorial Quilt in 1989 in Washington, D.C. just as the epidemic was gathering pace. The overwhelming feeling was terror. I remember bumping into acquaintances on the patchworked landscape. "What's going on?" I asked, lamely. "Oh, just looking for friends." Like the Vietnam Veterans Memorial not so far away, it cataloged names—names we knew, names we heard recited like a metronome over the scene. But these names weren't organized in a single aesthetic design, crafted in the same font; they were brought to life separately, each representing a distinct human being, with an actual life and an untimely death. Three years later I recorded my impressions of the far vaster quilt that unfolded on the Mall as the deaths mounted and the treatments stayed tantalizingly out of reach. The terror remained—but humor and wit began to poke through, as if the pain could not be sustained for so long without relief. Here's what I wrote, which was published in 1992:
Its geography is a kind of chaotic living room in which the unkempt detritus of human beings—their jeans, photographs, glasses, sneakers, letters—are strewn on the ground, as if expecting the people to whom they belonged to return. People walk over this cluttered landscape, looking like tourists, caught between grief and curiosity, saying little, peering intently down at the ground. As you approach the quilt from the rest of the Mall, toward a place where tens of thousands of people are congregated, noise actually subsides.
The panels themselves are tacky and vital, and therefore more chilling: you are invited to grieve over faded Streisand albums, college pennants, grubby bathrobes, cheesy Hallmark verses, and an endless battery of silk-screen '70s kitsch. Some panels are made by lovers, others by parents, friends, even children of the dead; and some are made by those whose names appear on them and speak with uncanny candor. "Life's A Bitch And Then You Die," quips one. Even the names themselves rebel against any attempt to regiment them. In the program, some people are identified with full names, others with first names, others with nicknames. There are sixteen Keiths; and one Uncle Keith; twenty-eight Eds; one Ed & Robert; eighty-two Davids; one David Who Loved The Minnesota Prairie. Celebrities, of course, creep in—I counted four Sylvesters and twenty-nine Ryan Whites—but they are scattered randomly among their peers. The most piercing: Roy Cohn's. A simple inscription: "Bully. Coward. Victim."
My favorite panel ornament was a lemon Pledge scent furniture polish can. Others simply shock you into reality: "Hopefully the family now understands" inscribed beneath a pair of someone's jeans; "For the friend who still cannot be named—and for all of us who live in a world where secrets must be kept." And another: "You still owe me two years, but I forgive you and will always love you. I never located your parents. Maybe someone will see this and tell them."
***
It feels so long ago now, a decade, in fact, after I expected myself to die from the disease. You cannot recapture what this horizontal cathedral meant for people at the time it was created and on the occasions when it was displayed. Official America created no monument; this one was a folk explosion of talent and grief. To see it now is to be struck by history; to see it then was to be riven by grief and terror.
But it's that very combination of power and weakness that makes it such a living monument. It spans the universal and the very specific. It memorializes a catastrophe that many at the time saw as God's punishment. And it is yet utterly unashamed. And in that way, it wasn't and isn't just a memorial; it was also a symbol of a growing civil rights movement, its penetration of every corner of America, and its encounter with mass death. It would have been so predictable for the plague to have wiped out the movement, just as it wiped out so many of the movement's pioneers; but out of some survival instinct, some inchoate determination to make this plague meaningful, to ensure that our friends did not die in vain, the mass death forged a generation determined to establish their equal humanity once and for all. "I have done nothing wrong. I am not worthless. I do mean something," as one panel put it. "This is my beloved son," echoed another, "in whom I am well pleased."
I don't think you can understand the gay civil rights movement in America without understanding the plague from which this vital struggle emerged, hardened and tempered. And you cannot fully understand this plague without seeing the quilt. It's all here: the death and the pain and the humor and the eternal drive, even as we lay dying, to be free.
"Eighteen years after I watched my closest friend die in front of me, I live each day with the presence of the souls memorialized on that quilt," says Andrew Sullivan, who remembers his 1989 visit to the AIDS Memorial Quilt. "I'm aware more than ever of how precious life is, how easily we forget that, and how crucial that we don't."
An author, blogger and political commentator, Sullivan is a columnist for the Sunday Times of London and founder and editor of the Daily Dish.