SMITHSONIAN LIBRARIES AND ARCHIVES
Dashing Through the Snow in Vintage Sleighs
Whether you were headed over the fields of snow with family or prepping deliveries with Rudolph, this early 20th century catalog from Sturtevant-Larrabee Co. had the perfect sleigh for your winter activities
---
Imagine riding through a landscape blanketed in snow. Whether it's a family outing, a trip to deliver goods, or simply a pleasure ride, this early 20th Century sleigh catalog includes a few possibilities.
The trade catalog is titled Catalogue No. 43 (1906-1907) by Sturtevant-Larrabee Co. Tucked inside its front pages is an accompanying Price List of Cutters and Sleighs, in effect July 1, 1907.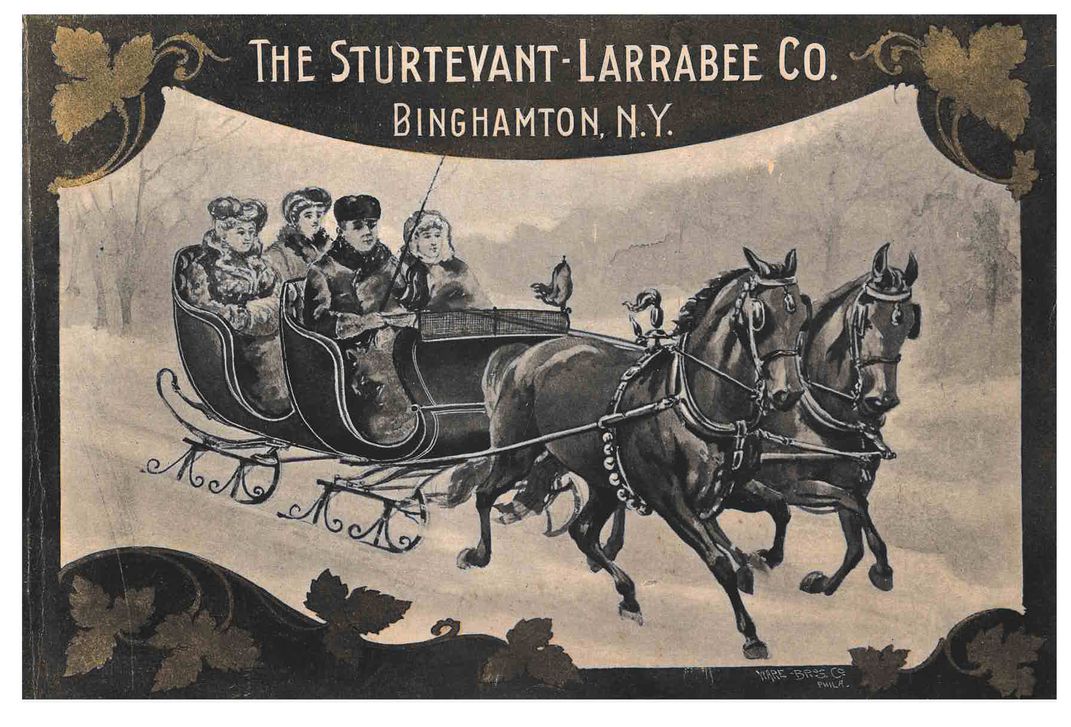 Almost every page of this 76-page catalog illustrates a specific sleigh. Only a few pages are devoted to parts or general construction. Each sleigh is assigned a number. Along with that number, some are labeled with the type of sleigh, such as "Family Sleigh" or "Delivery Sleigh."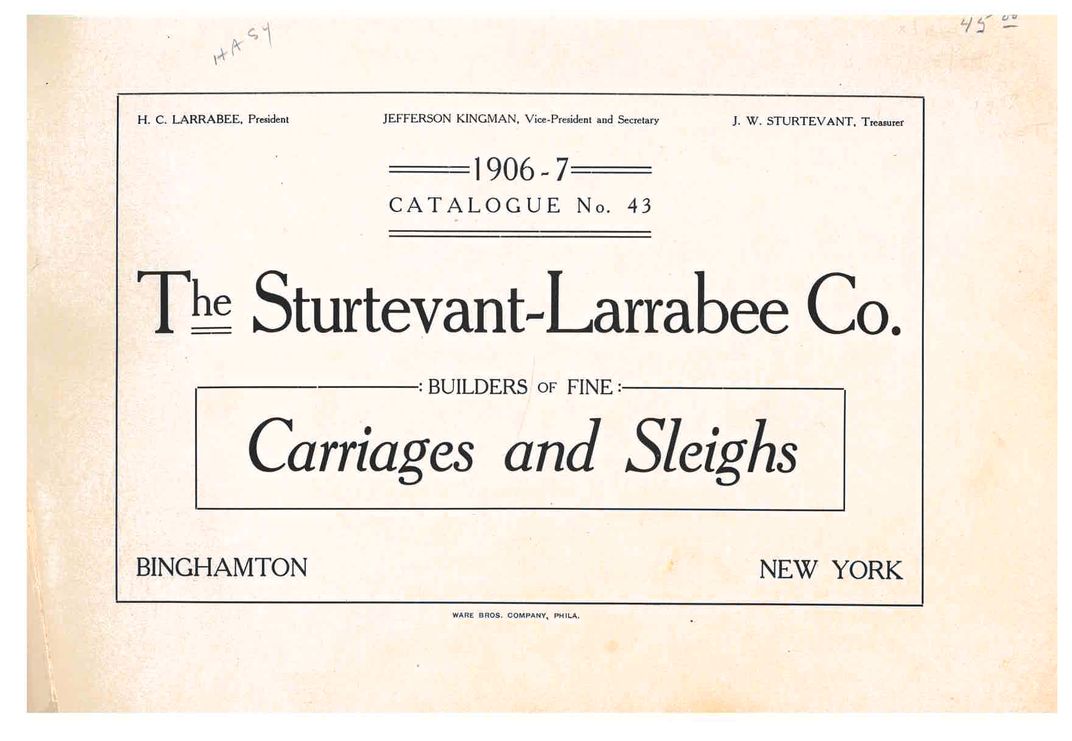 Each illustration includes a description providing measurements and primarily focusing on trim and paint. In addition, one page at the back of the catalog shares general information on construction and materials of the sleighs. The sleighs were manufactured with "first-class, thoroughly-seasoned lumber" and, except for delivery sleighs, included spring backs and cushions stuffed with curled hair. Sleighs were trimmed with all-wool green or blue cloth, whipcord, or velour plush. Silk or mohair plush were also available.
The general information page also describes how each sleigh was painted. The method was to use one coat of primer, four or five coats of filler, two coats of a selected color, and one or two coats of rubbing varnish. Finally, it was "elaborately striped and finished with high-grade finishing varnish."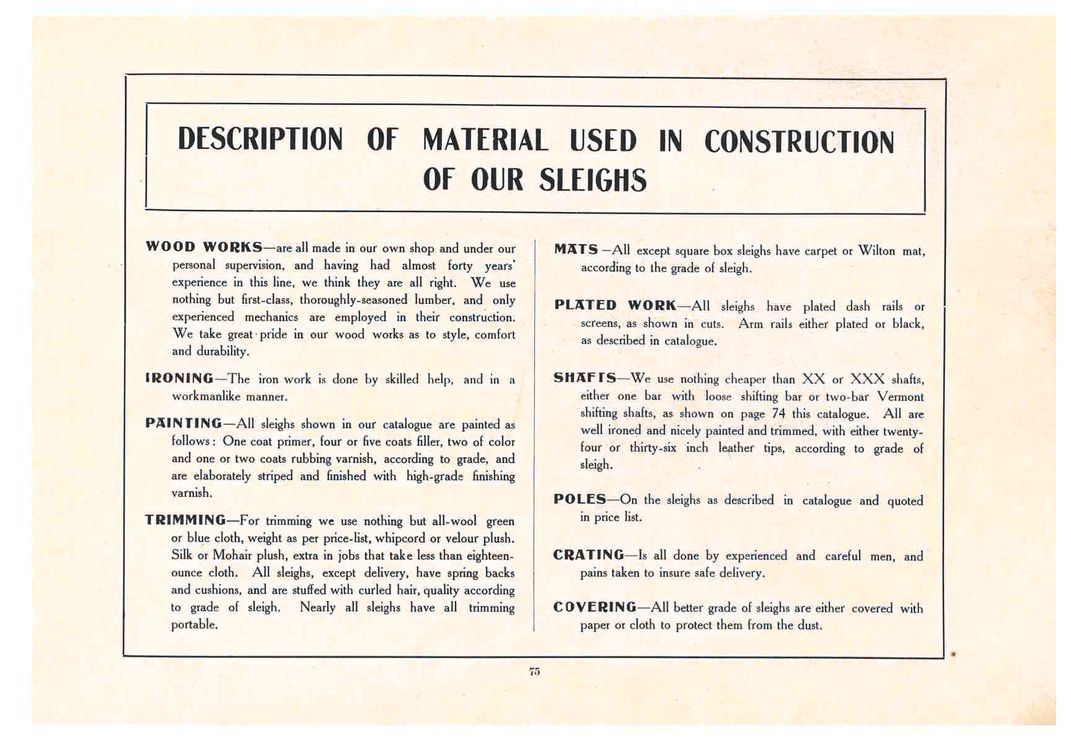 There were a variety of sleighs for customers to select. Some were designed for one or two people while others seated several people in multiple rows. There were also sleighs with a specific purpose, such as delivering goods, or sleighs intended for children.
An example of a children's sleigh is the No. 41 Children's Pony Sleigh. Shown below, it included only one seat row. It was trimmed with cloth, whipcord, or plush and included a velvet mat. Designed to be pulled by a medium-sized pony, the sleigh was painted in "Brewster green or fancy colors, two shades" with black moldings and green or carmine gear.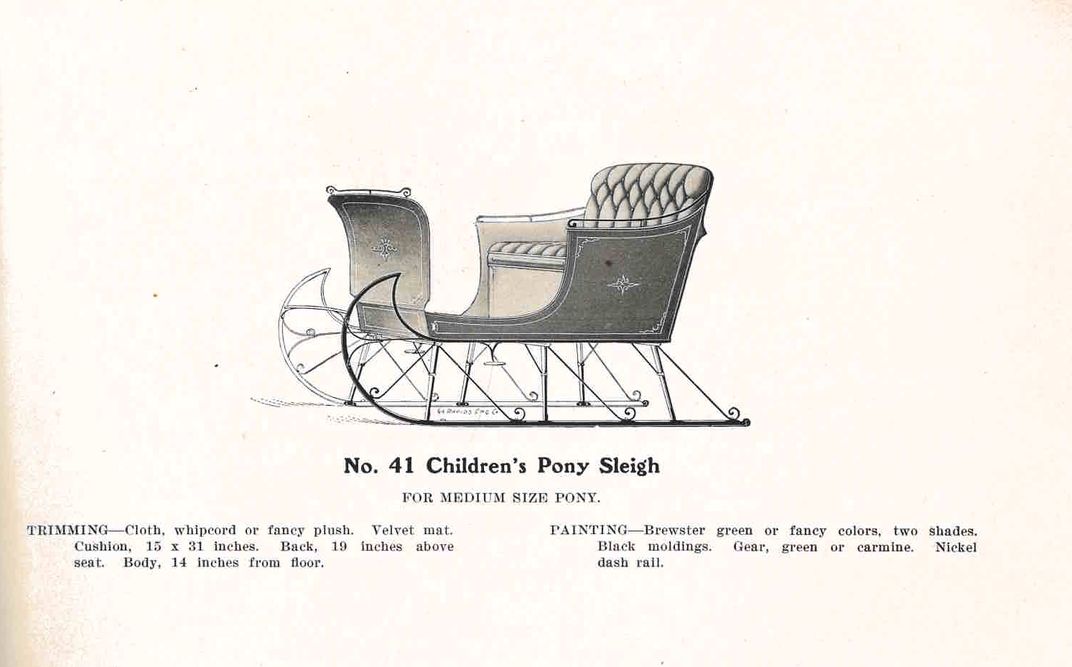 Another type of sleigh was the family sleigh. The one pictured below is the No. 9 ½ New Family Sleigh. Trimmed with cloth or whipcord, it accommodated several people in two rows of seats. Its body was painted dark green while there was a choice of color for the gear, either green or carmine.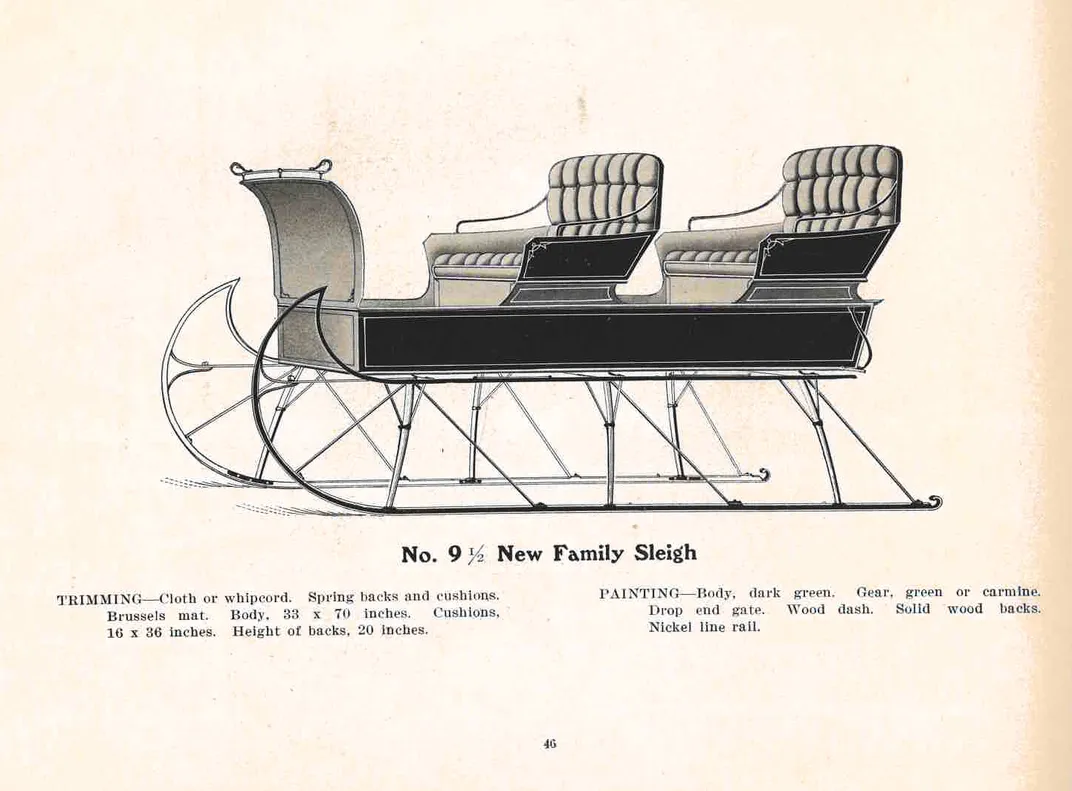 A large group might have selected the No. 19 Sleigh, as it accommodated passengers in three rows of seats. The body was painted black while the gear was available in carmine or dark green. It was trimmed with all-wool cloth or corduroy.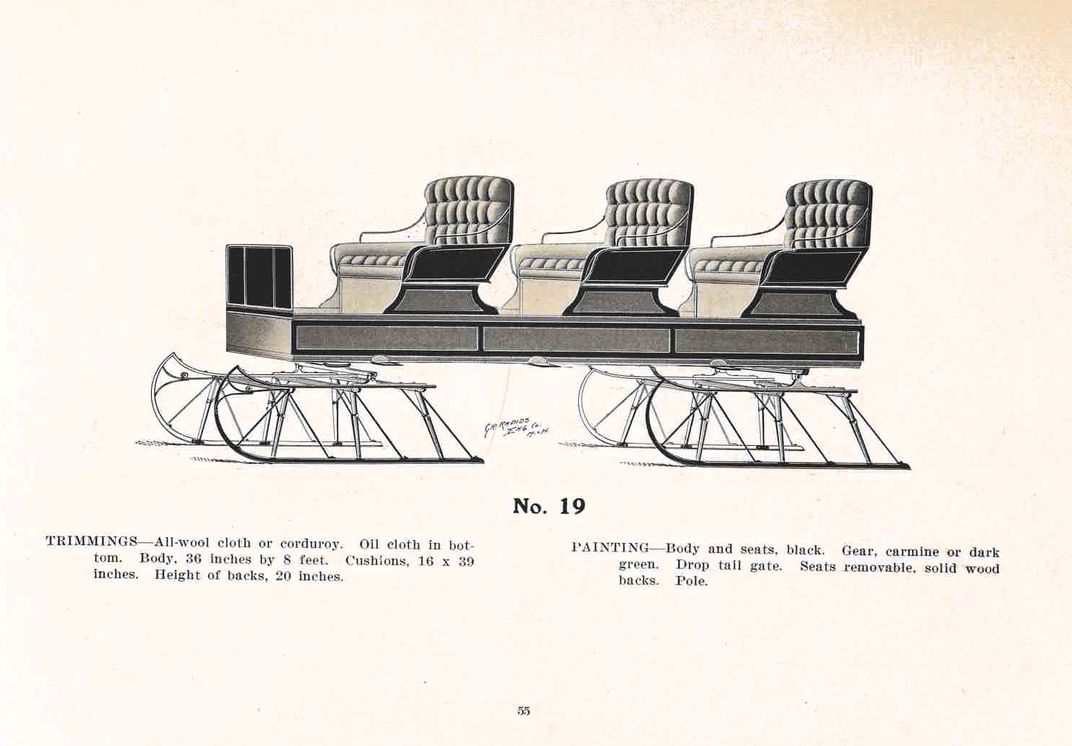 Some sleighs were fitted with tops. Perhaps this came in handy when snow was falling or simply to retain a bit of warmth in the wind. A top, consisting of 26-oz. rubber, is visible on the No. 20 Sleigh, illustrated below.
Besides pleasure sleighs, some sleighs were used for delivery purposes, such as the No. 12 Delivery Sleigh. Storage space was provided in the back behind the seat. It also included a drop tail gate. The body of the sleigh, painted olive brown, measured 35 ½ x 8 feet 4 inches and the "distance back of seat" measured 67 inches. It appears to include quite a bit of space to store packages, so perhaps it was used to deliver presents!
Throughout this catalog, every so often the description mentions a "new design for 1906." One of these new designs, the No. 79 sleigh, is illustrated below. With its two rows of seats, it accommodated several people for a pleasant ride through the snow. Painted in two shades of either green or red with black molding and green or carmine gear, it also incorporated some decorative elements, such as the plumes on the front.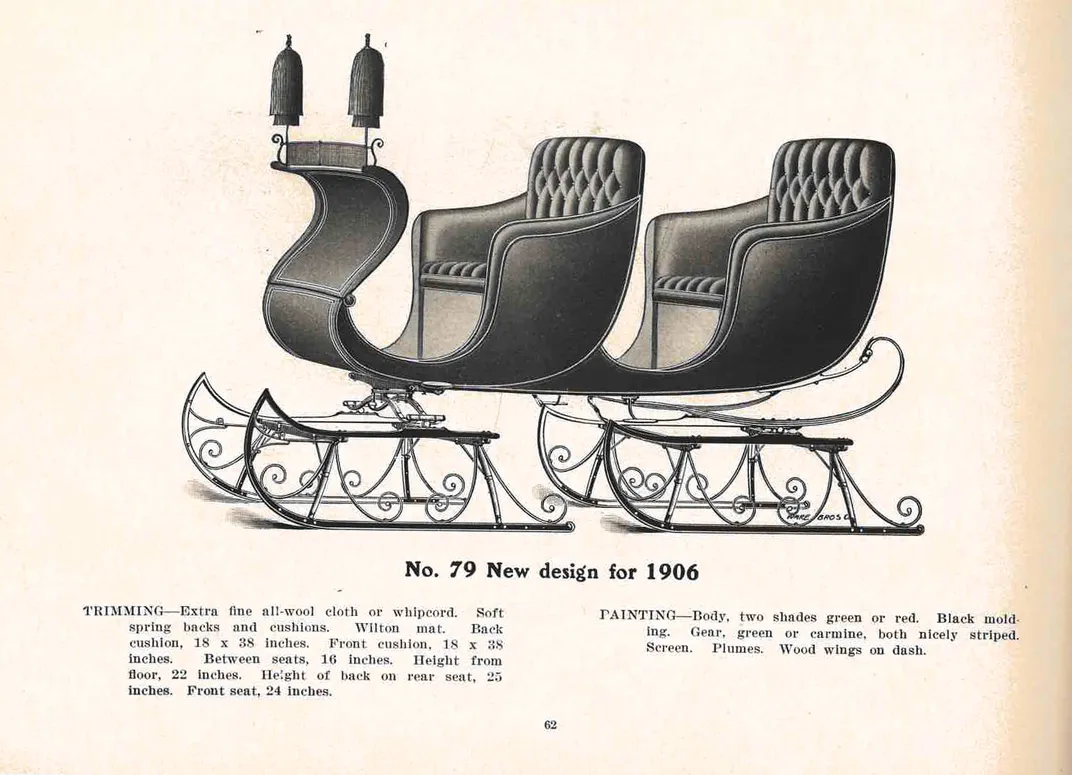 Catalogue No. 43
 (1906-1907) by 
Sturtevant-Larrabee Co.
 is located in the 
Trade Literature Collection
 at the 
National Museum of American History Library
.