SMITHSONIAN LIBRARIES AND ARCHIVES
Introducing the Audiovisual Media Preservation Initiative
A new initiative will support care and access for the Smithsonian's audio, video, and film collections
---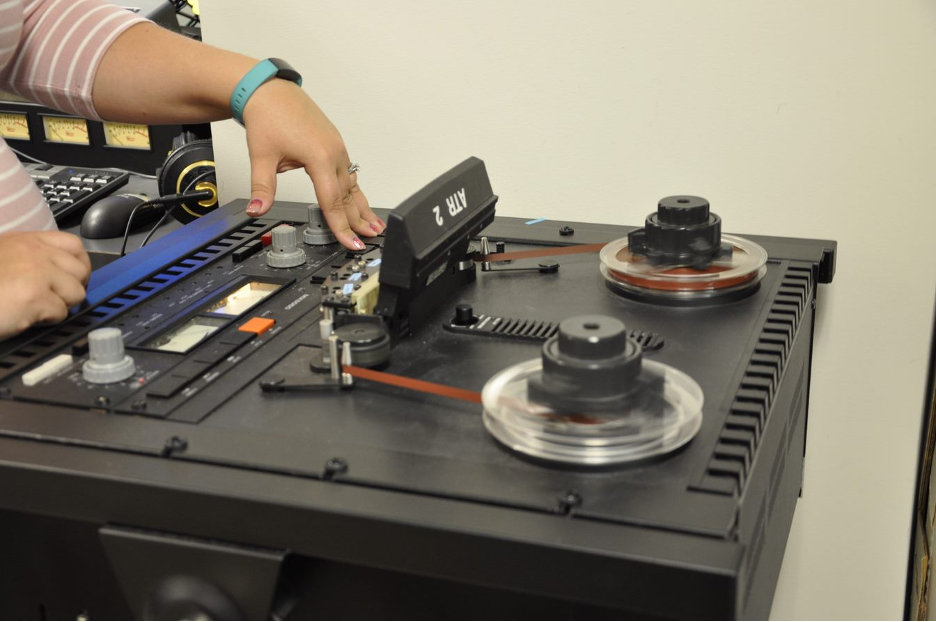 Smithsonian Institution Archives, and now the Smithsonian Libraries and Archives, have been working diligently for the past 7+ years to gather information, leverage existing resources, and demonstrate the need for holistic support for a new, pan-institutional initiative to care for and provide access to our audio, video, and film collections. I present to you now, the great unveiling of <drumroll, please>: 
The Audiovisual Media Preservation Initiative
 (AVMPI)!
While this is an unveiling of sorts, I need to also acknowledge that my colleagues across the Smithsonian have been working for decades to preserve, digitize, and provide access to our diverse audiovisual collections. However, as many of us experience, resources ebb and flow throughout the years and priorities change—this greatly affects our ability to properly care for collections. One of the primary goals of AVMPI is to pool our resources and expertise into one central resource that focuses on preservation for all Smithsonian units.
This initiative is supported by experts from around the Smithsonian, from archivists and conservators to directors and advancement staff. Currently, there are three structured teams supporting and overseeing AVMPI activities. First, our Advisory Committee consists of senior-level leaders who act as a link between AVMPI and the larger Smithsonian community to increase visibility, provide guidance for specific issues and challenges, and convey needs and advocate for resources to support the long-term goals of AVMPI. Second, our Task Force consists of subject matter experts who have direct input on AVMPI tasks and goals. They help to define workflows, design workspaces, and provide collection information to support preservation and accessibility. Lastly, our core team consists of seven new positions that will focus solely on AVMPI and our pan-institutional needs. We've already hired two of those core team members—Siobhan Hagan as our AVMPI Coordinator and Walter Forsberg as our Curator of Audiovisual Media. 
As it did for many, the pandemic affected our proposed timeline in ways we couldn't have imagined. While it gave us time to reflect and make well-calculated decisions about goals, workflows, and resources from the safety of our homes, it did not give us the time to digitize our collections on-site. However, I'm happy to say that 2023 will be different! Here's a peek at some of our plans for the next year:
Reimagining existing audiovisual preservation labs at the Smithsonian. AVMPI is working closely with other Smithsonian units to breathe new life into their current audiovisual digitization set-ups. Whether it's adding equipment, performing maintenance, reworking rack set-ups (or a combination of all), we plan to station our new preservation specialists at these locations to begin digitizing collections.
Executing grant-funded projects. AVMPI has received funding from the American Women's History Initiative to support the digitization, and caption services for remarkable and unique audio, video, and film media collections from six Smithsonian units. The project, entitled Witnessing Working Women: Digitizing SI's Primary Source Audiovisual Recordings, will unlock institutional audiovisual collections chronicling stories of women within the American workforce.
Developing innovative and nimble workflows. Standardizing digital and physical workflows across the Smithsonian will be no easy feat! While all units do share some of the same systems, such as our digital asset management system (DAMS), each unit also has their own unique way of cataloging, treating, and providing access to their audiovisual assets. AVMPI will look to build new, cohesive workflows that are supported by those existing systems and resources.
Augmenting accessibility for audiovisual media and Smithsonian streaming content. AVMPI will foreground 'best practices' in accessibility for digital audiovisual assets through a 'lead-by-example' philosophy. We will prioritize captioning, transcription, and audio description to reach our hearing- and visually-impaired audiences, and we will work to develop clear guidelines for meeting accessibility standards required by the World Wide Web Consortium (W3C).
Creating authentic engagement opportunities that highlight SI pan-institutional audiovisual collections. The Smithsonian's audio, video, and film collections represent the diversity of our world. However, the meaningful connections that exist between our individual unit collections have not been fully explored. In the coming year, AVMPI will not only increase online access to digitized collections but will build online exhibitions that explore these relationships. In addition, we hope to host or participate in several in-person screenings and receptions that will reach new audiences. Stay tuned for details!
Increasing staffing. We're planning on hiring four more team members to support our goals—an audio preservation specialist, a video preservation specialist, and two media collections specialists.
As you can see, AVMPI has quite a lot of work to do, but we're encouraged by the continued support of leadership and colleagues across the Smithsonian. I, personally, am ecstatic to have Walter and Siobhan onboard and can't wait to see what this next year brings!
For more information, please visit: s.si.edu/AVPreservation