SMITHSONIAN LIBRARIES AND ARCHIVES
Learn How We're Expanding the Smithsonian's Story on August 31
Free virtual event highlights projects that restore and amplify cultural heritage from historically marginalized communities
---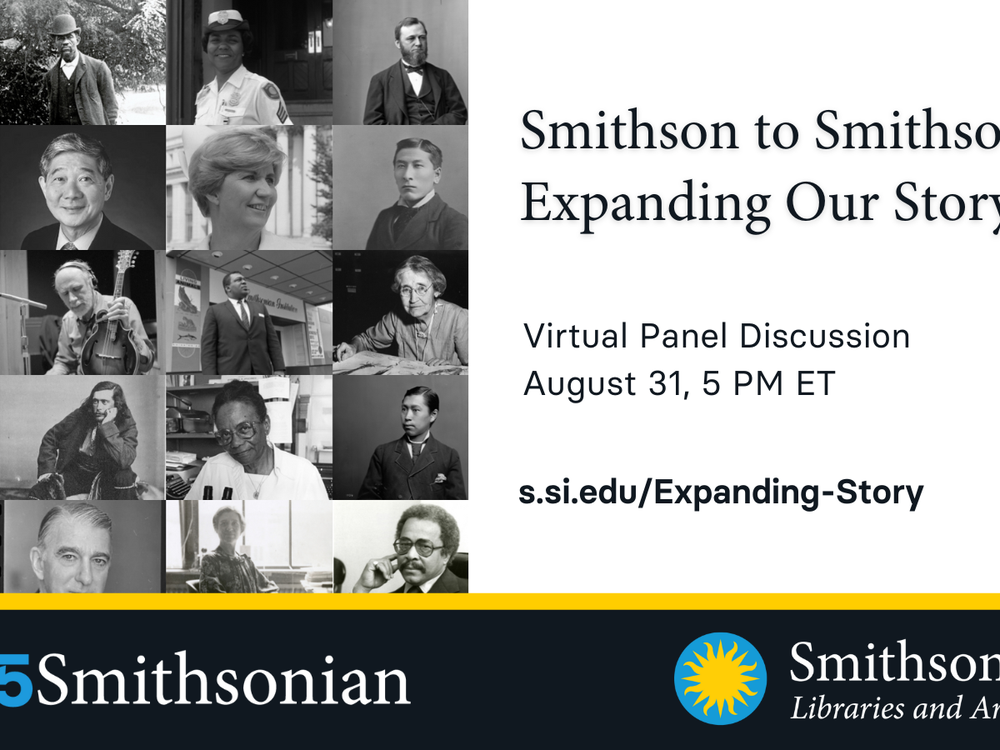 Over the course of 175 years, the Smithsonian has grown to encompass 21 museums and nearly a dozen research centers—becoming a global organization working across history, culture, and science. To mark the close of this special anniversary year, we launched a new web exhibition that re-examines our history: Smithson to Smithsonian.
You're invited to join us on August 31st at 5 pm ET as we continue the conversation. We'll host a virtual panel discussion with Smithsonian staff who are working to expand our story through programs that help to restore and amplify cultural heritage from historically marginalized communities.
Featuring:
Dr. Felicia Bell, Senior Advisor, National Museum of American History
Heidy Berthoud, Head of Resource Description, Smithsonian Libraries and Archives
Ashleigh D. Coren, Women's History Content and Interpretation Curator, National Portrait Gallery, Acting Head of Education, Smithsonian American Women's History Initiative
Dr. Paul Gardullo, Curator, National Museum of African American History and Culture
Moderated by Tamar Evangelestia-Dougherty, Director of Smithsonian Libraries and Archives.
Register now via Zoom . Find additiona details on our event page. 
This program is part of the Smithsonian Libraries and Archives' commemoration of the 175th anniversary of the Institution's founding.