SMITHSONIAN LIBRARIES AND ARCHIVES
Fannie Farmer Knew Her Pies
Fannie Farmer joined the staff of the Boston Cooking School shortly after graduating. Just 2 years later, she became its principal. Her "The Boston Cooking-School Cook Book" is a classic, combining recipes and simplified science. Plus, a whole chapter on pies
---
Fannie Merritt Farmer, who was born in 1857, suffered a paralytic stroke in her teenage years that stalled her dreams of a formal education.  After she regained the ability to walk, she worked as a governess and developed an interest in nutrition and cooking.  At the age of 30, Farmer enrolled at the Boston Cooking School, a philanthropic endeavor to help young women learn a socially acceptable trade at a time when there were limited options. Farmer did so well that she joined the staff upon graduation and became principal just two years later.
Farmer first published The Boston Cooking-School Cook Book in 1896 and it would become a household staple for over a hundred years. The book includes recipes of course, but also nutritional information on common ingredients, tips about party-planning, housekeeping advice, and even health and safety information.  Farmer wanted to share recipes but was also the science behind them, explaining cooking processes and including more precise measurements than many previous cookbooks. She hoped her book would "awaken an interest through its condensed scientific knowledge which will lead to deeper thought and broader study of what we eat". Farmer was an early Alton Brown!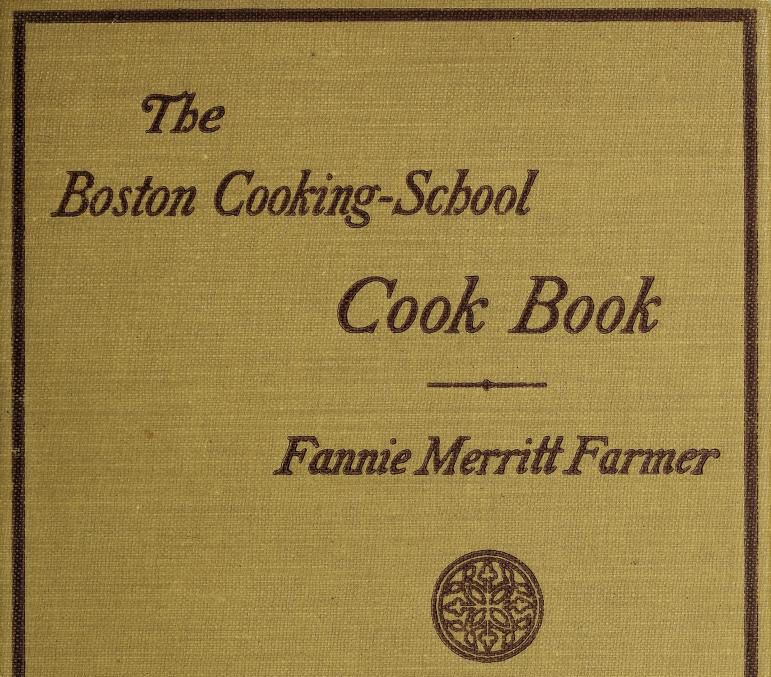 This 1919 edition, from the collection of the National Museum of American History Library, is thought to be the last one written solely by Fannie Farmer herself. It features more than 130 illustrations of recipes, table decorations, and utensils. Our copy was previously owned by Florence E. Sparks, who added some of her own handwritten recipes on the endpages and tucked loose recipes inside. This copy was adopted through our Adopt-a-Book program by Clarice J. Peters in 2016 which supported the book's digitization.
In honor of Pi Day (March 14th, i.e. 3/14), our staff tried two different recipes, both with tasty results. Read on for pie inspiration from Fannie Farmer and The Boston Cooking-School Cook Book. Or dig into the book online to find your next dish!
Lemon Meringue Pie
Tested by Anne Evenhaugen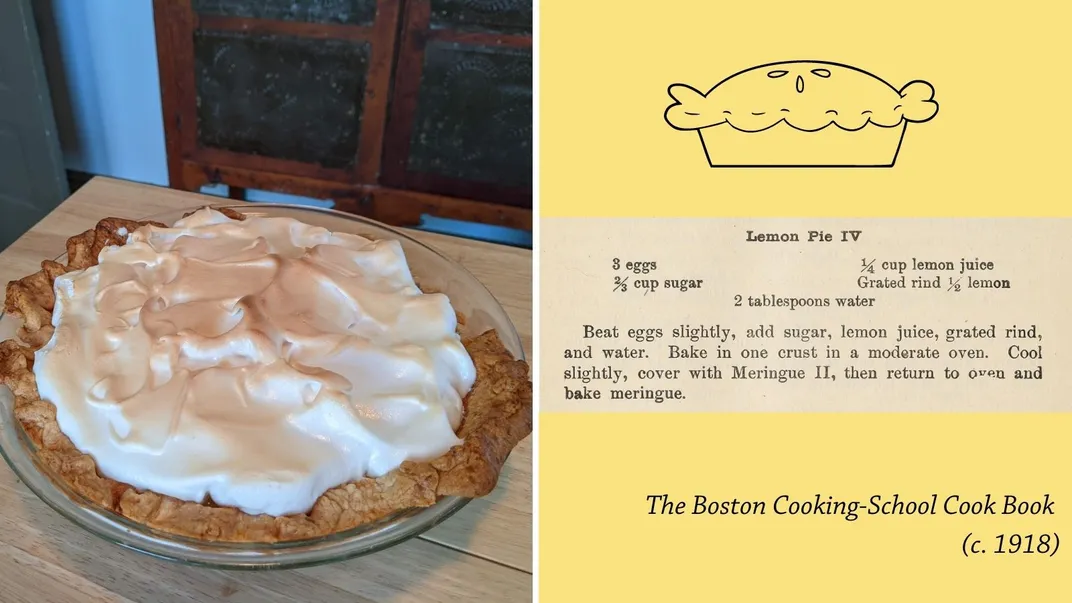 Baker's Note: We chose to make Lemon Pie IV (page 470) with the associated Meringue II (page 480). It didn't require many ingredients—eggs, sugar, and lemon. We cut a few corners, for example, instead of following one of Fannie's "paste" recipes, we used store-bought crust dough. And instead of beating our eggs for our meringue with a "silver fork," we used our stand mixer! But otherwise, we followed the recipe nearly to the letter, with a moderate oven (that is 375 F for the modern reader!). The verdict of our family was that Farmer's recipe was delicious. Even the person who normally doesn't like lemon meringue said it was great–not too sweet! I would make this again since it was so easy, and both kids helped.
Lemon Pie IV
Ingredients:
3 eggs
2/3 cup sugar
¼ cup lemon juice
Grated rind of ½ lemon
Directions:
Beat eggs slightly, add sugar, lemon juice, grated rind, and water.
Bake in one crust in moderate (375 F.) oven
Cool slightly, cover with Meringue II (see below).
Return to oven to bake meringue (about 8 minutes)
Meringue II
Ingredients:
Whites from 3 eggs
½ teaspoon lemon extract or 1/3 teaspoon vanilla
7 ½ tablespoons powdered sugar
Directions:
Beat whites until stiff.
Add four tablespoons of sugar gradually and beat vigorously.
Fold in remaining sugar and add flavoring
Blueberry Pie
Tested by Erin Rushing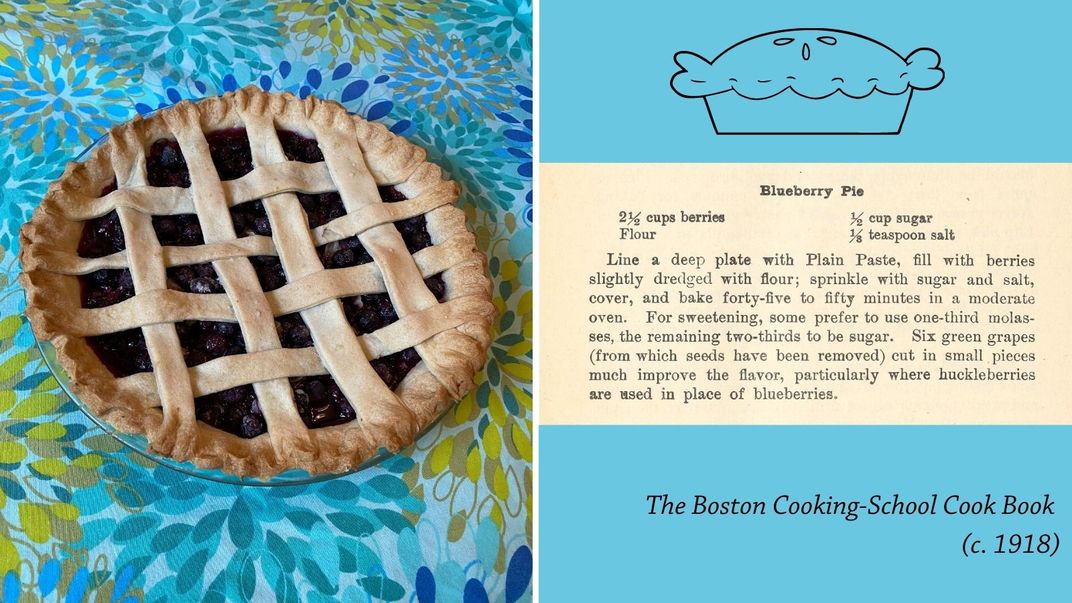 Baker's Note: The hardest part of this recipe was managing the crust. Farmer recommends using "Plain Paste" (page 463), which was a bit tricker than the name implies. Unable to find lard at the grocery store, I substituted shortening. I opted not to wash my butter despite Farmer's recommendation and just used unsalted. Finally, the lamination process of folding and rolling the butter to incorporate it was a floury disaster for me. I ended up chucking all of the ingredients into a food processor and the end result was just fine. Also worth noting: Farmer suggests a "deep plate" for the filling, but this filled a standard pie plate (not deep dish) perfectly. The grapes were an unusual addition but no tasters could tell they were there!
Plain Paste (Pie Dough)
Ingredients:
1 ½ cups flour
½ teaspoon salt
1/4 cup lard (or shortening)
¼ cup cold butter, cut into small pieces
Cold water (about 4-6 tablespoons)
Directions:
Mix salt with flour.
Cut in lard/shortening, either with pastry cutter, fingers, or using food processor.
Add water, a tablespoon at a time, until ingredients form dough.
Cut in butter using preferred method until evenly distributed.
Turn out onto floured surface. Divide into half. Form two balls and then roll out to size, using one ball to create lattice pieces if desired.
Blueberry Pie:
Ingredients:
2 ½ cups berries
6 green grapes, cut into small pieces (optional)
Flour (about 1 tablespoon)
½ cup sugar
1/8 teaspoon salt
Directions:
Line a pie plate with Plain Paste (or your preferred pie crust).
Slightly dredge berries and grapes with flour. Pour into crust.
Cover with top crust or decorate with strips.
Bake 45-50 minutes in a moderate oven (375 F.)
Allow to cool completely, several hours or overnight, before cutting.
Further Reading:
Eschner, Kat. "Fannie Farmer Was the Original Rachael Ray", Smithsonian.com (August 23, 2017).
Farmer, Fannie Merritt. The Boston Cooking-School Cook Book (1919).
"Farmer, Fannie Merritt, 1857-1915", Feeding America: the Historic American Cookbook Project. Michigan State University Libraries.