SMITHSONIAN LIBRARIES AND ARCHIVES
What Mail-Order Catalogs Reveal About the Fashions of the 1910s
"Sports suits" and "suspender skirts" might not be the focus of New York Fashion Week but we're enjoying the vintage charm found in a Smithsonian Trade Literature Collection from the early 20th century
---
Today in the 21st century, we have several options for shopping. Two options that might immediately come to mind are visiting stores to shop in person or ordering online from home. But one nearly forgotten option is the mail-order catalog. With the availability of the internet, we might not receive these as frequently as in the past, but browsing the Trade Literature Collection reveals mail ordering has been around for quite some time.
Generally, when consumers purchase something via mail order, they complete an order blank, or form. The form is typically found inside the catalog. On the order form, they list items, quantity, and specific details relating to the products they want to order. Some catalogs also include a pre-addressed envelope, like the envelope found within John Wanamaker's Fall & Winter Catalog 1915-16  highlighted in a past post. Pre-addressed envelopes make it convenient for customers to mail their order form with payment to the company. Another post highlighting a Herr, Thomas & Co. 1907 catalog explores the general mail order process in a bit more detail.
Now let's examine a mail order catalog, paying close attention to item descriptions and specific details customers might have needed to complete an order form in 1915. This catalog is titled Spring & Summer Catalog (1915) by John Wanamaker.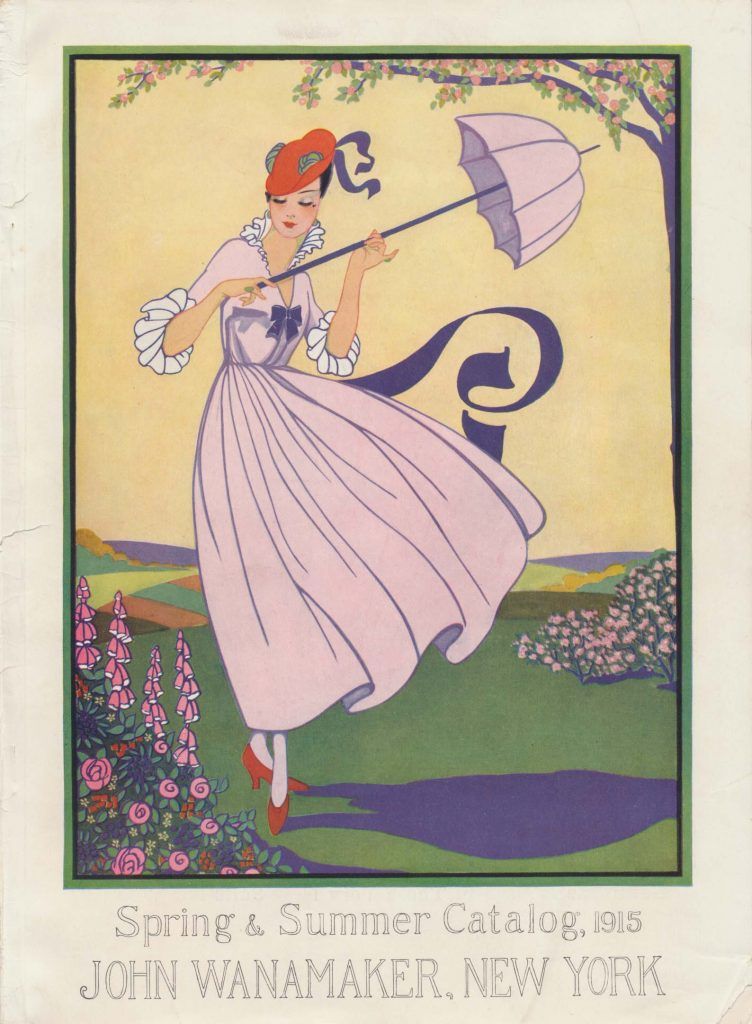 The clothing section appears to primarily focus on women's apparel and accessories. Several pages illustrate items for girls and young women, such as a sports suit, pictured below left. This was a two-piece set with matching skirt and coat, both made from homespun mixture. Its flared skirt fastened on the side and included two pockets, as did the coat which was embellished with a high waist belt. The collar of the coat could be worn open, as shown below, or buttoned high.
Keeping the mail order process in mind, let's study the product description to locate details that a mail order customer might have needed to complete an order form. One of these details is the item or product number used to identify a specific item. We see that this particular sports suit is identified as 143W1.
Most likely, customers also specified on the order form their preference for fabric, design, or color of the article of clothing. This particular suit was available in homespun mixture, as shown in the illustration, but the description notes other options were also available, including black and white check and navy blue or black serge. Sizes appear to be listed by ages such as 14, 16, 18, and 20 years. We will take a closer look at sizes when we turn to another page in the catalog.
One more thing a mail order shopper might have noticed is the weight of the item when packed. This sports suit weighed four pounds packed. Perhaps, this was useful for customers to estimate cost of shipping.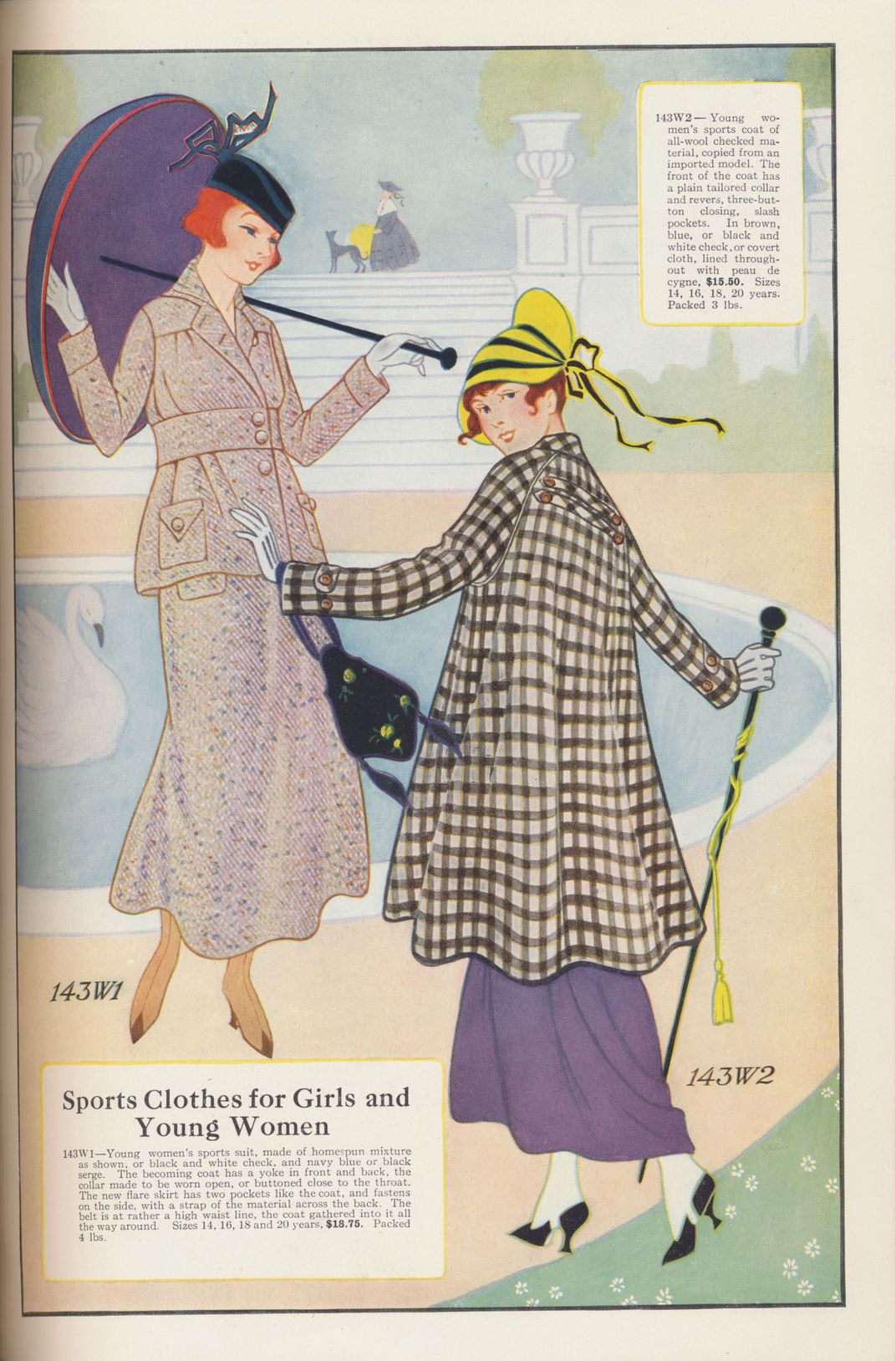 Another page in this Wanamaker catalog also features suits for girls and young women. One of these, shown below right, is described as "a faithful copy of a Jeanne Lanvin suit very recently received by us." Identified as item/product 143W6, it was a two-piece set consisting of skirt and coat, available in navy blue, Belgian blue, or sand color poplin or black and white check.
The coat featured a belt which appears to begin at the sides, or as the catalog explains, "The belt in front comes from a panel effect on the sides." This panel effect included two button-trimmed patch pockets on either side, level with the belt. In addition, the coat had two upper front pockets on either side. Other decorative elements were buttoned cuffs trimmed with pieces of poplin fabric and the collar which could be worn open or buttoned high at the neck.
The full skirt was designed with a back gathered in tucks on either side. Though not visible in the illustration below, the description of the skirt mentions a corded belt and pockets to match the coat.
As mentioned earlier, clothing sizes appear to correspond to years, such as 14, 16, 18, and 20 years. This particular page, shown below, includes a size chart. The chart listed sizes, which were labeled as "Young Women – Years," along with corresponding measurements. This assisted the 1915 mail order shopper in choosing the proper size to place on the order form.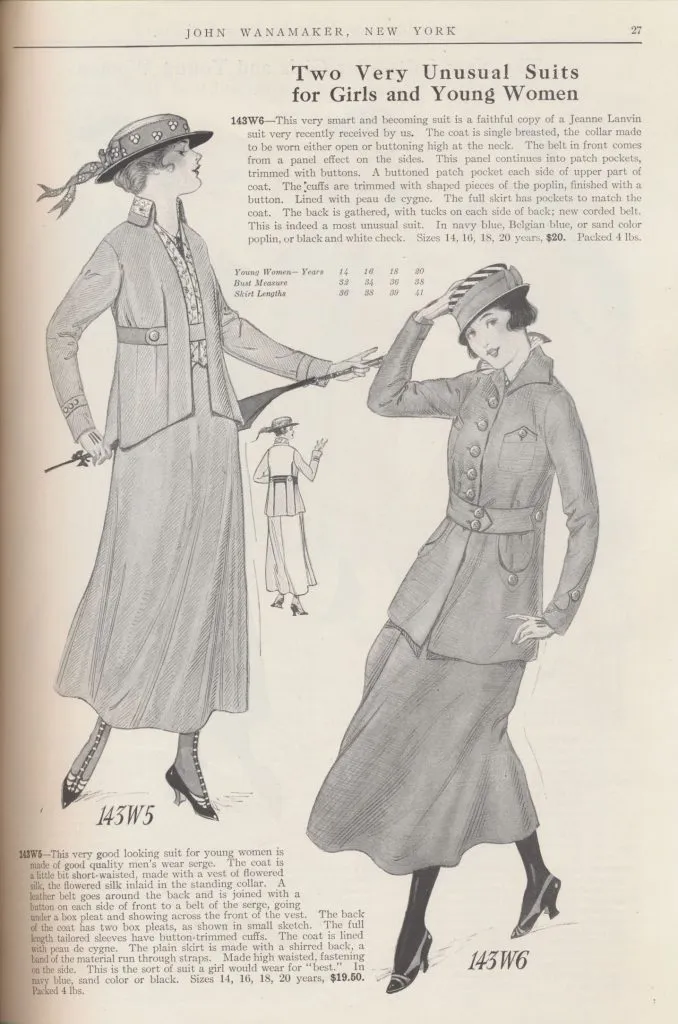 Moving on, we turn to a page illustrating women's skirts. The skirt identified as item/product 300W75, below left, was described as a "new suspender skirt of velvet corduroy." Customers had the option of choosing three colors to place on their order form: white, rose, or Belgian blue.
This suspender skirt was fashioned with a high waist and row of buttons down the front and embellished with a wide belt threaded through loops and fastened in the front by two buttons. It conveniently included pouch pockets on either side.
Its wide suspenders crisscrossed in the back, as shown in the miniature sketch below (far left). For customers ordering via mail from home, these miniature sketches provided the ability to view various angles of the clothing.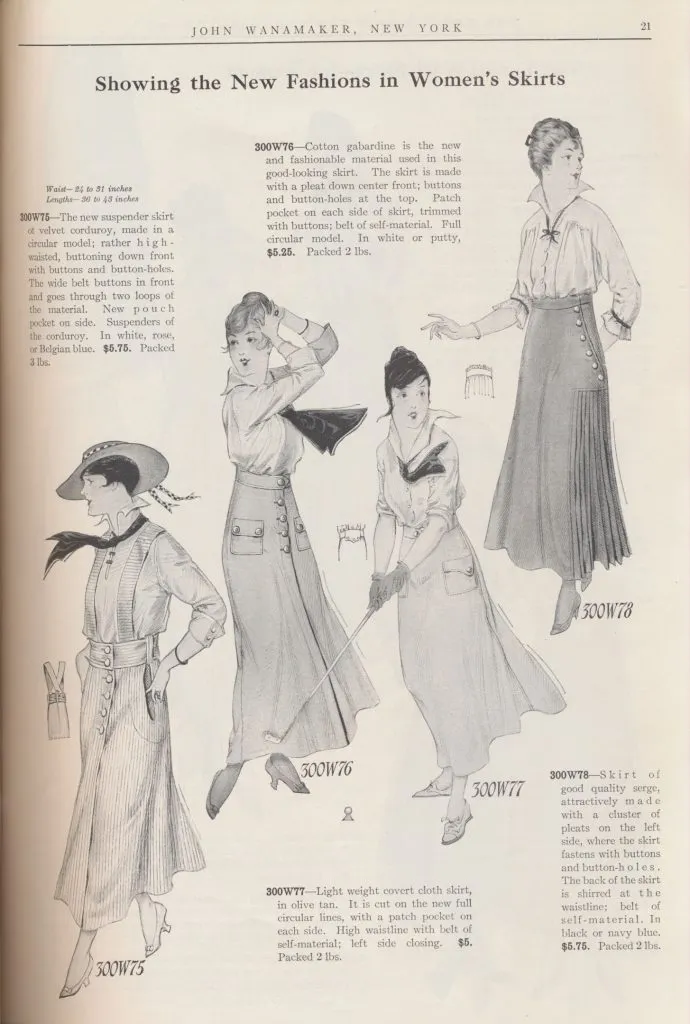 Just like 21st-century online shopping, mail-order shopping over 100 years ago included specific descriptions tailored to help consumers make decisions from home. 
Spring & Summer Catalog
 (1915) by 
John Wanamaker
 is located in the 
Trade Literature Collection
 at the 
National Museum of American History Library
.