SMITHSONIAN LIBRARIES AND ARCHIVES
Holiday Decorating Inspiration From a 100-Year-Old Catalog
Tissue paper can be used for more than just gift wrapping. Flip through this Dennison Mfg. Co. trade catalog from over a century ago to learn the possibilities of making paper flowers and even landscape scenes out of crepe and tissue paper.
---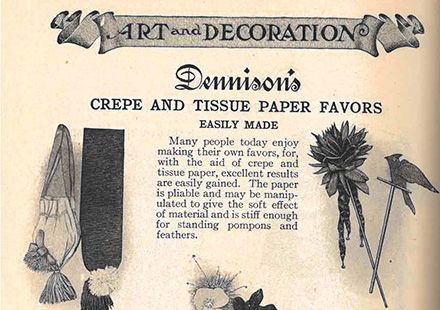 That time of year is upon us. The season when we see lots of gift bags stuffed with brightly colored tissue paper. The simple act of fluffing a piece of tissue paper and placing it in a bag seems to brighten any present. But how about using tissue paper to create art? This trade catalog from over a century ago might spark our creativity.
The catalog is titled Art and Decoration in Dennison's Crepe and Tissue Paper, 22nd Edition (1913, Reprinted 1914) by Dennison Mfg. Co. In 1914, at the time this catalog was printed, there were Dennison stores or offices throughout the United States and in Canada, London, Berlin, and Buenos Aires.
Dennison Mfg. Co. sold crepe paper, decorated paper, and tissue paper among other things. Their tissue paper was available in 134 shades and colors. They also sold crepe paper, including decorated crepe paper in a variety of holiday, seasonal, or floral designs and patterns. Besides decorations, these materials could be used for creating art. Personal instruction for such things as making flowers out of crepe and tissue paper was provided at their stores in the Art Departments.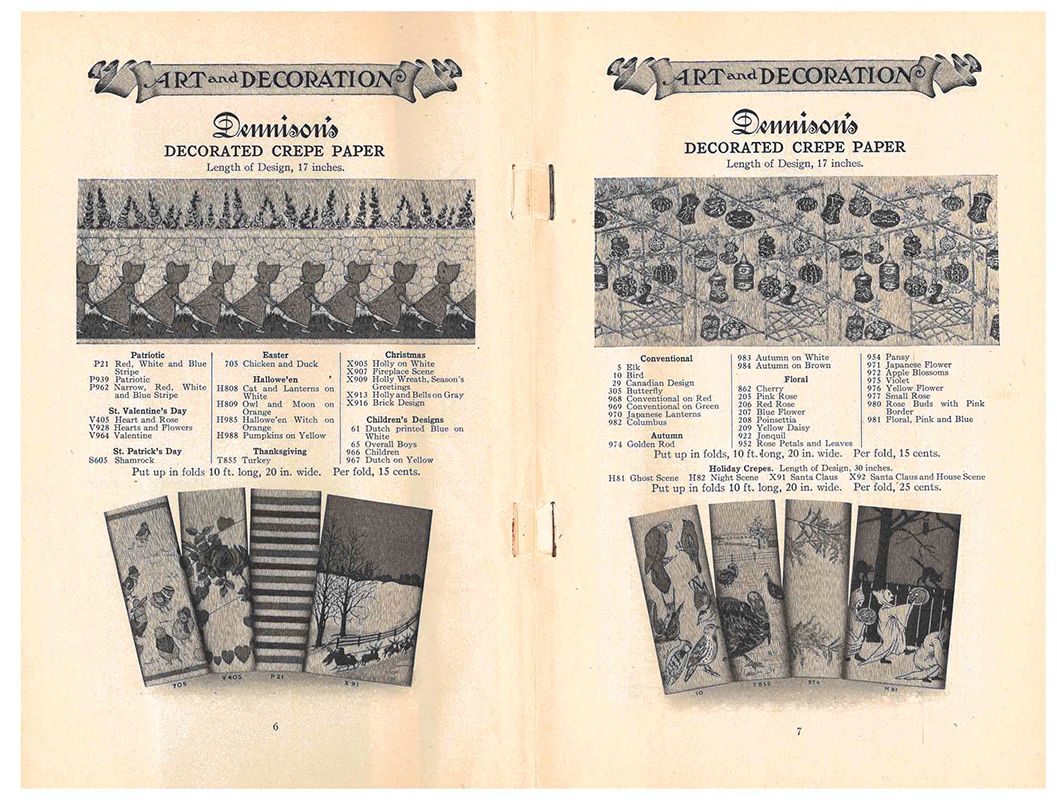 As the catalog mentions on page 3, it is "primarily a book of suggestions." The ideas for using crepe and tissue paper are numerous, everything from party, fair, and parade decorations to costumes to creating artwork.
To add a festive touch, a host in the early 20th Century might have created party favors or fashioned crepe or tissue paper flowers to decorate a serving dish. The choices are many and varied. Perhaps a rope basket with daisies along the handle, serving cups decorated with carnation petals or orchids, a basket trimmed with violets, or a Jonquil serving cup, all illustrated below. Handmade party favors might have included hats, crowns, hair ornaments, or even a child's wand, also shown below.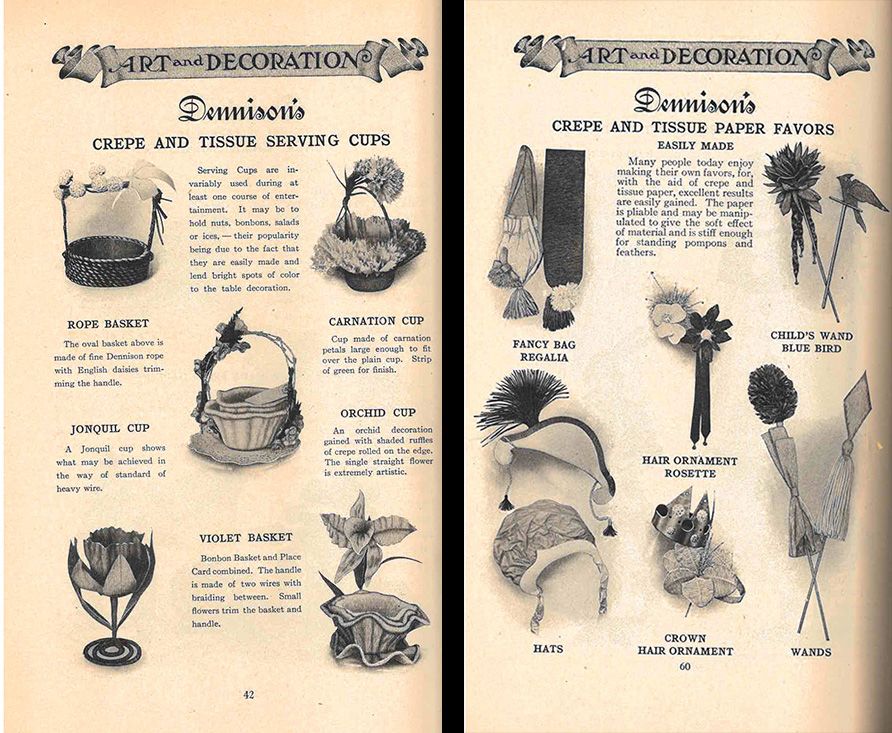 Another creative use of crepe or tissue paper is artwork. Pictures or scenes, such as these winter and natural landscape ones below, can be made out of paper. The catalog suggests starting with a background and then layering paper on top of each other. The sky might be created by layering shades of blue paper, lighter shades over darker shades, and adding white irregularly shaped paper for the clouds. The examples below show the progression of layering crepe or tissue paper to create a landscape picture or the possibilities of making a more elaborate still life creation.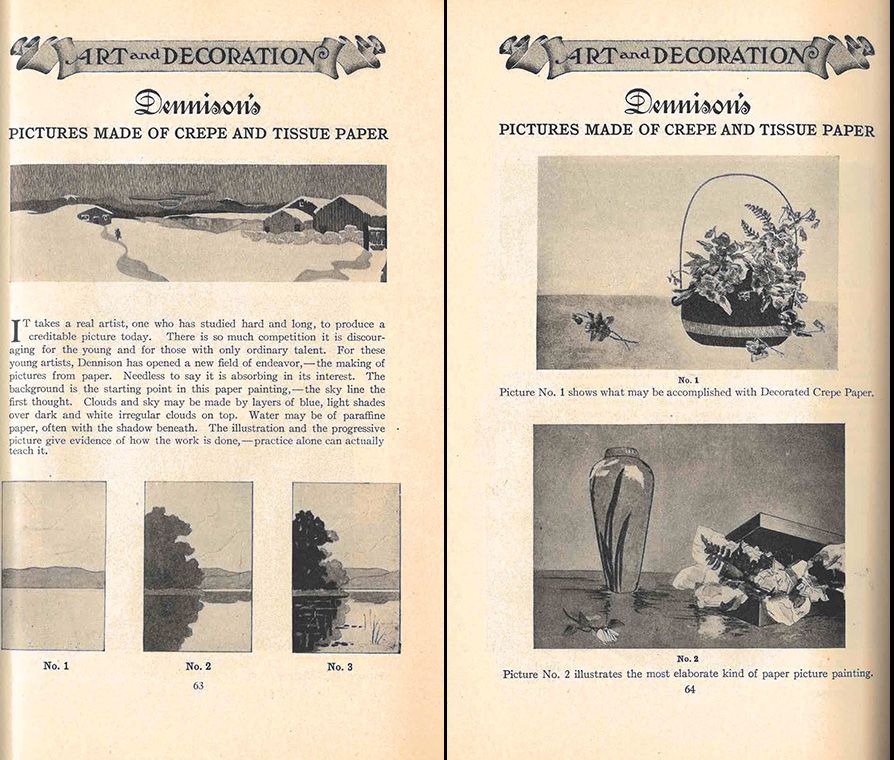 When thinking about art and tissue paper, creating paper flowers might come to mind. This early 20th Century catalog or "book of suggestions" incudes a section for just that type of craft. It first advises that one should be familiar with the appearance of the specific flower in nature before creating it out of crepe or tissue paper. But it also adds that the unique taste and judgement of each person is important.
The section begins with general directions before proceeding to specific directions and patterns for particular flowers. It also includes a few pages showing "Flower Materials." These are things such as leaves, vines and sprays, calyx, seed cups, flower centers, wire, and even ready-cut daisy petals. The catalog mentions that using some of these supplies when making paper flowers will save time and energy.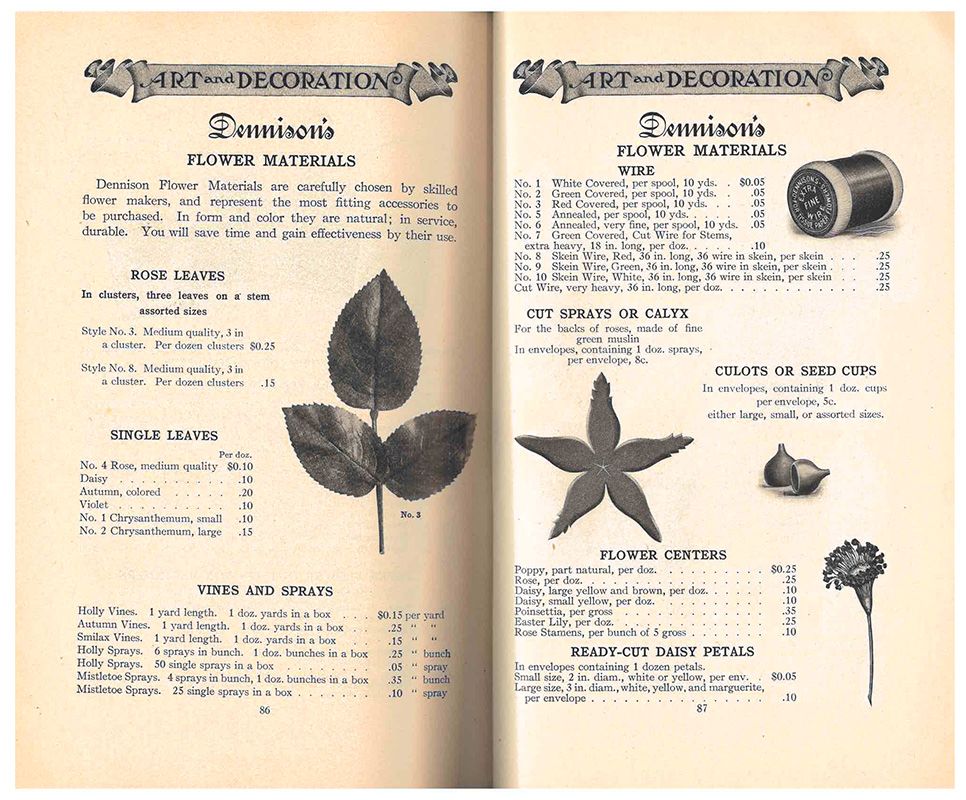 The General Directions, shown below, begin with a lesson on the "RIGHT AND WRONG SIDE to Crepe Paper." According to these directions, the "right side" is the side of the roll when folded in. It suggests tracing the patterns onto tissue paper or carbon paper and then transferring them to cardboard. Next, the cardboard pattern can be laid on the desired tissue paper to draw around it. It continues with more instructions, like how to wind a stem or wire a petal.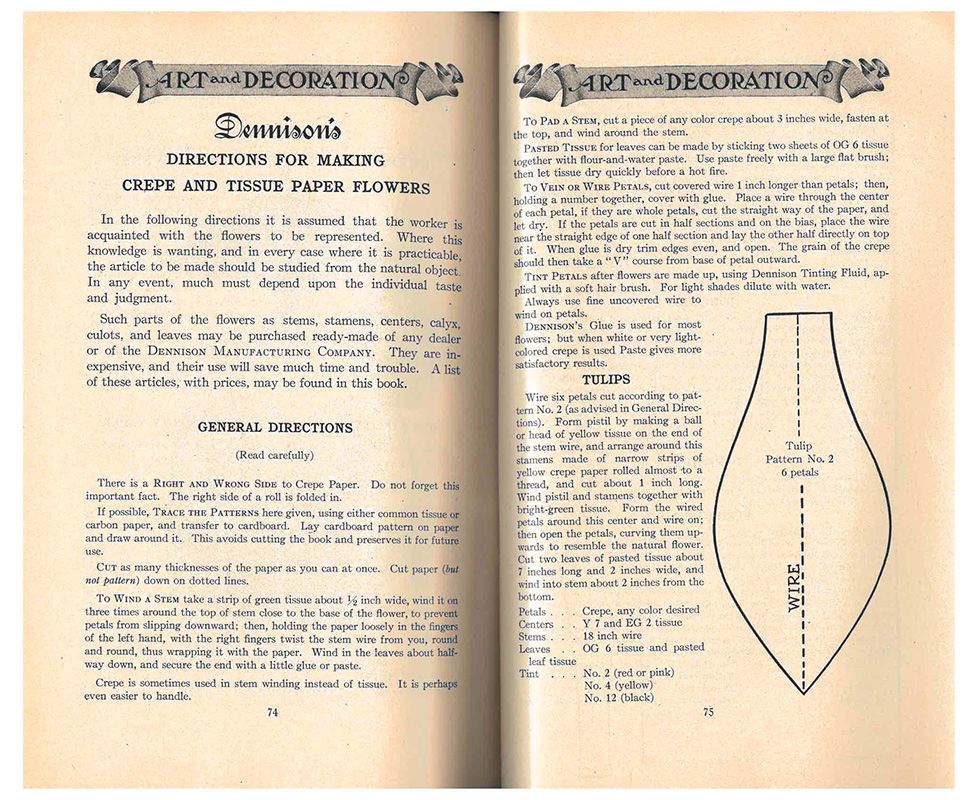 Instructions for a variety of flowers are included. A few examples are shown below with their patterns. This includes the poppy, poinsettia, violet, narcissus, and daisy. The directions for making daisies do not include a pattern. Instead, it mentions that Dennison sold ready-cut petals, as described earlier. They also sold kits for making particular flowers complete with all the necessary supplies such as petals, stamens, leaves, wire, and paper.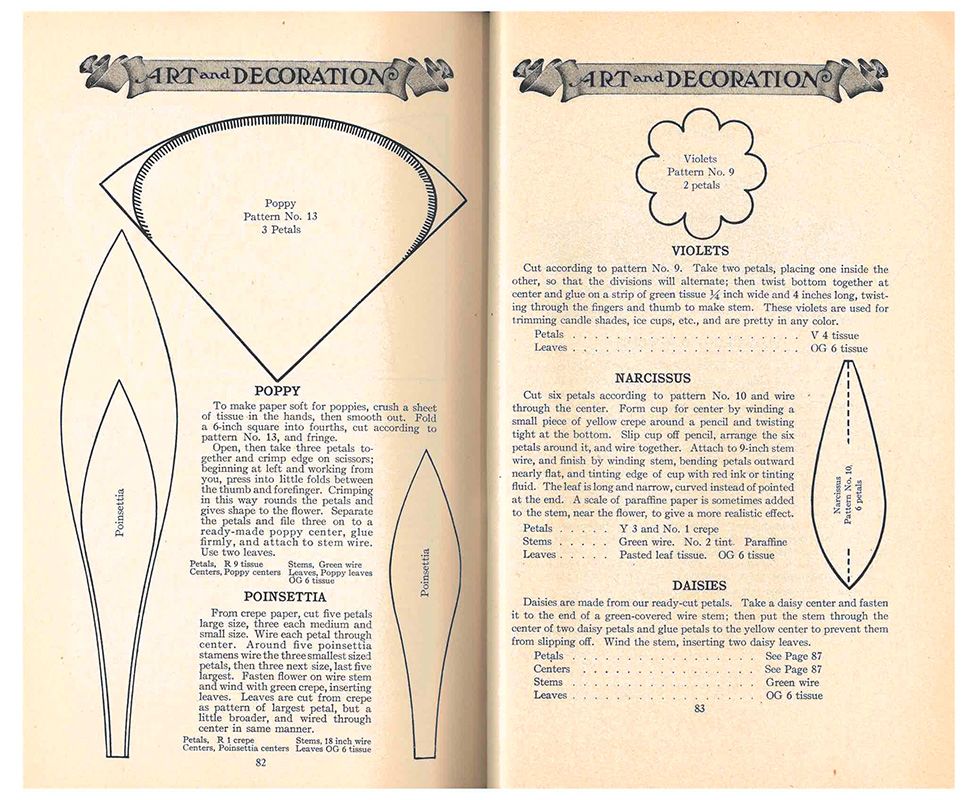 Art and Decoration in Dennison's Crepe and Tissue Paper
, 22nd Edition (1913, Reprinted 1914) by 
Dennison Mfg. Co.
 is located in the 
Trade Literature Collection
 at the 
National Museum of American History Library
.