SMITHSONIAN LIBRARIES AND ARCHIVES
Pack Your Bags for 1907
Early 20th century trade catalogs in the National Museum of American History Trade Literature Collection highlight a range of sturdy, vintage satchels and trunks.
---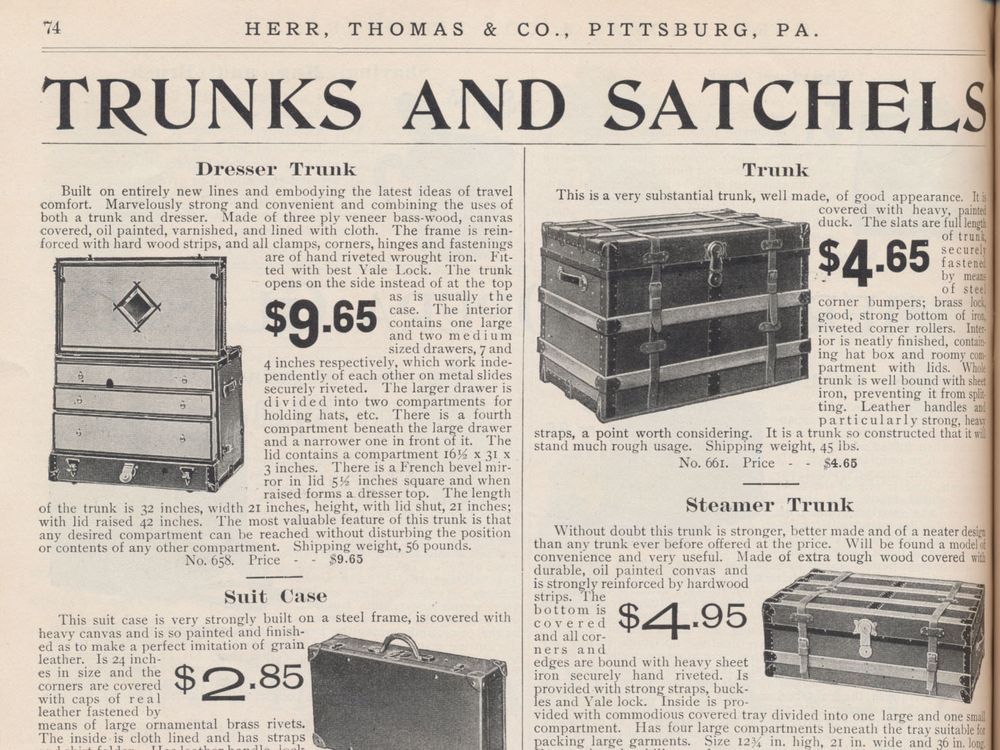 Imagine it's the early 20th Century and you're packing for summer vacation, maybe for a steamship cruise of the Great Lakes or a 72 day tour of Europe. What did your luggage look like? Did you pack your clothes in a trunk? What were your options? Today we are familiar with slim, rolling luggage on wheels, but trunks and suitcases over a hundred years ago looked quite different.
Catalogue No. 101 (1907) by Herr, Thomas & Co. provides a peek into the past, specifically the year 1907. Flipping through this trade catalog, we will learn about the types of luggage available in that time period. A few other items illustrated in this catalog might also have made a vacation fun and memorable.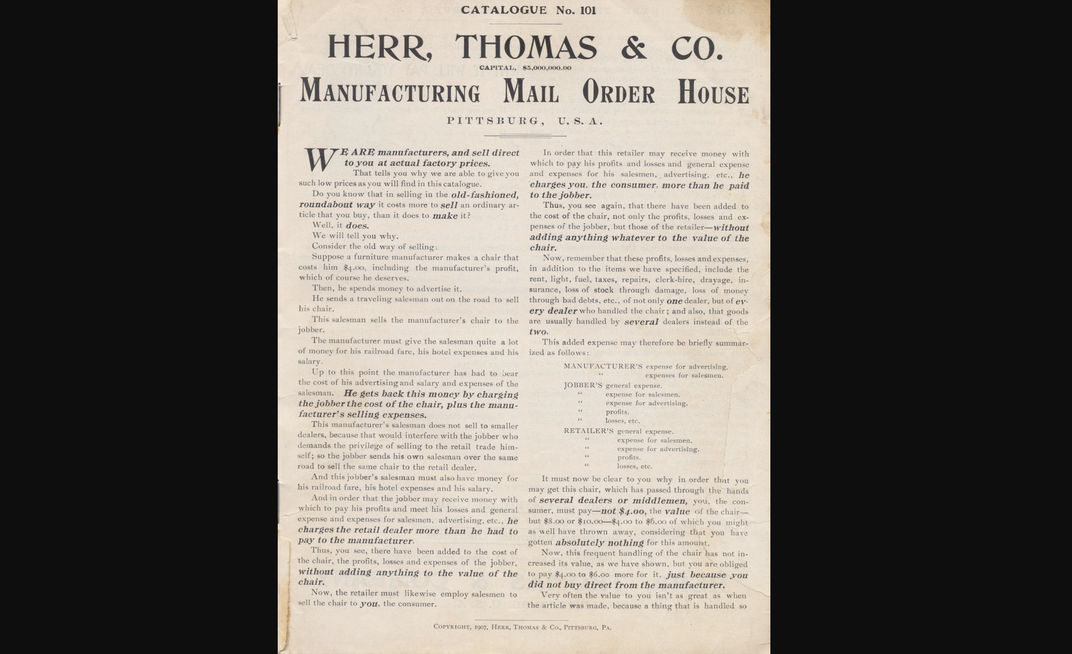 Packing is not always easy. What do you bring and what do you leave behind? Do you really need that extra sweater? Maybe it would be easier if you just brought your entire dresser along. That might not be quite possible, but in 1907 there was a piece of luggage called the Dresser Trunk (below, top left). It was described as "embodying the latest ideas of travel comfort" and "combining the uses of both a trunk and dresser." The Dresser Trunk was composed of three-ply veneer bass wood, covered with canvas, painted, varnished, lined with cloth, and the frame was reinforced with hard wood strips. It also had hand riveted wrought iron clamps, corners, hinges, and fastenings.
A convenient feature was its ability to open on the side. Instead of lifting everything on top to get to something on the bottom, the drawers made it possible to go directly to the location of a specific item without interfering with the contents of the rest of the trunk. In other words, the Dresser Trunk functioned just like a dresser with drawers. There were three drawers, one large and two of medium size. The large drawer included two compartments. There were also other compartments beneath the large drawer and in the lid. Wondering where that mirror was located? Inside the lid was a French bevel mirror. A Yale lock safely secured belongings inside the trunk. The Dresser Trunk measured 32 inches long, 21 inches wide, and 21 inches high with the lid closed or 42 inches high with the lid raised.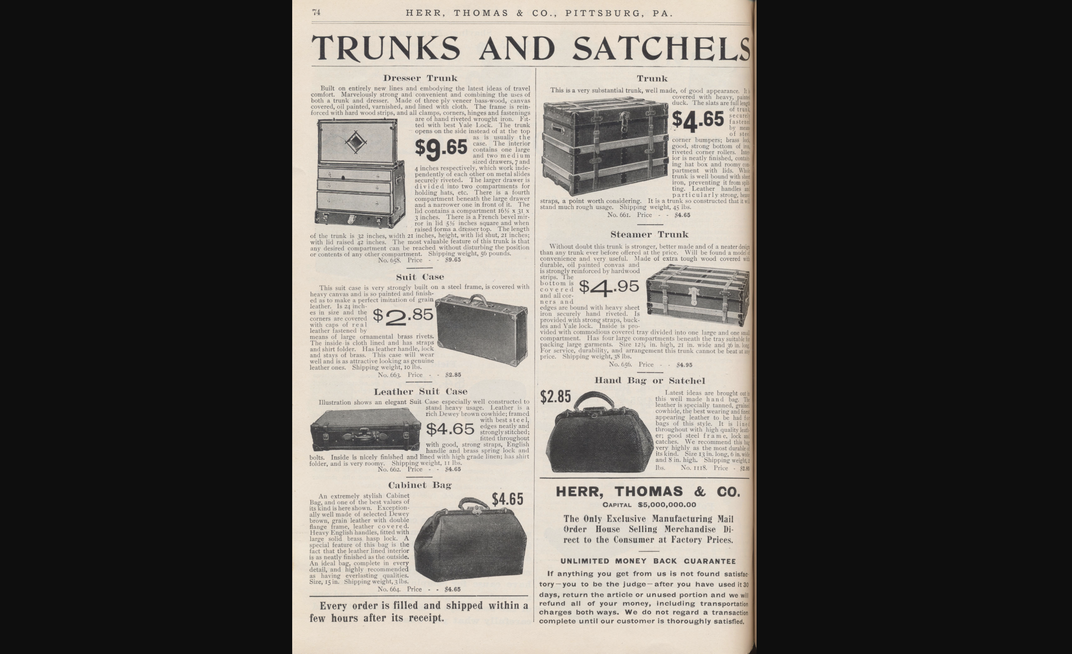 Maybe bringing a Dresser Trunk is not quite what you had in mind for a vacation. In that case, Herr, Thomas & Co. also offered other trunks, such as the Steamer Trunk (above, middle right). Its interior was composed of a tray divided into a large and small compartment with four additional large compartments beneath the tray. It also provided security by using a Yale lock.
Other options included a simple suitcase, such as the ones shown above (middle left). The Suit Case advertised for $2.85 in this 1907 catalog included a cloth-lined interior, leather handle, and lock. A Hand Bag or Satchel (above, bottom right) and Cabinet Bag (above, bottom left) are also illustrated in the luggage section of this catalog.
Besides clothing, what other items might you have packed for a vacation in 1907? Perhaps, a tourist brought along the Premo Folding Film Camera (below, middle left). According to Catalogue No. 101 (1907), this particular camera is described as "a very compact outfit that is especially adapted to tourists use" because once it was folded, it was small enough to fit in a pocket. It had a capacity of 12 exposures and was capable of producing photos measuring 3 ¾ x 4 ¼ inches.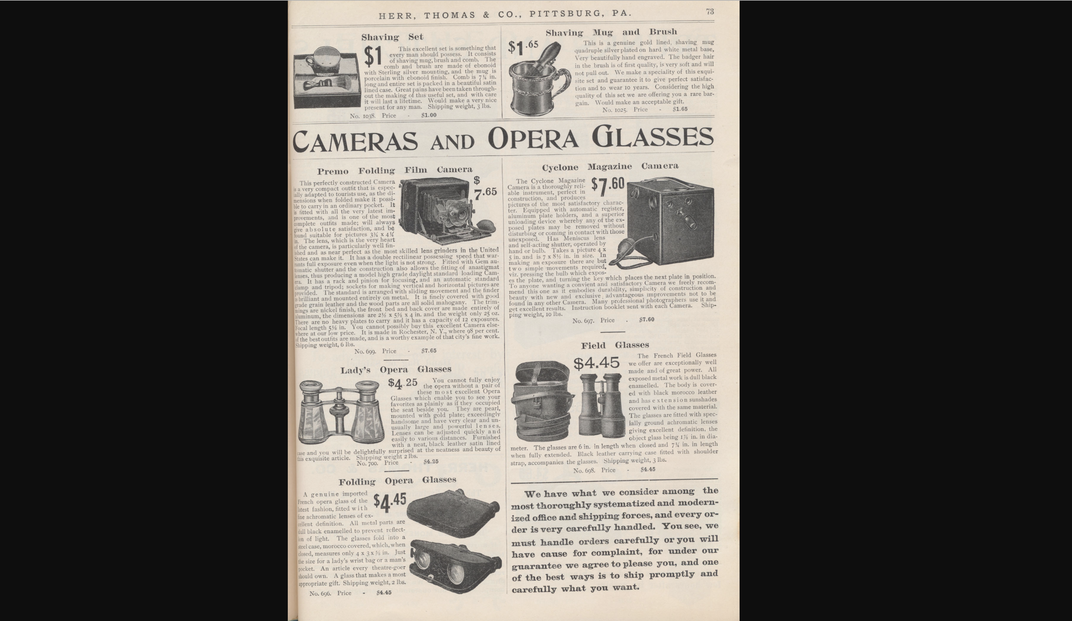 Perhaps an opera might have found its way onto a 1907 vacation itinerary. Opera glasses such as the Lady's Opera Glasses shown above (middle left) might have come in handy. It was fast and easy for theatre-goers to adjust the lenses to various distances while viewing the performance. To keep the opera glasses safe during transit, it came with a black leather satin lined case.
Some might have preferred the Folding Opera Glasses, also shown above (bottom left). Fitted with achromatic lenses, these opera glasses folded into a steel case measuring 4 x 3 x 5/8 inches. For safekeeping, its small size made it easy to fit into a pocket or wrist bag.
Perhaps, a theatre-goer might have stored these Folding Opera Glasses in a bag such as the Lady's Wrist Bag (below, top left). Herr, Thomas & Co. also sold other items including a hand bag, wallets, lady's pocket book, and lady's chatelaine bag, as illustrated below.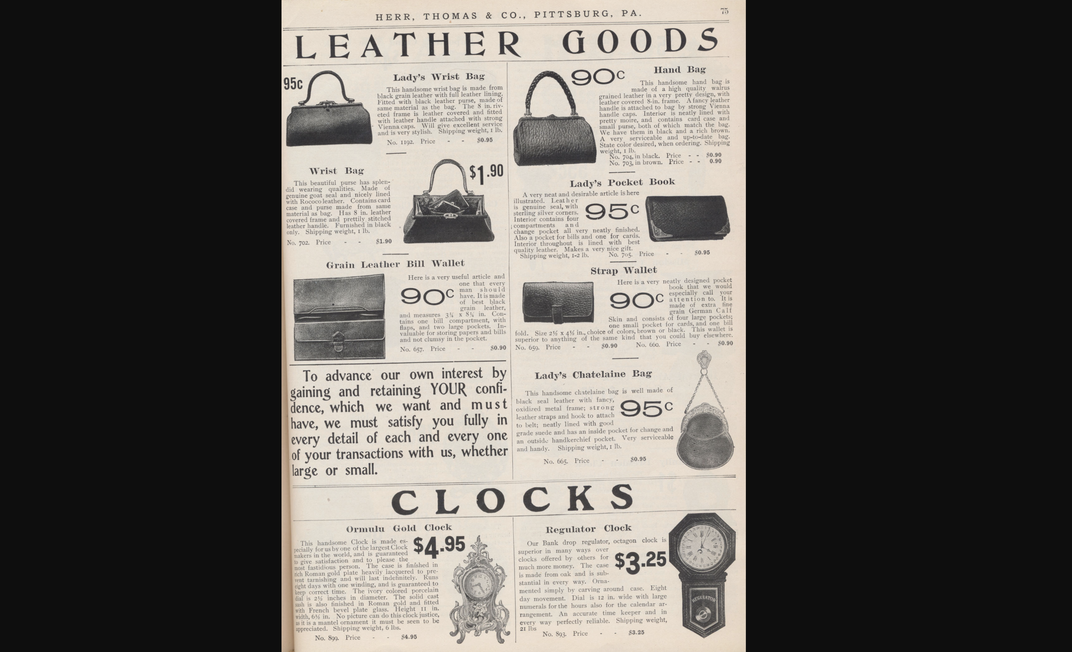 Catalogue No. 101 (1907) by Herr, Thomas & Co. is located in the Trade Literature Collection at the National Museum of American History Library.