SMITHSONIAN LIBRARIES AND ARCHIVES
Vintage Furniture Finds from the Early 20th Century
In the early 20th century, retailers John Wanamaker and Herr, Thomas & Co courted consumers with a wide range of furnishings. Take a look back at some very familiar home goods, like beds and drapes, and some lesser-known, like the biaphone and cuspidor.
---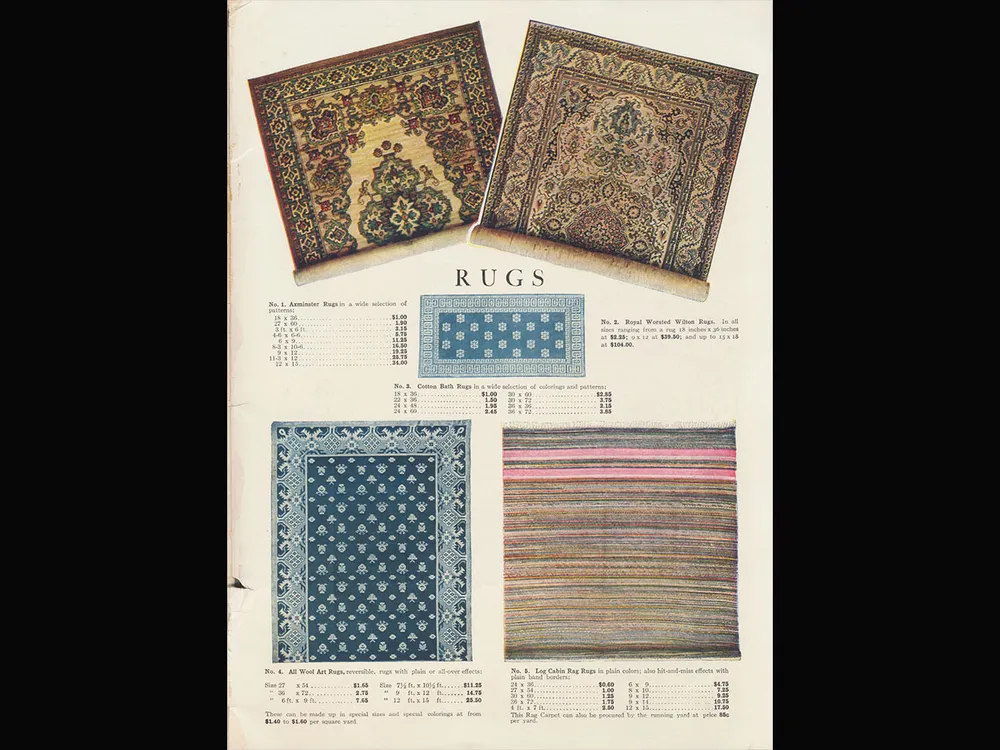 Before online outlets and a certain Swedish superstore, imagine decorating and furnishing a new home in the early 20th Century. What did your furniture look like? What curtains or window hangings did you choose? How did you communicate with your neighbors? The Trade Literature Collection at the National Museum of American History Library includes a few catalogs related to these very things.
One catalog is titled Spring & Summer Catalog (1915) by John Wanamaker. In previous blog posts, we learned about library pieces like armchairs and sofa beds as well as dining room furniture and tableware. Now, let's explore a few more items from this catalog.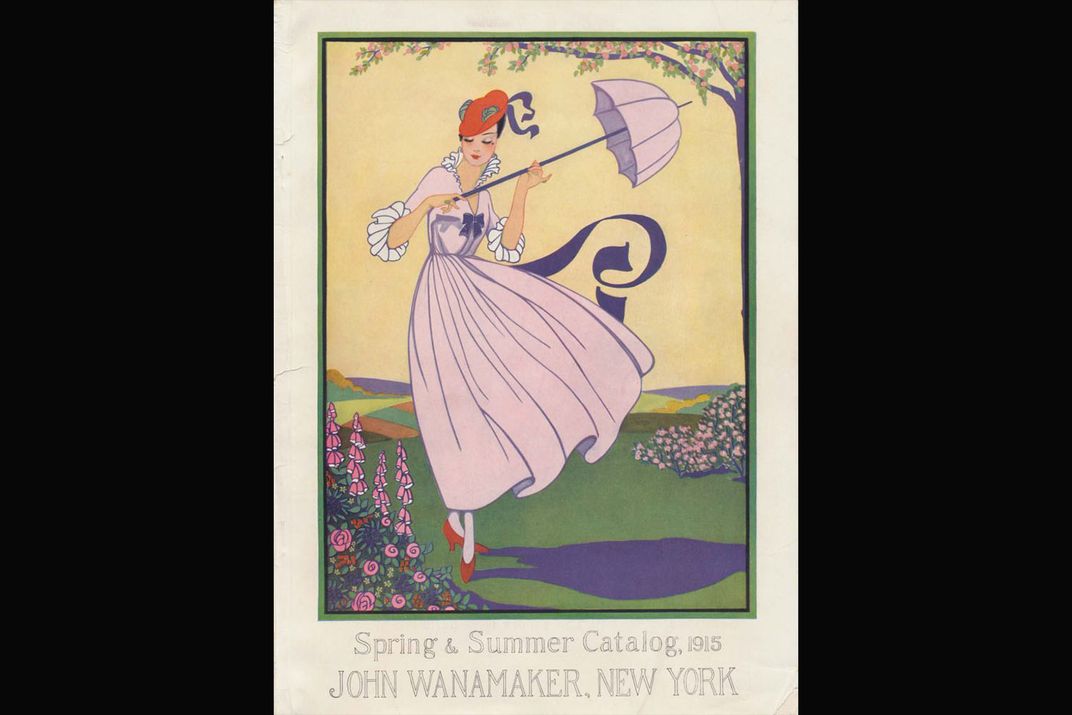 Several pages focus on bedroom furniture such as these Bedroom Suites manufactured from solid mahogany. The Bedroom Suite shown below included several pieces of furniture, but each piece was priced individually. This included bedframes (top and bottom, middle), dresser with glass (top right), chiffonier with glass (top, second from left), and dressing table (top, left). The dressing table came with a triplicate mirror, but those preparing for a special occasion might have preferred a tall or full-length mirror, such as the Cheval Glass (bottom right). Another piece in the suite was the Table Desk (bottom, middle). Perhaps it was used for corresponding with family and friends via letters. The top of the desk included small compartments to store stationery and supplies.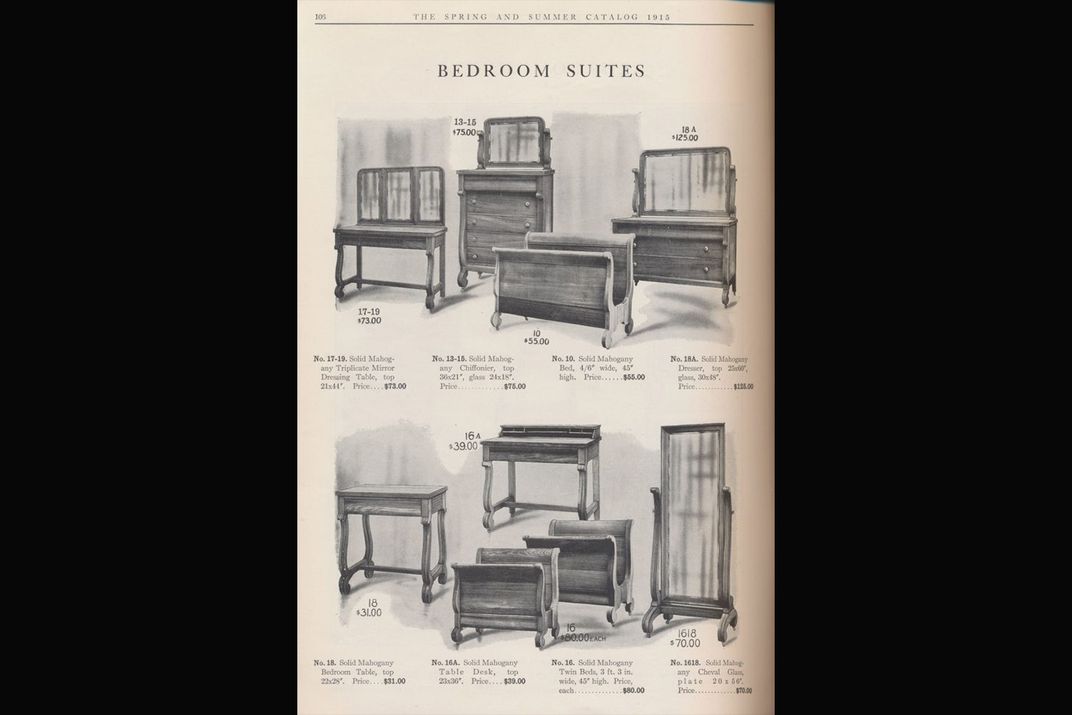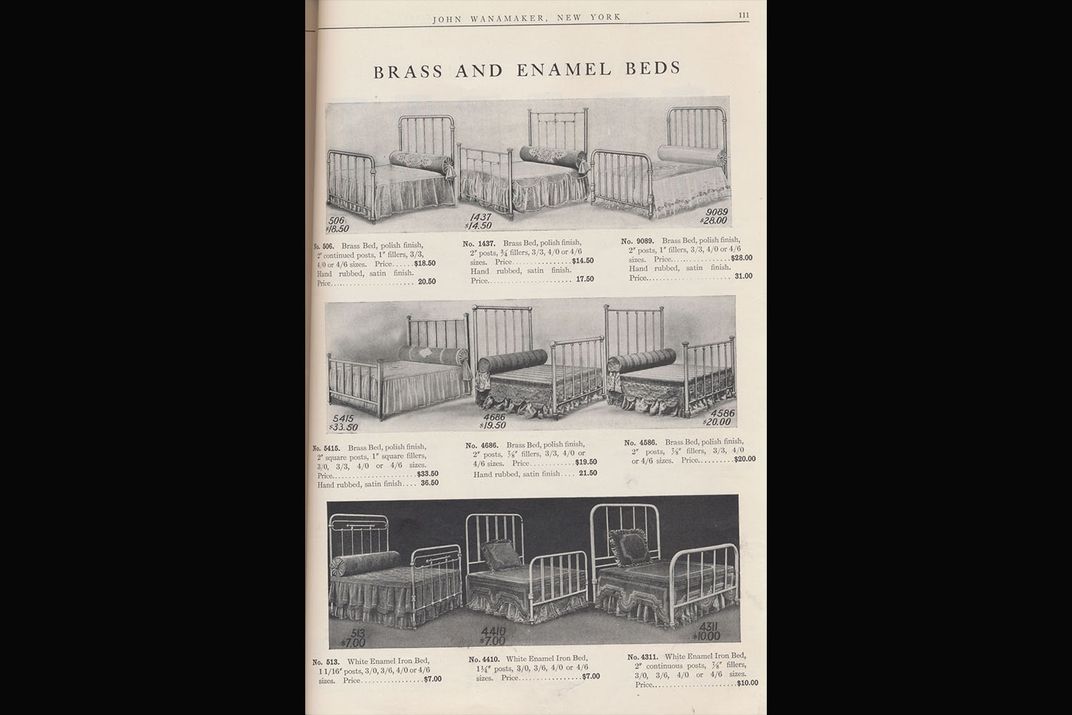 Other choices included brass and enamel beds. The brass beds, shown above (top and middle rows), were available with a polished finish and most also had the option of a hand rubbed, satin finish. White Enamel Iron Beds are also illustrated above on the bottom row.
As for mattresses, one option was the Kurly-Kotton Elastic Felt Mattress (below, top middle). No space age foam or fancy fillings here – this elastic felt mattress was filled with cotton sheets laid by hand. The Single Border Spring (below, middle right) had 63 spirals and was compatible with wooden beds.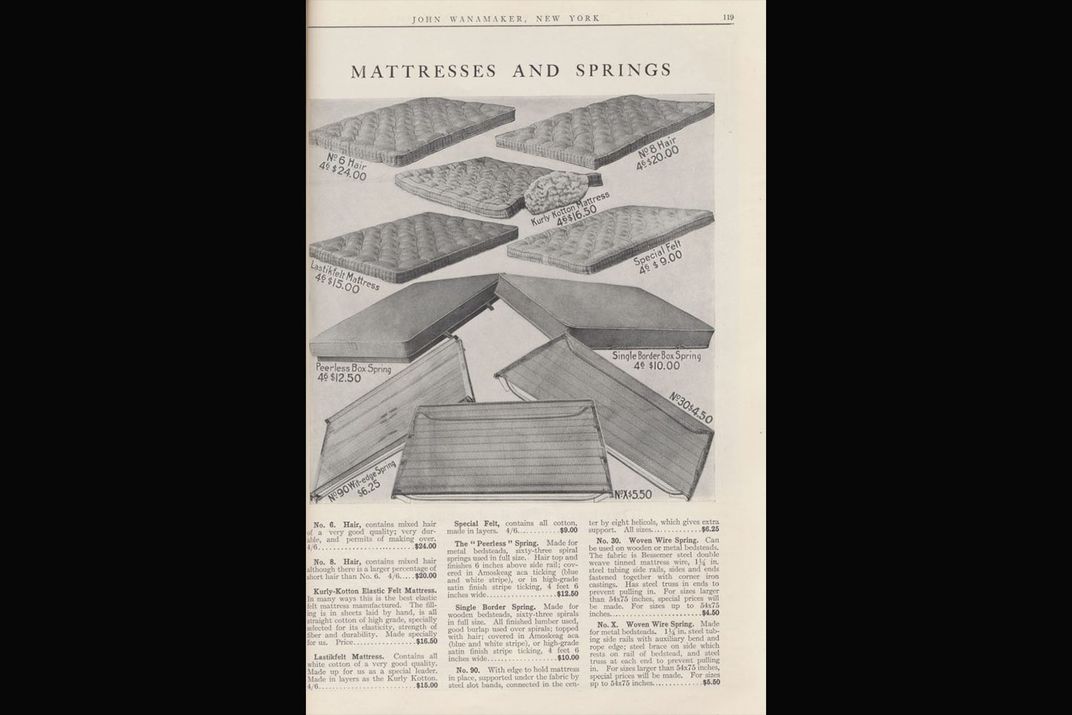 John Wanamaker also sold draperies and window hangings. Someone setting up their new home in 1915 could chose these Irish Point Curtains (below, bottom left). Measuring 47 inches wide and 3 yards long, these had a plain net center and decorative border. Other window hangings incorporated floral decorations, such as No. 4 Fine Soft Voile (below, top right). Described as having a "graceful floral pattern," it was available in pink, blue, and yellow.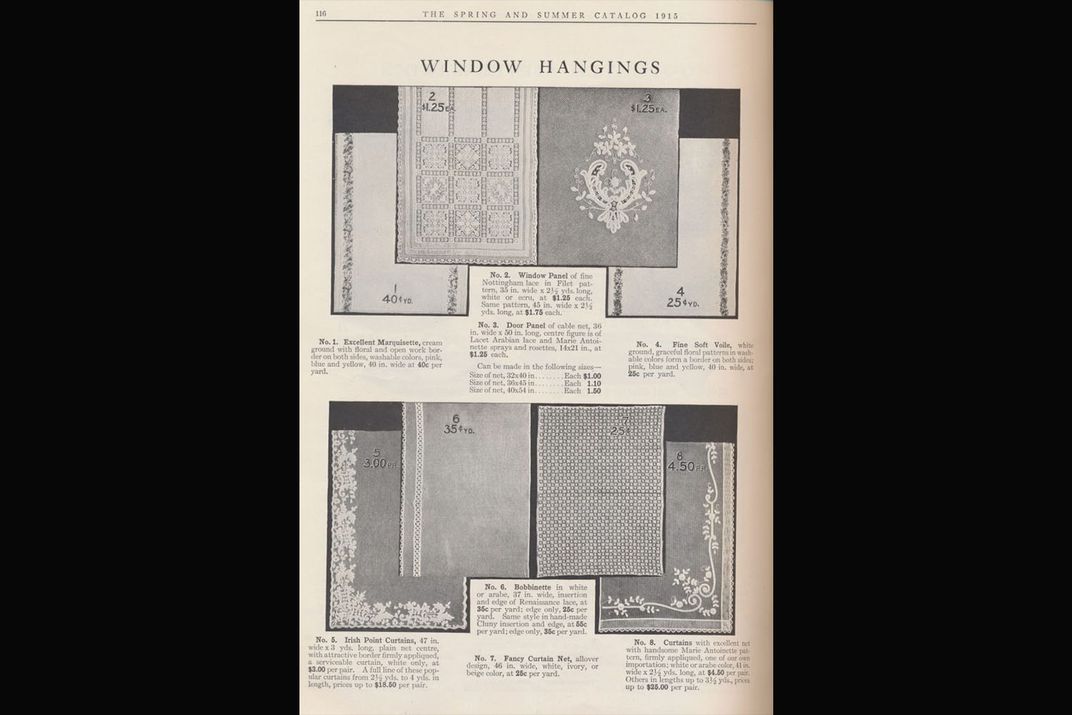 Just as curtains add a decorative touch to a room, so do rugs. The All Wool Art Rug (below, bottom left) was reversible and described as having "plain or all-over effects." The particular one illustrated below includes shades of blue, but according to its description it was also available in "special colorings."
Another option was the colorful Log Cabin Rag Rug shown below (bottom right). Besides plain colors, it was also available in "hit-and-miss effects with plain band borders."
Cotton Bath Rugs were sold in a variety of colors and patterns. Though the catalog does not give specific details, one bath rug is shown below (middle) in shades of blue.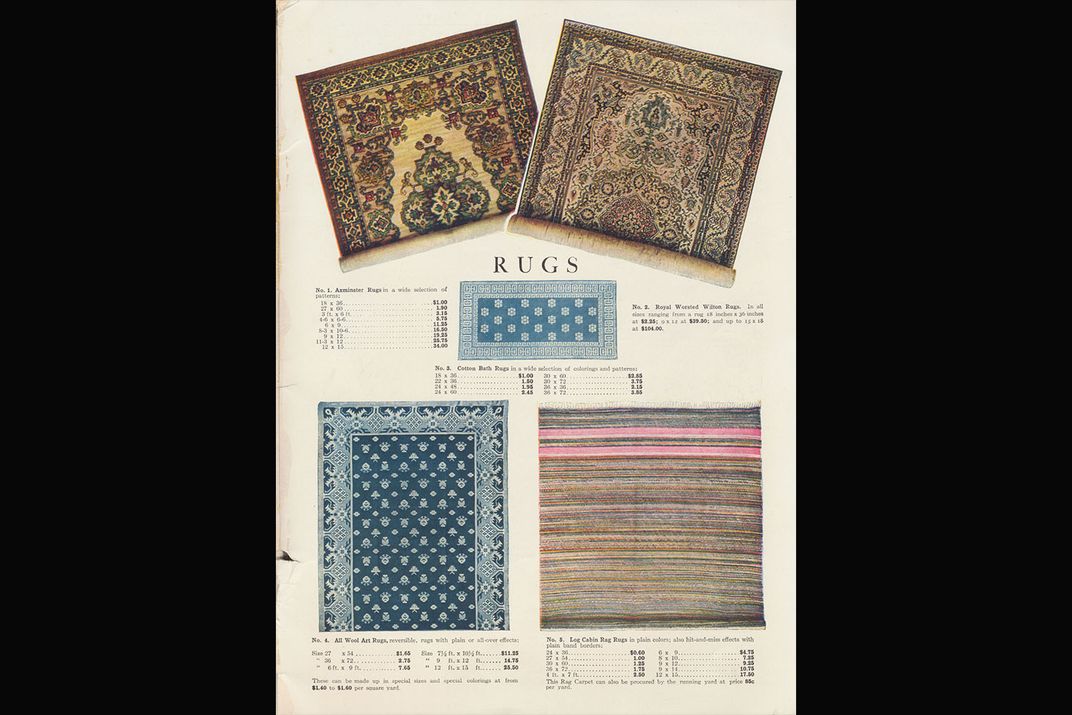 Now let's travel a few years further back in time to 1907. This trade catalog is titled Catalogue No. 101 (1907) by Herr, Thomas & Co. The company sold a variety of household items via mail order. In previous blog posts, we highlighted writing supplies and related furniture as well as lawn and porch furniture and even groceries. Now let's explore a few items in the "Laundry Furnishings" and "Household Necessities" sections.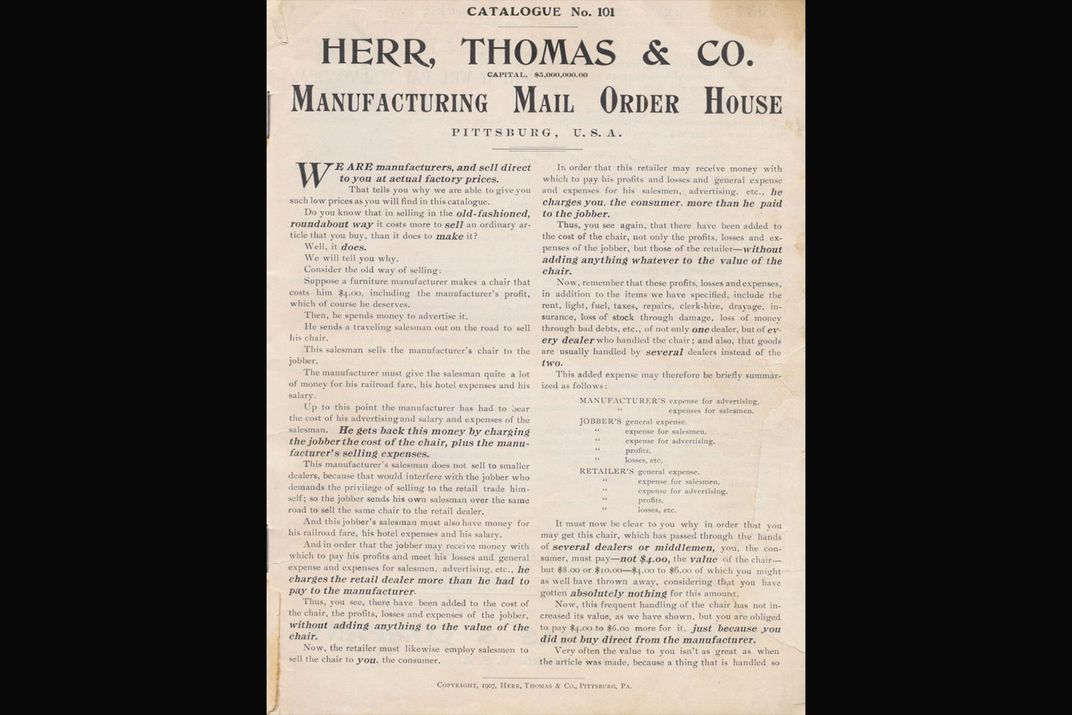 What did a clothes washer look like in the early 20th Century? Perhaps a family in 1907 bought the Washer pictured below (bottom left, shown in the closed position). The interior of its tub was heavily corrugated or ribbed which, according to the catalog, made the machine capable of "producing the same action on clothes being washed as rubbing them by hand on a wash board." To prevent fingers or clothing from getting caught, a malleable iron cage guard covered the gearing, but it was possible to open the guard to clean the gears. The catalog also mentions that this machine was capable of washing something as small as a napkin or as large as a horse blanket.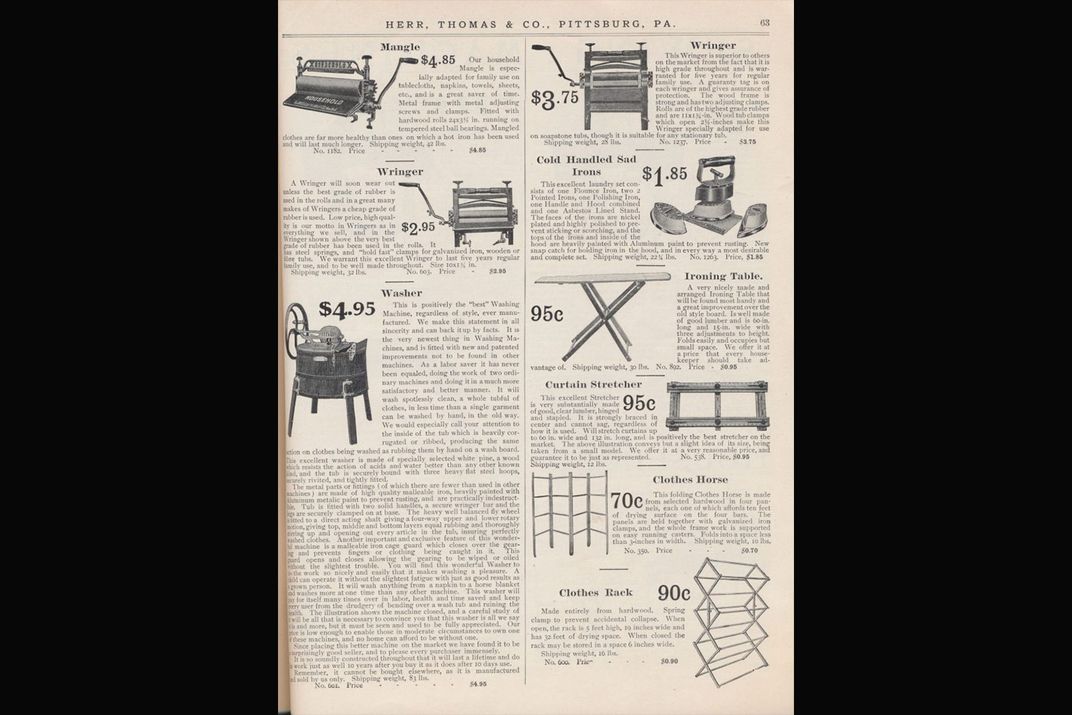 How did you communicate with family and friends in 1907? Perhaps a Biaphone was installed in the home, as illustrated below (bottom right). The Biaphone provided a means of communication between two rooms or two nearby buildings by using the same wiring as the electric bell or annunciator. It required wire 500 feet in length with a Biaphone installed at each end of the line. Maybe it was helpful for quick conversations between family members in separate rooms of a house or even with the next-door neighbor.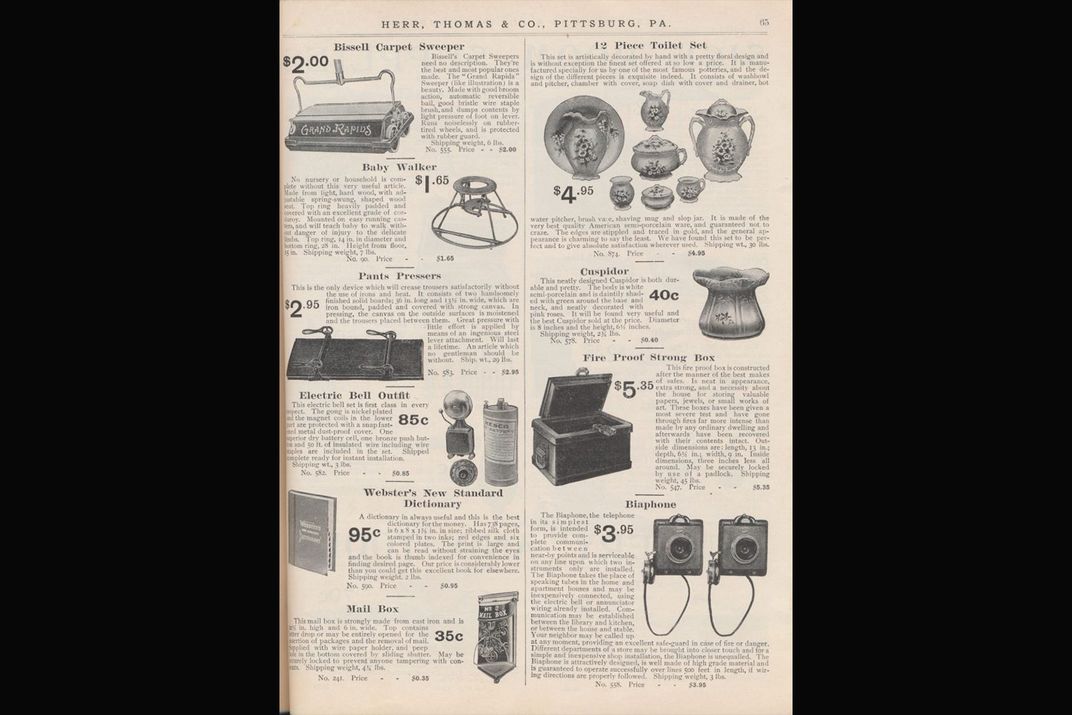 Another form of communion is letter writing. For that, a mailbox, such as the one shown above (bottom left), might have been handy. This Mail Box, manufactured of cast iron, was capable of being securely locked. It featured a letter drop, or slot, to deposit thin envelopes along with the ability to fully open the top to deposit thicker envelopes and remove mail. It also featured a wire paper holder and "peep hole in the bottom covered by sliding shutter."
Many other household necessities are illustrated in this section of the catalog such as a Pants Presser, for creasing pants without using an iron and heat, and the Fire Proof Strong Box, to securely lock and store important and valuable papers and belongings.
Spring & Summer Catalog (1915) by John Wanamaker and Catalogue No. 101 (1907) by Herr, Thomas & Co. are located in the Trade Literature Collection at the National Museum of American History Library.