NATIONAL MUSEUM OF THE AMERICAN LATINO
Picturing Catholic Girlhood: Religion, Portrait Photography, and Building Latina/o/x Collections
Where is religion in the history of girlhood? Dr. Monica L. Mercado explores objects, texts, and images that show how girlhood is constituted by religious ideas.
---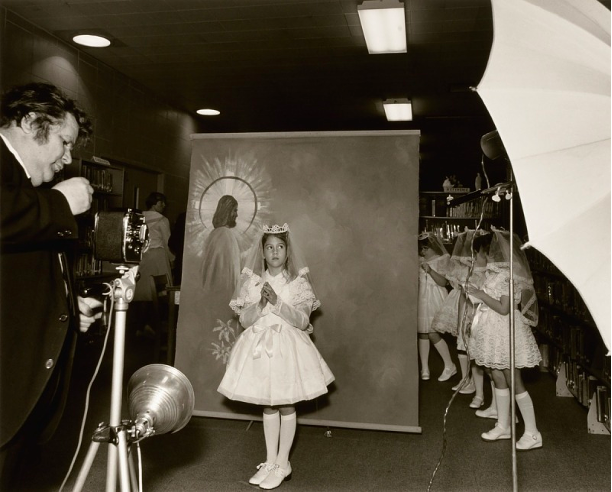 [Versión de este artículo en español disponible aquí.]
In her 2020 memoir, Once I was You, the Mexican-American journalist Maria Hinojosa narrates the moment she notices her cousins' first holy communion photos, "the ones of them at seven years old wearing veils like they were getting married." The young Hinojosa is both envious and horrified by what she sees in the photographs: "white frilly dresses, white lace gloves, white patent leather shoes." To her, these dress-up clothes represent one more step on a path towards marriage, motherhood, and following the rules. She wants access to the fancy veil and the pretty clothes, but without the limited expectations they might imply. 
When I read this passage, I felt a pang of familiarity. Unlike Hinojosa, I am Puerto Rican; my family first made their home in the United States on the upper west side of Manhattan, and not the South Side of Chicago. But as a historian of women and American Catholicism, I have long been fascinated by the visual artifacts of girlhood that Hinojosa remembers, suggesting to me a seemingly simple question: Where is religion in the history of girlhood?  
Pretty, pious, prayerful--the photographs that I study and that Hinojosa recalls from her youthful encounter offer a glimpse into expectations for faithful girls, and prompt us to ask what young women may have thought about these moments of religious formation. Inspired by the growing traces of girlhood in the Smithsonian's own collections, I use my own family archives to consider how we expand the study of girls' experiences, and the objects, texts, and images that show us how girlhood is constituted by religious ideas.   
This is my aunt, my father's sister. Carefully posed, all in white, her picture is an example of a phenomenon that crossed lines of race and class in North American Catholic communities: the first communion portrait. Even today, a child's first communion remains an important school and family undertaking, a milestone of religious childhood, and a consumer event. Educators train seven and eight year olds to receive the sacrament of the Eucharist, teaching them to understand bread and wine as the body and blood of Christ. Historians and religious studies scholars have since drawn attention to the formation of Catholic children in this moment: Susan B. Ridgely's
When I Was a Child
, highlights young participants' voices, while work on Catholic girls, specifically, focuses on the market for
first communion
dresses
.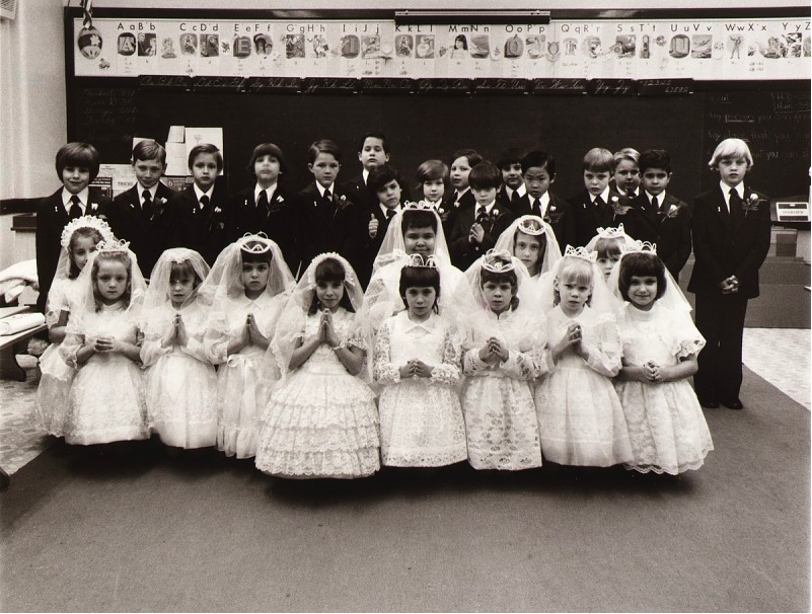 As I recover objects from my own family history, however, I am struck by the visual language of the formal portraits that so often marked this occasion, arranging the girl subject in a special, sacred tableau. At mid-century, in the classified sections of the city's Spanish-language newspapers like La Presnsa, Fotografós advertised their studios in between Farmacias and Funerarias. For wedding portraits, neighborhood photographers listed the availability of veils, crowns, bouquets, and even luxury car props. But for first communion portraits, they offered other backdrops, printed with the ubiquitous "Head of Christ" image popularized by artist Warner Sallman in the 1940s. Olimpia Colón's first communion portrait, taken in Brooklyn in 1943 presents one such image; when Supreme Court Justice Sonia Sotomayor shared family photographs with NPR in 2013, her First Communion portrait appeared, taken against a similar backdrop.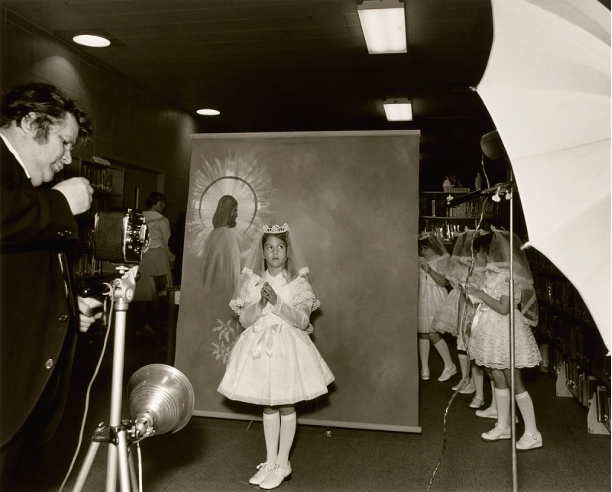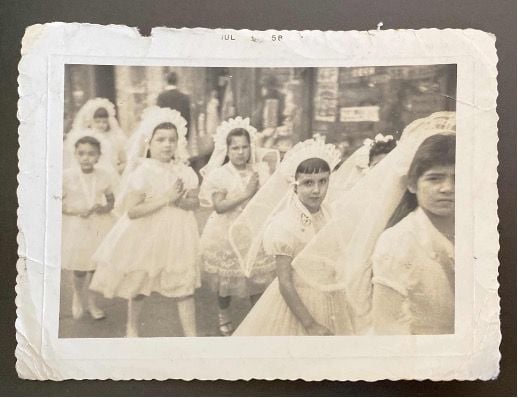 First Communion portraits of this era made visible a link between heaven and earth. What did girls think, carefully posing for images purchased as souvenir keepsakes of this day? How did it feel to see yourself reproduced in a photograph--framed on a shelf or hanging on a wall--at prayer, literally, in the shadow of a divine presence?
I do not know much about what my aunt's first communion day in 1958 looked or felt like, but I have some guesses. In this snapshot, she gazes straight ahead--third from the left, slightly out of focus. She does not look towards the camera, and she tries hard to keep her hands pressed in prayer, as she would have been taught to do. 
First Communion masses were a proving ground, one, I argue, that was often heightened for children of the Puerto Rican diaspora. In the New York Archdiocese, Puerto Ricans were considered Catholic in name only, and seen as a vast new mission field. If the church repeatedly complained that Puerto Rican men and women did not attend church or take the sacraments seriously, they were increasingly hopeful about the next generation. New York clergy learned from guest lecturers in the mid-1950s that if the island was any proof, mainland Puerto Ricans were on the verge of a sea change. "The preparation for First Holy Communion is very thorough," one speaker remarked. "One very disappointing feature of the first Communion—namely that it may be the last Communion for a long time—is gradually disappearing." 
So often, that expectation for thorough preparation, participation, and future engagement fell on the shoulders of young women. The late Puerto Rican writer Edward Rivera's Family Installments: Memories of Growing Up Hispanic (1982) provides readers with one such glimpse, from a 1950s first communion ceremony in upper Manhattan: 
Some sixty of us boys sat on the right-hand side of the center pews (best seats in the house); girls, more of them than of us, on the left...And the girls were wearing the same white dress, the same white imitation-lace mantilla, the same white shoes, knee-length stockings, and gloves that came halfway up their arms. They also had white plastic purses on leashes looped around their arms, white missals, and white rosaries, and instead of an arm ribbon they were holding a bouquet of artificial flowers. I thought they looked better than we did. They always did anyway, even when they were wearing hand-me-downs. Clean human beings—that's what they were—always neat. 
Rivera's narrator observes what the scholar Ann Braude would later summarize, simply, as the national condition: "In America, women go to church." But in the absence of women's own narratives of the same moment, we can also read through the lines. The burden of being pure and good--always neat, better Catholics--presented an expectation for girls' behavior, put upon them not only by adults, but also by their peers, the boys across the church aisle. 
Religious traditions shape our notions of "coming of age." When I encountered the Girlhood exhibition, I was drawn to the story of Sarah Leavitt's Bat Mitzvah–and Leavitt's gift of her scrapbook, dress, and snapshot to commemorate that rite of passage.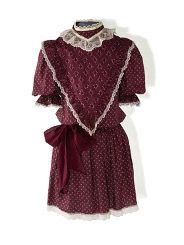 How do girls learn (and unlearn) religious beliefs and traditions? Who are their teachers? What do they teach themselves? As I recover stories of girls in my own family, and in my own faith tradition, I still don't have many answers, or first person narratives like Sarah's. To consider the Catholic sacraments as "coming of age" events is to recognize that age is a category of analysis, but one shaped by religion, as it is by race, gender, and class. In my own work, examining the uses and abuses of Catholic girlhood, I continue to seek out girls' own stories, but so often, all I have to work with are their representations, in text and image. The more we build new collections by reaching out to our own communities, the more we deepen an archive of girlhood that might allow girls to narrate their own religious experiences. 
Representación de la niña y la joven católica: Religión, fotografía de retratos y creación de colecciones latinas
En su autobiografía de 2020, Once I was you (Una vez fui tú), la periodista mexicana-estadounidense Maria Hinojosa narra el momento en que observa algo en las fotos de la primera comunión de sus primas: «las que las retratan a los siete años luciendo velos como si fueran a contraer matrimonio». La joven Hinojosa siente tanto envidia como horror frente a lo que ve en las fotografías «vestidos blancos con volantes, guantes de encaje blanco, zapatos de charol blanco». Para ella, esta vestimenta de disfraz representa un paso más en el camino al matrimonio, la maternidad y el cumplimiento de las reglas. Quiere acceder al velo elegante y las ropas bonitas, pero sin las expectativas limitadas que pueden implicar.
Cuando leí este fragmento, sentí una cierta familiaridad. A diferencia de Hinojosa, soy portorriqueña, mi familia primero formó su hogar en los Estados Unidos en el Upper West Side de Manhattan, y no en el South Side de Chicago. Pero como una historiadora de las mujeres y el catolicismo estadounidense, hace mucho tiempo que me fascinan los objetos visuales de la niñez que recuerda Hinojosa, que me sugieren una pregunta aparentemente sencilla: ¿Qué es la religión en la historia de una niña o una joven?
Bonitas, piadosas, entregadas a la oración, las fotografías que analizo y las que Hinojosa recuerda de su encuentro cuando niña permiten vislumbrar las expectativas para las niñas devotas, y nos hacen preguntarnos qué pueden haber pensado las jóvenes acerca de esos momentos de formación religiosa. Al inspirarme en los crecientes indicios sobre niñas y jóvenes en las propias colecciones del Smithsonian, recurro a mis propios archivos familiares para considerar cómo expandimos el estudio de las experiencias de las jóvenes, y los objetos, los textos y las imágenes que nos muestran cómo la vida de las niñas y las jóvenes está constituida por las ideas religiosas. 
Esta es mi tía, la hermana de mi padre. En una cuidada pose, toda de blanco, su fotografía es un ejemplo de un fenómeno que atravesó las fronteras de la raza y la clase en las comunidades católicas de Norteamérica: el retrato de la primera comunión. Incluso en nuestros días, la primera comunión de un niño sigue siendo un compromiso escolar y familiar importante, un acontecimiento de la niñez religiosa y un evento de consumo. Los educadores instruyen a los niños de siete y ocho años para que reciban el sacramento de la Eucaristía, y les enseñan a comprender que el pan y el vino son el cuerpo y la sangre de Cristo. Entretanto, los historiadores y los investigadores de estudios religiosos han llamado la atención sobre la formación de los niños católicos en este momento: En When I Was a Child (Cuando era una niña), Susan B. Ridgely pone en relieve las voces de las jóvenes participantes, a la vez que el trabajo en las niñas católicas, específicamente, se centra en el mercado de los vestidos de primera comunión.
Sin embargo, a medida que recupero objetos de mi propia historia familiar, me llama la atención el lenguaje visual de los retratos formales que con tanta frecuencia marcaban esta ocasión, en los que la niña aparece en un cuadro especial y sagrado. A mediados de siglo, en la sección de avisos clasificados de los periódicos en español de la ciudad, como La Prensa, los fotógrafos promocionaban sus estudios entre los anuncios de las farmacias y las funerarias. En el caso de los retratos de bodas, los fotógrafos del vecindario anunciaban la disponibilidad de velos, coronas, ramilletes de flores e, incluso, decorados de automóviles de lujo. Pero para los retratos de primera comunión, ofrecían otros telones, impresos con la omnipresente imagen de la «Cabeza de Cristo» que el artista Warner Sallman popularizó en la década de 1940. El retrato de primera comunión de Olimpia Colón, que se tomó en Brooklyn en 1943, presenta una imagen de ese tipo; cuando la jueza de la Corte Suprema Sonia Sotomayor compartió fotografías familiares con NPR en 2013, apreció su retrato de primera comunión, tomado con un telón similar.
Esta estética no era exclusiva de los vecindarios portorriqueños. Telones similares, vendidos a los fotógrafos de todo el país, se usaron durante décadas. En la contribución de Joan Clark Netherwood de 1978, Proyecto de Fotografía Documental de East Baltimore, por ejemplo, un grupo de muchachas espera ser fotografiado, y lucen coronas casi idénticas que imitan un aura que irradia desde la pantalla bidimensional del fotógrafo.
Los retratos de primera comunión de esta época hacen visible el vínculo entre el cielo y la tierra. ¿Qué pensaban las niñas que posaban cuidadosamente para las imágenes que se compraban com recuerdos de ese día? ¿Cómo se sentían al verse retratadas en una fotografía —en un marco sobre un estante o colgando en la pared—, rezando, literalmente, a la sombra de una presencia divina?
No sé bien qué aspecto tuvo o qué emociones despertó el día de la primera comunión de mi tía, en 1958, pero intuyo un par de cosas. En esta fotografía, ella mira hacia adelante, la tercera desde la izquierda, un poco fuera de foco. No mira directo a la cámara, e intenta con dificultad mantener las manos juntas en oración, como se le debe de haber enseñado.
Las misas de primera comunión son una prueba contundente, una que, según argumento, solía intensificarse para los niños de la diáspora portorriqueña. En la Arquidiócesis de Nueva York, se consideraba a los portorriqueños como católicos solo de nombre, y se los veía como un vasto campo nuevo para misionar. Si la iglesia se quejaba constantemente de que los hombres y las mujeres portorriqueños no iban a misa ni se tomaban los sacramentos en serio, cada vez tenía más puestas sus esperanzas en la próxima generación. Gracias a los oradores invitados a mediados de la década de 1950, el clero de Nueva York supo, que si la isla servía de evidencia, los portorriqueños del continente estaban al borde de un cambio abismal. «La preparación para la primera comunión es muy completa», recalcó una oradora. «Una característica muy desalentadora de la primera comunión que está desapareciendo gradualmente es que podría ser la última comunión durante mucho tiempo».
Con frecuencia, esta expectativa de preparación exhaustiva, participación y compromiso futuro caía sobre los hombres de las mujeres jóvenes. El fallecido escritor portorriqueño Edward Rivera en Family Installments: Memories of Growing Up Hispanic (Episodios de familia: Recuerdos de la infancia siendo hispano) (1982) les proporciona a los lectores una de esas miradas sobre una ceremonia de primera comunión de la década de 1950 en el Upper Manhattan. 
Alrededor de sesenta de nosotros, los muchachos, estábamos sentados en el lado derecho de los bancos de iglesia centrales (los mejores asientos); las muchachas, que eran muchas más que nosotros, estaban a la izquierda... Y todas las muchachas lucían el mismo vestido blanco, la misma mantilla blanca de encaje de imitación, los mismos zapatos blancos, calcetines tres cuartos y guantes que les llegaban hasta la mitad del brazo. También tenían bolsos de plástico blanco con correas que les envolvían las manos, misales blancos y rosarios blancos, y en lugar de una cinta en el brazo, sostenían un ramillete de flores artificiales. Pensé que se veían mejor que nosotros. Siempre lo hicieron, de todas maneras, incluso cuando usaban ropa de segunda mano. Seres humanos puros —eso es lo que eran—, siempre impecables.
El narrador Rivera observa lo que más adelante resumiría la investigadora Anne Braude, simplemente, como la condición nacional: «En los Estados Unidos, las mujeres van a la iglesia». Pero en ausencia de los propios relatos de las mujeres con respecto al mismo momento, también podemos leer entre líneas. El peso de ser puras y buenas —siempre impecables, mejores católicas— presentaba una expectativa de comportamiento para las jóvenes, impuesta no solo por los adultos, sino también por sus compañeros, los muchachos que estaban en la otra nave lateral de la iglesia.
Las tradiciones religiosas determinan nuestras nociones de «alcanzar la mayoría de edad». Cuando me encontré con la exposición Girlhood (it's complicated) [Niña (es complicado)], me llamó la atención la historia del Bat Mitzva de Sarah Leavitt, así como el regalo de su álbum de recortes, vestido y fotografía para conmemorar el rito de pasaje.
¿Cómo aprenden (y desaprenden) las niñas las creencias y las tradiciones religiosas? ¿Quiénes son sus maestras? ¿Qué se enseñan a sí mismas? A medida que recupero las historias de las muchachas de mi propia familia, aún no tengo muchas respuestas, o testimonios en primera persona como el de Sarah. Considerar los sacramentos católicos como eventos de «alcanzar la mayoría de edad» es reconocer que la edad es una categoría de análisis, pero una que está determinada por la religión, así como por la raza, el género y la clase. En mi propia tarea, al examinar los usos y los abusos de la niñez de las jóvenes católicas, continúo buscando las propias historias de las jóvenes, pero con frecuencia, todo lo que tengo para trabajar son sus representaciones, en texto y en imagen. Cuanto más creamos colecciones nuevas al conectarnos con nuestras propias comunidades, más profundizamos en el archivo de la niñez que puede permitir que las niñas narren sus propias experiencias religiosas.