NATIONAL MUSEUM OF THE AMERICAN LATINO
Just a Thought | Representation in Children's Books
Angelica Medina, Young Ambassador Program alumna reflects on the Latino Center's literacy initiative.
---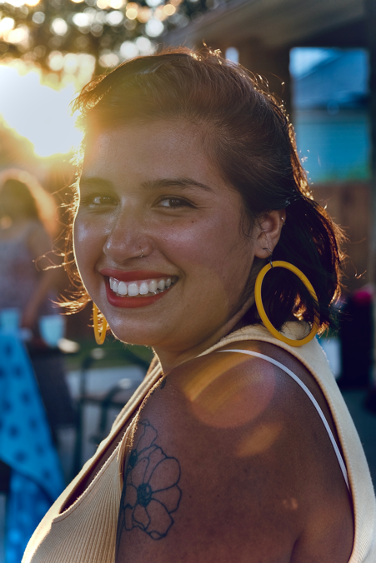 [Versión de este artículo en español disponible aquí.]
When I became a parent, reading to my kids quickly became one of the most important activities I would do with them. As a young child, I loved to read from an early age. My mom was a single mom for much of my early life and she was constantly encouraging me to read by taking me to the library and modeling her own love of books. I never saw myself represented in books, whether it was board books or young adult novels, where even in my imagination the characters were white. This lack of representation didn't start to bother me until I had children of my own.
After my first child, Esperanza, was born my partner and I were very intentional about curating her book collection. It was important that she had books in both English and Spanish, since I didn't learn Spanish until I was in high school. My grandmother didn't want her grandchildren struggling to communicate in English the way her family did, so learning Spanish was not a priority. I appreciate and understand her mindset much more now as an adult, but I wanted my children to feel connected to their roots and language is a large part of that. By the time our second child, Luzia was born, we had been able to sift through books and part with those that didn't reflect our values and culture. I would love for their collection to expand even further and tell stories of the diverse Latinx history before them. The literacy initiative that the Smithsonian Latino Center has launched with Nuestra América is a very exciting and necessary step for the future of children's literature. As a Latinx parent, seeing and hearing diverse stories is a high priority when I am choosing books for my kids. This not only includes Latinx stories, but stories where they are able to see people from all backgrounds and have insight into their experiences. Right now, finding stories that encompass all parts of the Latinx community – stories of LGBTQ, Disabled, Indigenous, Black and Afro-Latinx folks are almost impossible to find. As important as these stories are for Latinx kids, so they can see themselves in their books; all children, no matter their background, should read them too. In order to make progress towards acceptance and dismantle racism and discrimination, we have to start from within the home and shape the minds of future generations.
Looking towards the future, I am hopeful and excited about the work being done to achieve better representation for the Latinx community. Story time is a sacred time in my family. My kids love hearing their favorite stories and re-telling them back to us or to their toys during playtime. It brings me joy to see them take pride in the diverse stories of our community. Whenever fellow parents and caregivers ask me for advice on finding books and resources that showcase diversity, I encourage them to think about how they are actively enriching their own lives with education and exposure to the diversity of the Latinx community. Children follow the lead of the adults around them and we really must commit to having a better understanding of our own culture. When we are genuinely interested in the stories and spectrum of experiences, our children will be too. Keep reading, keep telling stories, your own and the ones that empower you, the future depends on it!
About the author
Angelica Medina is a 2009 alumna of the Young Ambassadors Program. She is a non-profit professional with over 5 year's experience with organizations such as Girls Who Code and most recently with the National Center on Domestic Violence, Trauma, and Mental Health. She is a graduate of DePaul University with a Bachelor of Arts degree in Intercultural Communication. Angelica is also the mother of two young girls and has recently undertaken a family move to China amid a global pandemic.
Representación en la literatura infantil
Desde que soy madre, leerles a mis niñas ha sido una de las actividades más importantes que hacemos juntas. Desde pequeña, siempre me ha gustado leer. Mi mamá, que fue madre soltera la mayor parte de mis primeros años de vida, siempre me animaba a leer. Me llevaba a la biblioteca y me mostraba su amor por los libros. Nunca me sentí representada en los libros, ya fuese en libros empastados o en las novelas para adultos jóvenes, porque siempre me imaginaba a personajes de raza blanca. Esta sensación de no sentirme representada solo empezó a incomodarme cuando tuve mis propias hijas.
Después del nacimiento de mi primera hija, Esperanza, mi pareja y yo nos ocupamos siempre de seleccionar los libros para su colección. Era importante que tuviese libros en inglés y en español, porque yo nunca aprendí español antes de llegar a la escuela secundaria. Mi abuela no quería que sus nietos tuvieran las mismas dificultades para comunicarse en inglés que había experimentado su familia; por eso, aprender español no era una prioridad. Ahora, como adulta, reconozco y entiendo mucho mejor su forma de pensar; sin embargo, quería que mis niñas se sintieran identificadas con sus raíces y el idioma es una parte importante de esa vinculación. Cuando llegó nuestra segunda hija, Luzia, ya habíamos podido examinar bien nuestros libros y deshacernos de los que no reflejaban nuestros valores y cultura. Me gustaría que sus colecciones de libros se ampliaran todavía más e incluyeran relatos de la diversa historia de la cultura latina que las precedió. La iniciativa de lectura emprendida por el Centro Latino Smithsonian con Nuestra América es un paso muy emocionante y necesario para el futuro de la literatura infantil. Como madre latina, la diversidad en las historias es una de mis prioridades al elegir libros para mis hijas. Estos no solo abarcan narraciones de la cultura latina, sino también historias en las que puedan ver a personas de diferentes culturas y observar sus experiencias. Por el momento, es casi imposible encontrar publicaciones que incluyan a toda la diversidad de la comunidad latina: relatos sobre personas LGBTQ, discapacitadas, indígenas, negras o afrolatinas. Si bien es cierto que esos relatos son especialmente importantes para los niños y niñas latinos/as porque pueden verse representados/as en ellos, todos los niños y niñas, sea cual fuere su cultura, también deberían leerlos. Con el propósito de avanzar hacia la aceptación de todos y acabar con el racismo y la discriminación, tenemos que empezar en la familia y contribuir a darle forma a la mente de las generaciones futuras.
Al mirar hacia el futuro, me siento esperanzada y entusiasmada acerca de la labor que se está haciendo para lograr una representación más adecuada de la comunidad latina. La hora de leer cuentos es sagrada para mi familia. A mis niñas les encanta escuchar sus cuentos favoritos y volver a contárnoslos a nosotros o a sus muñecas a la hora del juego. Me llena de alegría verlas cómo se sienten orgullosas cuando hablan de las diferentes historias de nuestra comunidad. Cada vez que otros padres y cuidadores me piden consejos para encontrar libros y recursos que muestren diversidad, les propongo que piensen en la manera en que están enriqueciendo activamente su propia vida con educación y exposición a la diversidad de la comunidad latina. Los niños y niñas siguen las pautas marcadas por los adultos que los rodean; por eso, debemos comprometernos realmente a entender mejor nuestra propia cultura. Cuando estemos interesados de verdad en las narraciones y la gama de experiencias, nuestros niños y niñas también lo estarán. Sigan leyendo, sigan relatando historias, las suyas y las que les dan poder, ¡porque de ello depende el futuro!
Acerca de la autora
Angélica Medina es exalumna del Programa de Jóvenes Embajadores (Young Ambassadors Program) del año 2009. Es una profesional sin fines de lucro con más de 5 años de experiencia en organizaciones como Girls Who Code y, más recientemente, en el Centro Nacional de Violencia Doméstica, Trauma y Salud Mental. Se graduó de la Universidad DePaul con una licenciatura en Comunicación Intercultural. Angélica también es madre de dos niñas y recientemente se mudó con su familia a China en medio de una pandemia mundial.