NATIONAL MUSEUM OF THE AMERICAN LATINO
The Importance of Latino Involvement in 2020 Census
Adán Chavez, an alumn of the Young Ambassadors Program Class of 2014, explains why the census matters.
---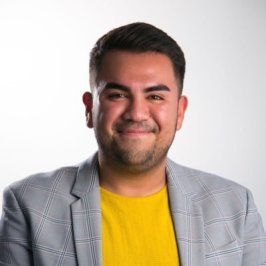 I was raised in California's Inland Empire – home to some of the most under-resourced and under-served Latinos in the state – where my working family felt the effect first-hand. Coming from a Latino community made it difficult to have a fair shot at getting the opportunities that other non-children of immigrants had. That's why I understood that I did not just want to help others – but that I had to. It was my responsibility to even the playing field so everyone could get an equal piece of the pie.
During my undergraduate career, I helped lead education equity campaigns – which led to an increase in the enrollment of Chicano/Latino students and additional support for programs that were once on the chopping block; immigrant justice campaigns – which established campus-wide sanctuary policies to protect undocumented students from immigration enforcement; and electoral organizing campaigns – that significantly increased Latino voter turnout in 2018. And most recently, I worked on a criminal justice campaign to reform the criminal justice system in California with UnidosUS, formerly known as the National Council of La Raza – the United State's largest Latino non-profit advocacy organization – and our sister organization.
This ultimately brought me to the National Association of Latino Elected and Appointed Officials or the NALEO Educational Fund – the nation's leading non-profit, non-partisan organization that facilitates full Latino participation in the American political process, from citizenship to public service – where I serve as the Deputy Director of our National Census Program and play a key role in supporting the implementation of our national campaigns, which seek to ensure a full and accurate count of the Latino community in Census 2020.
Historically, Latinos have been one of the most undercounted groups in the decennial census. According to a report released by the NALEO Educational Fund and Child Trends Hispanic Institute, Census 2010 missed almost 1 million children, and more than 400,000 – 40 percent – were very young Latino children, aged 0 through 4. When Latinos are not counted, we all miss out. That's why, as the nation's second largest population group, being counted in Census 2020 is an opportunity for us to ensure we receive our fair share of political representation and resources for our schools and communities. There is strength in numbers and there is power in standing up to say we live here, we work here, and we will be counted here!
It is important to know that Census 2020 is not cancelled because of COVID-19. It is actually well underway! As we face this public health crisis, participating in the Census now helps secure funding for our communities. In fact, emergencies like the COVID-19 pandemic are precisely why the government needs accurate Census data. And luckily, it has never been easier to respond on your own, whether online, over the phone or by mail – all without having to receive a knock at the door from a census taker!
Now more than ever, complete and accurate data of Latinos is critical for our country's civic, social, and economic well-being. Just like we are all first responders, we must also be census takers and make sure that our community is counted. After all, we only have one opportunity to get this right, and responding to the Census today, will help ensure a better tomorrow.
Get the latest information by texting "CENSUS" or "CENSO" to 97779. You can also call our bilingual national hotline at 877-EL-CENSO to get any of your Census-related questions answered. For additional resources and informational materials, visit www.hagasecontar.org and www.hazmecontar.org.
[Note: The last date to complete the census has changed and has been disputed. That date has been removed to prevent any confusion. Please visit https://2020census.gov/ for the latest information.]