NATIONAL MUSEUM OF THE AMERICAN LATINO
We Are Still Here: The First Taíno Movement Exhibition
The exhibition "Taíno: Native Heritage and Identity in the Caribbean" complicates Caribbean heritage and captivates visitors by reassessing the past, present and future of Native peoples and their legacies in Cuba, the Dominican Republic, Puerto Rico, and their U.S. diasporas. Taíno
---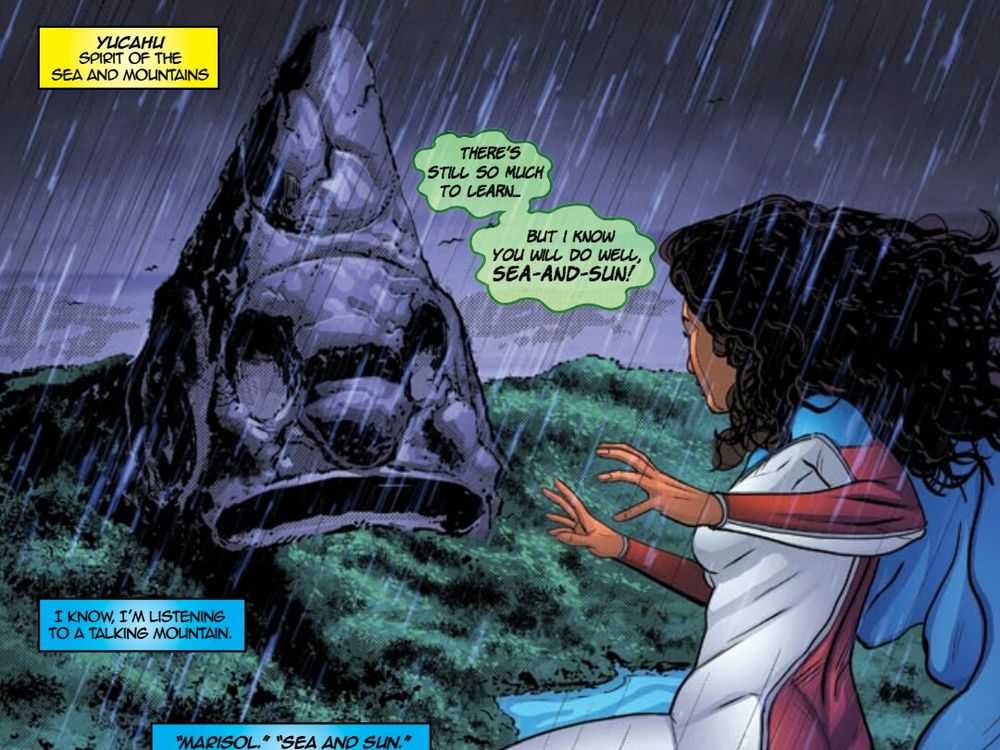 [Para leer este artículo en Español, por favor, pasa al fin para obtener una traducción.]
"At the heart of such a view of authenticity is a belief that Indigenous cultures cannot change, cannot recreate themselves and still claim to be Indigenous. Nor can they be complicated, internally diverse or contradictory. Only the West has that privilege." Linda Tuhiwai Smith in Decolonizing Methodologies: Research and Indigenous peoples
The exhibition "Taíno: Native Heritage and Identity in the Caribbean" complicates Caribbean heritage and captivates visitors by reassessing the past, present and future of Native peoples and their legacies in Cuba, the Dominican Republic, Puerto Rico, and their U.S. diasporas. Taíno peoples, the first Indigenous group in the Americas that clashed against colonization (they encountered Christopher Columbus and the Spanish Empire in 1492 and in subsequent decades), are generally believed to be 'extinct'—a word not used for 'great civilizations', these civilizations 'fall'. There is an irony in asserting the continued existence of Taíno peoples within the larger context of colonization; it can suggest that even the first peoples that encountered the onslaught of the conquistadors also resisted the fiction of absolute genocide. The global Indigenous peoples' assertion, "We are still here," benefits from the voice of its first combatants against colonization in the Americas. Let's quickly focus on the 'we' part of that claim.
Beyond questioning Taínos' 'survival' and assuming the unquestionable fact of their cultural influence in the Caribbean today, Taínos' biocentric worldview perspective adds to the international Indigenous contrasting view against the Western anthropocentric worldview that is responsible for global issues such as climate change. An anthropocentric worldview frames most human activity with a focus on human progress. A biocentric worldview frames most of human activities with a focus on the wellbeing of the eco-system or the world as a biological unit. The Indigenous origin stories collected by Fray Ramón Pané c. 1498 on the island of Hispaniola are tied to ideas around femininity, fertility and water through the figure of Atabey, a creator being with five names; Atabey-Yermao- Guacar-Agapito-Zumaco. The Taíno exhibition showcases the survival of the foundation of that biocentric 'we' through contemporary ancestral practices such as hammock-making in Puerto Rico, canoe-making in the Dominican Republic and teaching medicinal plant knowledge in Cuba, among others. The exhibition also illustrates the complicated context of Native survival in the racially and cultural mixed (and contested) spaces of the Caribbean. Perhaps the 'we' part is more about how a given group, nation or civilization conducts itself—the practices and postures it assumes in relationship to others and the surrounding world. Similar to many other international Indigenous movements, contemporary Taíno worldviews are very heavily concentrated on how we conduct ourselves towards planetary life. This is a view that can help guide us in surviving the global crisis of climate change, and address issues like food sovereignty and environmental injustice.
To state from a Taíno and Indigenous worldview at large, "We are still here," means something different outside a Western perspective. Time, life, death and humans are not separable entities from each other; they are intricately entangled, not just connected. In the Popol Vuh (a foundational text of the K'iche' Maya), the things of the world were first created in a two-way dialogue between nature and humans. This is markedly different from the Biblical Creator who commands, "Let there be light…" etc., and who created man in "His own image." Taíno origin stories also suggest a two-way conversation between Atabey and her sons, Yucahu and Guacar. This is why there are representations of human figures in nature, and why most human activities are directed towards nature. The imagery of past leaders or caciques in petroglyphs and cemíes (spiritually alive ritual objects) are not just representations of them, they are them. This is also why time is not linear when referring to representations of peoples and spiritual beings; the past perpetually can be the present particularly when invoked through ritualistic activities such as the areíto, the Taíno dance ceremony.
The final part of the Taíno exhibition showcases a different view of the Taíno 'we' by juxtaposing examples of contemporary visual culture with ancestral Taíno objects—Edgardo Miranda-Rodríguez's comic book La Borinqueña with a cemí, and Alberto (Bert) Correa Jr.'s Taíno skateboard design with a carved stone depicting ancestors, etc. Unsurprisingly, Indigenous philosophies view 'we' or 'being' very differently from other philosophies and worldviews. The question of existence or 'survival' is therefore reframed. There is little doubt that many Caribbean peoples have a biological connections to Indigenous ancestors, yet as we know genes are not culture; the term 'we' makes more sense culturally than biologically. From an Indigenous cultural perspective, to claim a different 'we' is to assert the humanity that colonization endeavored to take away. This is what the Taíno movement, communities and this exhibition teaches us: that to assert the complexity that existing entails further humanizes us, and it can even contribute to the continuing survival of all of us in this world.
---
Carlos Rivera Santana is a research associate at CENTRO Hunter College, CUNY, currently researching Puerto Rican and Caribbean visual culture from a decolonial and critical cultural studies perspective. Before being a research associate, Dr. Rivera Santana was based in Australia for over seven years where he completed his PhD and was a lecturer (assistant professor) specializing in cultural and postcolonial studies, and international Indigenous philosophies at The University of Queensland. Before that he completed his MA and BA at the University of Puerto Rico. His book entitled "Archaeology of Colonisation: From Aesthetics to Biopolitics" was published by Rowman & Littlefield International within the book series "Critical Perspectives on Theory, Culture and Politics".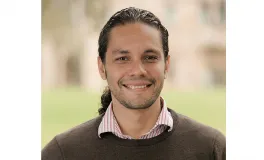 "Estamos Aquí": La primera exposición sobre el movimiento taíno
de Carlos Rivera Santana, M.A., Ph.D.
"Al centro de semejante entendimiento de la autenticidad está la creencia que las culturas indígenas no pueden cambiar ni crearse de nuevo y aún afirmar que son indígenas. Tampoco pueden ser complicadas, internamente diversas o contradictorias. Solo al Occidente se le concede ese privilegio." Traducción de Linda Tuhiwai Smith en Decolonizing Methodologies: Research and Indigenous Peoples.
La exposición "Taíno: Herencia e Identidad Indígena en el Caribe" destaca la complejidad del patrimonio del Caribe; invita a sus visitantes a reconsiderar el pasado, presente y futuro de pueblos indígenas y sus legados en Cuba, la República Dominicana y Puerto Rico (y además, dentro de sus diásporas estadounidenses). Los taínos, el primer grupo indígena en enfrentar la colonización en América (recordemos que fueron los que encontraron a Cristóbal Colón y su tripulación en 1492), se creían estar extintos—una palabra que se no se usa para describir el fin de las llamadas grandes civilizaciones, pues éstas caen. Hay cierta ironía en reafirmar la existencia de pueblos taínos dentro del contexto amplio de la colonización; esto podría sugerir que hasta los primeros pueblos que enfrentaron la agresión de los conquistadores efectivamente también resisten la ficción del genocidio absoluto. La consigna de los pueblos indígenas del globo "estamos aquí", adquiere aún más fuerza cuando se suman las voces de sus primeros combatientes contra la colonización en América. Enfoquémonos rápidamente en el "nosotros" implícito en la consigna y cómo se ve el mundo desde ésa subjetividad.
Por encima del debate de la supervivencia de los taínos y reconociendo su incuestionable influencia cultural en el Caribe actual, está la perspectiva biocéntrica taína que se suma a la posición política internacional indígena que se opone a la perspectiva antropocéntrica occidental que es responsable por la crisis global que ya está generando el cambio climático. La perspectiva antropocéntrica se centra en la actividad humana con un marco orientado hacia el progreso del ser humano y nada más. La cosmovisión biocéntrica centra la actividad humana con un marco orientado hacia el bienestar del ecosistema o del mundo como una unidad biológica. Las historias de creación del mundo indígena recogidas (con limitaciones) por Fray Ramón Pané, c. 1498, en la isla de La Española están enmarcadas con ideas sobre la femeneidad, la fertilidad y el agua mediante la figura de Atabey, un ser creador con cinco nombres: Atabey-Yermao- Guacar-Agapito-Zumaco. La exposición taína nos muestra la supervivencia de la raíz biocéntrica que compartimos mediante prácticas ancestrales contemporáneas como el tejido de las hamacas en Puerto Rico, la construcción tradicional de las canoas en la República Dominicana y la enseñanza de las plantas medicinales en Cuba, entre otras. La exposición también ilustra el contexto complicado de la sobrevivencia indígena en espacios del Caribe que son racial y culturalmente mixtos, e impugnados. El "nosotros" indígena de la consigna muy probablemente se trata de cómo algún grupo, nación o civilización en particular se debería comportar—las prácticas y posturas que se asumen en relación a otros y a su entorno. Como muchos otros movimientos internacionales indígenas, las cosmovisiones de los grupos taínos se concentran fuertemente en cómo comportarnos hacia la vida planetaria. Esta cosmovisión podría guiarnos a todxs para sobrevivir la crisis global del cambio climático y responder a asuntos como la soberanía alimentaria y la justicia ambiental.
Declarar desde una cosmovisión taína e indígena global "estamos aquí", significa algo muy diferente a lo que significaría desde una perspectiva occidental. Desde éstas cosmovisiones, el tiempo, la vida, la muerte y los seres humanos no son entidades independientes o desgajadas de su contexto; son complejamente interdependientes, no solo están conectadas. En el Popol Vuh (un texto fundamental del pueblo maya k'iche'), las cosas del mundo primero fueron creadas mediante un diálogo entre la naturaleza y los seres humanos. Esto es netamente distinto del creador bíblico quien crea mediante mandato "que se haga la luz..." etc., y quien creó al 'hombre' "a Su propia imagen y semejanza". Las historias de creación taína también sugieren una conversación entre Atabey y sus hijos, Yucahu y Guacar. Por eso hay representaciones de figuras humanas en la naturaleza y por eso la mayoría de actividades humanas se dirigen hacia la naturaleza. Las imágenes de líderes o caciques antiguos en petroglifos y cemíes (objetos rituales espiritualmente vivos) no son solo representaciones de ellxs—estos objetos son ellxs mismos. Además, por eso es que el tiempo no es lineal cuando uno se refiere a las representaciones de personas y de seres espirituales; el pasado se puede manifestar en el presente perpetuamente, en particular cuando se le invoca a través de rituales como el areíto, la danza ceremonial taína.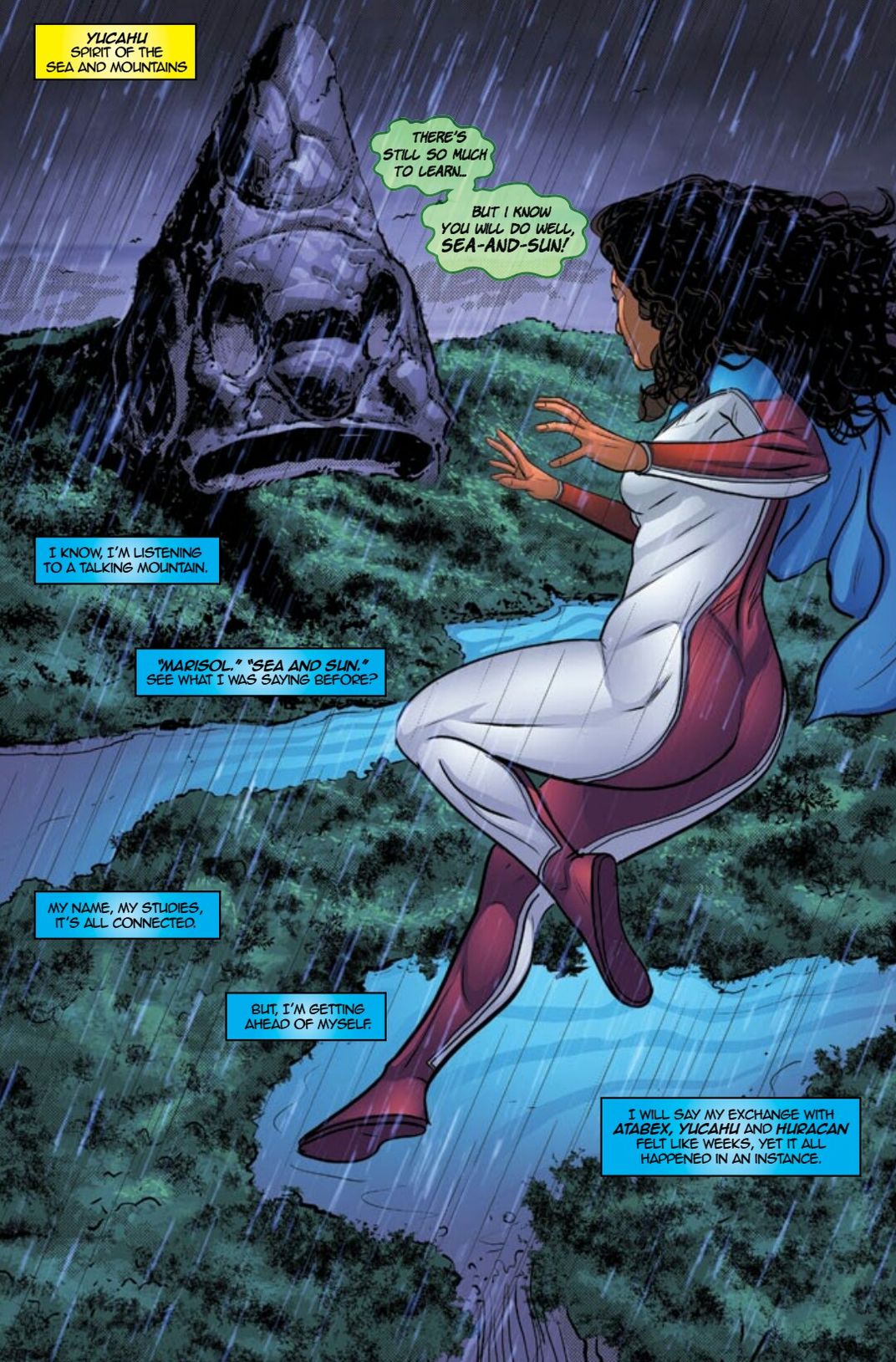 La última sección de la exposición da otra perspectiva sobre el reclamo de la identidad taína cuando crea un diálogo entre la cultura visual contemporánea y objetos ancestrales taínos—la historieta La Borinqueña de Edgardo Miranda-Rodríguez con un cemí, y el diseño taíno de patineta de Alberto (Bert) Correa, Jr. con un petroglifo representado ancestros, etc. No sorprende que las filosofías indígenas entienden a las ideas, como el nosotros o el somos, de manera muy diferente a otras filosofías o cosmovisiones. La cuestión de existir o sobrevivir se entiende desde otro marco. Quedan pocas dudas acerca de las conexiones biológicas entre las poblaciones del Caribe y sus ancestros indígenas, pero como sabemos, la genética no es cultura. La idea de supervivencia tiene más sentido desde una perspectiva cultural que biológica. Desde una perspectiva indígena, reclamar un "nosotros" diferente es reafirmar la humanidad que el proyecto de la colonización intento acabar. Esto es lo que el movimiento y las comunidades taínas, además de esta exposición nos enseña: que afirmar la complejidad de la existencia de los pueblos es humanizarnos, y hasta nos podría ayudar a la continuación de la supervivencia de todxs en este planeta.
---
Carlos Rivera Santana es un investigador asociado de CENTRO Hunter College, CUNY, quien actualmente investiga la cultura visual de Puerto Rico y el Caribe desde una perspectiva de estudios culturales críticos de decolonización. Antes de ser investigador asociado, Dr. Rivera Santana estaba basado en Australia por más de siete años donde completó su PhD y fue profesor asistente con especialización en estudios culturales y poscoloniales, y filosofías internacionales indígenas en la Universidad de Queensland. Previamente, completó su maestría y bachillerato en la Universidad de Puerto Rico. Su libro "Archaeology of Colonisation: From Aesthetics to Biopolitics" fue publicado por Rowman & Littlefield International dentro de la serie de libros "Critical Perspectives in Theory, Culture and Politics".