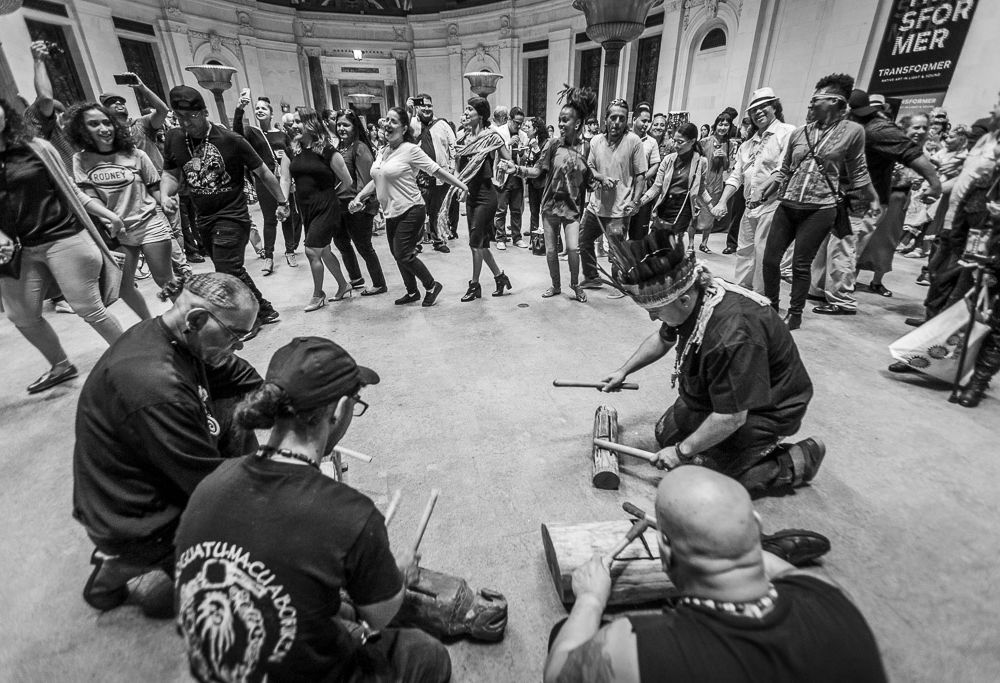 On a wet September evening in the financial capital of the world and belly of modernity's beast, a few hundred people gathered within the grand halls of the Alexander Hamilton U.S. Customs House, home to the Smithsonian's National Museum of the American Indian in New York City. They were there to celebrate the opening of the exhibition "Taíno: Native Heritage and Identity in the Caribbean" and its companion program "Taíno: A Symposium in Dialogue with the Movement." Below the rotunda's elegant dome and surrounded by murals memorializing scenes of European explorers and colonists to the Americas, those who proclaimed themselves the descendants of the first Native peoples to greet Columbus and the first to be declared "extinct," sounded their conchs, beat their drums, and shook their maracas, making space for a spontaneous areíto (revived Taíno group dance) to erupt. Leaders and members of different Taíno communities united for the first time clasping hands in meandering chain formation, stepping together, smiling together, and moving forward together with intent.
Fifty years ago, one would be hard-pressed to find anyone that identified as Taíno, or as Indigenous from the Greater Antilles. While Taíno were/are officially acknowledged as having contributed to the cultural and/or biological make-up of Caribbean island nations like Puerto Rico and the Dominican Republic, albeit in ways imagined as limited and insignificant, Taíno as a distinct people were/are generally accepted to be no more. Twenty-five years ago, Caribbean people who claimed Native-descent and dared identify and organize as Taíno peoples were commonly met with suspicion and ridicule, if not pathologized and dismissed. Yet today, Taíno are gaining increasing visibility and acceptance, and attracting greater curiosity, with the label "Taíno" proliferating as an identity construct and organizing principle.
So what has changed, and how and why does a Latino, a Dominican, or Nuyorican come to see themselves and get accepted as Taíno? To understand who the Taíno are, and what being or becoming Taíno means today, one must go beyond simple narratives of Indigenous survival, as there are not always clear-cut cultural, genetic and/or geographic continuities, but rather complex histories of mixture, rupture, and transformation. While much has survived, much has also been lost or forever changed.
From the ruins and debris of centuries-old colonialisms, Taíno today are forced to revive, reconstruct, and reimagine those elements of their heritage that were not allowed to survive. From adopting and adapting ceremonies gifted by other Indigenous Peoples, researching and reintroducing the areíto and other Native Caribbean rituals, to forming yukayekes (place-based communities) or social organizations, contemporary Taíno embody the need, place and value of creating and making Taíno culture and peoplehood anew for the 21st century.
The old and survived, new and reconstructed elements of Taíno resurgence reflect a type of ethnogenesis. Simply put, ethnogenesis refers to the emergence of an entirely new and distinct group of people, or to the redefinition of a pre-existing group over time. I would argue that Taíno are actually a complex expression of both, predicated on an ethical commitment to historical redress and intergenerational healing, cultural suturing and regeneration towards a sense of peoplehood denied by the structures and scripts of colonialism.
Like other Indigenous Peoples, Taíno are the products of a post-Columbian world: of genocidal and assimilative forces bringing about Indigenous death, and of resistance, adaptation and decolonization insisting upon Indigenous life. Although Native peoples, histories, philosophies and cultures stretch back millennia, without post-1492 colonialism, there would be no "Indigenous," there would be no "Taíno" (as a label that clusters together the Arawak-speaking Natives of the Greater Antilles).
The term "Taíno" itself emerges from the colonial encounter, noted in Columbus' diary, and reintroduced by 19th century archeologists and linguists. "Taíno" was most likely not a term of identity and social organization used by the many Native groups inhabiting and moving about the Caribbean before and during colonization. They most likely had very local ways of identifying that reflected specific geographic features, histories and kinship networks, and that were dynamic and subject to change. "Taíno" has nonetheless become a broadly accepted term to encompass the diverse pre-Columbian peoples of the Greater Antilles as well as to refer to indio/a- or Native-descent peoples of the region today.
A mosaic of historic, cultural, political, and social factors work together to lay the groundwork for the formation and development of modern Taíno identities and ways of belonging. For example, interactions with other Indigenous Peoples of the Americas, their cultures, politics and lives, have exposed Caribbean people – particularly those in the diaspora – to notions of Indigenousness that exist outside the framework of "extinction" or absorption into the nation. The impact of global, regional, and national discourses of indigeneity help to reinterpret some rural lifeways identified with the broader Caribbean's campesino culture (e.g. jíbaro culture in Puerto Rico or guajiro culture in Cuba) through an Indigenous lens and reframe them as fundamentally (a transformation of) Taíno. Discourses of indigeneity also help to replace historically pejorative and colonial terms like "india/o" with the unambiguously positive and empowering "Taíno" and "Indigenous."
From a disappeared people to contentious minority identity, the current Smithsonian exhibition marks a turning point in Taíno ethnogenesis. It reflects a shift in mainstream understandings of the Caribbean by celebrating its Native legacies and viewing them as part of Caribbean people's patrimony, while simultaneously recognizing modern Taíno as heirs to that legacy and taking their resurgence movement seriously within a museum that represents contemporary Indigenous realities. The grand areíto of unity at the exhibition's opening reception signals the progress of Taíno life today: Taíno are many, Taíno are diverse, Taíno are in process; but above all, Taíno are moving forward together as a people that embody the will, ingenuity, and agency to be and become as they determine.
Christina M. González is a doctoral candidate in sociocultural anthropology at the University of Texas at Austin. She is currently undertaking her PhD fieldwork on Taíno ethnogenesis, looking at Taíno cultural identity formation and development among transnational Puerto Ricans in New York City. She is a Wenner-Gren and National Science Foundation fellow and was part of the research and curatorial team for the Smithsonian exhibition "Taíno: Native Heritage and Identity in the Caribbean".
###
El renacimiento de un pueblo indígena caribeño: la etnogénesis taína
por Christina M. González
En una noche húmeda de septiembre en la capital financiera del mundo y las entrañas de la bestia de la modernidad, unos cuantos cientos de personas se reunieron en los grandiosos pasillos de la antigua casa de aduanas estadounidense Alexander Hamilton, el edificio del Museo Nacional del Indígena Americano del Smithsonian en Nueva York. Estaban juntos para celebrar la apertura de la exposición "Taíno: Herencia e Identidad Indígena en el Caribe" y el relacionado programa "Taíno: Un simposio en diálogo con el movimiento". Bajo el domo elegante de la rotunda y rodeados por murales que conmemoran escenas de exploradores y colonos europeos en las Américas, aquellos que se proclamaban los descendientes de los primeros pueblos indígenas en conocer a Colón y los primeros en ser declarados "extinguidos", soplaron sus trompetas de concha, tocaron sus tambores e hicieron vibrar sus maracas, creando un espacio para la formación espontánea de un areíto (un baile en grupo taíno que se ha revivido). Los líderes y miembros de distintas comunidades taínas se unieron por primera vez, sonrientes y agarrados de la mano, dando pasos en una formación ondulante y avanzando juntos hacia delante.
Hace cincuenta años hubiera sido difícil encontrar a alguna persona que se identificara como taíno o indígena de las Antillas Mayores. Mientras que los taínos tienen el reconocimiento oficial de haber contribuido a la esencia cultural y/o biológica de naciones caribeñas como Puerto Rico y la República Dominicana (aunque en modos que se imaginan como limitados o insignificantes), la noción de los taínos como un pueblo aparte generalmente no existía. Hace veinticinco años, las personas caribeñas que reivindicaban su ascendencia indígena y que tenían el coraje de identificar y organizarse como pueblos taínos comúnmente fueron sospechados y ridiculizados, también patologizados y desestimados. Sin embargo, actualmente los taínos están encontrando mayor visibilidad y aceptación, además de despertar curiosidad; la etiqueta taíno está proliferando como un elemento en la construcción de identidades y la organización de grupos.
Entonces, ¿qué ha cambiado? ¿Cómo y por qué un latino, dominicano o nuyorican terminan identificándose y recibiendo aceptación como taínos? Para entender quiénes son los taínos y que significa ser taíno o recuperar esta identidad en el presente, hay que ir más allá de simples narrativas de supervivencia indígena debido a que frecuentemente no hay continuidades claras a nivel cultural, genético y/o geográfico sino que hay complejas historias de mezcla, ruptura y transformación. A pesar de que hay mucho que ha sobrevivido, también hay mucho que se ha perdido o cambiado por siempre.
De las ruinas y los escombros de siglos de colonialismos, los taínos del presente están obligados a revivir, reconstruir y reimaginar a aquellos elementos de su herencia que no fueron permitidos a sobrevivir. Adoptando y adaptando ceremonias regaladas por otros pueblos indígenas, investigando y reintroduciendo el areíto y otros rituales indígenas caribeños, formando yukayekes (comunidades de lugar) u organizaciones sociales, los taínos contemporáneos incorporan la necesidad, el lugar y el valor de crear y rehacer la cultura y el pueblo taíno para el siglo XXI.
Lo antiguo y lo sobreviviente, además de los elementos nuevos y reconstruidos del resurgimiento taíno reflejan un tipo de etnogénesis. Basicamente, la etnogénesis se refiere a la emergencia de un grupo de personas enteramente nuevo y distinto, o a la redefinición de un grupo existente a través del tiempo. Argumento que los taínos son una expresión compleja de ambas, basada en un compromiso ético a remediar la historia, a la sanación intergeneracional y reconectar y regenerar la cultura con el fin de definirse como un pueblo, cosa negada por las estructuras y recetas del colonialismo.
Como otros pueblos indígenas, los taínos son el producto de un mundo post-colombino: de las fuerzas de genocidio y asimilación que resultaron en las matanzas de indígenas y de la resistencia, adaptación y descolonización que insisten en la supervivencia de la vida indígena. Aunque los pueblos indígenas y sus historias, filosofías y culturas sean milenarias, sin la colonización que surgió después de 1492, no existirían los conceptos de "indígena" ni de "taíno" (como una etiqueta que agrupa a los indígenas de habla arahuaca de las Antillas Mayores).
El término "taíno" en sí resulta de un encuentro colonial apuntado en el diario de Colón y reintroducido en el siglo XIX por arqueólogos y lingüistas. "Taíno" probablemente no fue un término usado para calificar a la identidad u organización social de los muchos grupos indígenas que habitaban y se movían por el Caribe antes y durante la colonización. Probablemente tenían un sentido de identidad muy local que reflejaba su específico entorno geográfico y sus historias y redes familiares, además de ser una identidad dinámica y cambiante. Sin embargo, "taíno" se ha convertido en un término ampliamente aceptado para reunir a los diversos pueblos precolombinos de las Antillas Mayores y además para referirse a los indios o personas de descendencia indígena en la región actualmente.
Un mosaico de factores históricos, culturales, políticos y sociales trabajan en conjunto para formar la base del desarrollo de identidades y modos de ser taíno en el presente. Por ejemplo, interactuar con otros pueblos indígenas de las Américas y sus culturas, visiones políticas y vidas personales, han expuesto a personas caribeñas—particularmente aquellos en la diáspora—a ideas sobre lo que es ser indígena que existen fuera del marco de "la extinción" o de la asimilación a la nación. El impacto de los discursos globales, nacionales y regionales sobre lo indígena ayuda a reinterpretar algunos de los modos de vivir identificados con el campesinado caribeño en general (e.g. la cultura jíbara en Puerto Rico y la guajira en Cuba) mediante una perspectiva indígena para reconfigurarlos como (una transformación de lo) taíno. Discursos sobre la indigeneidad también ayudan a reemplazar términos peyorativos y coloniales como "india/o" con "taíno" e "indígena" que son inequívocamente positivos y comunican autonomía personal.
De pueblo desaparecido a identidad de minoría contenciosa, la actual exposición del Smithsonian marca un hito en la etnogénesis taína. Refleja un cambio en el entendimiento popular del Caribe que celebra sus legados indígenas identificándolos como parte del patrimonio de sus pueblos, mientras que simultáneamente reconoce a los taínos actuales como los herederos de ese legado, tomando en serio a su movimiento de resurgimiento dentro de un museo que representa la realidad contemporánea de los pueblos indígenas. El gran areíto de unidad durante la recepción de apertura de la exposición señala el progreso de la vida taína actual: los taínos son muchos, los taínos son diversos, los taínos están en proceso; pero, ante todo, los taínos están progresando como un pueblo que encarna la voluntad, facultad y capacidad para ser y hacerse como ellos mismos determinen.
Christina M. González es candidata a doctorado en antropología sociocultural en la Universidad de Texas en Austin. Actualmente está completando sus investigaciones de campo para su PhD sobre el tema de la etnogénesis taína, estudiando la formación y el desarrollo de la identidad cultural taína entre puertorriqueños transnacionales en la ciudad de Nueva York. Es becaria de la Fundación Wenner-Gren y la Fundación Nacional para la Ciencia, además de haber formado parte del equipo de investigación y curaduría para la exposición "Taíno: Herencia e Identidad Indígena en el Caribe" del Smithsonian.