New Smithsonian exhibition explores the legacy of Native peoples in the Greater Antilles and their contemporary heritage movement
We're forever trying to make sense of history, and especially our place in it. The Caribbean is fraught with especially painful questions around historical narrative that reflect a fundamental disconnection between the islands' peoples today and their historical writers of the past five hundred years.
On July 28 in New York City, the National Museum of the American Indian and the Smithsonian Latino Center are opening "Taíno: Native Identity and Heritage in the Caribbean," which explores the legacy of the Native peoples in the Spanish-speaking Greater Antilles—the epicenter of the early European conquest and colonization in the Americas—and offers a context for understanding the growth of the Taíno Native heritage movement across Cuba, the Dominican Republic, Puerto Rico and their diaspora in the United States. The Taíno movement emerged in the late 1970s and today includes diverse groups of Native-descent individuals, often with rural roots and indio-identified family members. For a people whom most history books use as the emblematic case of Indigenous extinction, it's amazing to see how alive the presence of the Caribbean's First Peoples is in the hearts and souls of their descendants. While many caribeños* have Native ancestry, most do not identify themselves as Native; instead, many Caribbean Latinos' local identities understand themselves as being fundamentally mixed-race in a social context that has historically favored lighter skin and proximity to Whiteness. Nonetheless, caribeños are excited by Taíno legacies because these are so deeply ingrained in the spirituality, geography, iconography, folklore, and general lifeways of their islands' familiar rural cultures.
This topic of Native roots is of keen interest to visitors of Cuban, Dominican and Puerto Rican descent at the National Museum of the American Indian. When they go into the museum they often ask to see the artifacts that the Taíno—their cultural if not also genetic ancestors—left behind. While you can get your pre-Columbian archaeological fix in this exhibition, our point is to go beyond 1492 and to explore Native legacies as alive, valuable, and relevant to the present. Taíno peoples and other Caribbean Natives taught important lessons about survival and adaptation to the European and African newcomers to the islands. Native societies were decimated throughout the Americas, but the Native peoples of Cuba, the Dominican Republic, and Puerto Rico did not all just disappear within a few generations after 1492 as a result of disease, abuse, or demographic replacement. Though fragmentary, archaeological, historical, and genetic evidence is emerging which defies the idea Taíno extinction.
The archival records for much of the Caribbean are lacking and have a colonial context that, agendas aside, makes little room for documenting rural life or the ethnic complexities of its peoples. Nonetheless, work by Cuban historians, archeologists, and other researchers in collaboration with Native Cuban communities, is recovering the island's Native history during its colonial period and into the present. On the other hand, Puerto Rico and the Dominican Republic need more accessible research around this topic; there, historical texts mention Native communities into the late 1700s and early 1800s. This absence is countered with many family stories and abundant popular lore, in addition to emerging genealogical documents (all of which require scrutiny), that represent the historical evidence for the survival of small Native communities and family groups across the Greater Antilles.
What does the Native knowledge of the Caribbean offer its people today? How do Native peoples figure in in our visitors' ancestral stories? How do Native legacies coexist with Blackness? For most Latino visitors of Caribbean-descent—and there are a few of them in the New York City region—these questions get to the core of our constructions of history. "Taíno: Native Heritage and Identity in the Caribbean" makes the question of Native presence and knowledge pertinent to the present, and will stimulate new ways of thinking about ancestry, identity, and the legacy of Columbus and European colonization.
*Words like caribeños or Latinos are gendered male in the Spanish language, but also function grammatically as an all-gender plural. For ease of reading, gender-inclusive endings like a/o, x, or @ have not been used in this article.
**********
Contemplando la relevancia: Una exposición taína más allá de la arqueología y de Colón
Una nueva exposición del Smithsonian explora el legado de los pueblos indígenas de las Antillas Mayores y de su movimiento de herencia contemporáneo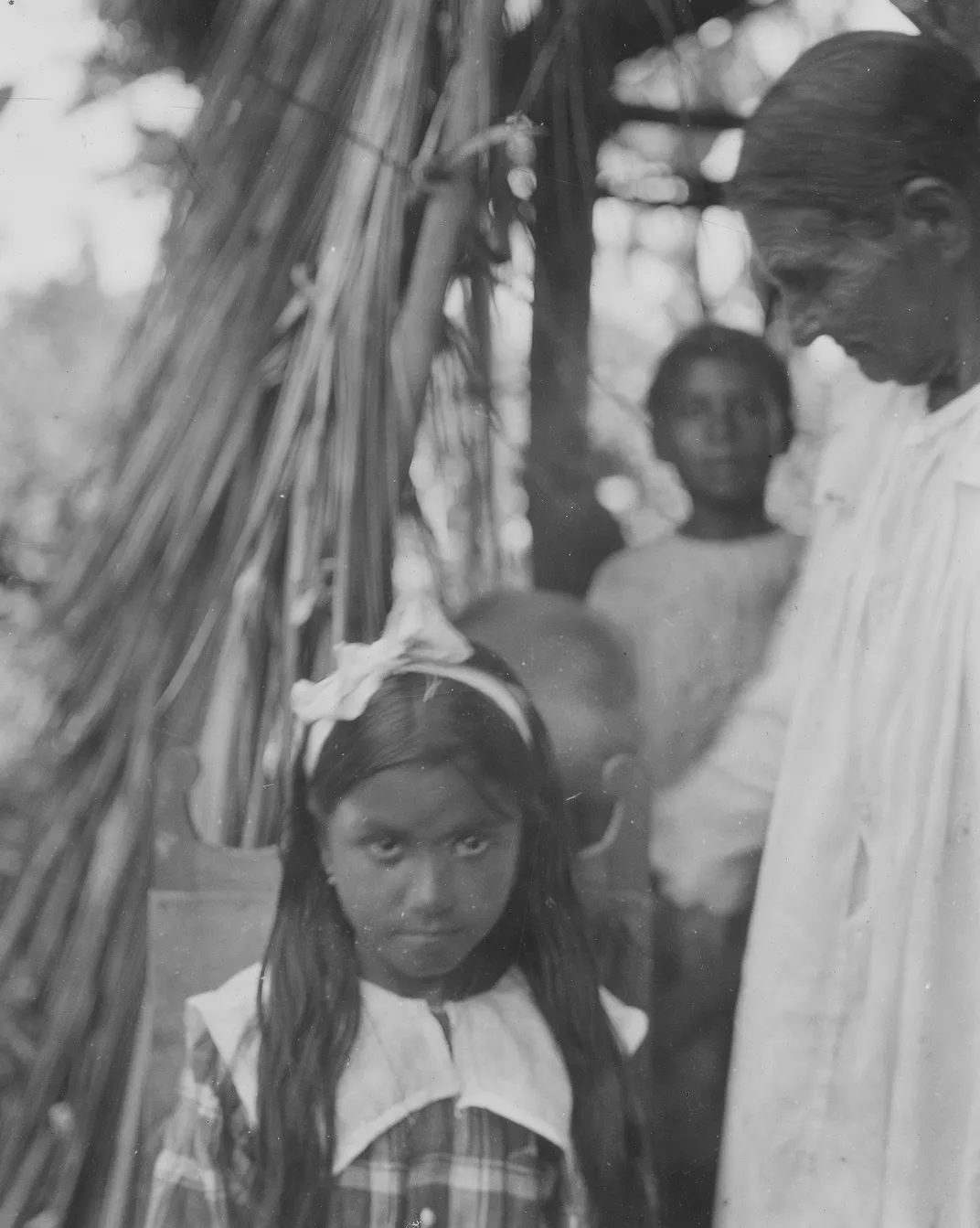 Nunca terminamos de darle sentido a la historia, especialmente en cuanto a nuestro lugar en ella. El Caribe está repleto de preguntas particularmente dolorosas en torno a una narrativa histórica que refleja una desconexión fundamental entre los pueblos de las islas y sus escritores de historia de los últimos quinientos años.
El 28 de julio en la ciudad de Nueva York, el Museo Nacional del Indígena Americano y el Centro Latino Smithsonian estrenan "Taíno: Herencia e Identidad Indígena en el Caribe" que explora el legado de los pueblos originarios de las Antillas Mayores hispanohablantes—el epicentro de la temprana conquista y colonización europea en las Américas—y ofrece un contexto para entender el crecimiento del movimiento de herencia indígena taína a través de Cuba, la República Dominicana, Puerto Rico y sus diásporas en Estados Unidos. El movimiento taíno surgió a finales de los años 1970 y hoy en día incluye a diversos grupos de personas de descendencia indígena, frecuentemente con raíces rurales y familiares quienes se auto-identifican como indios. Para un pueblo que se trata como el caso emblemático de la extinción indígena en la mayoría de libros de historia, es impresionante ver lo presente que están los pueblos nativos del Caribe en los corazones y las almas de sus descendientes. Aunque muchos caribeños tienen ancestros indígenas, la mayoría no se identifica como tal. Más bien, las identidades locales de muchos caribeños latinos se basan fundamentalmente en una construcción multi-racial y mestiza dentro de un contexto social que históricamente se presta al colorismo y al blanqueamiento. Sin embargo, el legado taíno emociona a los pueblos caribeños porque está tan arraigado en la espiritualidad, la geografía, la iconografía, el folclor y los modos de vida de las culturas rurales de las islas.
El tema de las raíces indígenas es de gran interés para los visitantes de descendencia cubana, dominicana y puertorriqueña en el Museo Nacional del Indígena Americano. Cuando entran al museo frecuentemente piden ver los artefactos hechos por los taínos—sus antepasados culturales, sino genéticos. Mientras que puedes satisfacer tu gusto por la arqueología en nuestra exposición, nuestro motivo es ir más allá de 1492 para explorar los legados indígenas como algo vivo, de valor y relevante al presente. Los pueblos taínos y otros indígenas caribeños les enseñaron lecciones valiosas de supervivencia y adaptación a los recién llegados europeos y africanos. Las sociedades indígenas fueron diezmadas por toda América, pero los pueblos indígenas de Cuba, la República Dominicana y Puerto Rico no desaparecieron completamente dentro de un par de generaciones después de 1492 como resultado de la enfermedad, el abuso y el remplazamiento demográfico. Aunque fragmentaria, hay evidencia arqueológica, histórica y genética que emerge retando la idea de la extinción taína.
Los archivos en la mayoría del Caribe son incompletos y tienen un contexto colonial que, aun apartando la ideología de sus autores, no abren mucho espacio para documentar la vida rural o las complejidades étnicas de sus pueblos. Sin embargo, trabajos liderados por historiadores, arqueólogos y otros investigadores en colaboración con comunidades indígenas cubanas, están recuperando la historia indígena de la isla desde el período colonial hasta el presente. A la vez, hay necesidad de más investigaciones accesibles sobre este tema en Puerto Rico y la República Dominicana; ahí, los textos históricos mencionan comunidades indígenas hasta los finales del siglo XVII y comienzos del XVIII. Esta ausencia encuentra una respuesta en las muchas historias familiares y la abundante tradición oral, además de documentos genealógicos nuevos (todos requiriendo mayor investigación) que representan la evidencia histórica para la supervivencia de comunidades y grupos familiares pequeños a través de las Antillas Mayores.
¿Qué le puede ofrecer el conocimiento indígena a los pueblos del Caribe de hoy en día? ¿Cómo figuran los pueblos indígenas en las historias ancestrales de nuestros visitantes? ¿Cómo convive el legado indígena con la negritud? Para la mayoría de visitantes de descendencia caribeña—y hay unos cuantos un Nueva York—estas preguntas responden a nuestras construcciones de la historia. "Taíno: Herencia e Identidad Indígena en el Caribe" hace el asunto de presencia y conocimiento indígena pertinente al presente, y estimulará nuevos modos de entender a los ancestros, la identidad y el legado de Colón y la colonización europea.
*Para facilitar la lectura (y sin propósito de exclusión), sigo la costumbre gramatical de usar términos masculinos/genéricos, en vez de usar alternativos como caribeña/o, caribeñx o caribeñ@