A Summer Internship That Focuses on Inspiring Leaders and Changemakers
Nearly 100 interns from across the country learn first-hand how museums and cultural organizations address some of today's most critical challenges in their work
---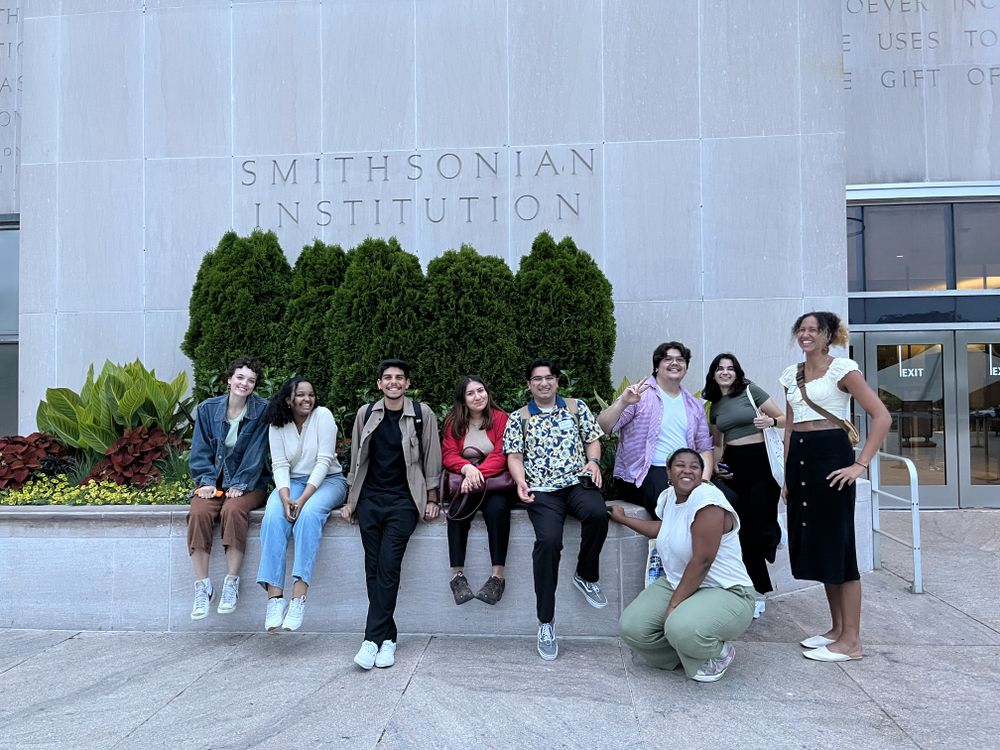 At the Smithsonian Institution, we believe in the power of museums and cultural organizations to strengthen and transform our world. One of the ways we nurture this power is through our Leadership for Change Internship, developed and led by Smithsonian Affiliations. This summer, nearly 100 young leaders interned at the Smithsonian and Affiliate organizations across the nation, helping museums effect change in their communities. 
Unlike many museum internships, Leadership for Change interns are not required to have museum experience, or even an intention of pursuing a museum career. The key qualifications for Leadership for Change interns is that they are committed to helping communities and passionate about social justice. Over the summer, these changemakers become museum advocates and explore new ways to bring museum content, resources, and expertise to communities near and far. Their understanding of and commitment to social justice and leadership are strengthened through meaningful, hands-on projects as well as access to mentors and leaders in the field.  
Our 2023 interns came from schools across the country, with a particular emphasis on Historically Black Colleges and Universities, community colleges, rural institutions, and students who identify as first-generation college students. All interns are paid the equivalent of a living wage through stipends and either provided housing or an additional housing stipend. The intention is to address financial concerns as a barrier to participation, and our data supports this: 96% of interns in 2023 said they would not have been able to participate in the internship if it were unpaid.  
Leadership for Change internship projects focus on one or more of four core topics: climate change, race and social justice, women's history, and the Changing American Narrative, which includes immigration, education, civics, democracy, and other national issues. Interns use their dedication, skills, and experience to explore how museums and cultural organizations tackle these key challenges of our time. Their project may include supporting outreach and education, working with collections and artifacts, helping develop exhibitions and other materials, drafting communications and social media posts, or participating in any number of other institutional functions. 
Intern projects are as varied as their locations. At the Smithsonian National Museum of the American Indian, interns researched efforts to diminish indigenous cultural sovereignty. At the Phillip and Patricia Frost Museum of Science in Miami, Florida, interns created a poster exhibition explaining blue carbon sinks and their impact on the local ecosystem. At the Sam and Alfreda Maloof Foundation for Arts and Crafts in California, interns worked with museum collections to expand the visibility of artist Alfreda Maloof.  
In addition to their main projects, interns also participated in virtual enrichment programming with industry and community leaders from the Smithsonian and program partners at the Emerson Collective, The George Washington University, and others. These discussion sessions covered both the varied interests of interns and some of the hard and soft skills they'll need in the future; examples included a conversation about Life on a Sustainable Planet with Dr. Ellen Stofan and Dr. Kirk Johnson, workshops on financial literacy and using LinkedIn, and insights and advice from activist and philanthropist Deborah Santana.  
The learning and benefits of this program are not limited to the interns. In addition to supporting the work of participating museums, Leadership for Change interns bring new perspectives, energy, and ideas to their host institutions. Many of the program's supervisors say that they learn just as much as their interns over the course of the summer. One of the evergreen struggles of museum practice is ensuring that a diversity of experience and views are represented in our work, and these interns provide those diverse perspectives and challenge the status quo. As one intern supervisor expressed, "The interns inspired us to be our best selves." 
2023 Leadership for Change Intern Mohammad Samhouri spent the summer at the Smithsonian's National Postal Museum, where he used stamps to tell stories often left out of the historical narrative: "My intern project expanded the Postal Museum's  Stamp Stories  video series by creating companion Smithsonian Learning Lab collections. I chose to expand on the videos [focused] on Telescopes and Day of the Dead by showcasing more about space stamps through the collection of Dr. Sally Ride, the first American woman in space and the first known LGBTQIA+ astronaut; and ethnic & religious holidays also featured on USPS issued stamps."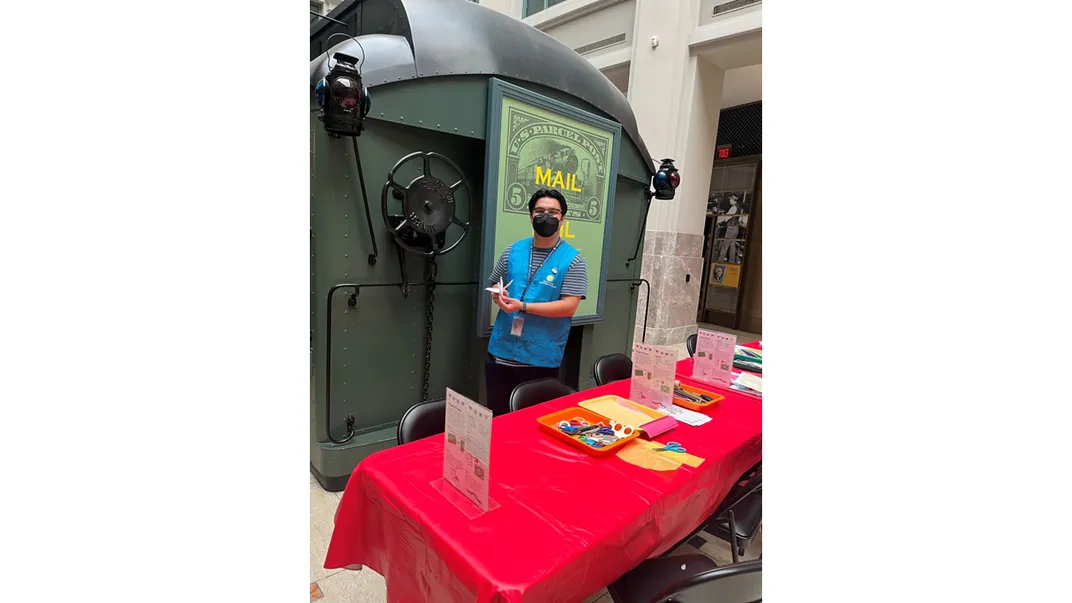 Like many of our Leadership for Change interns, Moh found ways to apply his own passions and interests in an unfamiliar field: "The Leadership for Change internship, in my eyes, opened up so many different opportunities for me. I not only got to get a feel for office work and culture, but I also got to delve a bit into a field I wasn't necessarily accustomed to or prepared for. I've never worked in or even envisioned myself working in an education field, but I got the hang of the work I had to do quickly and to my surprise, curating content for children when you're typically writing for adults isn't as hard as it seems! This internship showed me that getting experience in a field unrelated to something you've done before isn't necessarily a bad thing. The adjustment period may be a bit longer depending on what is new about what you're doing, but supervisors and other staff will be there to help you along the way! The Smithsonian staff I worked with were amazing and made me feel right at home, and navigating the internship and the D.C. area for two months with my fellow LfC interns was an experience I'll cherish for life." 
While Moh was exploring Washington D.C., intern Shakinar (Shark) Mutulili was having her own adventures on the other side of the country: "Anchorage, Alaska is one of the most diverse cities in the United States; however, this diversity was not fully reflected in the Anchorage Museum archives. The museum aspires to be more than a mere building; it aspires to be a center of cross-cultural interaction, promoting the values of inclusion and accessibility both inside the organization and throughout the community it serves. The aim of my internship was to broaden the archives to incorporate the diverse lives and experiences of the Anchorage community and to provide a space for them in the archives, giving a platform to people whose voices and histories have long been ignored.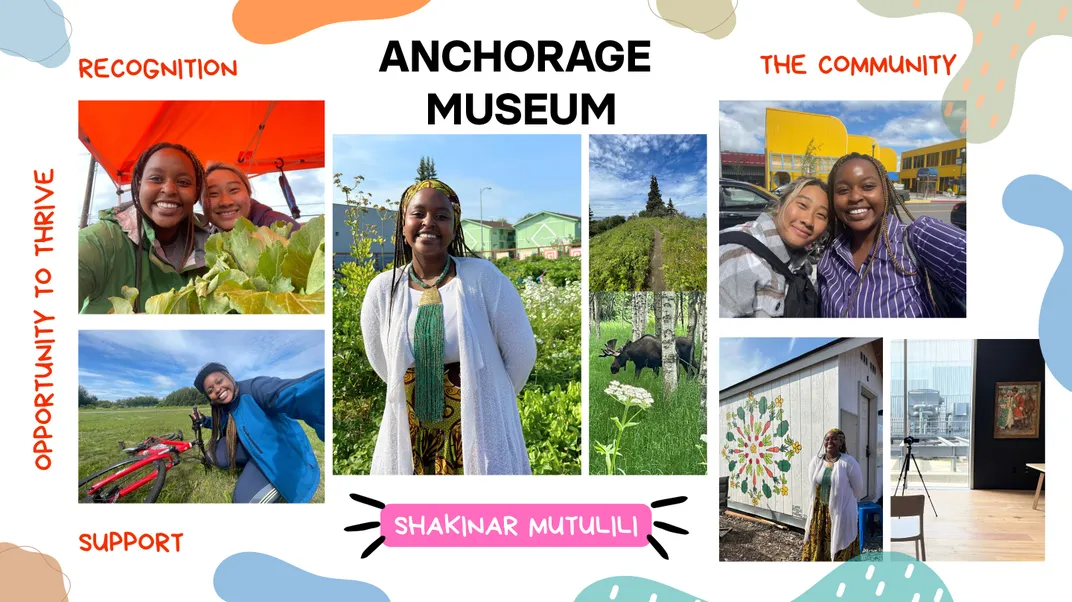 "This internship added to my portfolio of experiences. The world of museums is not as narrow or as niche as I first imagined. I particularly resonated with museum outreach and education.
Given that I had never been to Alaska before, I was concerned about my ability to interact with the Anchorage community. This, however, ended up being the most memorable part of my experience. During my time volunteering at the Refugee Assistance and Immigration Services (RAIS) co-op farm, I was welcomed, respected, and involved. I observed people from all over the world supporting and mentoring one another despite cultural differences and barriers to communication. It was the relationships built and the friends that I met at the farm that left the most lasting impact on me."
For more information about the internship program, email the Smithsonian Affiliations staff at [email protected].
---
Editor's Note: The Leadership for Change Internship program at the Smithsonian is made possible thanks to the generous support of an anonymous donor, the Seedlings Foundation, Do A Little Foundation, and Ms. Nancy L. Pasternack. Philanthropic support is essential to the Smithsonian's ability to provide meaningful learning experiences through paid internships. To learn more about sponsoring an intern, email Mark Mills, Associate Director of Advancement, Smithsonian Office of the Under Secretary for Education at [email protected].