A Simulation into Space Supports Students' Skills in STEAM
A future astronaut headed to Mars could be in your classroom. A new program from the National Air and Space Museum provides a memorable learning experience that builds on student interests and hones engineering and design skills
---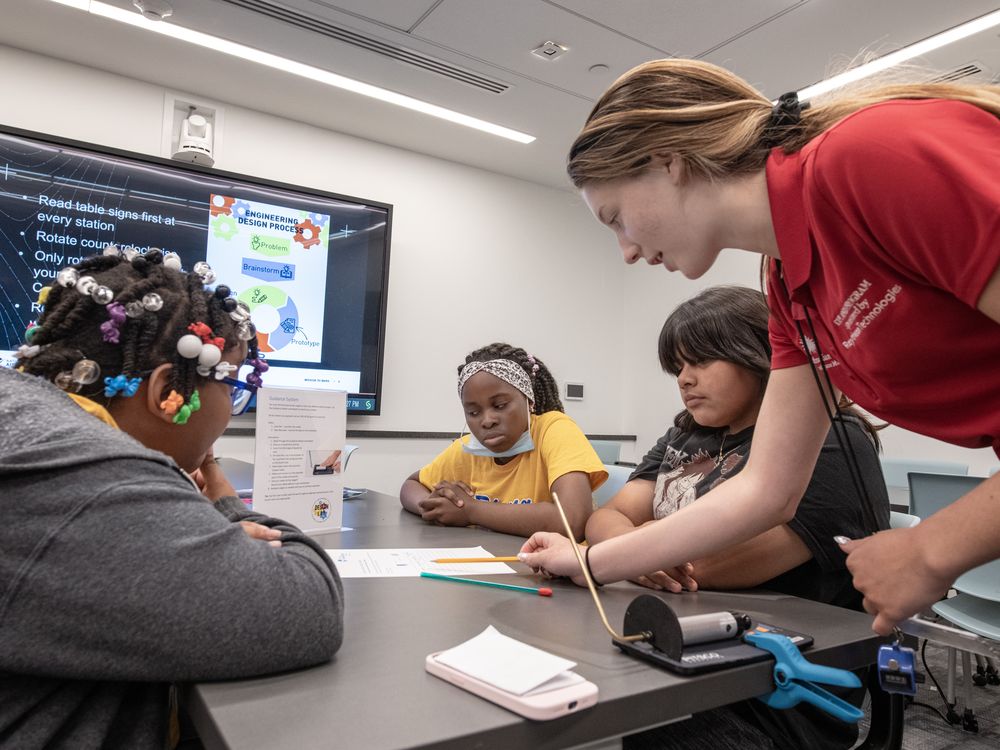 If given the chance, would you go to Mars? Over the past year, I have had the opportunity to visit seven different District of Columbia Public School (DCPS) classrooms to pose this question to almost 300 5th graders. As expected, the range of responses varies from a hard "no" to "why not?" This question launches into a five-week discovery into different challenges in space exploration and skills that support these efforts.
What Does It Take to Go On A Mission To Mars?
Mission to Mars is a transdisciplinary program that incorporates coding concepts and practice, scientific research using non-fiction texts, engineering practices using hands-on design challenges, and topography and how it influences where we explore on space missions. The culminating project of this experience is for each student to draw a map and code their Ozobot (spacecraft) on its mission using the route depicted on their map. Students must include at least five different codes for their spacecraft that illustrate potential mission experiences. For example, a student could include the words "nitro boost" or "fast" on their map to symbolize a rocket launching out of Earth's atmosphere.
The first four sessions focus on providing key background knowledge for students to create their final map during the culminating session. During session one, students learn about the Red Planet by answering research questions in pairs using nonfiction texts. Session two explores what's in space and how we get there by participating in a field trip to the National Air and Space Museum in downtown Washington D.C. At the museum, students observe the sky in a Planetarium Show, learn more about spacecraft and space travel in the museum galleries, and work in small teams during a design challenge to build a rocket. Next, students discover the terrain of Mars and the challenges of coding a rover on the surface of Mars. After exploring the terrain of Mars, students learn more about the challenges of sending people to Mars and participate in a habitat design challenge that explores how atmospheric pressure impacts structures. The program is aligned to Next Generation Science Standards (NGSS) and Common Core Standards, and provides multiple opportunities for students to explore coding. While coding is a skill, it also supports the development of critical thinking skills, such as creativity and problem-solving. When asked for feedback, one of the science teachers we partnered with shared that:
"When we started the Mission to Mars program, my students lit up as they were introduced to new and exciting robots and were able to interact with things I could not provide to them...  Students were able to recall these experiences with their parents and the parents provided me with amazing feedback about what their children were doing!"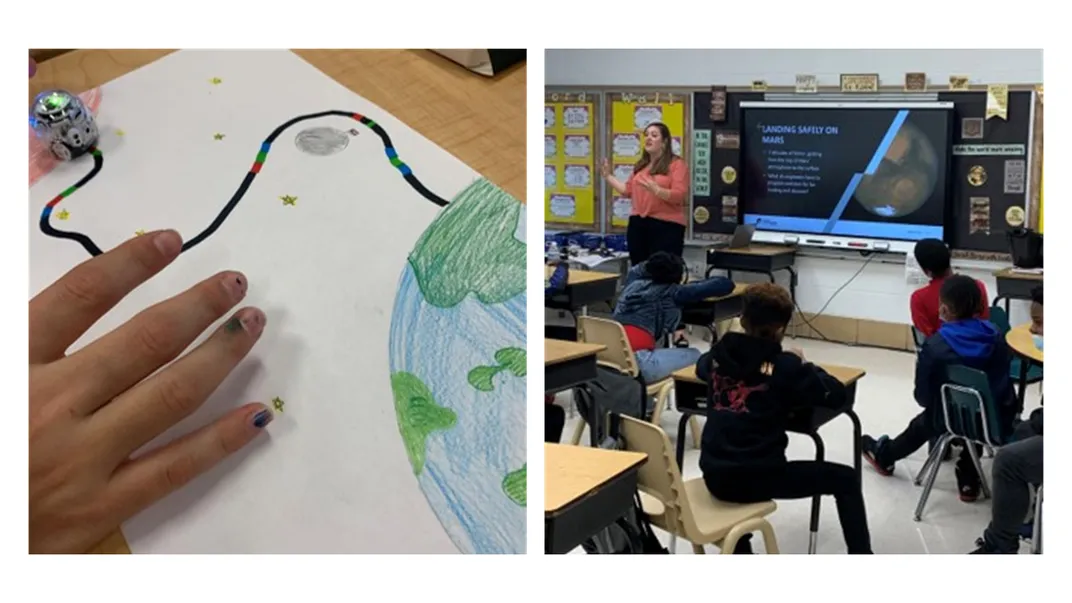 While this program is generally intended to spark interest in space exploration and build coding skills, core components embedded within each session are collaborative work and hands-on design challenges. Learning is social activity; making learning social and collaborative allows students to share, change, and reflect on ideas with peers providing social and emotional growth opportunities. Design challenges invite students to problem solve, consider multiple approaches and responses, and experience the importance of failure and iteration in the design process; thus, fostering skills critical to success in our complex 21st century global society.
Iterative Design through Collaboration with Educators
Mission to Mars, developed initially for summer school and camp experiences in 2021, has evolved extensively over the past two years. Museum staff Bevin James, former Explainers Program Coordinator, and Julia Orr, S.H.E. Can Aviation Program Manager, collaborated with the Tulsa Regional STEM Alliance (TRSA) and The Opportunity Project (OPP) to develop and deliver a two-week virtual program to elementary school students in Tulsa, Oklahoma that engaged around 661 3rd- 6th grade students. The Museum also partnered with the Cooper Hewitt, Smithsonian Design Museum for a modified one-week summer design camp focused on investigating the tools that astronauts and scientists use in space.
During Summer 2021, I worked alongside Nichole Thomas, the Aerospace Educator in Residence at the National Air and Space Museum from June 2020-2023, to launch the program as a summer school experience at two Loudoun County Schools (LCPS)- Leesburg Elementary School and Meadowland Elementary School- and one District of Columbia Public School (DCPS)- Noyes Elementary. In LCPS, teachers participated in content training to personalize and then implement five lessons for approximately 180 students, in grades K-5. One of the teachers participating commented in an evaluation survey:
"The Summer Enrichment Program was and is awesome! I gave this program the highest rating because as a teacher not only did I learn some new and amazing things but the students did as well while having fun learning. What's better than that? The students were eager, engaged, and had an amazing time learning about the wonderful lessons this program offered. This rating is well deserved and I will implement some of these awesome lessons in my class."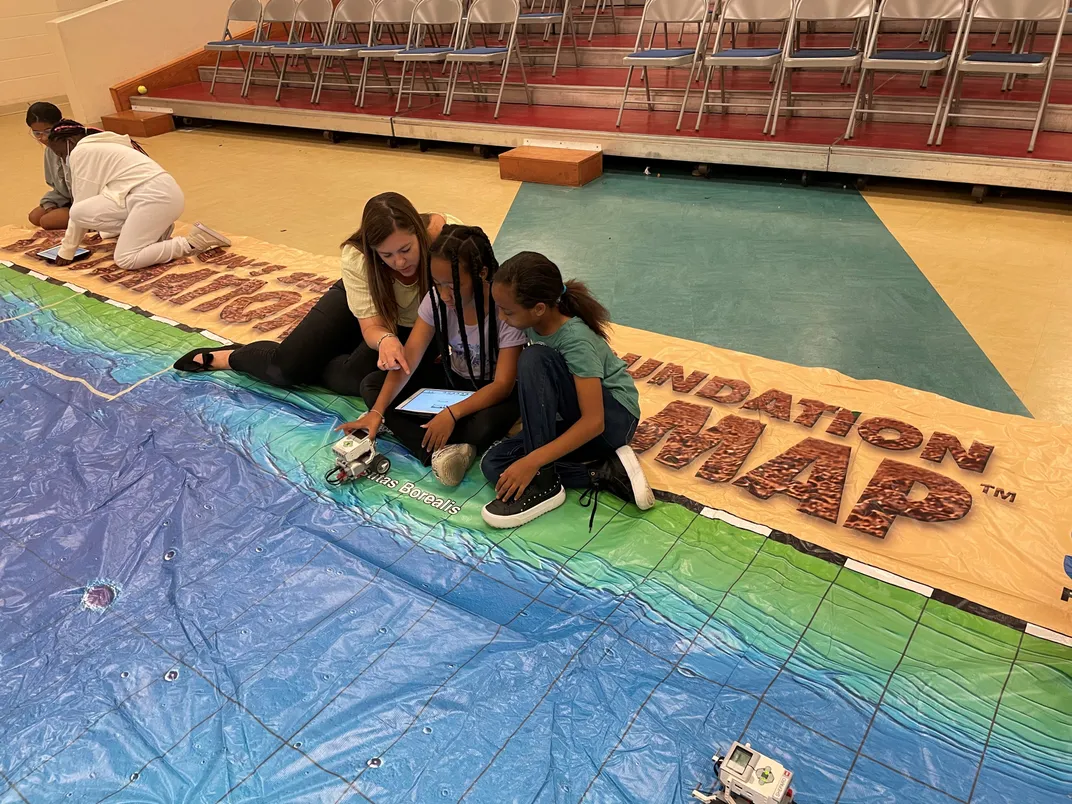 At Noyes Elementary, museum educators implemented the interdisciplinary two-week Mission to Mars programming, reaching approximately 40 elementary school students. A school administrator shared feedback that:
"The Mission to Mars experience was tailored to invite student interest and enthusiasm for all of our students from ages 5 to 11, and it did just that with tremendous success. The students are still talking about the experience, and it has inspired some of our teachers to find ways to blend experiential learning, as it was modeled by the stellar Air and Space instructors, into their units of study this year. We look forward to continuing collaboration with this inspiring team of excellent educators."
During the Spring of 2022, I began to collaborate with the DCPS Office of Teaching and Learning on a pilot multi-visit in-school Mission to Mars opportunity for 5th grade. The program launched after an interest form was distributed in tandem with a virtual professional development session for 5th grade DCPS educators. Schools participating in the 2022-2023 pilot experience included Payne Elementary School, Malcolm X Elementary School @ Green, Wheatley Education Campus, Garfield Elementary School, Eaton Elementary School, Bruce-Monroe Elementary School @ Park View, and Takoma Elementary School. Each participating teacher engaged as a partner in the program's development, by opening their classrooms to the Museum and providing frequent, valuable feedback that has helped shape the program over the course of the 2022-2023 school year and beyond. Specifically, Sabrina Senn from Malcolm X Elementary School @ Green provided helpful feedback during the Fall, supported updates on the student experience with the program, and will be co-presenting on this experience during the 2023 Smithsonian National Education Summit.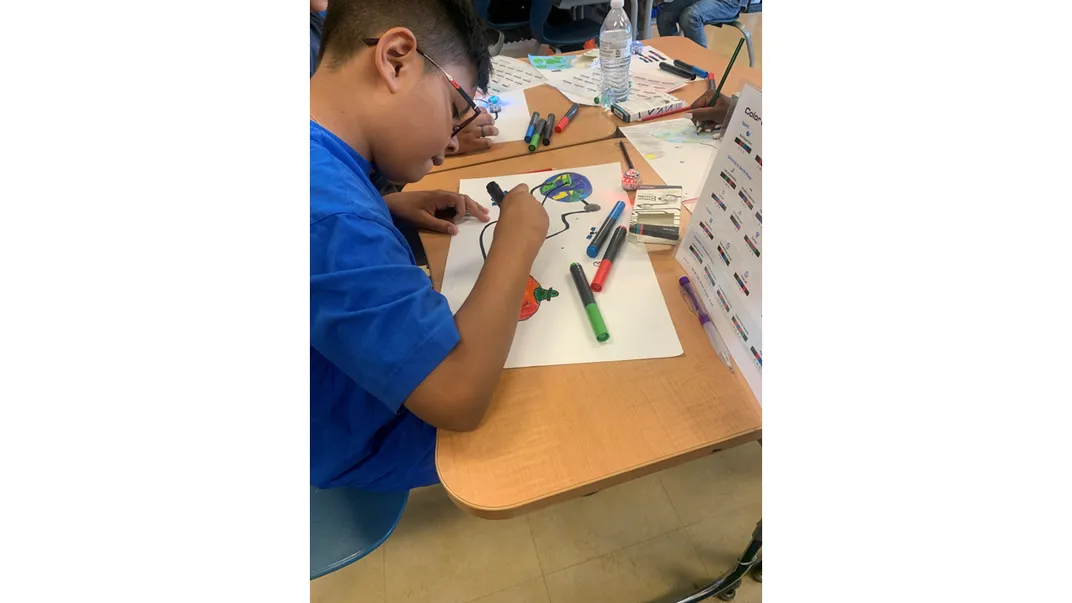 Looking to the Future
In reflecting on this program in preparation for sharing lessons learned at the 2023 Smithsonian National Education Summit, I believe that the key ingredient to this program's success is the iterative and collaborative nature of its design. Along with the 5th graders participating in this programming, collaboration allows us the space to share and reflect on ideas within a community and ultimately create a more meaningful and authentic learning experience.
Editor's Note: Join Laura Blanton at the Smithsonian's National Education Summit on July 18-20, 2023, where she will co-present on Thursday, July 20 at the Arts and Industries Building at 1:15pm, EDT. More information about the session is available here: https://s.si.edu/EducationSummit2023