Inspiring Creative Changemakers
Six Smithsonian educators share techniques to help students creatively intervene and achieve community-based, transformative justice for social good
---
What comes to mind when you think of a creative changemaker? How about a creative intervention?
Smithsonian educators often think of creative changemakers as people who intervene in creative ways to solve a social problem. These people include cultural producers, thinkers, artists, makers, and activists. Creative interventions are the different methods they use to build community-based, transformative justice for social good. Think of these interventions as an artist-activist toolbelt of diverse strategies!  
Exploring creative interventions in the classroom—how changemakers think about creating them, the different forms they take, and how they inspire change in others—can help your students take action on issues they care about. It can help them find new ways to activate community around a social justice issue and grow into positive disrupters and changemakers themselves.
To support teachers, our team of six Smithsonian educators selected objects from across the Smithsonian, connected in unexpected ways, to explore how artists have creatively reckoned with one topic: our nation's racial conflicts, past and present. While focused on this topic, these objects—and the techniques that accompany them—are transferrable to exploring any issues students care deeply about. 
Why objects? They're one of the best ways to engage students in active learning. Shannon Baldioli of the National Air and Space Museum said it well: "Objects are a tangible representation of concepts that have the ability to spark curiosity, make tangible connections to abstract ideas, develop skills, extend knowledge, and encourage close looking and examination. In addition, close looking at objects requires no particular content expertise, leveling the playing field for all learners."
How do you engage students with objects? 
'See, Wonder, Connect x2', a Thinking Routine developed by Project Zero at Harvard Graduate School of Education, is the perfect primer to introduce multiple objects to students. It "begins by drawing on visual information students can readily see, and thus tends to be immediately engaging."  
Our adapted version of the routine consists of three simple questions: 
Look closely. What do you see? 
What does this make you wonder? 
What connections do you see (to other objects, your interests, subjects you're currently studying in school, etc.)? 
'See, Wonder, Connect x2' guides students to make observations and think critically, while scaffolding and supporting their learning. Looking closely at an object for an extended amount of time helps students move past the obvious, expand their understanding, and discover new connections to other objects. The resulting discussion facilitated through this thinking routine focuses on what students can contribute without having extensive prior knowledge about the objects, creating an inclusive way for everyone to participate and learn from each other. Once students have spent some time discussing the object, teachers can provide background information as necessary to deepen the conversation.  
How do you pick the right objects?  
Picking the right objects to entice students can sometimes be the trickiest part.  We suggest brainstorming changemakers, object types, and issues that might be relevant to students, and searching for objects from there. Here's how our team did it—and what we found.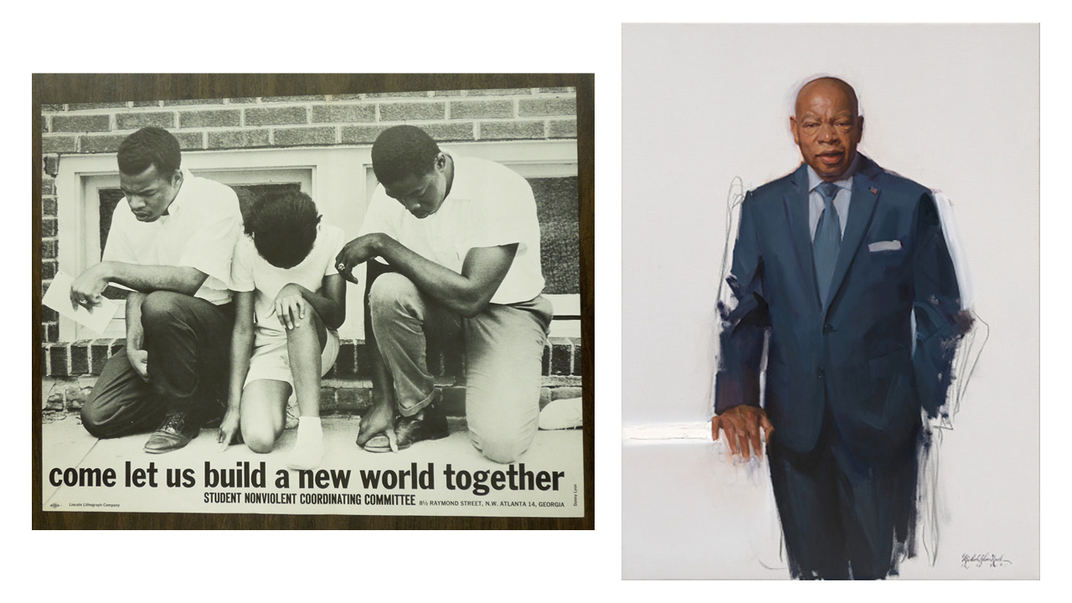 Jocelyn Kho, Student Programs Coordinator at the National Portrait Gallery, says, "Tying the past to current times was key, and the portraits of John Lewis immediately sprang to mind. Lewis embodied a changemaker on every level during the Civil Rights Movement and beyond." As for the objects, "The story of how the poster Come Let US Build a New World Together came about is a classic and inspirational one. Danny Lyons captured the image on his first day with the Student Nonviolent Coordinating Committee (SNCC). Mark Suckle had the foresight to transform it into a poster as a fundraiser and to further the cause. It is only fitting that John Lewis portrayed in the poster speaks to a creative campaign in the past, and the John Lewis portrait by Michael Shane Neal is one that speaks to present day creative intervention through art."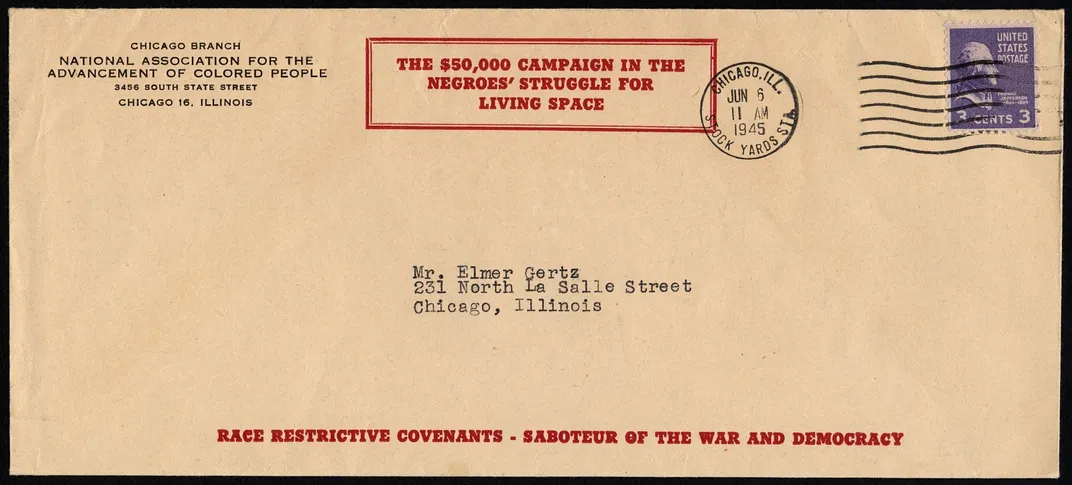 Phoebe Sherman, Manager of Student and Teacher Programs at the National Postal Museum, wanted to challenge students to see and think differently about an everyday object they might already know. Many people are familiar with the powerful words a letter can carry, but it is rarer to pause and examine the stories an envelope can tell. The mail's exterior can also be used to convey a political message that has the potential to be seen by every person who encounters it. By examining the Chicago National Association for the Advancement of Colored People (NAACP) Race Restrive Covenants cover through the lens of creative interventions, students can make connections between racism and inequities of the past and those that continue to exist today. I hope that this object pushes students thinking towards to seeing the power in using an everyday object in a creative way."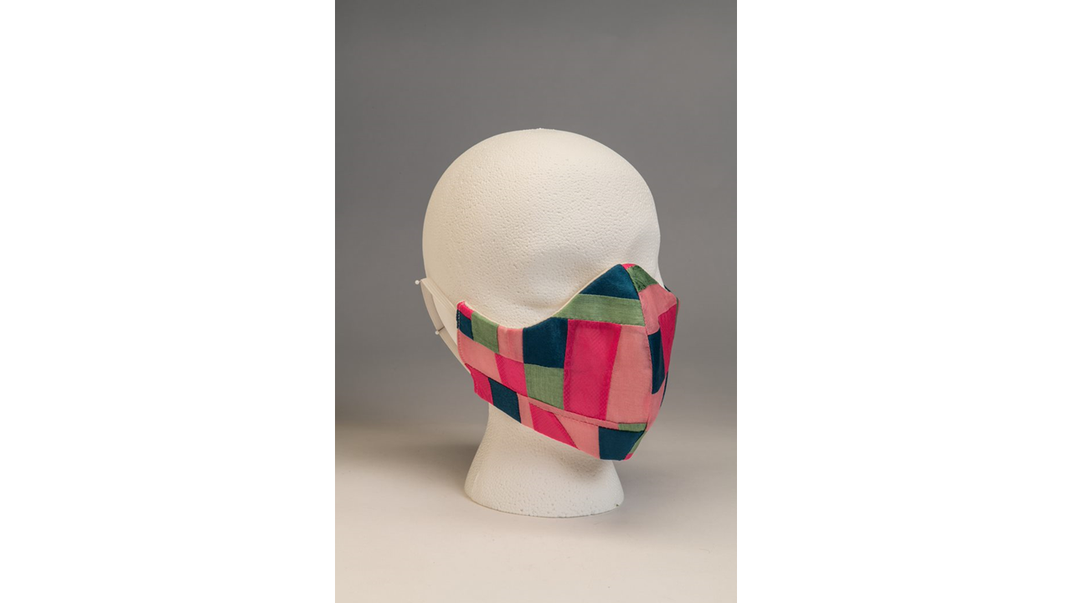 Allie Burns, Distance Learning Coordinator at the Smithsonian American Art Museum, says her main reason for picking this work was because of how contemporary it is in a long history of artists speaking out against hatred and discrimination. "It uses a medium of art that barely even existed before the year 2020, the COVID-19 mask, and addresses the increase in hate that Asian and Asian American communities have been suffering from as a result of prejudiced narratives about the pandemic's origins. Teachers can use this artwork for their students to have conversations about recognizing and counteracting hate and discrimination in their communities, as well as celebrating their own unique cultural traditions. I also love teaching with artworks made by women and artists of color as our collection is dominated by historic white male voices, and as an emerging young Korean American artist, Julia Kwon's perspective is very needed in our museum (and our world)!"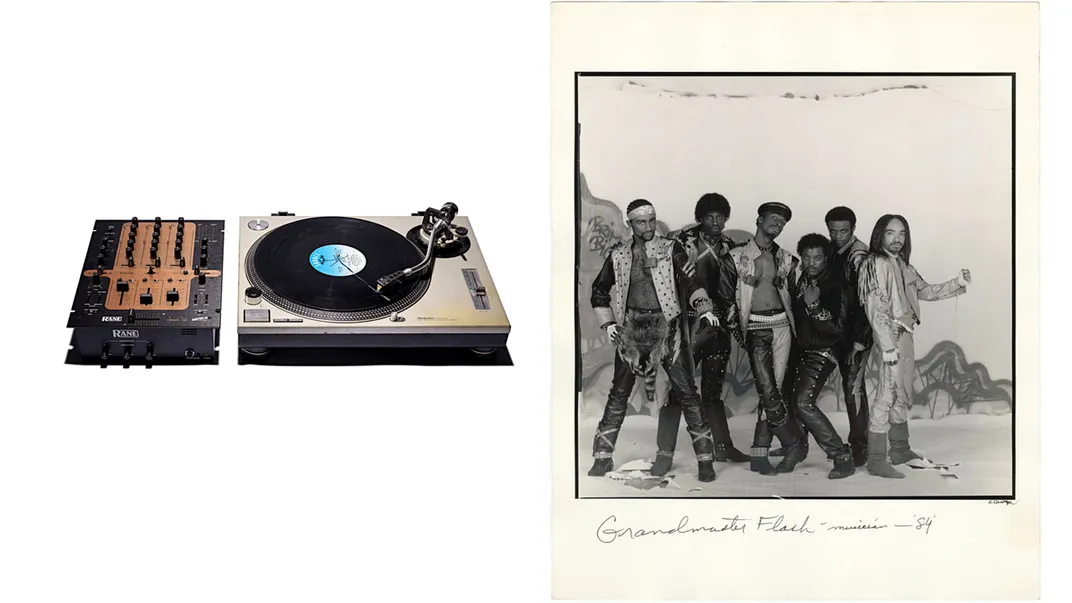 Orlando Serrano, Manager of PK–12 Learning at the National Museum of American History, says, "Music has the power to move people to action through its emotive capacities. The late great Clyde Woods said, 'The blues are the cry of a new society being born,' Coming on the heels of the Black Power movement, Grandmaster Flash helped bring in a new society that followed the blues, R & B, soul, and disco when he practiced quick mix theory on the turntable. In rap and hip-hop, he introduced a grammar for Black communities experiencing organized abandonment in the late 1970s and into the 1980s to express outrage, joy, pain, and call for change. "The Message," by Grandmaster Flash and the Furious Five is right there with Billy Holiday's "Strange Fruit," Sam Cooke's "A Change is Gonna Come," and Nina Simone's "Mississippi Goddamn." We do not get Kendrick Lamar's "Alright" without Grandmaster Flash."
What does this look like in action?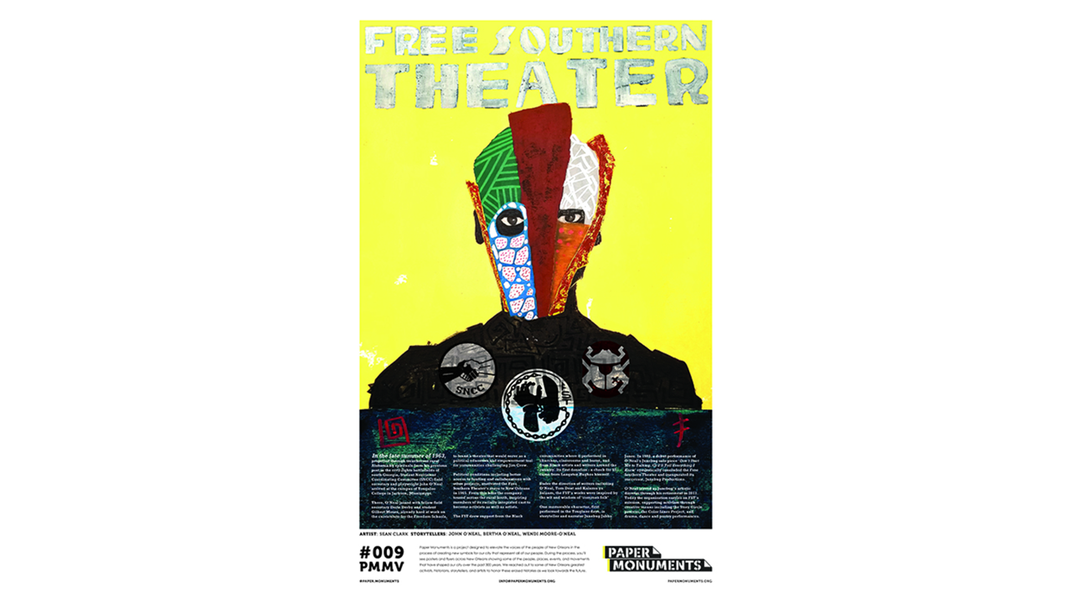 What do you see when you look at this object? What does it make you wonder? 
As part of Cooper Hewitt's Designing Peace exhibition, Paper Monuments is a public art and history project created to honor the erased histories of New Orleans and its inhabitants, particularly communities of color. The project consists of public proposals for prospective monuments, storytelling events, and commissioned art distributed and installed in public spaces that celebrate the city. One of these 'paper monuments' is a poster of the Free Southern Theater, which was founded in 1963 by several members of the Student Nonviolent Coordinating Committee (SNCC). By providing free admission to plays that emphasized positive aspects of African American culture as a voice for social protest, the Theater served as a political education and empowerment tool for Southern organizers during the Civil Rights Movement. 
What connections do you see to the other objects we explored? To your interests, and issues you care about? To subjects you teach? 
The Free Southern Theater alone can be seen as a creative intervention by creative changemakers who needed and built a community-based space for radical expression. But its coverage through Paper Monuments several decades later is also a creative intervention itself. Using a community-driven participatory process, Paper Monuments invites people of all ages and backgrounds to "erect" monuments of their own, sharing untold stories through art and writing—mediums that can be used right away.  
Students can readily design their own 'paper monuments' to illustrate a story they believe needs to be remembered. With your own students, have them consider who needs to hear their story and where it should be shared—in school hallways, the public library, or on town streets. Giving students space to create interventions of their own about issues they're passionate about, and providing real opportunities to share those interventions, can show students that they, too, can be a changemaker. Becoming one can start in the classroom.  
Ready to try this yourself? 
Dive in using the techniques we outlined here—or, begin with our ready-to-use mini-lesson. In this short, interactive Smithsonian Learning Lab collection, you'll find teaching instructions, Project Zero Thinking Routines, targeted discussion questions, and activity suggestions. Use this to help students explore creative changemaking and inspire them to create interventions of their own.  
Editor's Note: To learn more from the Changemakers team and other educators across the Smithsonian, join the Smithsonian's National Education Summit on July 18–20, 2023.